2:29 p.m. ET, August 16, 2018
Our live coverage has ended. Scroll through the posts below to see how the meeting unfolded.
2:05 p.m. ET, August 16, 2018
Trump urges his attorney general to sue drug companies over opioid epidemic
President Donald Trump urged his Attorney General Jeff Sessions to sue certain pharmaceutical companies that have contributed to the opioid crisis in the United States.
"I'd also like to ask you to bring a major lawsuit against the drug companies on opioids," Trump told Sessions during a cabinet meeting on Thursday. "Some states have done it. But I'd like a lawsuit to be brought against these companies that are really sending opioids at a level that it shouldn't be happening."
How Sessions responded: The Justice Department has joined state lawsuits against opioid companies that officials believe have helped fuel a national opioid crisis, Sessions said, but Trump said he would like the Justice Department to pursue a separate federal lawsuit against certain drug companies. (Trump did not specify which companies he would like the Justice Department to sue.)
Sessions said the Justice Department is "looking at various different legal avenues to go after abusive companies."
"You've made clear you want us to sue and use legal process against drug companies that are abusing the law for some time now. We have joined with the states and we are looking at various different legal avenues to go after abusive companies," Sessions said.
Sessions also noted that the Justice Department has indicted 170 physicians who have unlawfully prescribed opioids.
What Trump said about Sessions earlier: The back-and-forth between Trump and Sessions came just two days after Trump unleashed his latest public criticism of his attorney general, tweeting that "if we had a real Attorney General," the special counsel's investigation "would never have been started."
1:04 p.m. ET, August 16, 2018
Trump starts his cabinet meeting by remembering Aretha Franklin
At the start of his cabinet meeting today, President Trump offered his "warmest best wishes and sympathies" to the family of Aretha Franklin.
He described her as a person he knew well and who worked for him. Trump also said her "legacy will thrive and inspire" many generations.  
Franklin has performed at several Trump properties, including Trump Castle and Trump Taj Mahal.
Here's Trump's full remarks:
"I want to begin today by expressing my condolences to the family of a person I knew well. She worked for me on numerous occasions. She was terrific — Aretha Franklin — on her passing. She brought joy to millions of lives and her extraordinary legacy will thrive and inspire many generations to come. She was given a great gift from God — her voice, and she used to well. People loved Aretha. She was a special woman. So just want to pass on my warmest best wishes and sympathies to her family."
11:28 a.m. ET, August 16, 2018
5 questions reporters may try to ask Trump today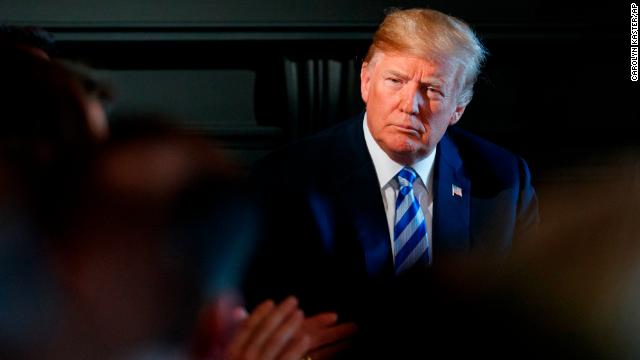 Reporters will likely have a chance to ask President Trump questions today after he speaks at his 11:30 a.m. ET cabinet meeting.
Here are some of the questions that could come up:
Why did you revoke former CIA director John Brennan's security clearance?
You mentioned in a statement that you're still considering revoking the security clearances of several other former officials. When will you decide, and what factors will go into those considerations?
Brennan says this is part of an effort to "suppress freedom of speech & punish critics." Are you targeting your rivals with these possible revocations?
About 350 newspapers across the country are running statements today supporting the free press and decrying your attacks against the media. What's your response?
What's the latest on your legal team's negotiations with special counsel Robert Mueller for a possible interview?
11:20 a.m. ET, August 16, 2018
Trump revoked John Brennan's security clearance. He's also looking at several others.
President Donald Trump announced Wednesday that he had revoked former CIA director John Brennan's security clearance, marking an unprecedented use of a president's authority over the classification system to strike back at one of his prominent critics.
Brennan is the first former national security official to see his security clearance revoked since the White House announced last month that Trump was considering taking that action against several of his most vocal critics in the national security world.
The White House provided no evidence that Brennan has misused his security clearance since leaving government.
Why this matters: The decision came as the White House was looking to turn the page on a news cycle that for several days has been dominated by startling allegations leveled against Trump by Omarosa Manigault-Newman, a former senior White House official and longtime Trump adviser.
Trump is also considering revoking the security clearances of several others:
James Clapper, former director of National Intelligence
James Comey, former FBI director (who was fired by Trump)
Michael Hayden, former director of the National Security Agency
Sally Yates, former US deputy attorney general
Susan Rice, former United States national security advisor
Andrew McCabe, former deputy director of the FBI
Peter Strzok, former FBI agent
Lisa Page, former lawyer for the FBI
Bruce Ohr, former associate deputy attorney general