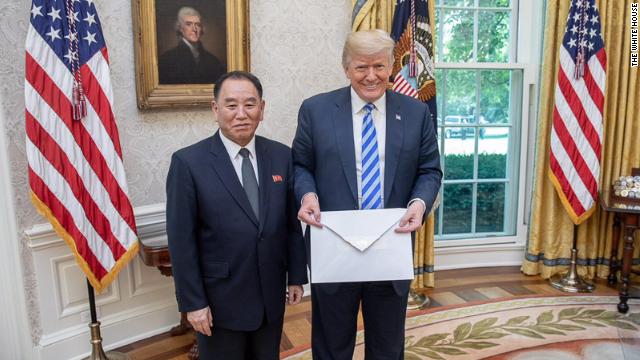 President Trump got a visit today at the White House from North Korea's senior official, Kim Yong Chol, who hand delivered a letter by Kim Jong Un to the President.
The meeting: Kim Yong Chol, a former spy chief and currently North Korea's top nuclear negotiator, sat down with Trump in the Oval Office for more than an hour.
The letter: Kim Yong Chol handed Trump a large envelope containing a letter that was screened for toxins and anything potentially dangerous before it entered the White House. (A White House official said Trump later read the letter.)
The exit: Trump shook Kim Yong Chol's hand before he departed the White House. The two leaders also posed for photographs and the President talked to reporters.
What Trump said: The President told reporters that he will still meet with North Korean leader Kim Jong Un on June 12 in Singapore.