Trump says North Korea summit will happen
1:18 p.m. ET, June 1, 2018
North Korean diplomat is in the Oval Office
Kim Yong Chol, a top North Korean envoy, has gone to the Oval Office after arriving at the White House.
Kim is delivering a letter to Trump from North Korean leader Kim Jong Un. He was in New York City earlier this week to meet with Secretary of State Mike Pompeo.
1:10 p.m. ET, June 1, 2018
North Korean diplomat is on his way to the White House with letter for Trump
President Trump is due to receive a letter from North Korean dictator Kim Jong Un any minute now, the latest step toward a meeting between the two world leaders.
Trump plans to meet in the Oval Office with Kim's envoy, Kim Yong Chol, who is bringing the letter, the White House said. It's the highest-level meeting between a US president and a North Korean official since 2000.
Top-level US officials have not read the letter from Kim to Trump, but are aware generally of its contents, a person familiar with the matter said. They learned of the letter's substance through diplomatic channels in the absence of reading the letter itself, the person said.
11:28 a.m. ET, June 1, 2018
Trump talks about "historic" economic numbers in Coast Guard speech
Kicking off his speech at the US Coast Guard Change of Command Ceremony, President Trump touted his administration's "historic" economic numbers. 
"We have reached yet one more historic milestone with 3.8% unemployment just announced," he said. "And by the way, for the women out there, the lowest unemployment in 19 years."
11:25 a.m. ET, June 1, 2018
SOON: Trump speaks at Coast Guard event
Any minute now, President Trump will speak at a US Coast Guard change of command ceremony.
Homeland Security Secretary Kirstjen Nielsen is speaking at the event now.
10:57 a.m. ET, June 1, 2018
Trump economic adviser rejects criticism of the President's jobs tweet
National Economic Council Director Larry Kudlow rejected criticism that President Donald Trump's tweet Friday morning previewing the jobs report was inappropriate.
"He didn't give any numbers," Kudlow said "No one revealed the numbers to the public."
Still, Kudlow confirmed that the President did know about the jobs numbers when he tweeted Friday morning, "Looking forward to seeing the employment numbers at 8:30 this morning."
Kudlow said he briefed the President on the numbers Thursday evening.
Kudlow went on to argue that "short sellers might have looked at that (tweet) and said he's gaming us."
But CNN pressed Kudlow, asking: "Why would the President tell anybody to look at the jobs report if it was going to be negative?"
Kudlow responded, "You'll have to ask...that's a therapy thing. He's got a -- he likes to tweet."
He added that "a lot of people were waiting for the jobs numbers."
Why the tweet is in question
Federal law requires an hour between when a report is released, and when federal officials can comment on the numbers. Trump's 7:21 a.m. tweet came more than an hour before the today's report was released.
10:44 a.m. ET, June 1, 2018
Trump hints at strong jobs report in tweet ahead of its release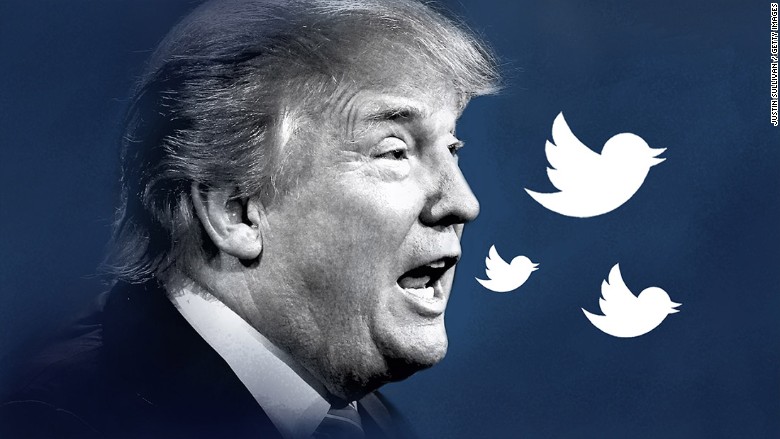 About an hour before the Labor Department released its closely watched jobs number Friday, President Donald Trump was already talking up its contents.
The May jobs report was in fact a good one for a president who likes to brag about the strong jobs market. Unemployment fell to 3.8%, which matched the lowest rate in nearly a half century. Employers added 223,000 jobs in the month, more than more economists were forecasting.
But investors weren't waiting for the official report. Stock futures, bond yields and the value of the dollar all jumped higher immediately after his tweet.
And that might be why the tweet was a problem: There is a federal rule dictating that federal employees who know the jobs numbers ahead of time must keep them secret. The question is whether the president's comment "looking forward to" constitutes commenting on the data. The tweet certainly suggested that a good number was coming.
9:56 a.m. ET, June 1, 2018
Trump and France's Macron talked about "the need to rebalance trade with Europe," White House says
President Trump and French President Emmanuel Macron spoke on the phone last night. The call came hours after Trump imposed steel and aluminum tariffs on Canada, Mexico and the European Union.
"President Trump underscored the need to rebalance trade with Europe," the White House said in a statement describing the call.
Before the two leaders talked, Macron released his own statement saying he "regrets the US decision to confirm tariffs in steel and aluminum." He said he planed to convey his "convictions" to trump during the phone call.
"This decision does not conform to the international law to which both the US and Europe have subscribed. So it is illegal," Macron said in the statement. "That is why we will take measures and provide answers. This decision is not only illegal, it is a mistake on many points. It is a mistake because it responds to a worldwide unbalance that exists in the worst ways through fragmentations and economic nationalism."
9:47 a.m. ET, June 1, 2018
Markets open up after strong jobs report, despite trade war fears
Stocks rebounded after strong jobs report this morning.
The Dow jumped 185 points on solid job gains, modest wage growth, and the S&P 500 and Nasdaq gained 0.6%.
This morning's rally follows sell-off on Thursday caused by worries about a trade war.
9:47 a.m. ET, June 1, 2018
Unemployment drops to 3.8%, matching lowest point in 50 years
US unemployment dropped to 3.8%, which matches its lowest point in half a century.
The economy added 223,000 jobs in May, according to the job report released Friday morning.
Trump tweeted earlier this morning that he was "looking forward" to seeing the report.
Important note about this:
Federal law requires an hour between when a report is released, and when federal officials can comment on the numbers. Trump has commented on the monthly job reports before that time has elapsed at least twice before.