9:04 p.m. ET, May 31, 2018
Our live coverage has ended. Scroll through the posts below to see how the day unfolded.
7:46 p.m. ET, May 31, 2018
Rod Blagojevich's wife says Trump has always been kind to her family 
From CNN's Clare Foran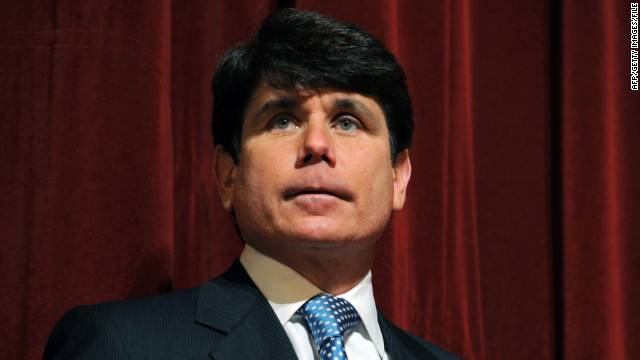 The wife of former Illinois Gov. Rod Blagojevich told Fox News tonight that the President is "compassionate" and "knows how important it is that my husband gets home to be a father to our daughters." 
Earlier in the day, the President suggested to reporters that he is thinking about commuting Blagojevich's sentence. He was convicted on public corruption charges in 2011 and sentenced to a 14-year federal prison term. 
Patti Blagojevich said on Fox News that her husband and the rest of their family "are all so grateful that the President is thinking of us." 
She added that "we know that President Trump is a kind man, he's compassionate, he has always been kind to my family. He knows how important it is that my husband gets home to be a father to our daughters, that we can't help but to be hopeful." 
7:09 p.m. ET, May 31, 2018
Trump is not only looking to pardon celebrities, White House says
President Trump is not looking only at well-known figures for pardons and commutations, White House spokesman Hogan Gidley told reporters today.
Earlier today, Trump announced that he is pardoning conservative author and filmmaker Dinesh D'Souza and considering such actions for former Illinois Gov. Rod Blagojevich and Martha Stewart.
But Gidley dismissed the idea that Stewart and Blagojevich were under consideration because of their celebrity, saying, "Look, there are plenty of people the President is looking at right now under the pardon process." He said the President pardoned D'Souza because he "thought it was a grave injustice."
Asked on Air Force One why the President was looking at them and not others on the list of possible pardons, Gidley said, "He's thinking about all of those people."
He continued: "One of the things he mentioned also is that Jack Johnson, the former heavyweight champion, was one of the ones that really impacted him. It was a great disservice done to him. The President felt as though it was a wrong that needed to be righted. And he has the power, under the Constitution, to right that wrong -- and that's what he did."
Trump granted a posthumous pardon to Johnson last week on the advice of actor Sylvester Stallone.
6:08 p.m. ET, May 31, 2018
Trump offers condolences to families and survivors of the Santa Fe school shooting
President Trump met with families, injured students and law enforcement officials to offer his condolences following a shooting at Santa Fe High School that claimed the lives of 10 people.
The President and Texas Gov. Greg Abbott also "discussed ways to improve school and community safety" during the private meeting at Ellington Field, the White House said. 
The White House called the meeting "very impactful."
"I don't want to get into the private meeting as it relates to the grieving families that experienced such a horrific tragedy. But it was very impactful," White House spokesperson Hogan Gidley said.
"It was a very emotional time. They've suffered a great loss and a great tragedy."
5:00 p.m. ET, May 31, 2018
Trump pressured Jeff Sessions on multiple occasions to overturn his recusal, source says 
From CNN's Kaitlan Collins
President Trump has pressured Attorney General Jeff Sessions on multiple occasions over the last 14 months to overturn his decision to recuse himself from the Russia investigation, according to a source familiar with the President's demands.
He made the request several times, each to no avail. This is in addition to the first request from Trump while in Mar-a-Lago. 
The story was first reported by Axios.
Why we're talking about Sessions
In the past year, Trump has publicly referred to his attorney general as "beleaguered" and even referred to Sessions in February as "Mr. Magoo" behind closed doors, according to The Washington Post.
Trump tweeted yesterday that he regretted choosing Jeff Sessions as attorney general.
4:34 p.m. ET, May 31, 2018
Trump and France's Macron will speak tonight about tariffs
French President Emmanuel Macron will speak over the phone with President Trump tonight about US tariffs, Macron said in a statement. The statement noted that Macron "regrets the US decision to confirm tariffs in steel and aluminum."
"This decision does not conform to the international law to which both the US and Europe have subscribed. So it is illegal. That is why we will take measures and provide answers. This decision is not only illegal, it is a mistake on many points. It is a mistake because it responds to a worldwide unbalance that exists in the worst ways through fragmentations and economic nationalism."
Macron said that he will convey his "convictions" to Trump during the phone call tonight.
"I prefer to say things directly and not through the press; and I will tell him what I told you, which are my convictions that he knows already," Macron said.
4:20 p.m. ET, May 31, 2018
Canada's prime minister calls Trump's tariffs "totally unacceptable"
From CNN's Alanna Petroff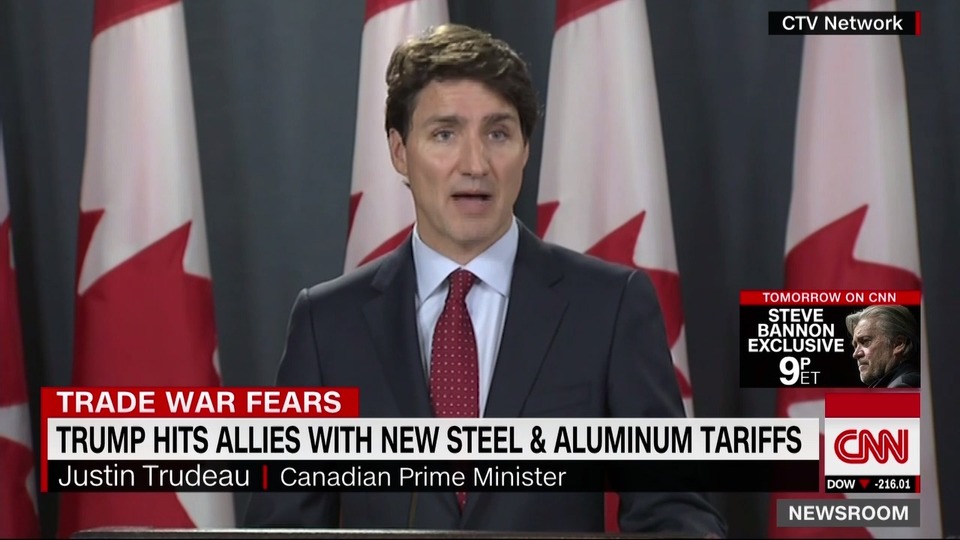 Canada said it would enact tariffs on $12.8 billion in US exports, effective July 1, to retaliate against Trump's action.
"Let me be clear," Prime Minister Justin Trudeau said after the Trump administration imposed steel and aluminum tariffs on Canada, Mexico and the European Union. "These tariffs are totally unacceptable."
"Americans remain our partners, our allies and our friends. This is not about the American people. We have to believe that at some point common sense will prevail. But we see no sign of that in this action today by the U.S. Administration."
Foreign minister Chrystia Freeland called it "the strongest trade action Canada has taken in the post-war era."
Getting rid of the exemptions for Canada and Mexico could also complicate ongoing negotiations on NAFTA. 
The NAFTA talks were one factor in the administration's decision to grant exemptions to Canada and Mexico from the steel and aluminum tariffs. But Commerce Secretary Wilbur Ross told reporters Thursday that those talks "are taking longer than we hoped."
Canada was the largest exporter of steel to the United States by value last year, according to data from Wood Mackenzie. Mexico was the third largest, behind South Korea.
4:13 p.m. ET, May 31, 2018
Dow sinks 252 points on trade war worries
The Dow dropped to 252 points, or 1%, after the Trump administration announced steel and aluminum tariffs on Canada, Mexico and the European Union.
The S&P 500 also fell 0.7% and Nasdaq declined slightly.
US markets still posted their best month since January, despite the new tariffs.
4:11 p.m. ET, May 31, 2018
Trump's trade policies could cost the US 2.6 million jobs, Chamber of Commerce estimates
From CNN's Danielle Wiener-Bronner
The Chamber of Commerce estimates that President Trump's trade policies may put as many as 2.6 million American jobs at risk.
In a memo to the business organization's board of directors, which was obtained by CNNMoney, Chamber president Tom Donohue broke out possible job losses from the administration's tariff plans and from a threatened US withdrawal from NAFTA. The memo cited outside studies for job loss estimates.
The memo reads...
"On each of these issues, the Chamber has privately and publicly expressed our concerns to the administration and to Congress about the economic damage that an escalating series of back and forth tariffs would have on our own country."
Here's how the possible job losses break down, according to the Chamber:
134,000 from tariffs on imports from China
470,000 from tariffs on steel and aluminum
157,000 from tariffs on autos and auto parts.
1.8 million from a withdrawal from NAFTA.