Trump nominates Brett Kavanaugh for Supreme Court
By Meg Wagner, CNN
Updated
8:35 a.m. ET, July 10, 2018
10:43 p.m. ET, July 9, 2018
Our live coverage has ended. Scroll through the posts below to see how Trump's Supreme Court announcement unfolded.
10:42 p.m. ET, July 9, 2018
Where Kavanaugh stands on Roe v. Wade
From CNN's Clare Foran and Joan Biskupic
Justice Anthony Kennedy's departure from the court has sparked alarm among abortion rights activists that Roe v. Wade, the landmark Supreme Court ruling that legalized abortion nationwide in 1973, could be overturned.
Kavanaugh has not expressed outright opposition to Roe v. Wade — but he is sure to face questions from Democrats over how he might rule on abortion rights if confirmed.
He did rule in a case involving an undocumented immigrant teen in detention who sought an an abortion. The DC Circuit last October ruled the teen was entitled to seek an abortion, and Kavanaugh dissented.
In his dissent, Kavanaugh wrote the Supreme Court has held that "the government has permissible interests in favoring fetal life, protecting the best interests of a minor, and refraining from facilitating abortion."
He wrote that the high court has "held that the government may further those interests so long as it does not impose an undue burden on a woman seeking an abortion." He said the majority opinion was "based on a constitutional principle as novel as it is wrong: a new right for unlawful immigrant minors in U.S. government detention to obtain immediate abortion on demand." He added, however, that "all parties to this case recognize Roe v. Wade and Planned Parenthood v. Casey as precedents we must follow."
9:49 p.m. ET, July 9, 2018
Key GOP senator: I will "conduct a careful, thorough vetting" of Kavanaugh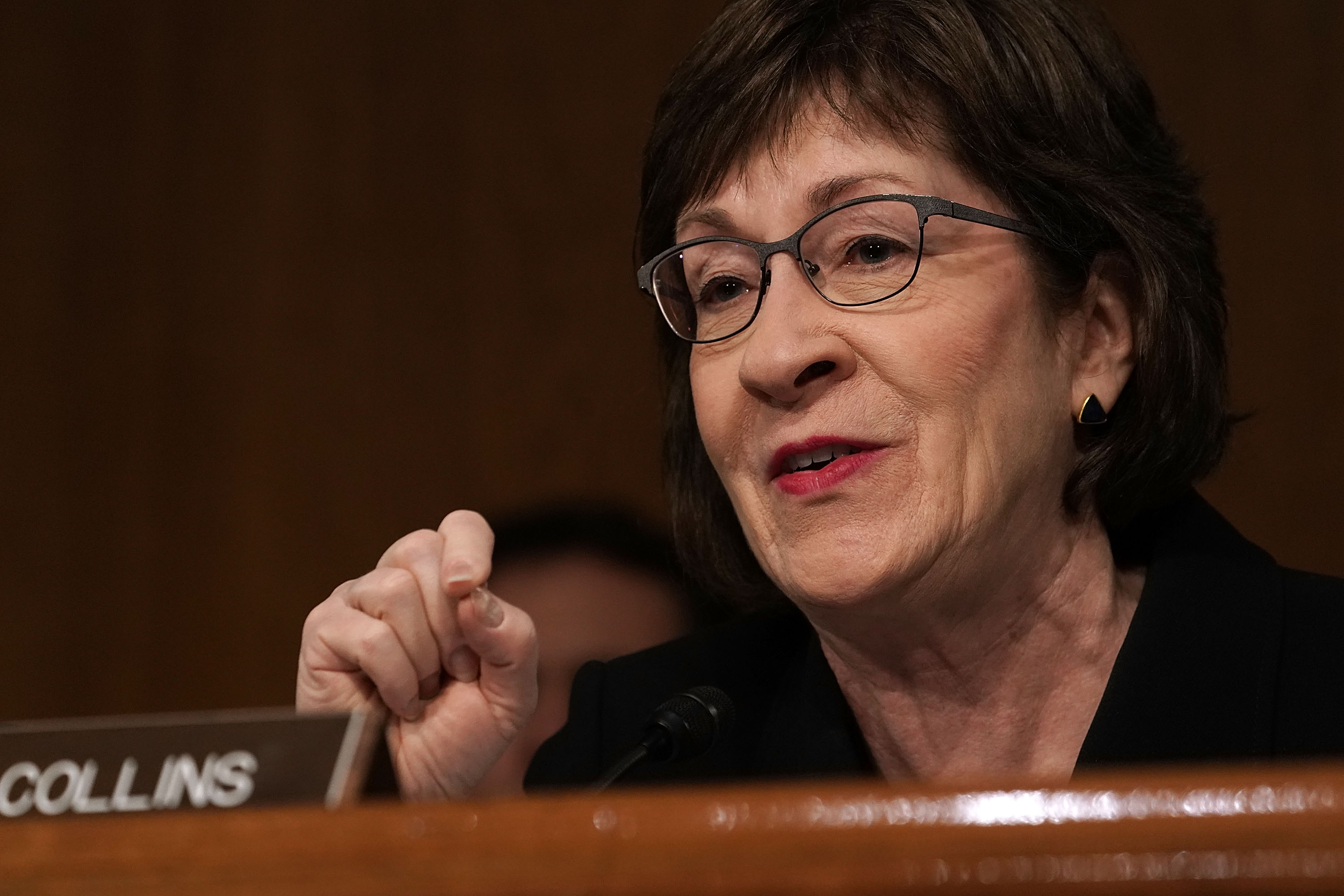 Sen. Susan Collins, a Republican from Maine who is considered a key swing vote, said she will "conduct a careful, thorough vetting" for Trump's new Supreme Court nominee, Brett Kavanaugh.
She said Kavanaugh has "impressive credentials and extensive experience" and added she looks forward to questioning him in a meeting.
Why Collins matter: She said would not support a nominee hostile to the landmark abortion ruling in Roe v. Wade. As such, Democrats view Collins her as a target to peel off from the Republican majority.
Republicans can't afford to lose a single member if — and this is a big if — Democrats are unified in their opposition to Trump's pick.
Here's her full statement on Kavanaugh:
"Judge Kavanaugh has impressive credentials and extensive experience, having served more than a decade on the D.C. Circuit Court of Appeals. I will conduct a careful, thorough vetting of the President's nominee to the Supreme Court, as I have done with the five previous Supreme Court Justices whom I have considered. I look forward to Judge Kavanaugh's public hearing before the Senate Judiciary Committee and to questioning him in a meeting in my office."
9:50 p.m. ET, July 9, 2018
If confirmed, Kavanaugh will be the 108th white man to sit on the Supreme Court
From CNN's Jessica Campisi and Brandon Griggs
Since the Supreme Court first convened in 1790, 113 justices have served on the bench.
Of those, 107 have been white men.
Trump just announced his nominee to succeed Justice Anthony Kennedy is Brett Kavanaugh. If confirmed, he would be the 108th white man to sit on the Supreme Court.
Here's a look at the four women and three people of color who have served on the Supreme court:
10:37 p.m. ET, July 9, 2018
Protesters chant: "Hey hey, ho ho! Kavanaugh has got to go!"
From CNN's Ariane de Vogue
Even before President Trump announced his Supreme Court nominee, protesters on both sides of the abortion debate gathered outside the Supreme Court building.
Now, some protesters are chanting about Trump's pick, Brett Kavanaugh.
"Hey hey, ho ho! Brett Kavanaugh must go!" some of the activists are yelling. "Hey hey, ho ho! Kavanaugh has got to go!"
9:28 p.m. ET, July 9, 2018
Sen. Mitch McConnell: "Put partisanship aside" while considering Kavanaugh
Senate Majority Leader Mitch McConnell said President Trump has made a "superb choice" by nominating Brett Kavanaugh to the Supreme Court.
McConnell urged the Senate to put "partisanship aside and consider his legal qualifications" while working through the conformation process. (Reminder: The nomination battle will likely ignite a firestorm on Capitol Hill as it comes just a year after Republicans changed the rules of the Senate in order to push through the nomination of Justice Neil Gorsuch.)
Here's McConnell full statement:
"President Trump has made a superb choice. Judge Brett Kavanaugh is an impressive nominee who is extremely well qualified to serve as an Associate Justice of the Supreme Court of the United States.Judge Kavanaugh has sterling academic credentials. He is widely admired for his intellect, experience, and exemplary judicial temperament. He has won the respect of his peers and is highly regarded throughout the legal community. And his judicial record demonstrates a firm understanding of the role of a judge in our Republic: Setting aside personal views and political preferences in order to interpret our laws as they are written.I look forward to meeting with Judge Kavanaugh and to the Senate's fair consideration of his nomination, beginning with the work of Chairman Grassley and the Judiciary Committee. This is an opportunity for Senators to put partisanship aside and consider his legal qualifications with the fairness, respect, and seriousness that a Supreme Court nomination ought to command."
9:26 p.m. ET, July 9, 2018
Kavanaugh could be tough to move quickly in the Senate, aides on both sides say
From CNN's Manu Raju
Because of Brett Kavanaugh's extensive paper trail and long record, moving his nomination quickly could be challenging, according to sources in both parties.
Two senior Democratic sources in particular say Trump picked a tougher fight than he had to by choosing Kavanaugh, saying it reopens Bush-era controversies like torture, and puts both Roe v Wade and defending pre-existing conditions under the Affordable Care Act back on the table.
In terms of a timeframe, Senate Judiciary Chairman Chuck Grassley told CNN earlier tonight that someone with a long record will take time to go through the full record — and he would not commit to holding confirmation hearings before September.
9:24 p.m. ET, July 9, 2018
Sen. Schumer: "I will oppose Judge Kavanaugh's nomination with everything I have"
Senate Minority Leader Chuck Schumer released a statement opposing Brett Kavanaugh's nomination just moments after President Trump announced his pick:
"In selecting Judge Brett Kavanaugh for the Supreme Court, President Trump has put reproductive rights and freedoms and health care protections for millions of Americans on the judicial chopping block. His own writings make clear that he would rule against reproductive rights and freedoms, and that he would welcome challenges to the constitutionality of the Affordable Care Act.President Trump repeatedly promised to nominate justices to the bench who are hostile to Roe v. Wade, and who will undermine our health care laws. He has picked Judge Kavanaugh from a list of 25 people who were vetted and approved by the Federalist Society and Heritage Foundation – special interest groups devoted to overturning Roe and striking down the Affordable Care Act. With this pick, the president is making good on his pledge to 'punish' women for their choices. Judge Kavanaugh got the nomination because he passed this litmus test, not because he'll be an impartial judge on behalf of all Americans. If he were to be confirmed, women's reproductive rights would be in the hands of five men on the Supreme Court.The Senate has come together on a bipartisan basis to protect women's reproductive rights and to protect health care for millions of Americans before – including those with pre-existing conditions. We need to do it again. I will oppose Judge Kavanaugh's nomination with everything I have, and I hope a bipartisan majority will do the same. The stakes are simply too high for anything less."
9:22 p.m. ET, July 9, 2018
Brett Kavanaugh thanks Trump — and Justice Elena Kagan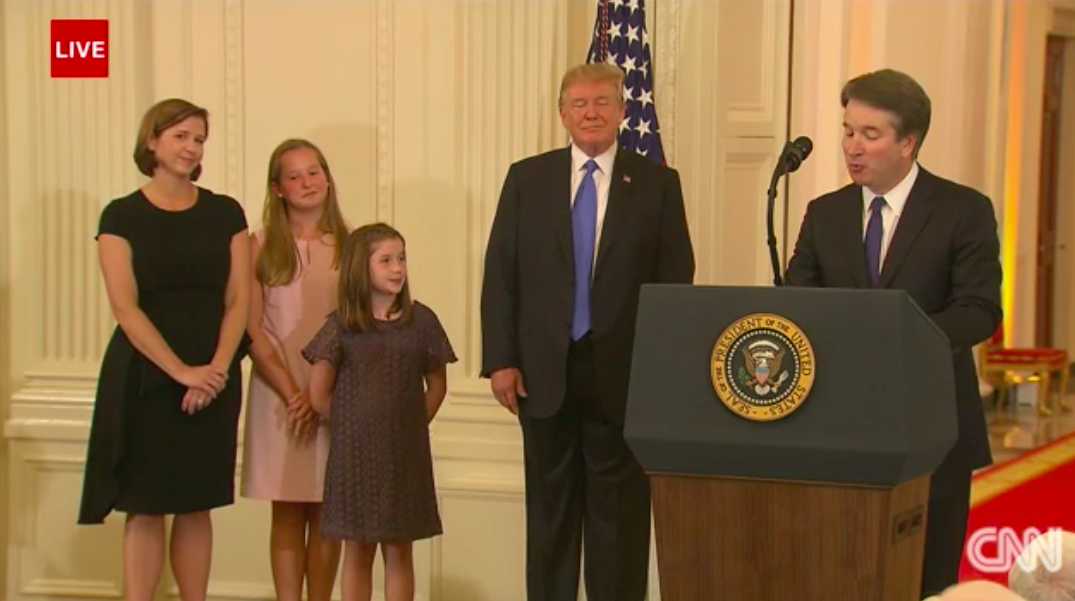 Supreme Court nominee, Brett Kavanaugh, said he's grateful to President Trump for the selection.
"Mr. President, I am grateful to you, and I'm humbled by your confidence in me," he said.
He also thanked Supreme Court Justice Elena Kagan, who he said hired him as a teacher.
"For the past 11 years I've taught hundreds of students primarily at Harvard Law School. I teach that the Constitution's separation of powers protects individual liberty, and I remain grateful to the dean who hired me, Justice Elena Kagan," he said.