Trump nominates Brett Kavanaugh for Supreme Court
9:28 p.m. ET, July 9, 2018
Sen. Mitch McConnell: "Put partisanship aside" while considering Kavanaugh
Senate Majority Leader Mitch McConnell said President Trump has made a "superb choice" by nominating Brett Kavanaugh to the Supreme Court.
McConnell urged the Senate to put "partisanship aside and consider his legal qualifications" while working through the conformation process. (Reminder: The nomination battle will likely ignite a firestorm on Capitol Hill as it comes just a year after Republicans changed the rules of the Senate in order to push through the nomination of Justice Neil Gorsuch.)
Here's McConnell full statement:
"President Trump has made a superb choice. Judge Brett Kavanaugh is an impressive nominee who is extremely well qualified to serve as an Associate Justice of the Supreme Court of the United States.Judge Kavanaugh has sterling academic credentials. He is widely admired for his intellect, experience, and exemplary judicial temperament. He has won the respect of his peers and is highly regarded throughout the legal community. And his judicial record demonstrates a firm understanding of the role of a judge in our Republic: Setting aside personal views and political preferences in order to interpret our laws as they are written.I look forward to meeting with Judge Kavanaugh and to the Senate's fair consideration of his nomination, beginning with the work of Chairman Grassley and the Judiciary Committee. This is an opportunity for Senators to put partisanship aside and consider his legal qualifications with the fairness, respect, and seriousness that a Supreme Court nomination ought to command."
9:26 p.m. ET, July 9, 2018
Kavanaugh could be tough to move quickly in the Senate, aides on both sides say
Because of Brett Kavanaugh's extensive paper trail and long record, moving his nomination quickly could be challenging, according to sources in both parties.
Two senior Democratic sources in particular say Trump picked a tougher fight than he had to by choosing Kavanaugh, saying it reopens Bush-era controversies like torture, and puts both Roe v Wade and defending pre-existing conditions under the Affordable Care Act back on the table.
In terms of a timeframe, Senate Judiciary Chairman Chuck Grassley told CNN earlier tonight that someone with a long record will take time to go through the full record — and he would not commit to holding confirmation hearings before September.
9:24 p.m. ET, July 9, 2018
Sen. Schumer: "I will oppose Judge Kavanaugh's nomination with everything I have"
Senate Minority Leader Chuck Schumer released a statement opposing Brett Kavanaugh's nomination just moments after President Trump announced his pick:
"In selecting Judge Brett Kavanaugh for the Supreme Court, President Trump has put reproductive rights and freedoms and health care protections for millions of Americans on the judicial chopping block. His own writings make clear that he would rule against reproductive rights and freedoms, and that he would welcome challenges to the constitutionality of the Affordable Care Act.President Trump repeatedly promised to nominate justices to the bench who are hostile to Roe v. Wade, and who will undermine our health care laws. He has picked Judge Kavanaugh from a list of 25 people who were vetted and approved by the Federalist Society and Heritage Foundation – special interest groups devoted to overturning Roe and striking down the Affordable Care Act. With this pick, the president is making good on his pledge to 'punish' women for their choices. Judge Kavanaugh got the nomination because he passed this litmus test, not because he'll be an impartial judge on behalf of all Americans. If he were to be confirmed, women's reproductive rights would be in the hands of five men on the Supreme Court.The Senate has come together on a bipartisan basis to protect women's reproductive rights and to protect health care for millions of Americans before – including those with pre-existing conditions. We need to do it again. I will oppose Judge Kavanaugh's nomination with everything I have, and I hope a bipartisan majority will do the same. The stakes are simply too high for anything less."
9:22 p.m. ET, July 9, 2018
Brett Kavanaugh thanks Trump — and Justice Elena Kagan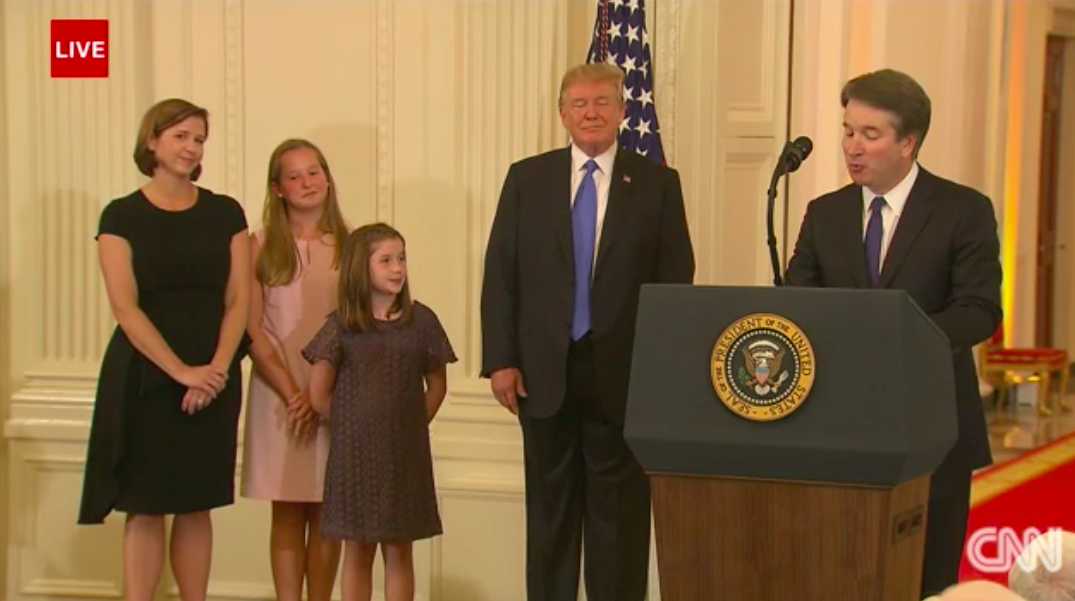 Supreme Court nominee, Brett Kavanaugh, said he's grateful to President Trump for the selection.
"Mr. President, I am grateful to you, and I'm humbled by your confidence in me," he said.
He also thanked Supreme Court Justice Elena Kagan, who he said hired him as a teacher.
"For the past 11 years I've taught hundreds of students primarily at Harvard Law School. I teach that the Constitution's separation of powers protects individual liberty, and I remain grateful to the dean who hired me, Justice Elena Kagan," he said.
9:13 p.m. ET, July 9, 2018
Trump: "What matters is not a judge's political views, but whether they can set aside those views"
As he was introducing Brett Kavanaugh, President Trump said he didn't ask the candidates for the Supreme Court seat about their political views.
"In keeping with President Reagan's legacy, I do not ask about a nominee's personal opinions," Trump said.
"What matters is not a judge's political views, but whether they can set aside those views to do what the law and the Constitution require. I am pleased to say I have found without doubt such a person."
9:14 p.m. ET, July 9, 2018
Trump: Kavanaugh is "one of the finest and sharpest legal minds of our time"
President Trump, who just nominated Judge Kavanaugh to the Supreme Court, said he has "impeccable credentials, unsurpassed qualifications, and a proven commitment to equal justice under the law."
"Throughout legal circles, he is considered a judge's judge, a true thought leader among his peers," Trump said.
"He's a brilliant jurist with a clear and effective writing style universally regarded as one of the finest and sharpest legal minds of our time."
9:11 p.m. ET, July 9, 2018
President Trump nominates Brett Kavanaugh for the Supreme Court
President Trump announced from the White House East Room that he is nominating Brett Kavanaugh to replace Justice Kennedy on the Supreme Court.
Kavanaugh was confirmed to his position on the Court of Appeals for DC on May 26, 2006, about 12 years ago. The 53-year-old worked in the Bush administration and also for independent counsel Kenneth Starr in the investigation that eventually led to the impeachment of President Bill Clinton.
Kavanaugh has a history of conservatives votes in areas concerning presidential authority, the Second Amendment and religious liberty.
However, some social conservatives — while refusing to go on the record — criticized two of his opinions: one dealing with the Affordable Care Act and a second about an undocumented pregnant teen who sought an abortion.