President Trump holds a rally in Wisconsin
10:06 a.m. ET, April 28, 2019
Trump incorrectly claims that mothers and doctors decide to "execute" babies
President Trump falsely claimed that babies in Wisconsin can be "executed" after the Democratic governor Tony Evers said he would veto a bill that would require doctors to provide medical care to babies born alive after a failed abortion attempt or face a large fine or/and imprisonment.
"But your Democrat governor here in Wisconsin, shockingly, stated that he will veto legislation that protects Wisconsin babies born alive. The baby is born, the mother meets with the doctor, they take care of the baby, they wrap the baby beautifully, and then the doctor and the mother determine whether or not they will execute the baby," Trump said.
Trump's claim that mothers and doctors are permitted to execute a baby after it leaves the womb is incorrect. The bill he is referring to would mandate that health professionals do all they could to keep a baby alive if it was "born alive" and would penalize anyone who lets a baby die.
Trump also referenced Virginia Gov. Ralph Northam, whose comments earlier this year about third-trimester abortion sparked controversy. When describing what he thought happens during "late-term abortions," Northam said this:
"The infant would be delivered," Northam said. "The infant would be kept comfortable. The infant would be resuscitated if that's what the mother and the family desired, and then a discussion would ensue between the physicians and the mother."
"No, it's incredible. Until this crazy man in Virginia said it, nobody even thought of that, right?" Trump said at his rally tonight.
9:47 p.m. ET, April 27, 2019
Trump: It was my "sick idea" to send immigrants to sanctuary cities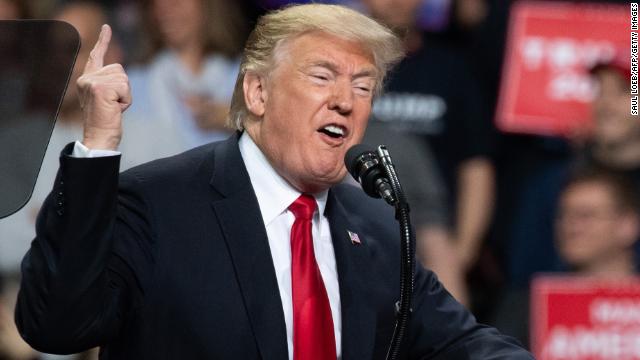 President Trump said the US is sending many people who cross the border illegally to sanctuary cities — adding that it was his "sick idea" to do so.
"We're sending many of them to sanctuary cities, thank you very much," 'They're not too happy about it. I'm proud to tell you that was actually my sick idea."
Earlier this month, the Trump administration said it is "strongly looking at" the possibility of releasing immigrants into so-called sanctuary cities in part to retaliate against Democrats.
The proposal is another example of Trump's willingness to enact hardline immigration policies to deliver on border security, a key issue for his political base.
Some context: The term "sanctuary city" is a broad term applied to jurisdictions that have policies in place designed to limit cooperation with or involvement in federal immigration enforcement actions. Cities, counties and some states have a range of informal policies as well as actual laws that qualify as "sanctuary" positions.
9:31 p.m. ET, April 27, 2019
Trump on Saudi Arabia: "They buy a lot from us... I don't want to lose them!"
During a riff about getting countries around the world to pay more for their own defense, President Trump defended his support for Saudi Arabia. 
"They buy a lot from us -- $450 billion they buy," the President said. 
"You have people wanting to cut off Saudi Arabia. They bought $450 billion. I don't want to lose them!," he told the crowd.
"But the military, we subsidize them," Trump continued, getting back to his original point.
Trump then described his negotiation tactic with the king of Saudi Arabia.
"I called the king. I like the king. I said, king! We're losing our ass defending you, king, and you have a lot of money!"
He said the king asked him why he was calling, because nobody had made such a call. 
"That's because they were stupid!" The President said he replied.
9:24 p.m. ET, April 27, 2019
Trump on Paris Climate Agreement: "If Greenpeace goes to China, that's the end of Greenpeace"
President Trump made the case that the United States could not comply with the Paris Climate Accord because it would get sued, whereas countries like China would not.
"China can sign rules. They're not going to be sued by Greenpeace," the President explained at a rally in Green Bay.
"If Greenpeace goes to China, that's the end of Greenpeace. You're not going to see them again," he said, adding, "We adhere to these things. It's a little different."
Trump said the United States, "would have lost our ass on that deal."
He also made light of violent protests in the streets of Paris, and seemed to imply that the so-called Yellow Vest protesters were his "friends."
"I say, take a look at Paris on a Saturday afternoon. How are they doing, good?" he asked rhetorically. "How are the yellow vests doing?"
"They're great friends of mine, but I don't think they're doing so good," he said.
9:21 p.m. ET, April 27, 2019
Sarah Sanders references 2018 White House Correspondents' dinner and says she didn't get "the best welcome"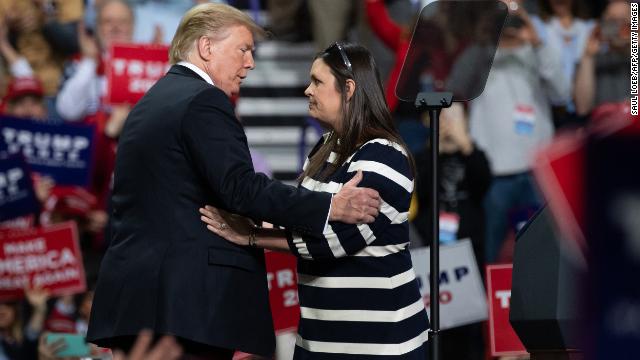 President Trump brought White House press secretary Sarah Sanders on stage during his Green Bay rally after the crowed chanted "Sarah!"
Trump had made a reference to Sanders as talked about his campaign. That's when the crowd started chanting her name, and Trump invited her to the podium.
"Thank you, Mr. President," she said.
"Last year this night, I was at a slightly different event. Not quiet the best welcome. So this is an amazing honor," she said, referencing the 2018 White House Correspondents' Association dinner.
The annual dinner is happening in DC tonight. This marks the third year in a row Trump has skipped it — and this year, the White House ordered administration officials to boycott it, too. 
9:01 p.m. ET, April 27, 2019
Trump: "I promise after 6 years I'll be very happy"
President Trump addressed rumors and speculation over whether he would leave the presidency peacefully after two terms. 
"They don't believe I'm leaving in six years," Trump said to the crowd in Green Bay.
He mimicked his critics saying, "He wants to extend, he wants to have the presidency for life." 
"These are sick people," Trump added.
"I promise at the end of six years, I'll be very happy. But you're going to be left with the strongest country you've ever had," the President said. 
He also attacked the "scum leading the top of government," and again seemed to imply that officials at the Justice Department were leaving in the wake of the Muller investigation.
"These were dirty cops," Trump said. "They're just leaving because they got caught like nobody ever got caught."
The President made similar comments yesterday to leadership at the NRA but has not said to whom specifically he is referring.
9:01 p.m. ET, April 27, 2019
Trump: Jussie Smollett case is a "disgrace to our nation"
President Trump called Jussie Smollett — the "Empire" actor who had been accused of staging a hate crime and filing a false police report, but later had all charges dropped against him — a "third-rate actor."
"That case in Chicago is a disgrace to our nation," Trump said. "He said he was beat up by 'MAGA country.' Turned out to be a total lie."
What Smollett alleged happened: Police said that the actor told detectives he was attacked earlier this year by two men near the lower entrance of a Loews hotel in Chicago. Police were told the two men yelled "'Empire' fa***t" and "'Empire' n***er'" while striking him.
In a supplemental interview with authorities, Smollett claimed one of the attackers also shouted, "This is MAGA country," a reference to President Donald Trump's "Make America Great Again" campaign slogan.
8:50 p.m. ET, April 27, 2019
Trump: Russia probe was "greatest political hoax in American history"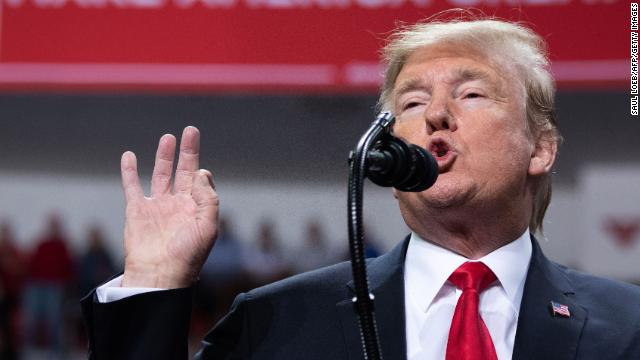 President Trump brought up special counsel Robert Mueller's investigation into Russian inference in the 2016 election, calling it the "greatest political hoax in American history" and a "witch hunt."
"This witch hunt was never really just about me. It was always about stopping you — the millions and millions of freedom-loving citizens who rose up on that incredible November day, remember that day?" Trump said as the audience cheered.
Some background: The Department of Justice released a redacted copy of Mueller's report last week. Those close to him say Trump is furious at the people whose extensive interviews with the special counsel's office created the epic depiction of a chaotic White House. 
8:45 p.m. ET, April 27, 2019
Trump praises border patrol agent who officials say fired at alleged synagogue shooter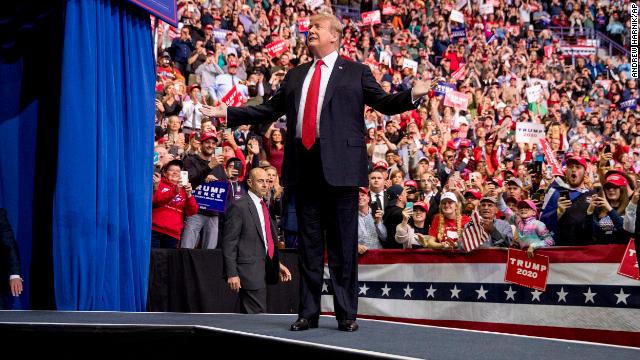 President Trump addressed the synagogue shooting in San Diego at the top of his rally tonight. He singled out an off-duty border patrol agent who officials say fired at the alleged shooter.
The President said the agent "bravely returned fire and helped disrupt the attack."
Earlier on Twitter, Trump credited the agent for stopping the attack:
He also said he spoke with Mayor Steve Vaus of Poway and Gov. Gavin Newsom of California. He said he told the two that "we stand together and will all get to the bottom of it."
"We'll got to the bottom of a lot of things happening in our country," Trump said.
At least one person was killed and three more were injured in a shooting at a San Diego-area synagogue earlier today, the last day of Passover.