President Trump holds rally in West Virginia
8:59 p.m. ET, August 21, 2018
Our live coverage has ended. Scroll through the posts below to see how President Trump's rally in West Virginia played out.
8:56 p.m. ET, August 21, 2018
Trump didn't mention former staffers Paul Manafort and Michael Cohen
President Trump talked about immigration, the upcoming midterm elections and special counsel Robert Mueller's investigation at tonight's rally in West Virginia, but he never once mentioned Paul Manafort and Michael Cohen.
Why this matters: Manafort, Trump's former campaign chairman, was found guilty today on eight counts of financial crimes. This is the first case Mueller brought to trial as part of the investigation into Russian interference in the 2016 US election.
Cohen, Trump's former personal attorney, pleaded guilty in Manhattan today to eight counts. The charges included tax fraud, false statements to a bank and campaign finance violations tied to his work for Trump, including payments Cohen made or helped orchestrate that were designed to silence women who claimed affairs with the then-candidate.
The Cohen investigation was referred to the Southern District of New York by special counsel Robert Mueller. The plea deal does not include cooperation by Cohen, and it is unclear if he will follow through on his previous assertion to friends, according to sources, that he is willing to talk to Mueller.
Trump has repeatedly called the Mueller probe a "witch hunt" that hasn't found evidence of Russian collusion with his campaign, and his allies in and out of the White House say the special counsel should wrap things up.
8:37 p.m. ET, August 21, 2018
Trump: I'd rather have fake news than social media censorship
President Trump denounced "social media censorship," saying he'd rather have "fake news" than see anyone censored online.
"I'd rather have fake news then have anybody — including liberal socialists, anything — then have anybody stopped and censored," he said.
He said Americans "sort of like a newspaper," with the ability to post on social networks like Facebook and Twitter.
"You can't pick one person and say, 'We don't like what he's been saying, he's out.' So we will live with fake news. I hate to say it, but we have no choice because that's by far the better alternative," Trump said.
Earlier this month, YouTube, Facebook and Apple began taking steps to remove content associated with InfoWars and its founder Alex Jones.
8:01 p.m. ET, August 21, 2018
"Where is the collusion?" Trump asks
President Trump briefly slammed the special counsel Robert Mueller's probe into Russian interference in the 2016 campaign during his rally in West Virginia on Tuesday, hours after his campaign chairman Paul Manafort was convicted on charges stemming from that investigation.
"Fake news and the Russian witch hunt," Trump said.
Where is the collusion? You know they're still looking for collusion. Where is the collusion? Find us some collusion. We want to find the collusion."
Thus far, Trump has largely avoided the topic of the investigation during his rally and after making these remarks, he quickly returned to his scripted remarks.
8:23 p.m. ET, August 21, 2018
Trump: Mollie Tibbetts' death "should have never happened"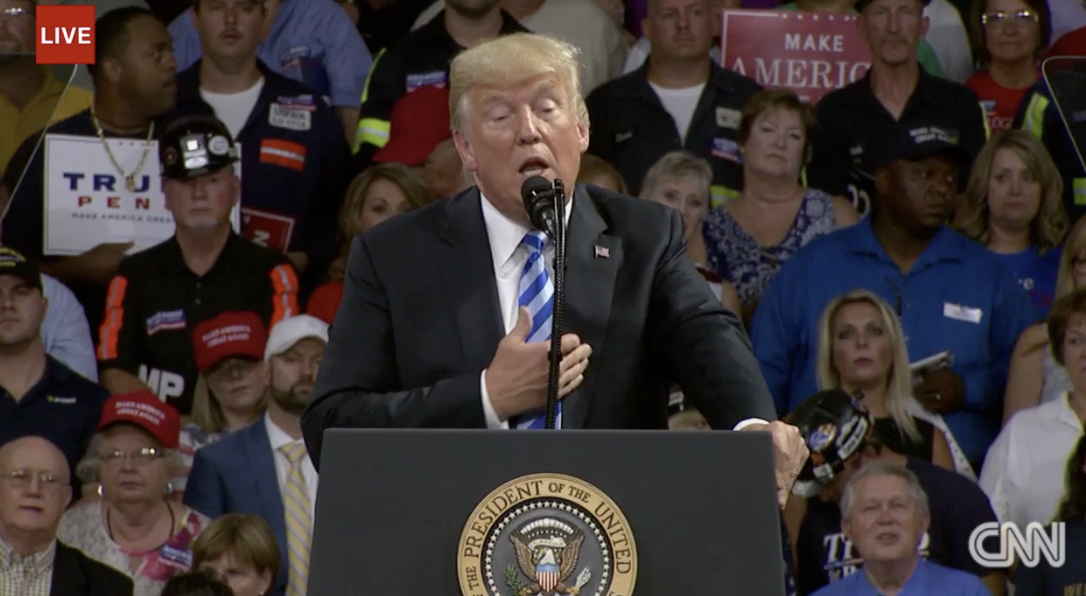 President Trump made remarks about Mollie Tibbetts' death and the arrest of an undocumented immigrant while speaking at the rally tonight.
"You heard about today with the illegal alien coming in very sadly from Mexico. And you saw what happened to that incredible beautiful young woman. Should have never happened. Illegally in our country. We've had a huge impact but the laws are so bad, the immigration laws are such a a disgrace. We're getting it changed but we have to get more Republicans," Trump said.
Some background: Iowa authorities have charged Cristhian Bahena Rivera, 24, with murder in the presumed death of Tibbetts, a 20-year-old college student who has been missing for more than five weeks.
Rivera has been in the area for four to seven years, said Rick Rahn, special agent in charge at the Iowa Division of Criminal Investigation. US Immigration and Customs Enforcement said Rivera is from Mexico.
In a lengthy interview with police, Rivera said he saw Tibbetts jogging on July 18 and followed her, Rahn said. Rivera said he approached and ran alongside or behind her. He said that Tibbetts grabbed her phone and told him to leave her alone, or she would call the police. Rivera said he chased down Tibbetts after she took off running, Rahn said.
Rivera told authorities he blacked out at some point and he came to near an intersection where they believe he placed the body, officials said.
7:52 p.m. ET, August 21, 2018
Trump says he'll hold more rallies before the midterms
President Trump said he'll be hitting the road frequently leading up to the November midterm elections.
In recent weeks, Trump has held rallies with increasing frequency to campaign for Republican candidates across the US. Recent rallies took place in Ohio, Florida and Montana.
He told the crowd in West Virginia tonight he'll be back again before November, and even joked about going without his security detail.
"With all the Secret Service — and they're fantastic people — but it sort of holds you back. Maybe sometimes I'll just make a few trips without them ... but we're gonna be out a lot. We're going to a lot of different states. And I'm coming back here before the election," he said.
Watch more:
7:26 p.m. ET, August 21, 2018
Happening now: Trump speaks at his rally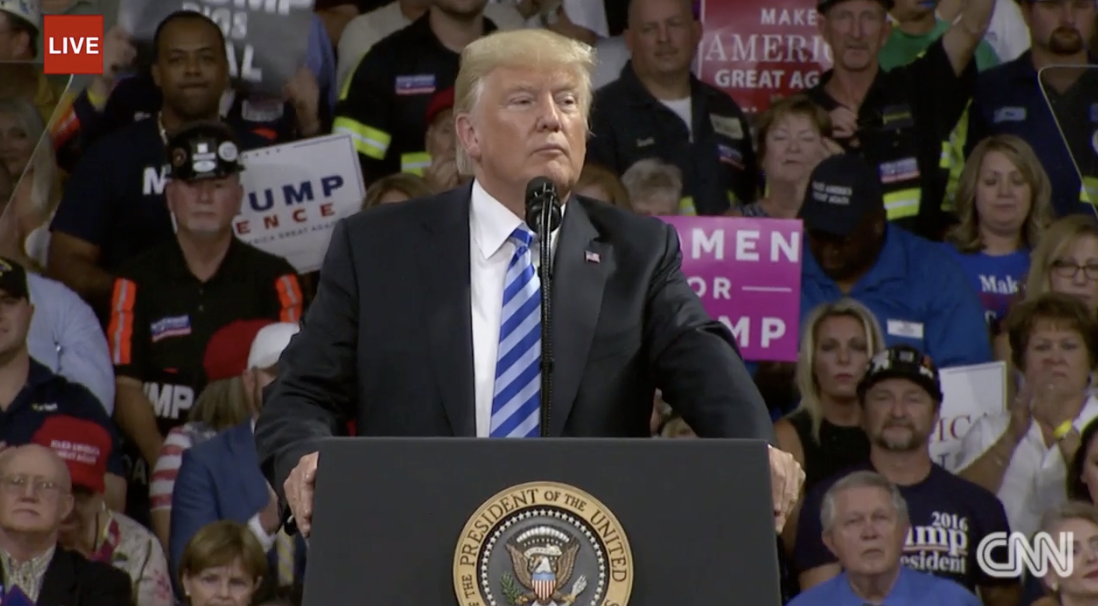 President Trump started his rally by talking about some NFL players' kneeling during the National Anthem and the coal industry.
Earlier today, the Environmental Protection Agency formally unveiled the details of its new plan to devolve regulation of coal-fired power plants back to the states, one that is expected to give a boost to the coal industry and increase carbon emissions nationwide.
The move would reverse Obama administration efforts to combat climate change and marks the fulfillment of a campaign promise at the heart of his appeal in coal-producing states like West Virginia.