President Trump holds rally in Pennsylvania
8:26 p.m. ET, October 10, 2018
Our live coverage of President Trump's rally has ended. Scroll through the posts below to see how it unfolded.
8:17 p.m. ET, October 10, 2018
Trump: Bob Casey is "banking on the name of his father"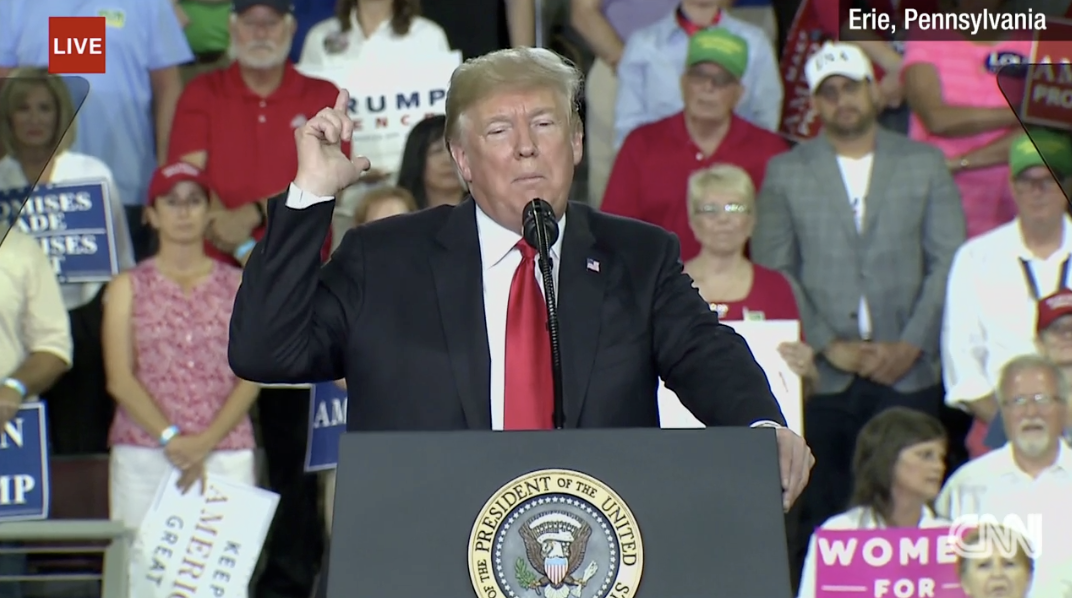 President Donald Trump criticized Rep. Lou Barletta's Democratic opponent Sen. Bob Casey during his campaign rally.
"By the way, how do you have such a liberal guy in the state of Pennsylvania? I'm trying to figure that out," Trump said, as attendees shouted out. 
"Oh. He's banking on the name of his father. That's no good. Which is why he needs to be voted out of office. He has to be voted out of office," he said.
The comments come one week after a major New York Times report found that Trump's father, Fred Trump, significantly bankrolled his real estate empire, undercutting most of the President's longtime talking points on his own success.
8:10 p.m. ET, October 10, 2018
Trump describes the first time he realized the power of his office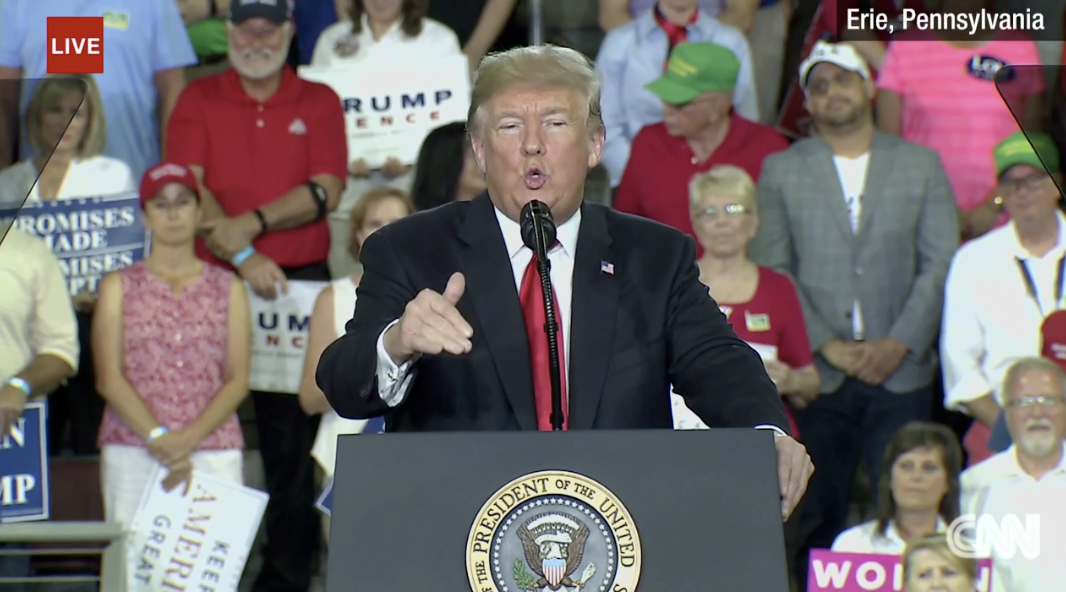 President Donald Trump told supporters in Erie that the first time he realized the power of his office was a result of his negotiations with drug companies raising prescription drug prices.
"Did you see four weeks ago when Pfizer and Novartis and other drug companies raised the prices of their drugs very, very substantially? And I didn't like it and I called them. I said, can't do that. Can't do that!" he said to applause.
He continued: "And the first time, and I give them credit and I really thank them too, honestly. But first time in history they rescinded their price increase and they kept the same and they promised no increase for a substantial time, but we're going to get them down. And when I called them up and they agreed to immediately rescind, perhaps that's the first time I realized how powerful it is to be the President of the United States. That was pretty good."
8:04 p.m. ET, October 10, 2018
Trump says Rep. Lou Barletta "lost his brother" yesterday
Introducing Pennsylvania Republican Senate candidate and current Congressman Lou Barletta, President Donald Trump revealed that Barletta's brother passed away Tuesday.
"He had a very sad day yesterday, he lost his brother. He lost his brother, and he loved his brother like crazy. I said how close, he said the closest, a very strange horrible thing happened. And he doesn't want to talk about it, but I will tell you it's a hard thing for him," Trump said in Erie, later alluding to another misfortune, saying, "something else happened on top of that."
 Barletta spoke briefly and did not mention his brother. He did, however, tell a joke: "This economy is so good that even Colin Kaepernick found a job." 
7:56 p.m. ET, October 10, 2018
Trump: "False charges" and "false accusations" against Kavanaugh were a "disgrace"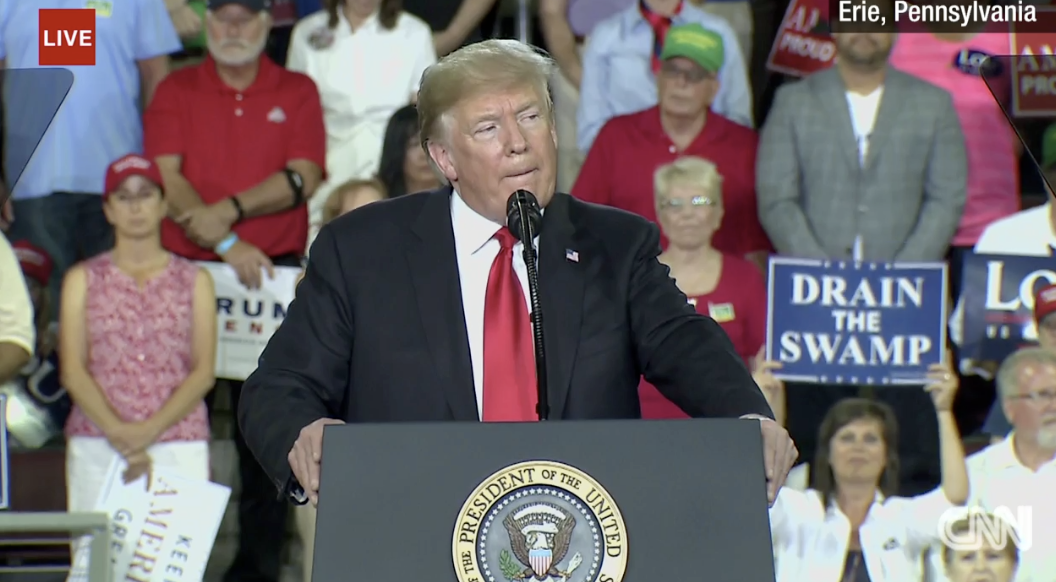 President Donald Trump touted his two Supreme Court appointments during his rally in Erie, Pennsylvania, pointing to what he called "disgraceful behavior" by the Democrats as a reason to vote Republican in the forthcoming midterm elections.
During his remarks, he named Sens. Cory Booker and Dianne Feinstein.
"What the radical Democrats did to Brett Kavanaugh and his beautiful family is a national disgrace. It's a disgrace. What they did was a disgrace. You look at Cory Booker, the way he'd talk and then you look at what he did. You look at Sen. Dianne Feinstein, what she did," he said to enthusiastic boos from the audience.
He also pointed to "false charges" against Kavanaugh.
"The disgraceful behavior, the disgraceful leaking of documents, you look at what they did. You look at the false charges, you look at the false accusations, it was a disgrace, it was a disgrace," he said, noting that he "never thought" of choosing a different nominee for the nation's highest court.
8:41 p.m. ET, October 10, 2018
Trump mocks "the rules of Me Too"
President Trump refrained from using an expression at his Pennsylvania rally, citing "the rules of Me Too" as the reason he couldn't say whatever it was he was planning to say.
"I used the expression, you know, there's an expression but under the rules of Me Too I'm not allowed to use that expression anymore. I can't do it," he said, ultimately replacing the expression he was planning to use with "the person that got away."
"See in the old days, it was a little different," Trump said, laughing as an attendee told him to "do it anyway."
"I would do it, except for these people up there. They would say, did you hear what President Trump said?" he said as he gestured to the press.
He continued: "So there is an expression, but we'll change the expression. Pennsylvania was always that person who got away, that's pretty good, right?"
This isn't the first the President has mocked the #MeToo movement.
At his Montana rally in July, Trump mocked the #MeToo movement as he repeatedly attacked Massachusetts Sen. Elizabeth Warren over her heritage. Trump suggest that, should Warren win the Democratic nomination in 2020 and they were to debate, he would toss an ancestry test to her and dare her to take it. In doing so, he made light of the #MeToo movement.
"We'll take that little kit and say, we have to do it gently because we are in the Me Too generation, and we will very gently take that kit, slowly toss it" to her, Trump said, adding that he would offer $1 million to charity if she took the test and it "shows you are an Indian."
7:23 p.m. ET, October 10, 2018
Trump: "We send our unwavering love and support" to those affected by Hurricane Michael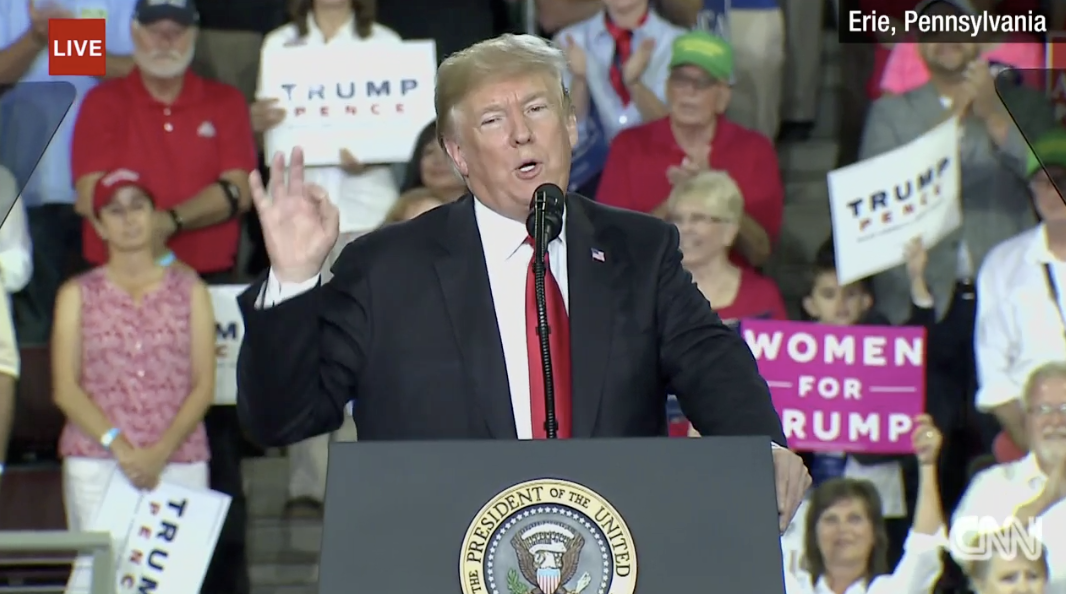 President Donald Trump opened his rally in Pennsylvania tonight by sending the "thoughts and prayers" of the entire nation to those impacted by Hurricane Michael.
"I want to send our thoughts and prayers of our entire nation to everyone in the path of Hurricane Michael especially in the Florida panhandle where it's hitting and hitting hard," he said.
"We send our unwavering love and support," Trump said to the audience in Erie. 
"As it leaves we're going to follow right behind," Trump said of the planned response to the storm, saying food, water and electrical workers are all ready to go once the storm ends. 
Trump earlier today defended his decision to hold a "Make America Great Again" rally and fundraiser, saying he couldn't "disappoint" the "thousands" who waited in line to see him. The arena was filled to capacity.
Trump added that he and his administration have been working in "close coordination" with governors and local officials to "provide the full response and steadfast support of our federal government." 
Finally, Trump concluded his remarks on the hurricane speaking to those in the storms path saying, "God speed. God speed. God bless you all."