President Trump holds a rally in North Carolina
8:30 p.m. ET, October 26, 2018
Our live coverage of President Trump's North Carolina rally has ended. Scroll through the posts below to see how it unfolded.
8:16 p.m. ET, October 26, 2018
Trump teases immigration announcement: "Watch next week what's going to happen" 
President Trump teased an announcement he plans to make on immigration next week, but gave no further details.
"Watch next week what's going to happen," Trump said. "It's going to be exciting. It's going to be great."
Eleven days before the midterm elections, immigration was one of the central topics of his rally tonight.
Earlier today, a White House official said Trump will deliver a major speech next week on immigration and the border.
Trump is seeking to capitalize on the progress of the caravan marching toward the US-Mexico border and is urging his aides to develop plans that will allow him to act with force. Trump and his aides also believe the issue is a politically potent one -- not just with his base -- but also with a broader swath of voters turned off by the perception that the southern border is being overrun with immigrants.
7:50 p.m. ET, October 26, 2018
Trump calls for civility, but says media has "a major role to play"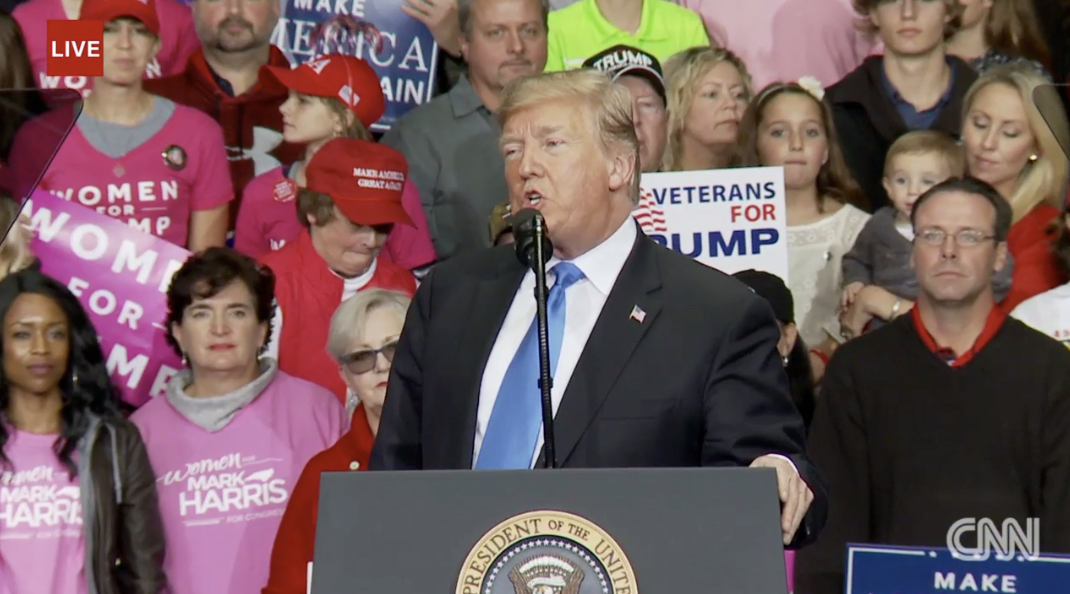 President Trump began his Charlotte rally discussing what he described as "terrorist actions" of the past week, and when the crowd broke out in an extended chant of "CNN sucks," he looked on and did nothing to tamp down the cries. 
While discussing the "tone and civility" of national dialogue, Trump urged unity and an "end to the politics of personal destruction."
The media, he continued, "has a major role to play whether they want to or not," at which point the chant broke out.
Nearly 20 seconds later, he added to the riled-up crowd.
"And they do indeed. They have a major role to play as far as tone and as far as everything," Trump said.
The President lambasted the media's response today now that the suspect has been named. (Authorities arrested 56-year-old Cesar Sayoc today and charged him with five federal crimes in connection with the mail bombs.)
The media, he said, is "(using) sinister action of one individual to score political points against me and the Republican Party," which he compared with the attack on Rep. Steve Scalise, repeating conservative media talking points that no one blamed Bernie Sanders for that attack. 
Trump again declined to name those targeted, instead saying the packages and devices were mailed to "a number of high profile individuals." And he praised FBI, Secret Service, and federal, state, and local law enforcement for their actions.
Trump also called on Americans to "replace the politics of destruction with a real debate about issues," noting that he wants "honest coverage" from the media.
7:30 p.m. ET, October 26, 2018
NOW: President Trump takes the stage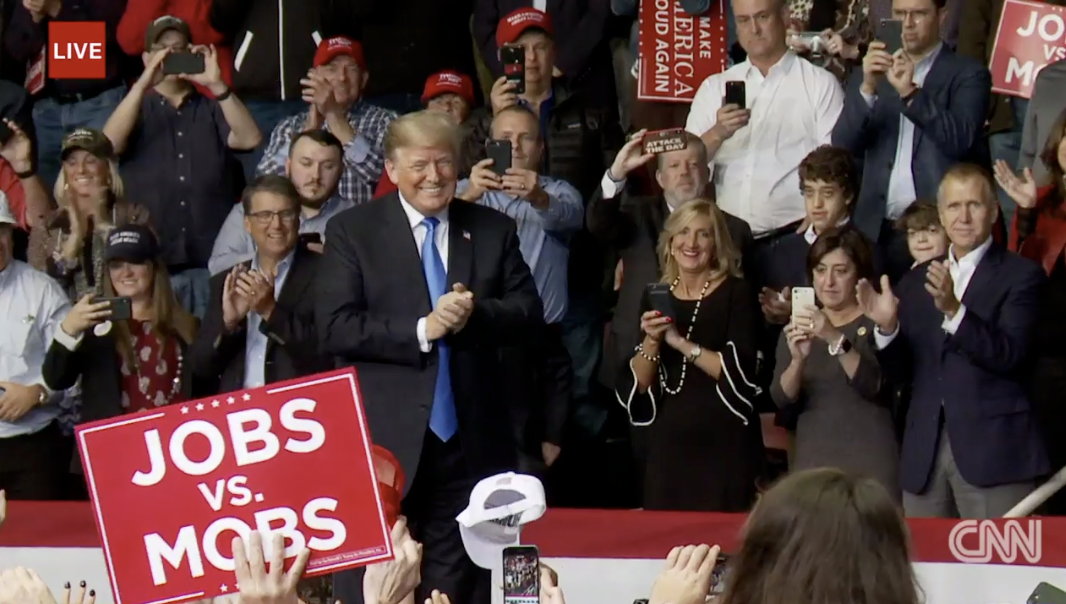 President Trump has taken the stage at his rally tonight in Charlotte, North Carolina.
You can watch it live in the video player above.
6:54 p.m. ET, October 26, 2018
President Trump has landed in Charlotte
President Trump has touched down at Charlotte Douglas Airport, according to pool reports.
The rally is scheduled to begin at 7 p.m. ET.
The audience at the Bojangles Coliseum in Charlotte, North Carolina, chanted "CNN sucks" three times before Trump arrived to the rally, and several people donned "Hillary for Prison" T-shirts. 
 Watch: 
6:44 p.m. ET, October 26, 2018
Trump condemns serial bomb mailings as "terrorizing acts"
President Trump issued a firm denunciation of political violence in announcing the arrest of the mail bomb suspect Friday, but repeatedly undercut his attempts to come across as a unifying leader at a time of crisis.
"These terrorizing acts are despicable and have no place in our country," Trump said, while also praising law enforcement officials for the swift arrest, since the first packages started arriving on Tuesday.
"We must never allow political violence to take root in America," he said. "I'm committed to doing everything in my power as President to stop it."
The bombs were mailed to targets including former President Barack Obama, to the home of former Secretary of State Hillary Clinton and President Bill Clinton, billionaire liberal donor George Soros, and the CNN bureau in New York.
Trump's remarks, read from a teleprompter were in keeping with a grave moment, and would stand comparison to any comments by a previous President at a time when Americans were worried about their security.
But Trump has no intention of calling those targeted with pipe bombs, a senior White House official told CNN.
And he declined to mention any of the targets or their party affiliation by name, only citing them as public figures, adding to indications that the President rejects any suggestion that his own rhetoric could be partly to blame for fostering a febrile political atmosphere in which the packages were sent. He also noted a media organization had received a bomb, but did not specify that it was CNN.
"But the bottom line is that Americans must unify, and we must show the world that we are united together in peace and love and harmony as fellow American citizens," Trump said at the White House. "There is no country like our country, and every day we are showing the world just how truly great we are."
His unifying and elevated tone contrasted sharply with his attitude towards the case when he was not reading a script.
Earlier, in a tweet, the President appeared to give credence to conservative media narratives that the media's focus on the bomb mailings was deliberately designed to hurt GOP prospects at the polls in 11 days time.
"Republicans are doing so well in early voting, and at the polls, and now this "Bomb" stuff happens and the momentum greatly slows - news not talking politics. Very unfortunate, what is going on. Republicans, go out and vote!" Trump tweeted.
6:29 p.m. ET, October 26, 2018
President Trump is campaigning in North Carolina tonight
President Trump will be speaking tonight at a campaign rally in Charlotte, North Carolina.
The event is the 23rd rally the President has held in North Carolina, according to the Trump campaign.
The President's rally comes days after suspected packages were first sent to prominent Democrats, critics of President Donald Trump, and to CNN's New York offices. A suspect, 56-year-old Cesar Sayoc, was arrested in Florida earlier today.
Two new packages were detected this morning, addressed to Sen. Cory Booker and ormer Director of National Intelligence James Clapper.
The devices mark one of the most serious attempts to stoke fear and terror in the US in a period that has already seen a number of violent political attacks. The apparent bombs, while rudimentary in design, according to law enforcement officials, targeted two former US presidents, a former vice president and potential presidential contender, and numerous outspoken critics of the Trump administration.