President Trump holds a rally in Montana
9:55 p.m. ET, October 18, 2018
Our live coverage of President Trump's rally in Montana has ended. Scroll through the posts below to see how it all unfolded or visit CNN Politics.
9:50 p.m. ET, October 18, 2018
Trump says he can't call Elizabeth Warren "Pocahontas anymore" because of her DNA test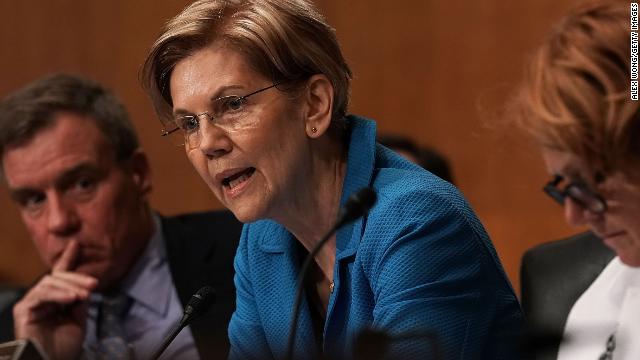 President Donald Trump reacted to Sen. Elizabeth Warren's genealogy test results during his Montana rally Thursday.
"The one good thing about her test is there was so little -- she had less than the average American. I used to say, 'I have more Indian blood in me than she does and I have none,' and I was right," he said.
He said that Warren is "probably disqualified" from running for President in 2020 and that she "made a fool of herself."
Now, Trump surmised, "I can't call her Pocahontas anymore."
He continued: "She has so little Indian blood she has none that I cannot call her Pocahontas anymore. But if you don't mind I will continue."
"It'll show everybody what a phony she is," he added.
Some background: The Massachusetts senator released a DNA test showing she has distant Native American ancestry, in an apparent attempt to pre-empt further questions and attacks should she run for president in 2020.
Warren first faced scrutiny for her purported Native American heritage during her 2012 Senate race. But Trump has revived and amplified the controversy as he eyes Warren as a possible rival, frequently mocking her with the nickname "Pocahontas."
Cherokee Nation Secretary of State Chuck Hoskin Jr. released a statement Monday saying using a DNA test to claim a connection to any tribal nation is "inappropriate and wrong."
"It makes a mockery out of DNA tests and its legitimate uses while also dishonoring legitimate tribal governments and their citizens, whose ancestors are well documented and whose heritage is proven," he said. "Senator Warren is undermining tribal interests with her continued claims of tribal heritage."
9:31 p.m. ET, October 18, 2018
Trump: First lady was "so cool" during plane scare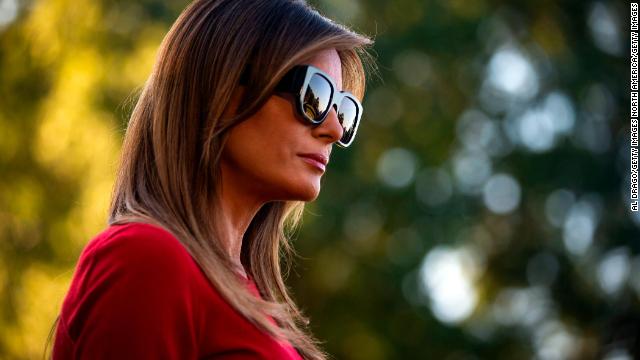 President Trump discussed first lady Melania Trump's plane scare this week, saying that his wife was "cool" under the pressure.
The first lady's plane was forced to return to Joint Base Andrews Wednesday after a "mechanical issue" that led to smoke in the cabin.
Trump described how he found out about the incident.
"Fire on the plane. I got a call, 'Sir, your wife is up in the air, there's a fire on the plane,' I said, 'Don't tell me that. Don't tell me that.' And they came down quickly. Great people, great pilots, great pilot," he said.
He continued: "And she was cool, she was cool. I did have to — once I found out, I asked how was she, was she scared, no sir. What was she like, she was so cool, we couldn't believe it, everybody else had cloth on their face, and I probably would have also. Cloth that was water, right wet on their face, she sat there."
Trump also talked about the first lady's controversial pith helmet, which she wore on safari in Kenya earlier this month.
"They said it represented a colonialized nation. And everybody's trying to figure — I think it came out of Los Angeles. I think they actually bought it in Los Angeles. But they love the job she's doing," he said.
9:32 p.m. ET, October 18, 2018
How Trump frames the 2018 election choice: "Democrats create mobs. Republicans create jobs"
President Trump, at his rally in Missoula, Montana, framed the midterms as "an election of Kavanaugh, the caravan, law and order, and common sense. That's what it's going to be."
"It's going to be an election of those things: law and order, Kavanaugh, remember common sense and remember, it's gonna be an election of the caravan, you know what I'm talking about," the President said.
In a new line for the campaign, Trump said, "Democrats create mobs. Republicans create jobs."
9:15 p.m. ET, October 18, 2018
Trump jokes about Gianforte assaulting reporter: "Any guy who can do a body slam, he's my guy"
President Donald Trump touted the candidacy of Montana House candidate Rep. Greg Gianforte, who assaulted a reporter during his campaign last May, saying "any guy who can do a body slam, he's my guy."
He admitted, "I shouldn't say that," but added, "You know, that's nothing to be embarrassed about."
Trump said he found out about the incident when he was traveling abroad in Rome. He said he was concerned it would hurt him in the election, but then, "I said, well, wait a minute I know Montana pretty well. I think it might help him and it did."
He called him a "tough cookie."
Gianforte pled guilty to assault in June.
The remarks come hours after Trump said he believes Washington Post Jamal Khashoggi journalist is dead.
9:06 p.m. ET, October 18, 2018
Trump says he "caused the problem" on the border because he created an "incredible economy"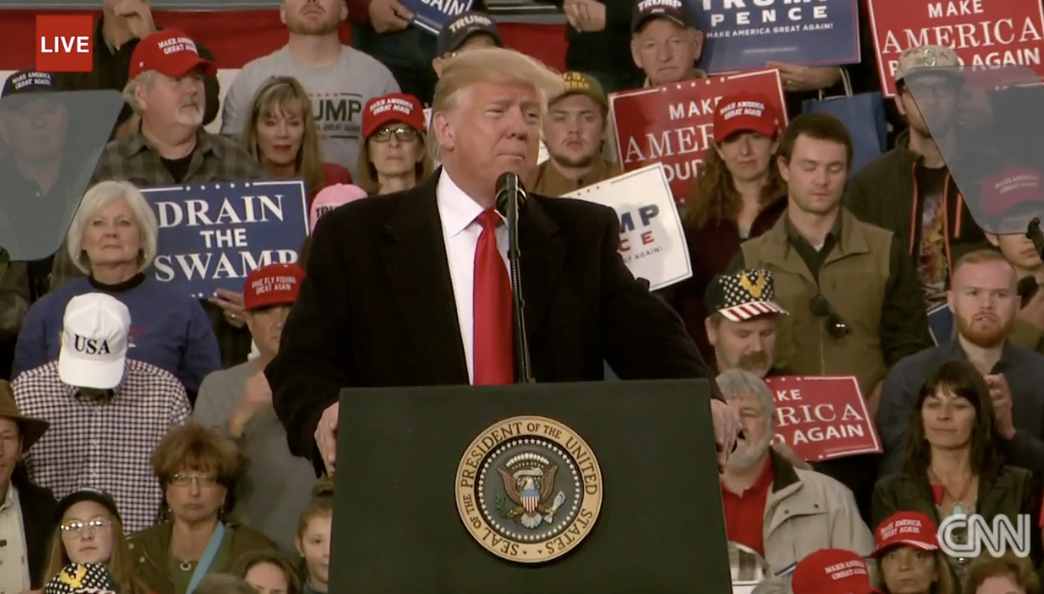 President Trump went on an extended riff on immigration and the caravan of people coming north from Honduras, which ultimately culminated with him sarcastically "taking full blame."
Trump blamed Democrats for the caravan, saying, "As you know I'm willing to send the military to defend our southern border if necessary, all because of the illegal immigration onslaught brought by the Democrats because they refuse to acknowledge or to change the laws. They like it. They also figure everybody coming in is going to vote Democrat."
He also thanked the Mexican government for "stopping it hopefully before it gets to us." He later said he was responsible for the immigration problem on the border due to the economy.
"I will say, I have caused the problem. I'm taking full blame. You know why? Everyone's like in shock. And look fake news, it's my problem, I caused it because I have created such an incredible economy. I have created so many jobs. Everybody wants to come in so they're all pouring in or trying to," Trump said.
8:37 p.m. ET, October 18, 2018
NOW: Trump takes the stage at his rally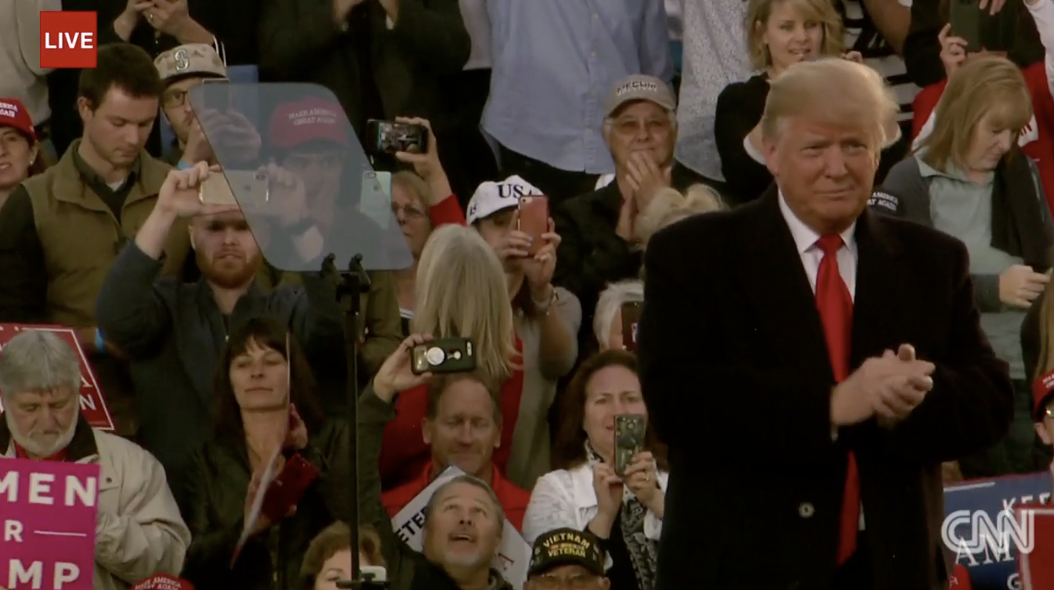 President Trump has arrived in Missoula, Montana, for a campaign event.
Trump has backed Matt Rosendale, the Republican looking to unseat Democratic Montana Sen. Jon Tester in November.
"Montana, to me, is a very big and powerful state. At least it will be after Matt Rosendale becomes your senator. He's great," Trump told the crowd.
Moments before Trump landed in Missoula, he took to Twitter to criticize Tester.