President Trump holds a rally in Montana
9:43 p.m. ET, September 6, 2018
Trump to Kim Jong Un on denuclearization: "Take your time"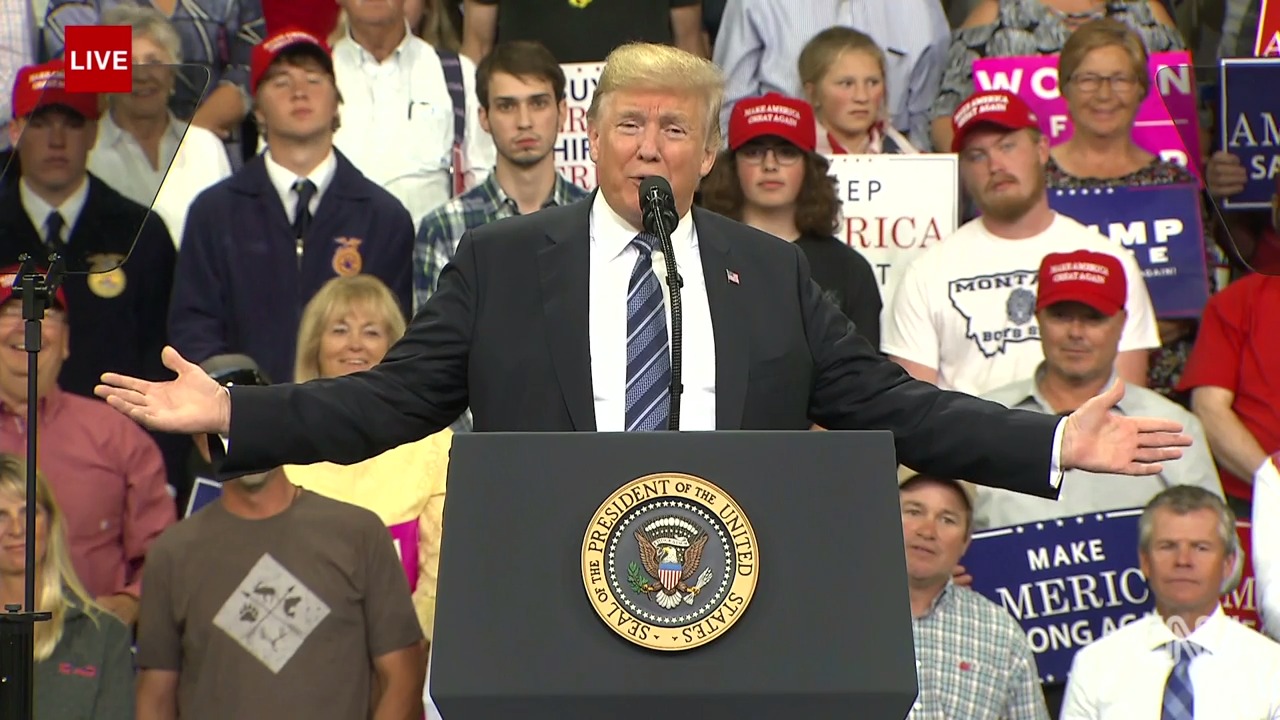 President Trump, pleased with the positive rhetoric coming out of North Korea, told Kim Jong Un to "take your time" tonight at a rally in Montana.
Trump was talking about Kim's purported statement that he hopes to denuclearize North Korea sometime during Trump's presidency. "That is the nicest," Trump said.
"We have a good feeling. He likes me, I like him, who knows what is going to happen."
9:26 p.m. ET, September 6, 2018
Trump describes Dems' actions at Kavanaugh hearing as "sick"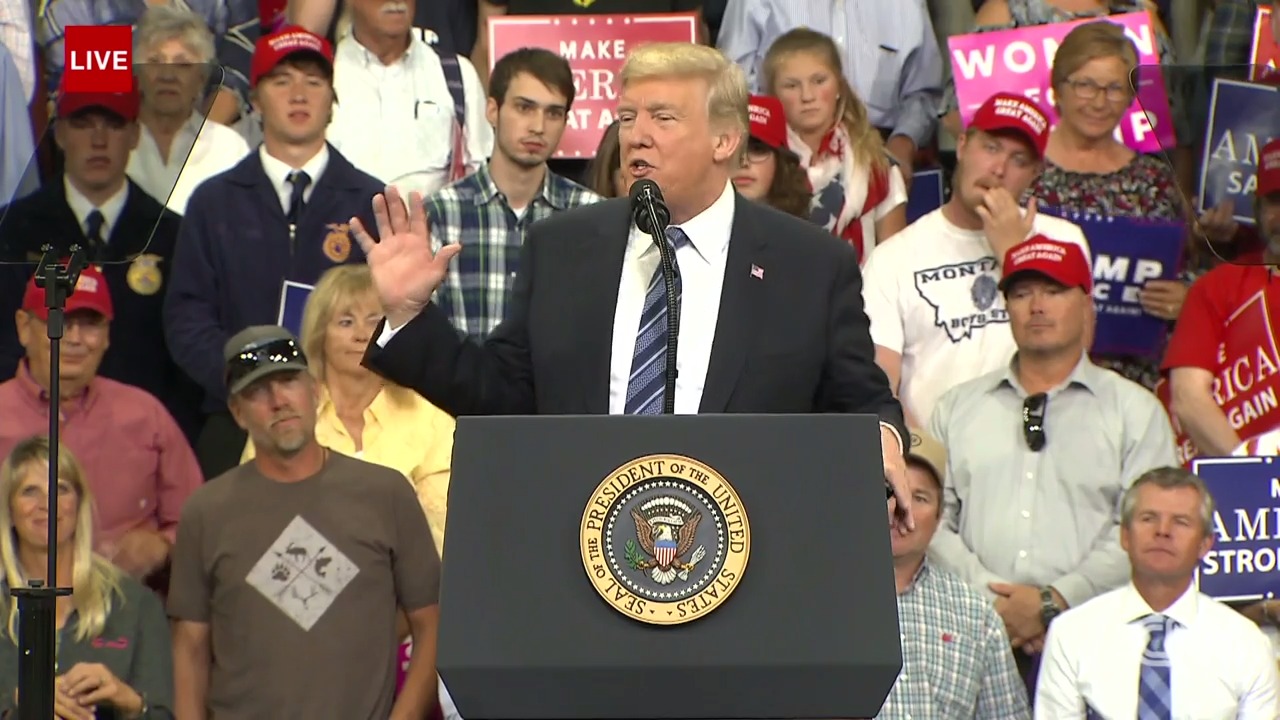 President Trump, speaking at a rally in Montana tonight, sharply criticized Democrats participating in Brett Kavanaugh's confirmation hearing.
He described the Democrats' actions as "sick."
"As you saw this week, the Senate is now considering a truly exceptional nominee for the United States Supreme Court, Judge Brett Kavanaugh," Trump said. "And he is doing really well. But do you believe the anger and the meanness on the other side? Sick. It is sick."
He continued: "The whole country is now seeing his amazing intellect and his brilliant legal mind. Judge Kavanaugh deserves overwhelming bipartisan support, and I think he is going to be one of our truly great to Supreme Court justices."
9:20 p.m. ET, September 6, 2018
President Trump wonders why NFL isn't enforcing its players stand for National Anthem
President Trump, when asked who was "winning" the "culture war over the NFL and the National Anthem answered simply: "we are."
When this happened: Trump made the remarks moments before the NFL season kickoff, in an interview with Fox News that was done in front of tonight's rally crowd in Montana. 
"We are," Trump said when asked who was winning the culture 
"I don't know what the NFL is doing... from what I understand it's in contracts that you have to stand for the National Anthem," Trump said adding, "I don't know why they're not enforcing it."
Trump also complained, as he has in the past, that staying in the locker room is "worse than kneeling in a certain way." 
"I honor the flag, I honor our National Anthem and most of the people in this country feel the same way." 
9:16 p.m. ET, September 6, 2018
President Trump calls op-ed "very unfair thing" in Fox interview overheard at rally
President Trump, in an interview with Fox News before a rally in Montana, addressed the New York Times Op-Ed saying it's "a very unfair thing" that the writer of the opinion is anonymous, adding that the administration can't discredit the account without the person's identity. 
This was unusual: The interview was taped on a stage in the arena in front of the crowd.
Trump also called the White House "a well oiled machine" and that there is "a lot of love in the administration." 
"So they take one person out of thousands but what's unfair -- I don't mind when they write a book and they make lies, cause it gets discredited. We just discredited the last one. We discredit all of them because it's lies," Trump said. 
"But I'll tell you," he continued, "when somebody writes and you can't discredit, because you have no idea who they are usually you'll find out it's a background that was bad. It might not be a Republican, it may not be a Conservative. It may be a deep state person that's been there a long time."
9:14 p.m. ET, September 6, 2018
Trump takes the stage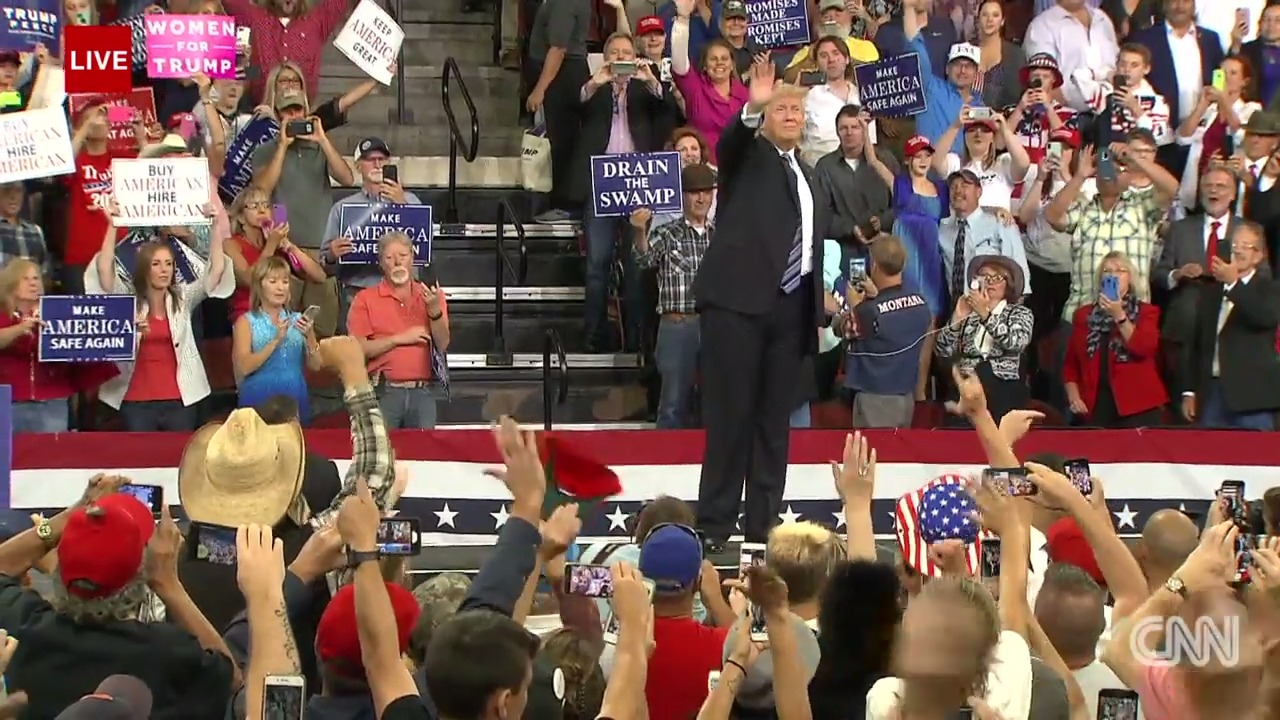 President Trump took the stage in Billings, Montana, just 10 minutes after he was scheduled to do so.
The President flew here after a rollicking 48 hours in Washington, D.C.
"Hello Montana," Trump said. "This is going to be a lot of fun."
You can watch the rally in the player above or right here. 
9:02 p.m. ET, September 6, 2018
3 key subjects that could come up at tonight's rally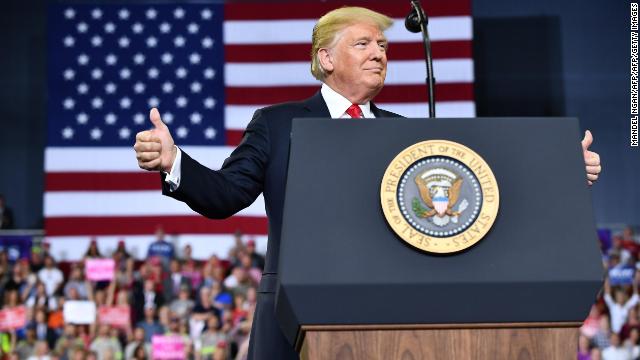 President Trump is speaking tonight in Montana after a tumultuous week at the White House and for his administration. 
He'll likely have a lot to say about Bob Woodward's new book, an anonymous New York Times op-ed and other key issues.
Here are a few subjects that Trump could bring up:
New York Times' op-ed: The op-ed is written by a senior Trump administration official who says they are part of an internal "resistance" working to thwart parts of Trump's agenda and block his worst impulses, and was published amid questions of Trump's fitness and his control over his administration. The highest-ranking officials in the Trump administration denied they or their offices authored the op-ed in The New York Times.
Bob Woodward's book: The 448-page book, "Fear: Trump in the White House," provides an unprecedented inside-the-room look through the eyes of the President's inner circle. According to the book, Trump's closest aides have taken extraordinary measures in the White House to try to stop what they saw as his most dangerous impulses, going so far as to swipe and hide papers from his desk so he wouldn't sign them. Several Trump administration officials denied several references made about them in the book.
Brett Kavanaugh: A confirmation hearing is underway for Trump's Supreme Court pick. Democratic senators are grilling Kavanaugh on his judicial record on Roe v. Wade, presidential powers and other landmark cases.
8:50 p.m. ET, September 6, 2018
Trump supporters at rally are listening to him pre-tape a Fox & Friends interview
Scores of Trump supporters in their seats ahead of the rally are being treated to a Fox & Friends interview that is being pre-taped for tomorrow's show. The audio is being pumped over the speakers, and they are cheering at certain remarks.