President Trump holds Missouri rally
8:36 p.m. ET, September 21, 2018
Trump says "there's a lingering stench" at the FBI and he's going to get rid of it
President Trump, in an apparent veiled reference to the Deputy Attorney General Rod Rosenstein story, told a rally of the FBI and the Justice Department, "there's a lingering stench and we're going to get rid of that, too." 
In Springfield, Missouri, while talking about the "swamp" of Washington, DC, he said, "Just look at what is now being exposed in our Department of Justice and the FBI look at what's going on. Look at what's going on." 
He continued, "I wanna tell you, we have great people in the Department of Justice, we have great people. These are people, I really believe, you take a poll, I gotta be at 95%. But we had some real bad ones – you see what's happened at the FBI, they're all gone, they're all gone, they're all gone. But there's a lingering stench and we're going to get rid of that, too."
Watch:
8:18 p.m. ET, September 21, 2018
Trump mocks Antifa: They're lucky that we're peaceful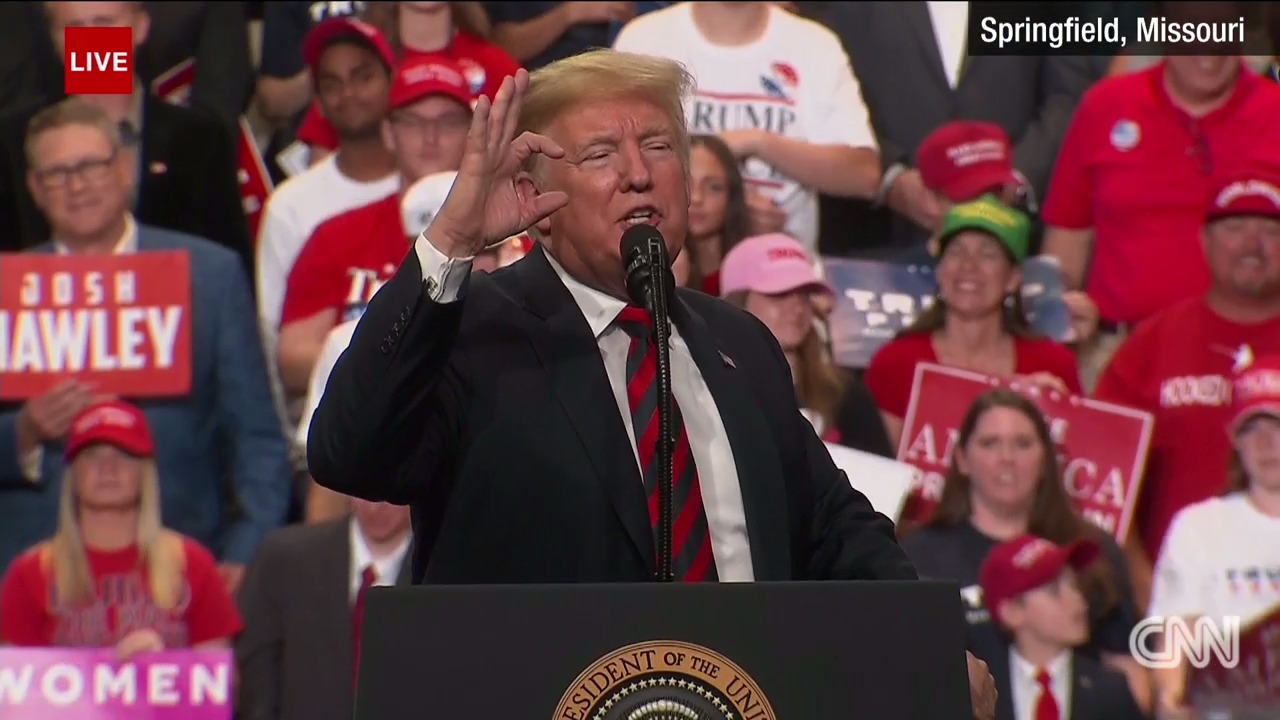 President Trump mocked members of the "Antifa" tonight for living in their parents basements and having tiny biceps, showing their approximate size -- in his telling -- by pinching his thumb and pointer finger together.
"The Democrat party is held hostage by far-left activists, by angry mobs — Antifa — by deep-state radicals," Trump said.
He asked, "You ever seen what happens when they take the masks off Antifa? You have guys that look like they live with mom and dad in the basement. They live in the basement of mom and dads' home."
He added, "I would never suggest this, but I'll tell you — they're so lucky that we're peaceful."
Antifa is short for anti-fascists: The term is used to define a broad group of people whose political beliefs lean toward the left -- often the far left -- but do not conform with the Democratic Party platform. The group doesn't have an official leader or headquarters, although groups in certain states hold regular meetings.
Antifa positions can be hard to define, but many members support oppressed populations and protest the amassing of wealth by corporations and elites. Some employ radical or militant tactics to get their message across.
8:18 p.m. ET, September 21, 2018
Trump, promising Kavanaugh will be confirmed, describes him as central casting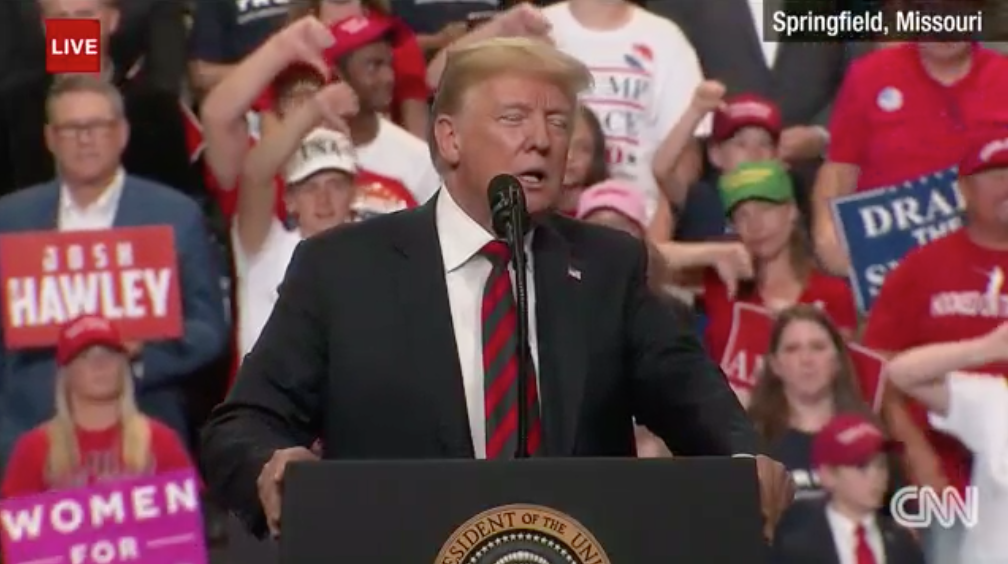 As Christine Blasey Ford decides whether to testify hours before the deadline, President Donald Trump touted his Supreme Court nominee, who he described as "central casting."
During a lengthy diatribe against Missouri Sen. Claire McCaskill, Trump noted that the Democrat announced she would not vote for him.  
Brett Kavanaugh, he said, is a "fantastic man."
"Fantastic man, fantastic man. She just announced she won't vote for him… You talk about central casting… He was born for the United States Supreme Court, he was born for it."
He suggested Kavanaugh's confirmation will happen.
"It's going to happen, it's going to happen," he said.
McCaskill, he said, will "vote against everything we want."
He added, "Claire McCaskill will never ever vote our way because she loves the swamp… There's a lingering stench and we're going to get rid of that too."
As he continued to rail against the Missouri Democrat, he cited her RV tour while she was "actually flying in her luxurious private plane" and her vote against tax cuts.
And when referencing her vote on healthcare, he brought up John McCain – without naming him.
"We lost a certain vote but we lost all of the Democrats," he said.
McCaskill represents "radical Democrats trying to take over," he said.
7:58 p.m. ET, September 21, 2018
Trump thinks he's going to get a lot of media organizations to endorse him in 2020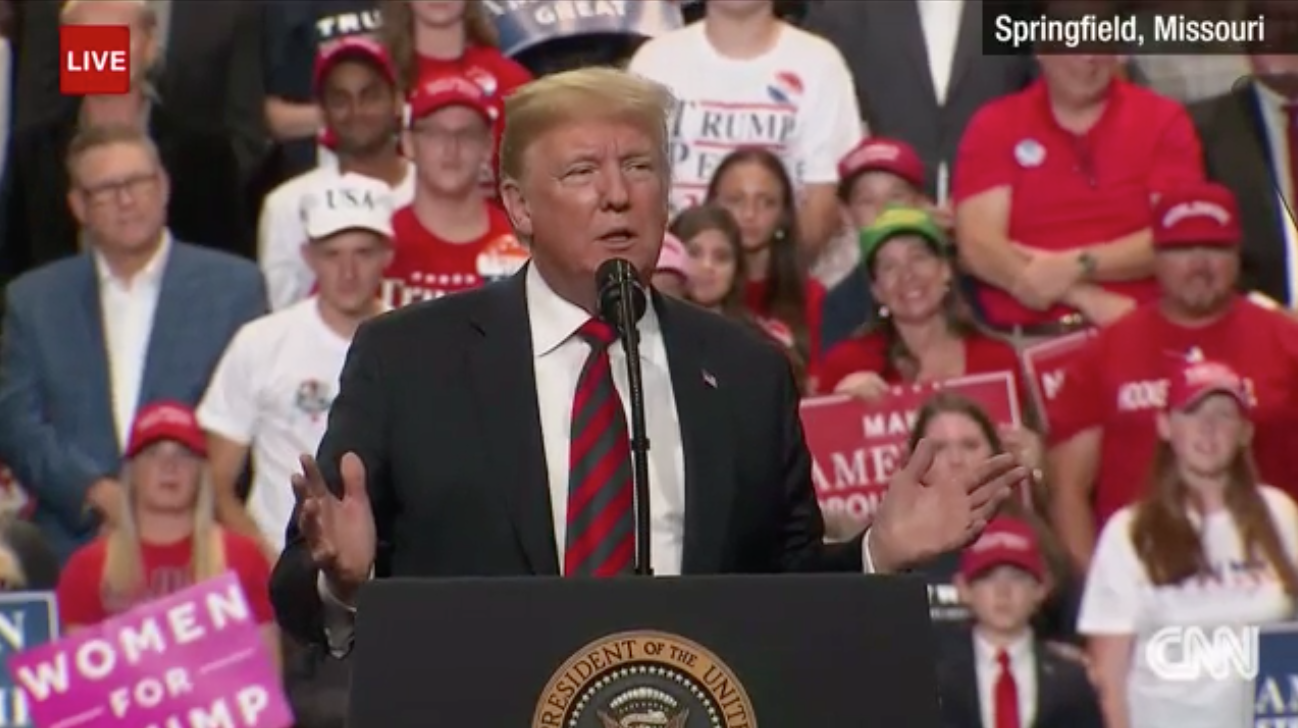 President Donald Trump turned his attention to the media at his Friday night rally in Springfield, Missouri.
He suggested that in 2020, he will get endorsements from all the major news organizations, name-checking the New York Times, Washington Post, ABC, NBC, and CBS.
"We expect endorsements from everybody," he said.
His reason? "Without us, they have nobody watching television. Nobody."
7:47 p.m. ET, September 21, 2018
NOW: Trump holds Missouri rally
President Trump is speaking in Springfield, Missouri, at a Make America Great Again rally. Watch it live in the video player above.
He kicked it off by talking about the economy -- "the best economy in our history" -- and hailed the stock market's "all-time high."
Our country is respected again, remember that. Respected again. Hello Missouri. I'm thrilled to be back in the American heartland, I love you people – thousands of hardworking patriots. This is an incredible time for our nation. We have the best economy in our history today. In fact, the stock market, which to me is jobs, the stock market hit an all-time high again. And that would mean that 101 days, we hit an all-time high in the stock market. And I don't say me, I say we because it's about we.
7:39 p.m. ET, September 21, 2018
Trump held a rally last night. Here's what happened.
Friday's Make America Great Again rally is President Trump's second in two days: he held the first Thursday evening in Las Vegas. Here were some of the highlights:
Trump began by talking about his relationship with Nevada Republican Sen. Dean Heller. After a rocky start, "we started to love each other," Trump said before bringing Heller on stage.
As the crowd chanted "Kavanaugh," Trump called Supreme Court nominee Brett Kavanaugh "one of the finest human beings you will ever have the privilege of knowing or meeting."
The crowd then turned to chanting "Lock her up," a popular conservative refrain and a reference to Hillary Clinton's alleged crimes.
Trump touted the number of manufacturing jobs his administration claims to have created, with a quick dig at former President Obama.
As the evening wound down, the President made the exactly the faux pas he'd lectured the crowd about avoiding -- pronouncing the state Ne-vah-da instead of Ne-VA-da.
7:17 p.m. ET, September 21, 2018
Trump is rallying in Missouri tonight. Here are a few things that could come up.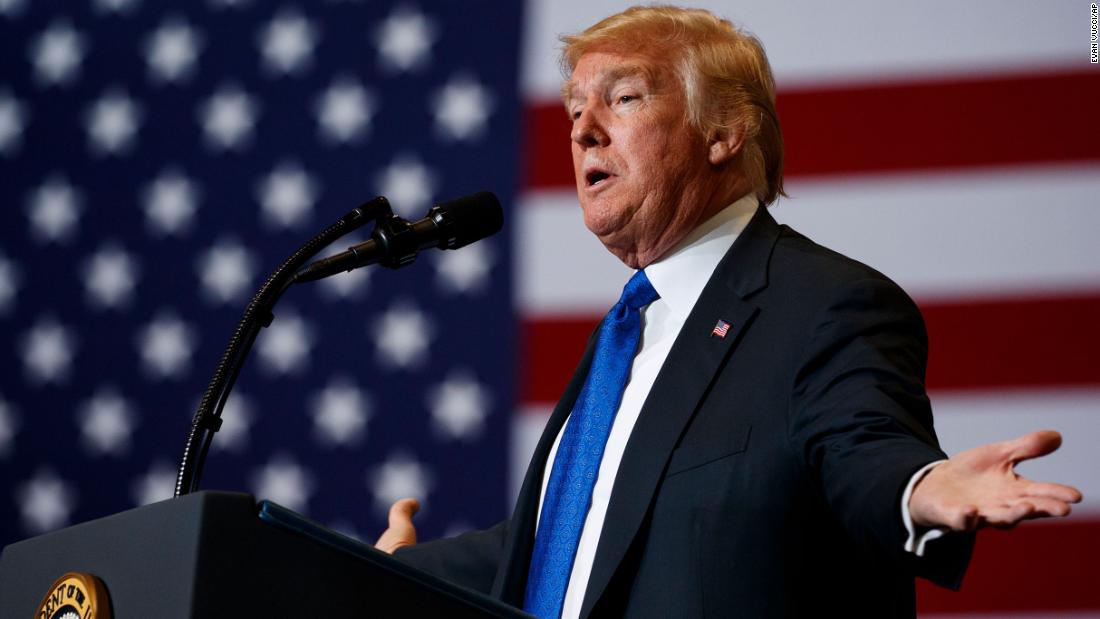 President Trump heads to Springfield, Missouri, tonight at a chaotic moment in his presidency.
His Supreme Court nominee, once believed to be a shoe-in, is suddenly teetering amid sexual assault allegations and he continues to be dogged by reports of cabinet members plotted against him.
Here are a few things we'll be looking for the President to bring up:
Brett Kavanaugh and Dr. Christine Blasey Ford: With Kavanaugh's nomination on hold, Trump took to attacking his accuser on Twitter Friday morning, questioning why she didn't go to the police after Kavanaugh allegedly sexually assaulted her.
Deputy Attorney General Rod Rosenstein: Trump allies are calling for Rosenstein to be fired after the New York Times reported he had secretly discussed taping President Trump and invoking the 25th Amendment to remove him from office.
Tariffs and the trade war: The Trump administration's latest round of tariffs on Chinese imports will raise the cost of making familiar products such as Tide, Pampers, Bounty and staples of American medicine cabinets and laundry rooms. He may ask supporters to tolerate short-term pain for promised long-term benefits.
Hurricane Florence and flooding in the Carolinas: President Trump warned of dire flooding about to hit South Carolina during remarks Friday in Nevada.
The midterms: Trump is acutely aware of the threat a blue wave poses to his presidency, so he's now actively encouraging supporters to get out and vote.
Hillary Clinton and the 2016 campaign: A favorite topic, Trump repeatedly talked about his historic toppling of Hillary Clinton in the 2016 presidential election in Las Vegas Thursday night, and he'll likely keep at it tonight.
North Korea: After receiving the remains of at least two Americans killed in the Korean War, Trump said Thursday, " A lot of progress being made on North Korea."
Iran: Secretary of State Mike Pompeo issued a stark warning to Iran Friday, telling CNN that Washington will take direct action against Tehran for any attacks, even those using proxy forces, against US interests. Will Trump join him?
The Russia investigation: The newest front in the President's assault on the Justice Department's Russia investigation came in the form of documents he ordered declassified -- then backtracked after US allies reportedly complained.