President Trump speaks at Mississippi rally
9:18 p.m. ET, October 2, 2018
Trump mocks Christine Blasey Ford's sexual assault testimony at Mississippi rally 
President Donald Trump for the first time directly mocked Christine Blasey Ford's testimony before the Senate Judiciary Committee at a rally in Mississippi, casting doubt on her testimony about her alleged sexual assault.
Trump imitated Ford during her testimony before the crowd, mocking her for not knowing the answer to questions such as how she got to the party. 
"'I had one beer.' Well do you think it was… 'Nope. It was one beer.' Oh good. How did you get home? 'I don't remember.' How did you get there? 'I don't remember.' Where is the place? 'I don't remember.' How many years ago was it? 'I don't know. I don't know. I don't know.'"
The crowd began to cheer and laugh, as the President continued imitating Ford recounting the night she says she was nearly raped.
"What neighborhood was it in? 'I don't know.' Where's the house? 'I don't know. Upstairs. Downstairs. I don't know. But I had one beer that's the only thing I remember,'" Trump continued.
"And a man's life is in tatters," Trump said. "A man's life is shattered."
Trump then called Democrats against Kavanaugh "evil people" who are out to "destroy people."
Trump also reiterated his earlier claims Tuesday that nowadays you are "guilty until proven innocent."
Watch:
8:15 p.m. ET, October 2, 2018
Trump rally crowd chants, "We want Kavanaugh!"
President Trump said Democrats were trying to destroy Judge Brett Kavanaugh, prompting an extended "We want Kavanaugh!" chant from the Mississippi crowd.
8:03 p.m. ET, October 2, 2018
NOW: Trump holds rally in Mississippi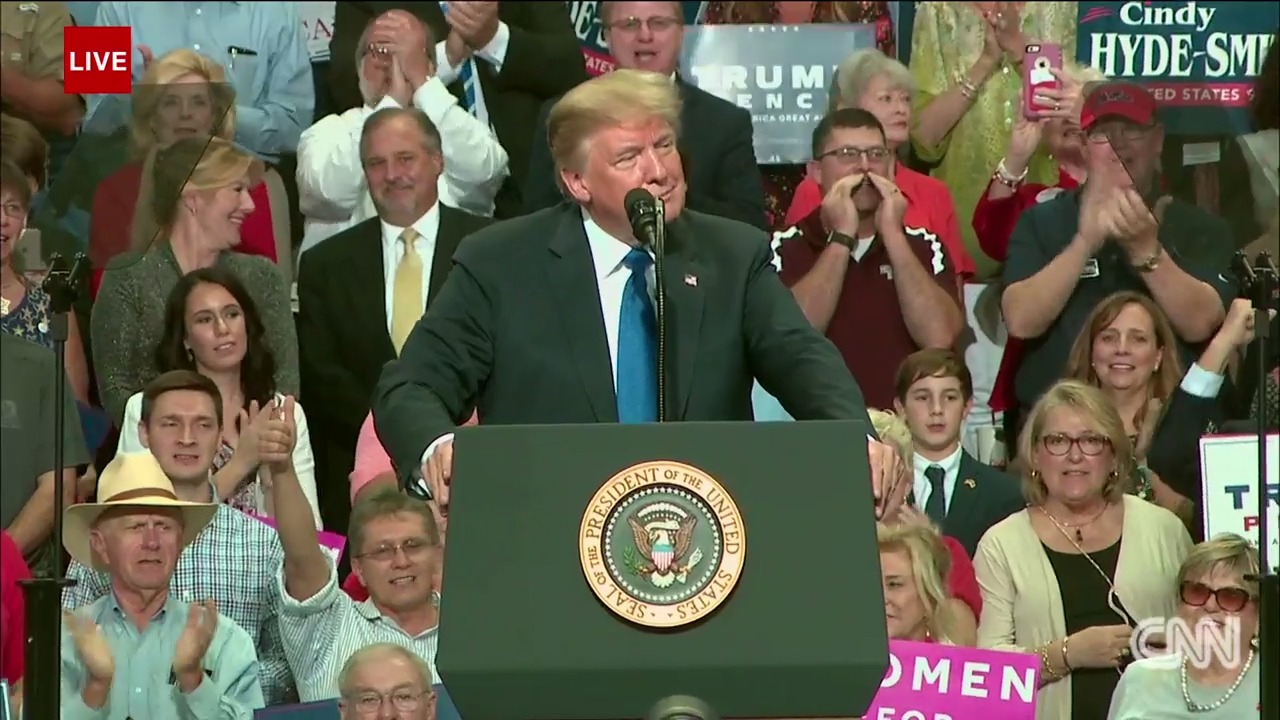 President Trump just took the stage at his rally in Southaven, Mississippi, to chants of "USA! USA!" He told the crowd 2020 was looking to be easy, then launched into a list of his accomplishments, touching on the economy, veterans and America's military.
7:40 p.m. ET, October 2, 2018
Just 24 hours ago, here's how Trump's last rally played out
President Trump held a rally in Tennessee last night. He was there to stump for GOP Rep. Marsha Blackburn, who is running for race against Democrat Phil Bredesen.
Here's what happened:
He started with the economy: President Trump opened his remarks in Tennessee touting the success of the US economy and the record stock market. 
Then, he attacked Democrats: President Trump declared that "Democrats are the party of crime," saying they support open borders. 
He defended Kavanaugh: Trump said his Supreme Court nominee "is a good man, great student, great intellect." He also criticized the allegations against him: "All of a sudden let's go back to high school." 
He stumped for Blackburn: Trump declared, "She is all about Tennessee values. She has Tennessee values. A vote for Marsha is a vote for me, and everything we stand for and a vote to make America great again."  
7:14 p.m. ET, October 2, 2018
5 things Trump could bring up at tonight's rally
President Trump is in Southaven, Mississippi, for his second rally of the week. He held an event in Tennessee last night, and he'll have more on Thursday and Saturday in Minnesota and Kansas, respectively.
Trump's week of rallies comes as news in Washington centers around Supreme Court nominee Brett Kavanaugh and trade deals.
Here are some topics the President might bring up tonight: