President Trump holds rally in Minnesota
7:03 p.m. ET, June 20, 2018
Trump says the US has "the weakest, most pathetic immigration laws anywhere in the world"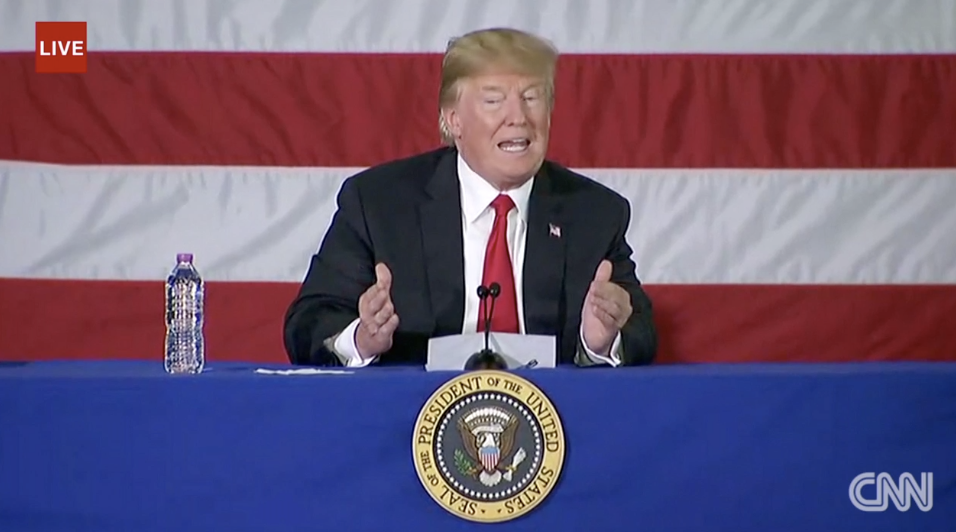 President Trump, speaking at a roundtable in Minnesota tonight, blasted the United States' immigration laws, calling them "horrible."
"We have the weakest, most pathetic immigration laws anywhere in the world," Trump said. "Nobody has laws like we do."
Trump's remarks come hours after he signed an executive order that he said would keep undocumented immigrant families together when they are detained at the southern border.
Trump, at the roundtable, said his administration is looking at creating immigration laws that are both strong and compassionate.
"We have to have strong borders. Totally strong. We can't put up with the nonsense. At the same time we're doing it with compassion," he said. "I think that's probably a very important thing to be doing."
He suggested he would tie North American Free Trade Agreement negotiations with Mexico to an insistence that Mexico do more to stop migrant flows to the US.
"We have to have control of our borders," he said. "Once we lose our borders, we lose our country. We don't have a country."
The President said Minnesota, where he was speaking, had seen many problems with illegal immigration, and said one of the reasons he "almost" won the state was his tough immigration stance.
Trump will be speaking at a campaign rally in Duluth later tonight.
With CNN's Kevin Liptak
6:07 p.m. ET, June 20, 2018
Trump has landed in Duluth, Minnesota, and is soon headed to a roundtable
Air Force One is wheels down in Duluth, Minnesota, where in just over an hour President Trump will take the stage at Amsoil Arena for a campaign rally.
But first: Trump will talk trade in a roundtable discussion with representatives from the mining and steel industries, as well as local politicians, at the Port of Duluth.
3:11 p.m. ET, June 20, 2018
President Trump is holding a campaign rally in Minnesota tonight
President Trump is speaking at a campaign rally tonight in Duluth, as part of a week-long sprint that will take him to five key states -- Minnesota, Nevada, South Carolina, North Dakota and Wisconsin.
The President's rally comes as outrage grows over the administration's practice of separating parents and children at the southern border.
Trump will first headline a rally in Minnesota, touting a series of Republican candidates in the state, before he heads to the other key states:
On Saturday, Trump will then rally with Republicans in Las Vegas and headline a fundraiser for Sen. Dean Heller, arguably the most endangered Republican incumbent in the Senate.
Then on Monday, Trump will then travel to South Carolina, according to two sources with knowledge of the President's plans, rallying with incumbent South Carolina Gov. Henry McMaster who finds himself in a difficult runoff election against John Warren.
Next Wednesday, he will head to Fargo, North Dakota, where he is expected to tout Rep. Kevin Cramer, the Republican Senate candidate looking to unseat Democrat Sen. Heidi Heitkamp.
The following day, the President will then travel to Wisconsin for a 250-person fundraiser with the Trump Victory Committee and the Republican National Committee in Milwaukee, according to Republicans with knowledge of Trump's plans.
Trump has told aides that he expects to constantly be on the road for the midterms, with an increased focus on large rallies that bring hundreds of his supporters together for lengthy speeches full of red-meat.