President Trump holds a rally in Michigan
8:52 p.m. ET, March 28, 2019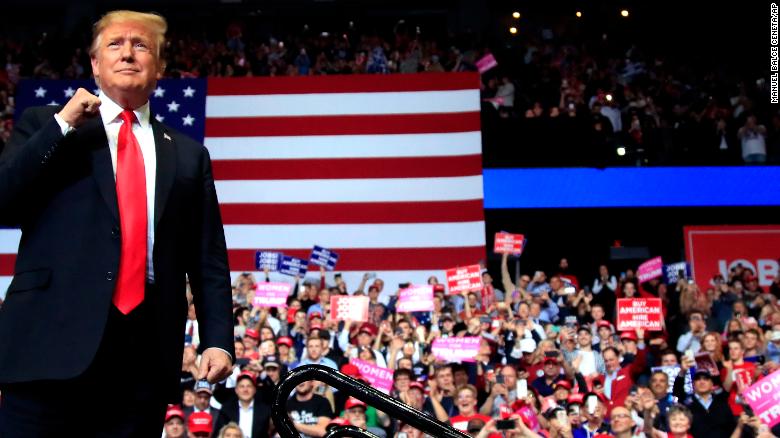 President Trump just concluded his rally in Grand Rapids, Michigan, where he spoke to supporters for just under 90 minutes.
Scroll down for key moments or click here to read the recap.
8:44 p.m. ET, March 28, 2019
Trump appears to mock and question the legitimacy of asylum claims: "It's a big fat con job"
President Donald Trump appeared to mock and question the legitimacy of asylum claims during his rally Thursday in Michigan, suggesting not all claims were truthful.
"You have people coming, you know they're all met by the lawyers. … And they come out, and they're met by the lawyers, and they say, 'Say the following phrase: I am very afraid for my life. I am afraid for my life.'
Okay. And then I look at the guy. He looks like he just got out of the ring. He's a heavyweight champion of the world. It's a big fat con job."
8:22 p.m. ET, March 28, 2019
President Trump says Democrats are the party of "radicalism, resist, and revenge"
Bookmark this new line, which will likely be a common refrain in Trump's 2020 campaign rallies: The Democrats, Trump said, are the party of "radicalism, resist, and revenge."
He mocked Democratic protesters carrying signs with the word "Resist."
"What the hell? Let's get something done, right?" he said.
8:17 p.m. ET, March 28, 2019
Trump: "Russia's not happy" about US becoming top oil and gas producer
President Trump said during his rally in Michigan Thursday night that Russia will not be happy about the United States becoming the No. 1 oil and gas producer in the world.
"The United States – people don't even believe this, it all happened very recently – is now the No. 1 oil and gas producer in the world," Trump said.
"And by the way, Russia's not happy about that, but they're fine. They're doing just fine, but they're not happy about that."
But is the US actually No. 1?
Facts first: That's true, but context is needed.  
Here's what we've found:  
The US became the world's largest crude oil producer in August 2018, when it surpassed Russia for the first time since 1999 in terms of total daily crude production, according to the US Energy Information Administration. Earlier in the year, the US surpassed Saudi Arabia's crude oil production for the first time since 1973. It has been the largest producer of natural gas since 2011.  
The rise in US oil and gas production is due in large part to advances in fracking technology that allowed drillers to access reserves socked away in shale formations buried deep underground. Production dipped in 2015 and 2016 as a result of overproduction and a collapse in oil prices, but recovered quickly once supply stabilized and prices increased, just as Trump was coming into office. 
The Trump administration often touts its moves to relax Obama-era rules on oil and gas production, such as one restricting the flaring of methane from fracking sites. He has also opened public lands to more drilling. It's unclear though, given the decade of increased energy production in the US, how much of an impact any of those moves have had. 
8:13 p.m. ET, March 28, 2019
President Trump yet again references, but doesn't name, McCain
During a riff on healthcare, the President made another quick reference to John McCain, with whom he reignited his feud more than six months since his passing earlier this month. Trump did not name McCain today.
"Somebody, unfortunately, surprised us with a thumbs-down," Trump said, referencing McCain's 2017 vote against repealing Obamacare.
As the Republican Party moves forward on healthcare, Trump said, "We'll do it a different way."
8:06 p.m. ET, March 28, 2019
Trump announces funding for Great Lakes — another budget reversal
President Trump made an announcement on Great Lakes restoration Thursday evening while in Grand Rapids, Michigan.
"I support the Great Lakes, always have. They're beautiful, they're deep, very deep, record deepness right?" Trump said.
He continued:
"And I'm going to get, in honor of my friends, full funding of $300 million for the Great Lakes Restoration Initiative, which you've been trying to get for over 30 years. It's time."
However, this marks another reversal from the administration's proposed budget, which slashed funding for the restoration initiative from $300 million to $30 million, drawing bipartisan ire, according to the Toledo Blade.
8:02 p.m. ET, March 28, 2019
Trump tells supporters "we are building that wall" despite no new construction at the border
"We are building that wall," Trump told his supporters, followed by chants of "build the wall!" from the crowd. He continued by praising the "renovation" of parts of the border wall.  
So what progress has been made on Trump's wall?
Facts First: There have been repairs and replacement of fencing and border security along parts of the border, but construction of new border fencing has not yet started.
In fact, we fact-checked a similar claim on the wall today.
Here's what we found:
So far, only repairs and replacements of barriers along the border have taken place. In mid-March, the CBP told CNN that "approximately 38 of 40 miles of wall in place of outdated designs in San Diego and El Centro, California, Santa Teresa, New Mexico and El Paso, Texas" using fiscal year 2017 funds. 
(However, some of the replacement fencing has "replaced" vehicle barriers, not old fencing or wall. So, one could do a little mental gymnastics and refer to this as "new" fencing – but it's not creating a new barrier where none previously existed.)  
As the Customs and Border Protection agency told CNN earlier this month, "the first new wall project, where no barrier currently exists, is anticipated to start in April in Hidalgo County of the Rio Grande Valley Sector." 
On Monday the Pentagon notified Congress of a $1 billion transfer for new wall construction and other border security measures. According to a letter from acting Secretary of Defense Patrick Shanahan to Secretary of Homeland Security Kirstjen Nielsen, this money will go toward building 57 miles of fencing in two areas of the border in Arizona and Texas. According to an official from the Department of Defense, construction on these sites might begin in late May. 
This $1 billion is just the beginning of the $8.1 billion Trump's administration pointed to when looking at where it could transfer money for the wall -- which doesn't include additional funds Homeland Security could use or the $1.375 billion from the spending bill passed in February for 55 miles of new "barriers" in the Rio Grande Valley. 
8:01 p.m. ET, March 28, 2019
Trump: Smollett case is an "embarrassment" to Chicago and the US
President Trump slammed the Jussie Smollett case in Chicago on Thursday, calling it an "embarrassment" to both the city and the country.
"How about in Chicago?" Trump said. "He said he was attacked by MAGA country."
Trump did not name Smollett by name, but referenced Smollett's January police report, in which the "Empire" actor said he had been attacked by two men who shouted, "This is MAGA country."
Smollett had been accused of staging a hate crime and filing a false police report, but this week the charges against him were dropped.
The city of Chicago however, still wants $130,106.15 in the next seven days from Smollett, to cover the cost of the investigation into claims he was attacked.
Trump added that this is "maybe the only time I ever agreed with the Mayor of Chicago." (Rahm Emanuel has called the decision to drop charges an "abomination of justice.")
"That's an embarrassment not only to Chicago, that is an embarrassment to our country," Trump said at the Thursday night rally.
7:56 p.m. ET, March 28, 2019
Trump slams Democrats' "ridiculous bullshit partisan investigations"
While delivering an impassioned pitch to his supporters, President Donald Trump sought to draw contrasts with Democrats – which led to profanity.
Democrats, he said, have to decide whether they will continue "defrauding the public with ridiculous bullshit partisan investigations, or whether they will apologize to the American people and join us to rebuild our crumbling infrastructure, bring down the cost of healthcare and prescription drugs... help us fix our broken trade deals."
Trump most recently used the term "bullshit" to refer to the investigation during his CPAC speech.