President Trump holds rally in Iowa
9:02 p.m. ET, October 9, 2018
Our live coverage of President Trump's rally has ended. Scroll through the posts below to see how it unfolded.
8:19 p.m. ET, October 9, 2018
Trump continues his attack on Elizabeth Warren's heritage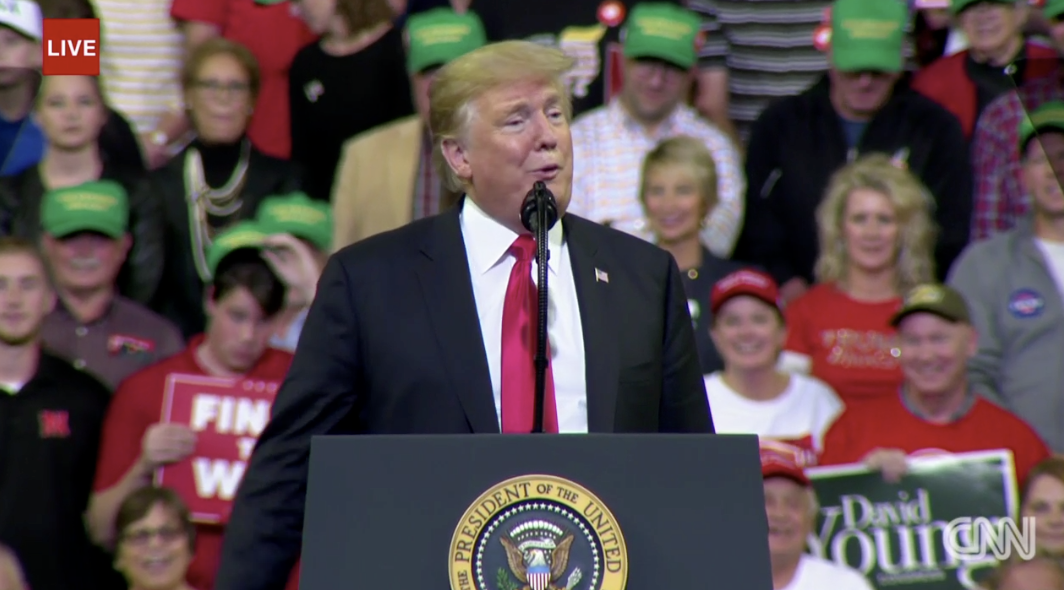 President Trump continued his attack on Democrats and Massachusetts Sen. Elizabeth Warren's heritage Tuesday.
In his criticism of Democrats, Trump said, "They've gone so far left that they consider Pocahontas to be a rational person. It's crazy."
Trump said he hopes Warren runs against him in 2020.
"Then we can finally get down to the fact as to whether or not she actually has Indian blood," he said.
Trump added: "Her mother says she has high cheek bones, that's why. And she's gotten a lot of advantages by falsely claiming what she's claimed."
Warren has been a biting critic of Trump for some time. Trump has responded by repeatedly trying to belittle her as "Pocahontas."
Warren says she is Native American and points to "family stories" passed down to her through generations as evidence. One genealogist, following Warren's account, traced her Native American heritage to the late 19th century, which, if true, would make her 1/32 Native American. (However, the legitimacy of those findings has been debated.)
8:06 p.m. ET, October 9, 2018
Trump accuses Feinstein of leaking documents on Ford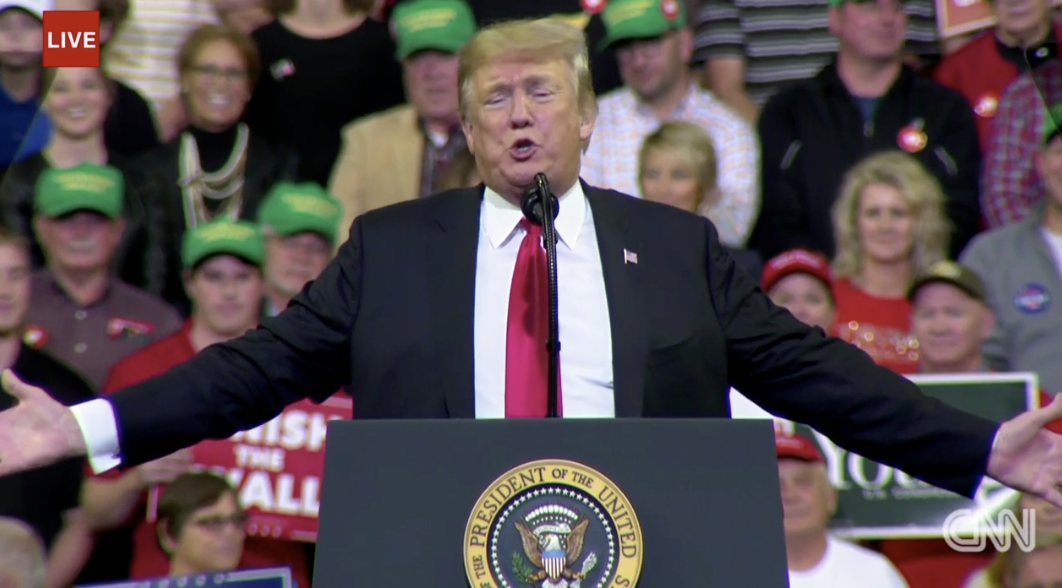 President Trump went after a number of Democrats, including California Sen. Diane Feinstein.
Trump's remarks prompted cheers of "lock her up" from the crowd in Iowa — a chant usually reserved for Hillary Clinton. 
"How about Senator Feinstein?" Trump asked the crowd. The mention of her name was met with a boom of boos from the crowd. 
Trump then proceeded to mock Feinstein, asking the crowd if they believed her body language and accused the senator of leaking Christine Blasey Ford's testimony. 
Some background: Ford accused Kavanaugh of sexually assaulting her at a house party when the two were in high school. Kavanaugh has denied all allegations against him.
Both Ford and Kavanaugh testified before the committee, prompting a weeklong FBI investigation and hundreds of activist protesters on Capitol Hill before the Senate confirmed Kavanaugh by a 50-48 vote Saturday afternoon.
8:02 p.m. ET, October 9, 2018
Trump cites Democrats' handling of Kavanaugh as reason to vote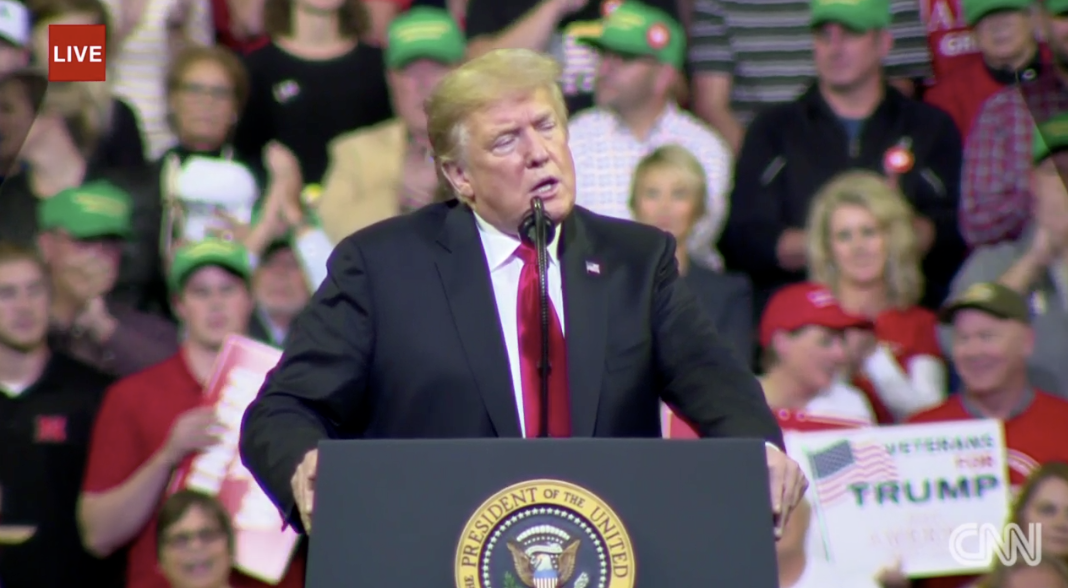 President Trump at a rally in Iowa got the crowd pumped up over his now Supreme Court Justice Brett Kavanaugh, blasting "radical democrats" and repeating unsubstantiated claims that protesters last week were paid. 
"From the very first minute Brett Kavanaugh was nominated, radical Democrats were on a mission to resist, delay, demolish and destroy — they wanted to destroy that man," Trump told the crowd. 
He used the opportunity to rally voters for the midterms. "In just four weeks you will have the chance to render your verdict on the Democrats' outrageous conduct," he said.
Trump also told supporters that the only protesters were "phony" who got paid, which prompted boos from the audience. 
He added "and now they want to protest because they didn't get paid yet and they want their money. You see that's a real protest."
7:46 p.m. ET, October 9, 2018
Trump takes the stage at his rally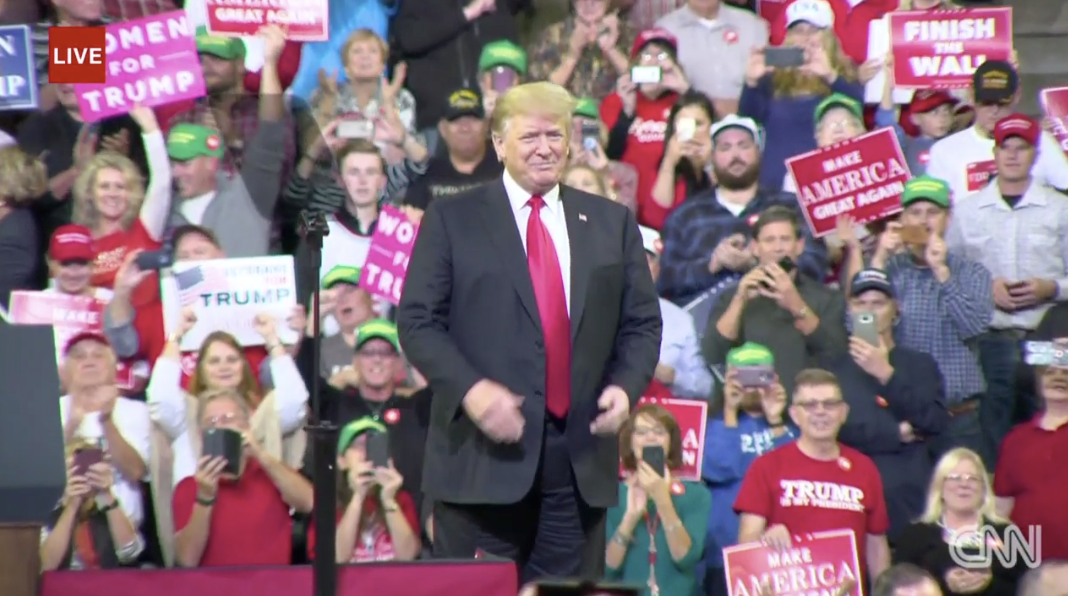 President Trump just took the stage at his rally in Council Bluffs, Iowa.
"This is truly a historic week for America and you know what I am talking about," Trump told his supporters.
He went on to talk about Supreme Court Justice Brett Kavanaugh's first day on the bench.
Trump also blasted Democrats for opposing Kavanaugh's nomination.
7:21 p.m. ET, October 9, 2018
President Trump is holding a rally in Iowa tonight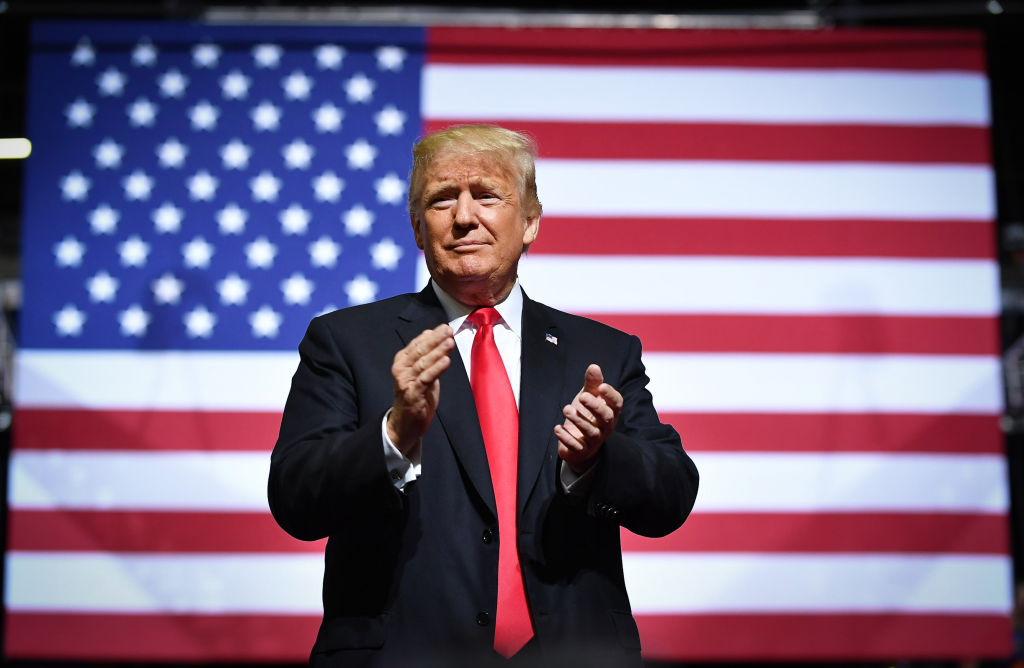 President Trump is delivering remarks tonight at a rally in Council Bluffs, Iowa, hours after he announced UN Ambassador Nikki Haley's resignation.
The rally starts at 7:30 p.m. ET.
Earlier today, Trump and Haley met in the Oval Office to discuss her resignation. Trump praised Haley as a "fantastic person" who has "done an incredible job" and said he would gladly welcome her back into his administration down the line.
Haley will leave her post by the end of the year.
In other news: Trump, speaking at a ceremonial swearing-in event at the White House Monday evening, apologized to Supreme Court Justice Brett Kavanaugh for "the terrible pain and suffering" he and his family were "forced to endure" during his confirmation process.
Kavanaugh took the bench on Tuesday. He spoke up for the first time about 20 minutes into oral arguments and followed up with several questions.