President Trump holds rally in Florida
8:04 p.m. ET, July 31, 2018
Trump says Americans need ID to buy groceries while making case for voter ID
President Trump, telling his supporters why he wanted Americans to be required to show identification before casting their votes, claimed that they needed their I.Ds "to buy groceries."
He did not elaborate. Here's what he said:
We believe that only American citizens should vote in American elections. Which is why the time has come for voter I.D., like everything else. Voter I.D. If you go out and you want to buy groceries, you need a picture on a card, you need I.D. You go out and you want to buy anything, you need I.D. And you need your picture.
9:06 p.m. ET, July 31, 2018
Trump: Merry Christmas is back "only because of our campaign"
President Donald Trump, speaking nearly two years after he won the election and in the dead heat of summer, repeated a familiar refrain on Tuesday, saying that his campaign is responsible for department stores bringing back "Merry Christmas" signage.
"That was under siege," he said, echoing his remarks throughout the 2016 campaign that department stores needed to stop political correctness at the holidays and say Merry Christmas again.
The use of "Merry Christmas" has come back, he said, and "only because of our campaign."
7:48 p.m. ET, July 31, 2018
Trump says American farmers getting hit by tariffs "can take it"
President Donald Trump responded to Chinese tariffs and other trade measures targeted at American farmers during a campaign rally, calling the tactics "not good" and "not nice."
"Our farmers are true patriots," he said. "And you know what our farmers are saying? It's okay, we can take it — these are incredible people."
Trump said that the price of soybeans has dropped but his administration's actions are ultimately "going to open up markets."
"All of this stuff — we're going to make it back and it's going to be made back faster than anyone would know," he said, adding, "We're going to make it back nice and quickly."
He continued, "The United States was allowed to truly get ripped off. But we're not going to let that happen, I'm not like other politicians, you've seen what happens, I've kept my promises."
7:44 p.m. ET, July 31, 2018
Trump repeats unproven claim US Steel is building new mills
President Trump again claimed that US Steel would be opening a number of steel mills, repeating a phrase he made at a rally last week, which hasn't been backed by the company itself.
"U.S. Steel just announced that they are building six new steel mills," Trump said in Tampa Tuesday night. "And that number is soon going to be lifted, but I'm not allowed to say that, so I won't."
Last Thursday he said the company was opening seven. The company's spokeswoman did not respond to a CNN request for comment.
But The Washington Post gave Trump four Pinocchio's less than a month ago for claiming six new steel mills are being opened. Local news reports show US Steel announcing two facilities would be opened. As a publicly traded company, US Steel is required to announce major changes, such as opening new plants. So far, they have not made any such announcements.
The company's spokeswoman Meghan M. Cox told The Washington Post at the time: "To answer your question, we post all of our major operational announcements to our website and report them on earnings calls. Our most recent one pertained to our Granite City 'A' blast furnace restart."
7:27 p.m. ET, July 31, 2018
Trump opens Florida rally by praising "tough, brilliant cookie" Ron DeSantis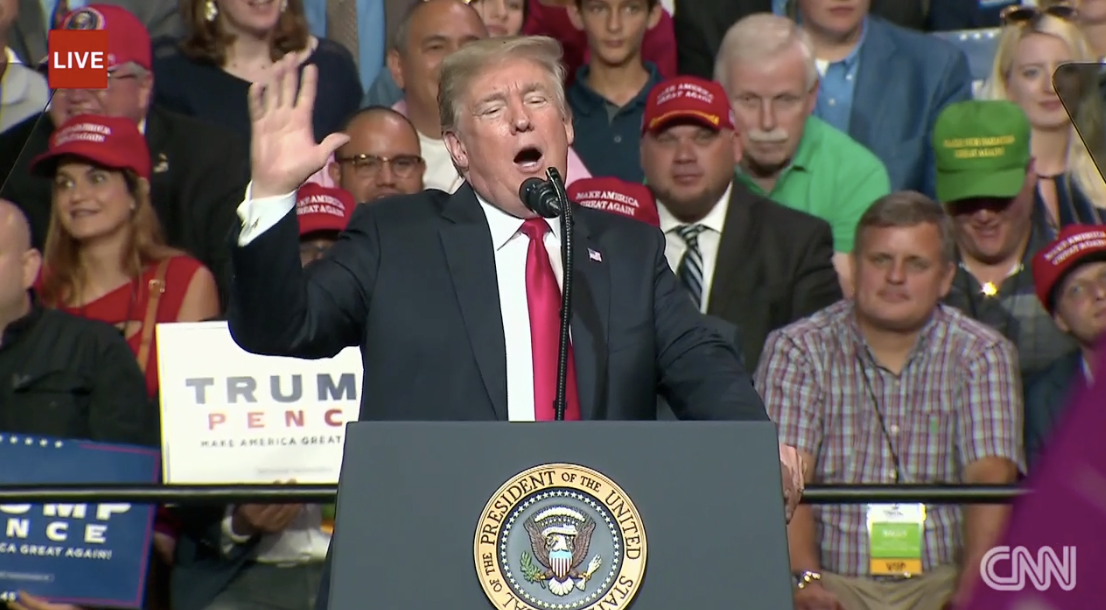 President Trump kicked off his Tampa rally recalling his "great victory" in the state of Florida in 2016, noting that the "thousands of hardworking American patriots" in the state "respect our American flag."
He called gubernatorial candidate Ron DeSantis to the stage, describing him as a "true leader, proud veteran, my great friend, a tough, brilliant cookie."
"He's tough, he's smart, and he loves Florida," Trump said of DeSantis.
DeSantis made brief remarks and called it a "true honor" to be endorsed by Trump.
The President added that "everybody needs to support" DeSantis in the Aug. 28 primary and in the November general election.
He also touted Gov. Rick Scott's Senate candidacy and hit his Democratic opponent, Bill Nelson.
Noting that he was a Florida resident, Trump said, "The only time I see Bill Nelson is five months before the reelection and after a while you forget... you see him at parties and you see him around... We have to make sure that Rick Scott wins and wins big."
Trump was also briefly interrupted by a protester that was not visible on camera.
"That's too bad.... One person and tomorrow the headlines will be 'massive protest.' Too bad. Sorry about that, Ron," he said.
7:10 p.m. ET, July 31, 2018
NOW: Trump takes stage at Tampa rally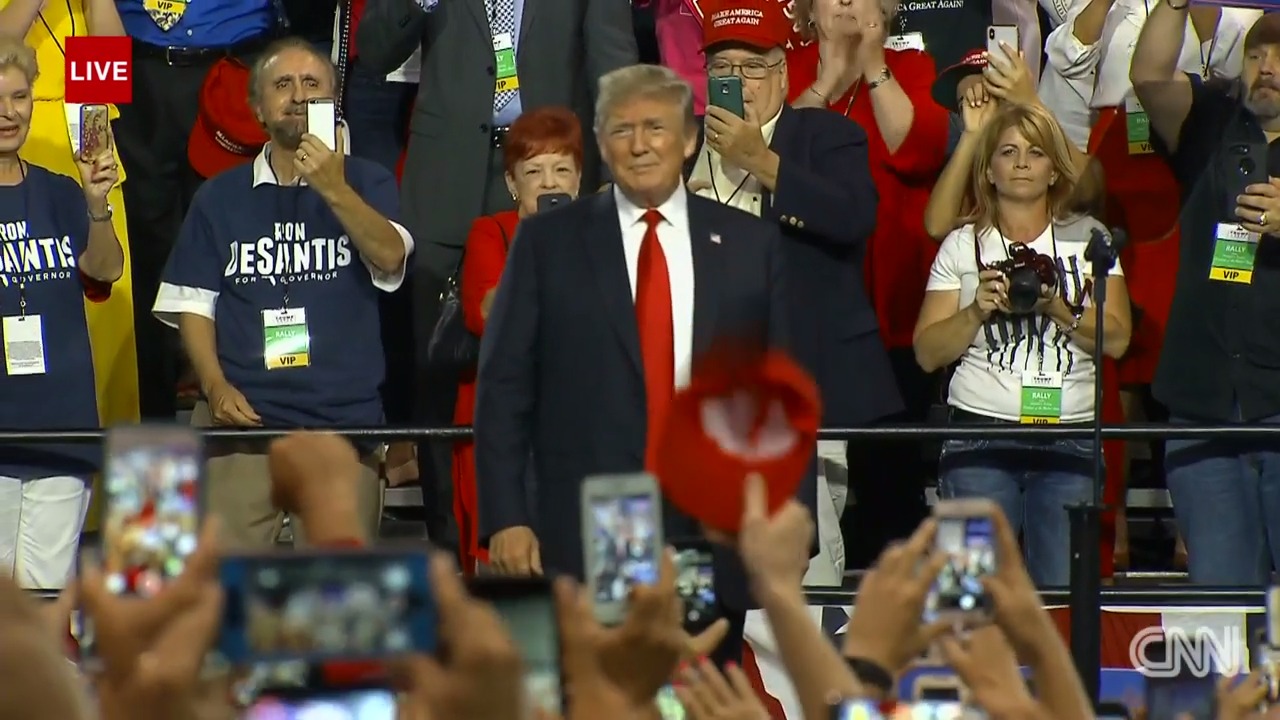 President Trump just took the stage at his Make America Great Rally in Tampa, Florida. You can watch live here or by refreshing this page and watching it in the player up top.
6:46 p.m. ET, July 31, 2018
Trump heads to his campaign rally
President Trump will attempt to lift Rep. Ron DeSantis to victory in Florida's Republican gubernatorial primary with tonight's rally in Tampa.
The rally comes at the beginning of a three-month sprint to the November midterm elections.
Trump recently told Sean Hannity he'll "work very hard" during the final stretch.
"I'll go six or seven days a week when we're 60 days out, and I will be campaigning for all of these great people that do have a difficult race, and we think we're going to bring them over the line," Trump told Hannity.
Trump's first expressed support for DeSantis in December and more explicitly endorsed him with a tweet in June, launching DeSantis past former congressman and Florida agriculture commissioner Adam Putnam in the race to replace two-term GOP Gov. Rick Scott.