Backlash after Trump's racist tweets
11:42 a.m. ET, July 16, 2019
Democratic leader says GOP leader's defense of Trump is "baloney"
House Majority Leader Steny Hoyer was just asked to respond to Minority Leader Kevin McCarthy's defense of President Trump.
Earlier today, McCarthy said the dispute between President Trump and the Democratic congresswomen he's tweeted racist attacks about is about ideology and socialism.
"That's baloney," Hoyer said forcefully while talking to reporters. "This has nothing to do with socialism."
He argued the National Republican Congressional Committee and other Republican leaders are trying to sell the narrative that Democrats are socialists.
"That's just baloney," he added. "Just political rhetoric."
11:09 a.m. ET, July 16, 2019
House Democrats: Trump uses racism to "deflect and to divide"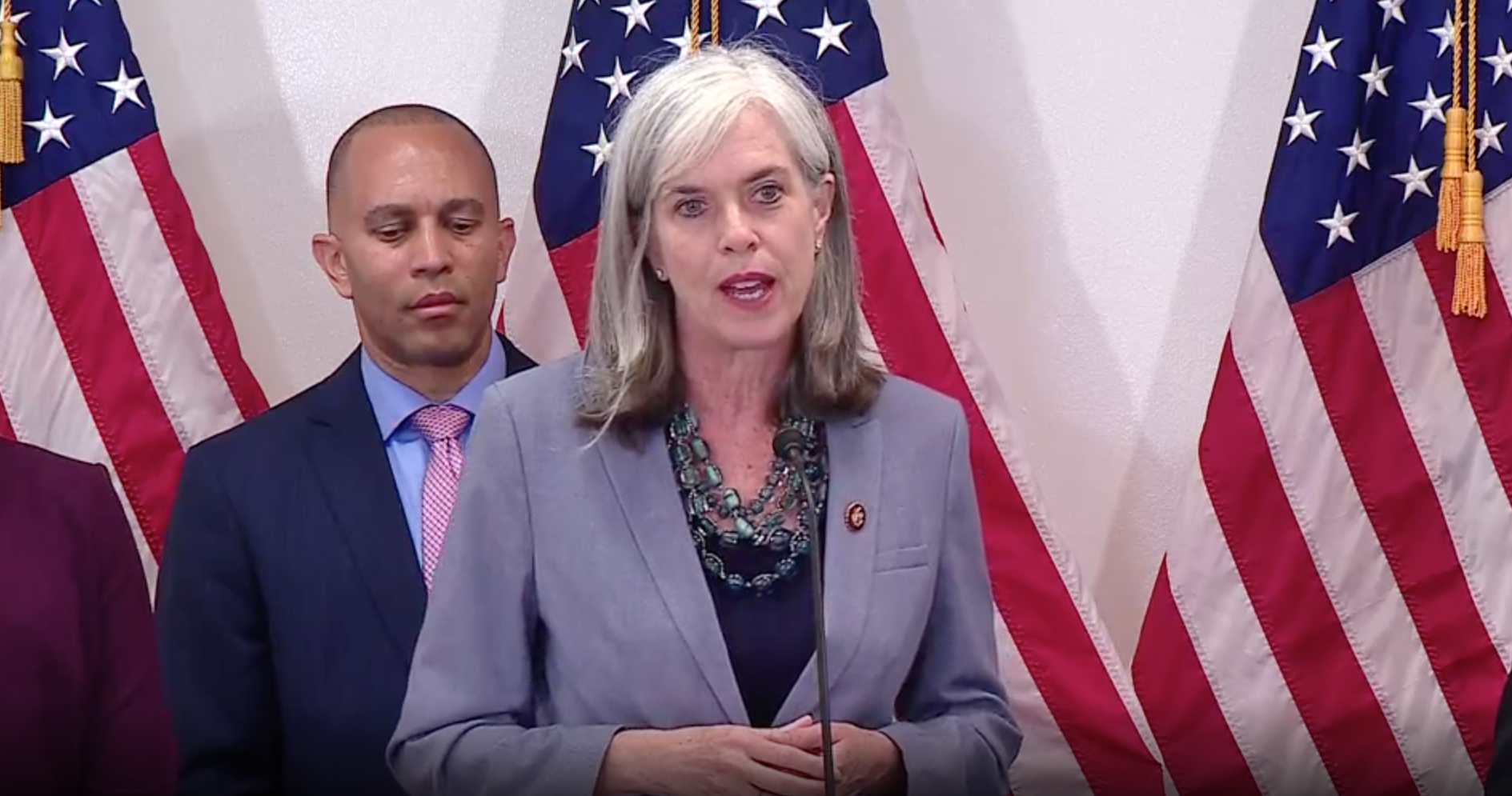 House Democrats said they are staying focused on their policy agenda and will call out President Trump's tactics to "deflect" and divide the country.
Rep. Katherine Clark said at a news conference Tuesday Democrats are going to continue to speak out against racist attacks.
"This president with his racist attacks is showing us that he is not concerned with anything but further enriching those who are already rich and powerful. And his plan is to distract us, to divide us, so they can pickpocket us while we're not looking," Clark said. "That's what we are speaking out against. This attack on American values, this attack on trying to be a country that is the United States of America, not the divided states."
She continued saying House Democrats want to ensure everyone has a place in the economy and will hold the administration accountable.
"Little Americans, your everyday working families, are on the losing end of these policies of this administration and the way he does that is by using hate, by using racism, by using bias to deflect and to divide," she said. "He will continue to do this and what we're doing as House Democrats is calling that out."
10:47 a.m. ET, July 16, 2019
GOP House leader: "We should get back to the business of America"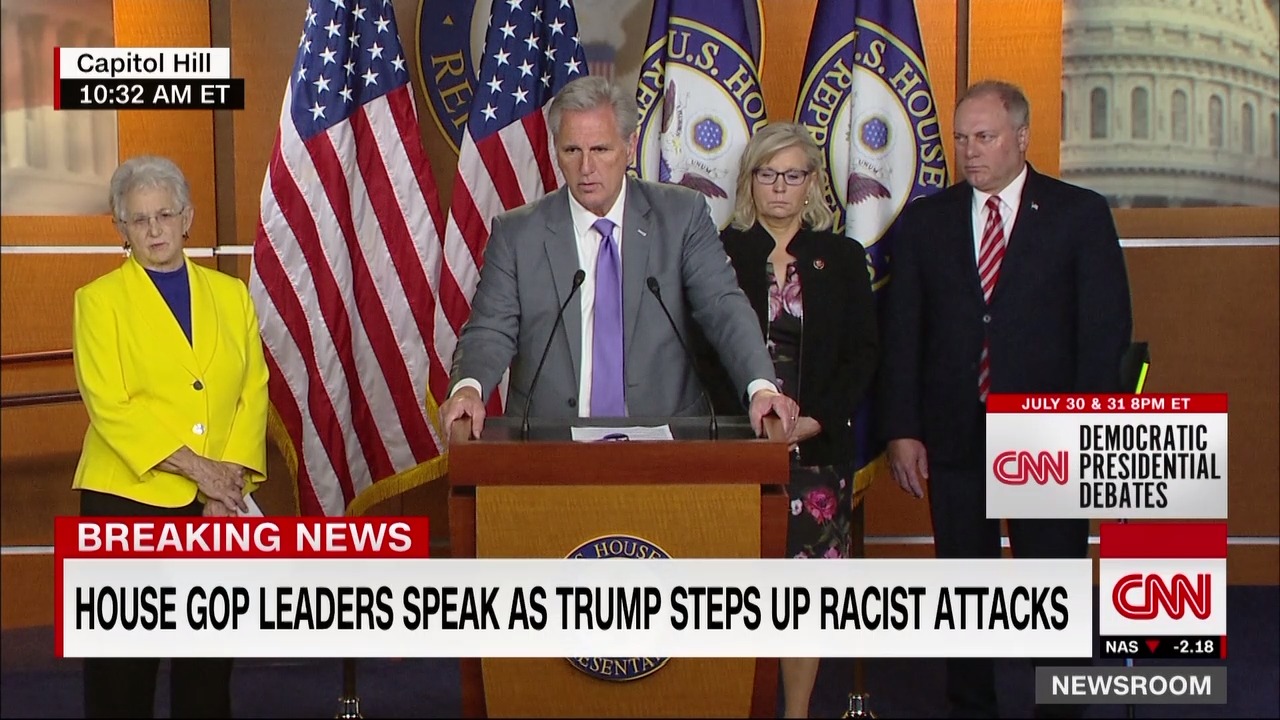 House Minority Leader Kevin McCarthy was just asked about President Trump's racist tweets about four progressive Democratic congresswomen and those representatives' response to the attacks.
McCarthy said the Democrats' response has been politically charged.
"I understand when I listened to their press conference yesterday, they talked more about impeachment than anything else," he said.
He continued: "This is more from their bases about politics, and it's unfortunate. We should get back to the business of America."
Watch more:
10:33 a.m. ET, July 16, 2019
GOP leader: "Our opposition to our colleagues' beliefs has absolutely nothing to do with race"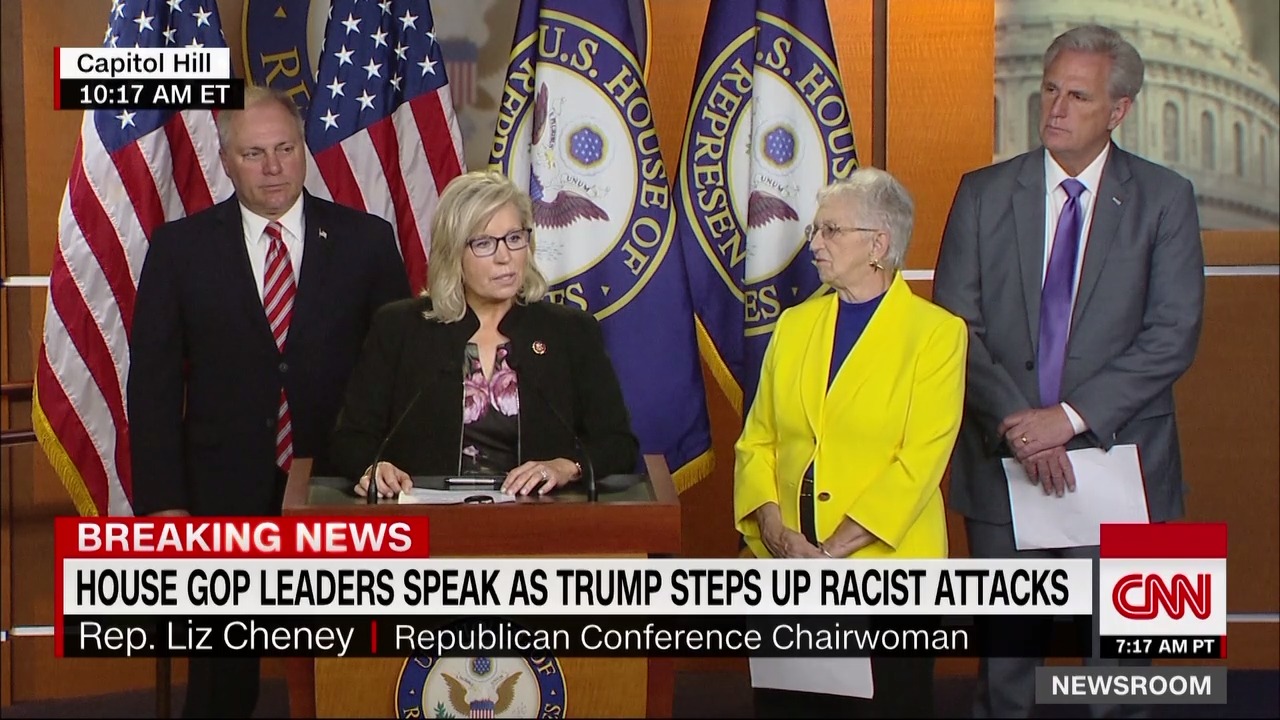 Rep. Liz Cheney, the chair for the Republican Conference, said GOP opposition to Democratic ideas "absolutely nothing to do with race or gender or religion."
Speaking at a news conference, Cheney said many Republicans oppose Democrats' "socialist programs" because they create "massive new government dependencies."
The comment came as some Republican lawmakers are speaking out against the President's racist tweets about four Democratic congresswomen.
Here's what Cheney said:
So our opposition to our colleagues' beliefs has absolutely nothing to do with race or gender or religion. We oppose them and their policies because their policies are dangerous and wrong and will destroy America. The issue here is the content of their policies and we will continue to stand up and fight against what we know is wrong for this nation.
12:23 p.m. ET, July 16, 2019
Trump tweets: "Those Tweets were NOT Racist"
President Trump is continuing his attacks on the Democratic congresswomen for a third day, tweeting that they "hate our Country."
The President also defended his previous tweets, saying they were "NOT Racist," adding that he does not have "a Racist bone in my Body."
Trump urged Republicans not to "show 'weakness" as the Democratic-led House moves to vote on a resolution to condemn his racist tweets.
Finally, he cited poll numbers for some of the Democratic congresswomen, But note: It's not clear which polls he's referring to or if they meet CNN polling standards.
10:11 a.m. ET, July 16, 2019
These are the congresswomen who make up "The Squad"
Four first-term, progressive Democratic congresswomen who have been at the center of racist tweets by President Trump have came to be known as "The Squad" on Capitol Hill.
Here's who we are talking about when we use that phrase:
Alexandria Ocasio-Cortez
She is the youngest woman ever elected to Congress. Last year, she defeated 10-term incumbent former Democratic Rep. Joe Crowley.
She was born and raised in the Bronx and represents New York's 14th Congressional District, which includes the eastern Bronx and northern Queens.
Her parents are working class Puerto Ricans.
She is a member of the Democratic Socialists of America, introduced the Green New Deal Resolution to combat the climate crisis, called for abolishing Immigration and Customs Enforcement and has forcefully spoken out against conditions in migrant detention centers.
Rashida Tlaib
Tlaib became the first Palestinian-American woman to serve in Congress when she was elected in 2018.
She represents Michigan's 13th Congressional District, and was the first Muslim woman to serve in the Michigan state Legislature.
Her parents are Palestinian immigrants
Hours after being sworn into Congress, Tlaib grabbed headlines when she told the audience at a progressive event, "We're gonna go in there and we're going to impeach the motherf****r" in reference to Trump.
Ayanna Pressley
She is the first black congresswoman to represent Massachusetts and serves the Boston-area 7th Congressional District, which was once represented by John F. Kennedy.
Pressley has spoken publicly about her father being incarcerated for much of her childhood and how she is a rape survivor.
Earlier this month, she spoke out about poor conditions for detained migrants and the growing humanitarian crisis on the southern border after touring Texas border facilities with other Democratic lawmakers.
Ilhan Omar
Omar is the first Somali-American member of Congress, and she and Tlaib are the first two Muslim women ever elected to Congress.
She came to the US as a refugee and became an American citizen in 2000 at the age of 17.
Omar represents Minnesota's 5th Congressional District.
The congresswoman has been a vocal critic of Israel's treatment of Palestinians, calling its government the "apartheid Israeli regime" in a tweet.
10:01 a.m. ET, July 16, 2019
How Alexandria Ocasio-Cortez responded to Trump's latest attacks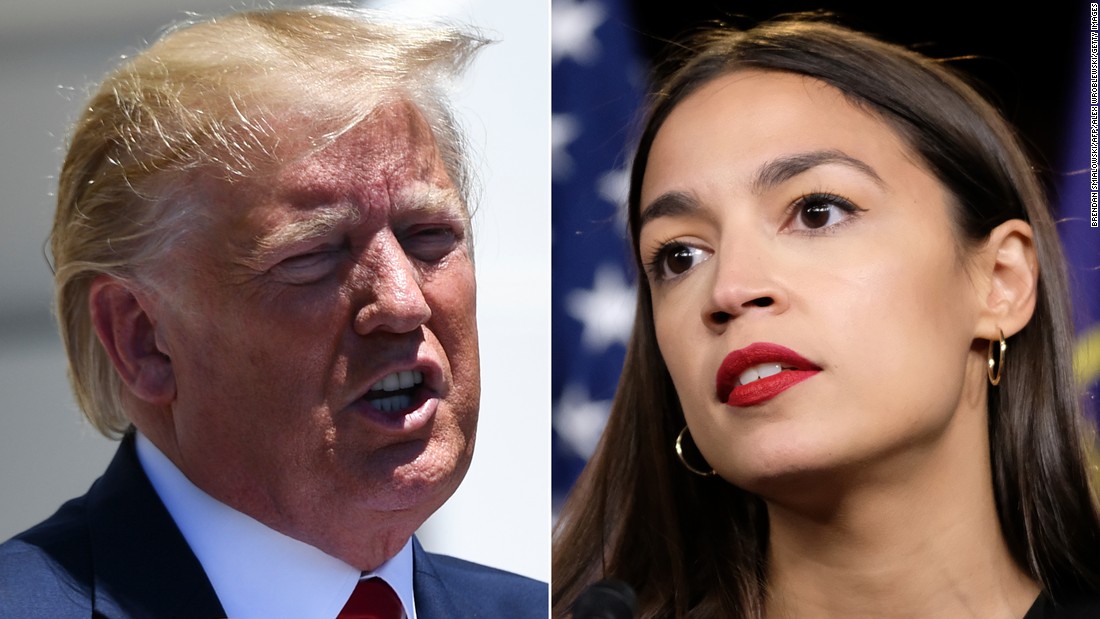 Rep. Alexandria Ocasio-Cortez on Tuesday defiantly responded to President Trump's continued attacks on her and other minority Democratic congresswomen, calling him out for the various sexual assault allegations made against him and his boasts on the infamous 2005 "Access Hollywood" video.
Here's her message:
A little context: More than a dozen women have come forward with a range of accusations against Trump, ranging from sexual harassment and assault to lewd behavior, from before he was President. Trump has vehemently denied all of the allegations and has threatened to sue his accusers, though he has not done so.
In her tweet Tuesday, Ocasio-Cortez was apparently referring to new rules unveiled by the Department of Education in November that narrowed the definition of sexual misconduct on college campuses.
The congresswoman followed up with this tweet, too: