Backlash after Trump's racist tweets
1:29 p.m. ET, July 16, 2019
Trump continues attack on congresswomen: "They can leave, they can stay"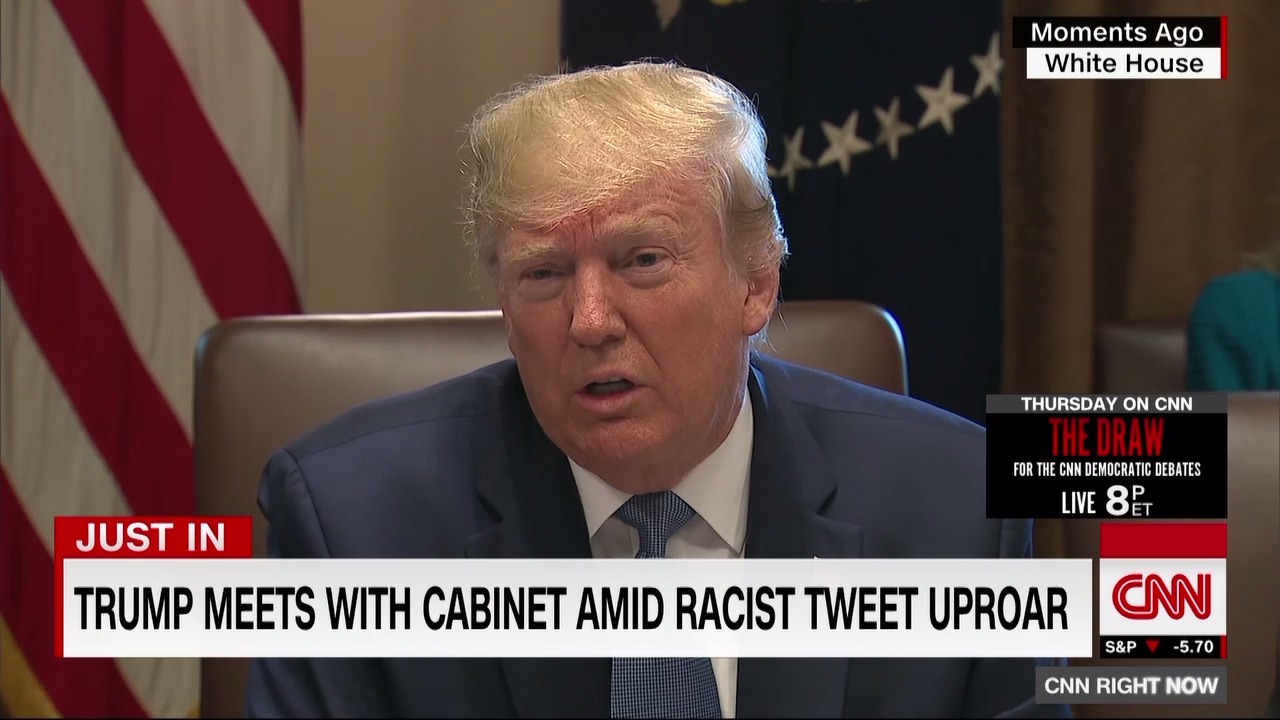 Asked today about the four progressive Democratic congresswomen at the center of his racist tweets, President Trump continued his attacks, saying, "They can do what they want. They can leave."
A reporter asked the President during a Cabinet meeting where the four congresswomen should go.
Here's how Trump responded:
"It's up to them. Go wherever they want or they can stay. But they should love our country. They shouldn't hate our country. You look at what they have said. I have clips right here. The most vile, horrible statements about our country, about Israel, about others. It's up to them. They can do what they want. They can leave, they can stay. But they should love our country and they should work for the good of our country."
Some background: The controversy erupted when Trump tweeted that the women, all of whom are US citizens, should "go back" to where they came from.
Later in the Cabinet meeting, Trump said the congresswomen "hate our country."
"What they did and the way they're treating Israel is a disgrace. But not only Israel, it's what they say about our country," Trump said. "It's my opinion they hate our country. And that's not good. It's not acceptable."
12:20 p.m. ET, July 16, 2019
As Trump doubles down on attacks against Democrats, the White House is rallying surrogates
As President Trump continues to double down on his attacks on progressive House members, the White House held a call with surrogates about ways to do messaging around the racist tweets, two sources familiar told CNN.
Allies of the White House have been armed with talking points to help defend the President against criticism of his comments. 
Talking points Trump brought to the South Lawn yesterday, but did not fully use, included pointing out that Democratic Rep. Ilhan Omar's ascension to Congress is an "only in America" story and arguing that members of the so-called "Squad" have advocated for socialism. 
12:19 p.m. ET, July 16, 2019
Lawmakers on Capitol Hill react to Trump's racist tweets
Democratic lawmakers on Capitol Hill are reacting to President Trump's tweets on Tuesday.
Some background: The President used racist language to attack four congresswomen this weekend, implying that they weren't born in America and suggesting, "they go back and help fix the totally broken and crime infested places from which they came." Today, he has been defending the tweets saying they are not racist and if the congresswomen are not happy in the US, they could leave.
Here's what lawmakers had to say:
Sen. Lamar Alexander, the chairman of the Senate HELP Committee and a retiring member, told CNN that when it comes to Trump's tweets, they aren't productive, but he won't say they are racist. 
 "Those are things I wouldn't say. I think it's better to talk about making our country better and what is wrong with the left-wing proposals of the people on the other side of the aisle."
But, are the comments racist?
Alexander did not respond.
Sen. Bob Menendez, a Democrat from New Jersey, told CNN off camera that the President should be the "uniter in chief."
 "He thinks it's good politics and it is a sad state of affairs that any President thinks it is good politics to divide the nation and use racist, bigoted remarks for political gain."
Menendez said he is surprised that his Republican colleagues have not been more outspoken.
 "There is a time in which you have to be a patriot, not a partisan and when the language by this or any other President is clearly racist, bigoted and xenophobic, is left un-responded to by all, then it only emboldens him –– that silence is not just acquiescence, it can be interpreted beyond acquiescence, can be interpreted as support," Menendez said.
Rep. Jim McGovern, a Democrat who leads House Rules Committee, said: "I don't care if you are a Democrat or Republican. If people utter racist remarks, they ought to be condemned."
12:12 p.m. ET, July 16, 2019
Nancy Pelosi: "The Squad" are "our sisters"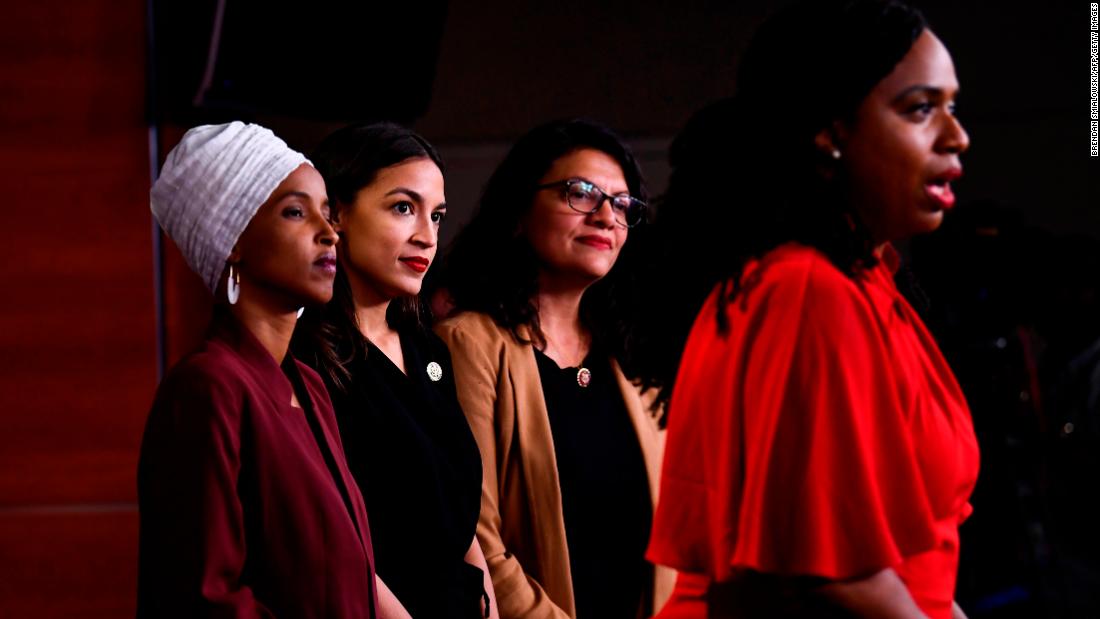 Speaking to members of Congress, Speaker of the House Nancy Pelosi called the four women President Trump tweeted racist attacks on "our sisters."
Here's how she put it, according to an aide in the room:
"These are our sisters. The fact is, as offended as we are, and we are offended by what he said about our sisters. He says that about people every day and they feel as hurt as we do about somebody in our family having this offense against them. 
Pelosi went on to say the resolution to condemn Trump's tweets is "based in who we are as a people, as well as a recognition of the unacceptability of what his goals were."
"This is, I hope, one where we will get Republican support. If they can't support condemning the words of the President, well that's a message in and of itself," she said.
11:51 a.m. ET, July 16, 2019
George Conway calls Trump a "racist president"
George Conway, husband of top White House aide Kellyanne Conway, called President Trump "a racist president" after remarks the President made attacking progressive Democratic congresswomen of color.
In a Washington Post op-ed published Monday, George Conway wrote that Trump's actions on Sunday "left no doubt" that "naivete, resentment and outright racism, roiled in a toxic mix, have given us a racist president."
Some background: Trump used racist language this weekend to attack four Democratic congresswomen, implying that they weren't born in America and suggesting, "they go back and help fix the totally broken and crime infested places from which they came." 
Conway in his op-ed denounced Trump's comments against the four as "racist to the core."
"It doesn't matter what these representatives are for or against ? and there's plenty to criticize them for ? it's beyond the bounds of human decency," George Conway wrote. "For anyone, not least a president."
CNN has reached out to the White House for comment.
Asked Tuesday what she thought of her husband's op-ed, Kellyanne Conway told Fox News, "I totally disagree. I work with this President. I know him."
11:42 a.m. ET, July 16, 2019
Democratic leader says GOP leader's defense of Trump is "baloney"
House Majority Leader Steny Hoyer was just asked to respond to Minority Leader Kevin McCarthy's defense of President Trump.
Earlier today, McCarthy said the dispute between President Trump and the Democratic congresswomen he's tweeted racist attacks about is about ideology and socialism.
"That's baloney," Hoyer said forcefully while talking to reporters. "This has nothing to do with socialism."
He argued the National Republican Congressional Committee and other Republican leaders are trying to sell the narrative that Democrats are socialists.
"That's just baloney," he added. "Just political rhetoric."
11:09 a.m. ET, July 16, 2019
House Democrats: Trump uses racism to "deflect and to divide"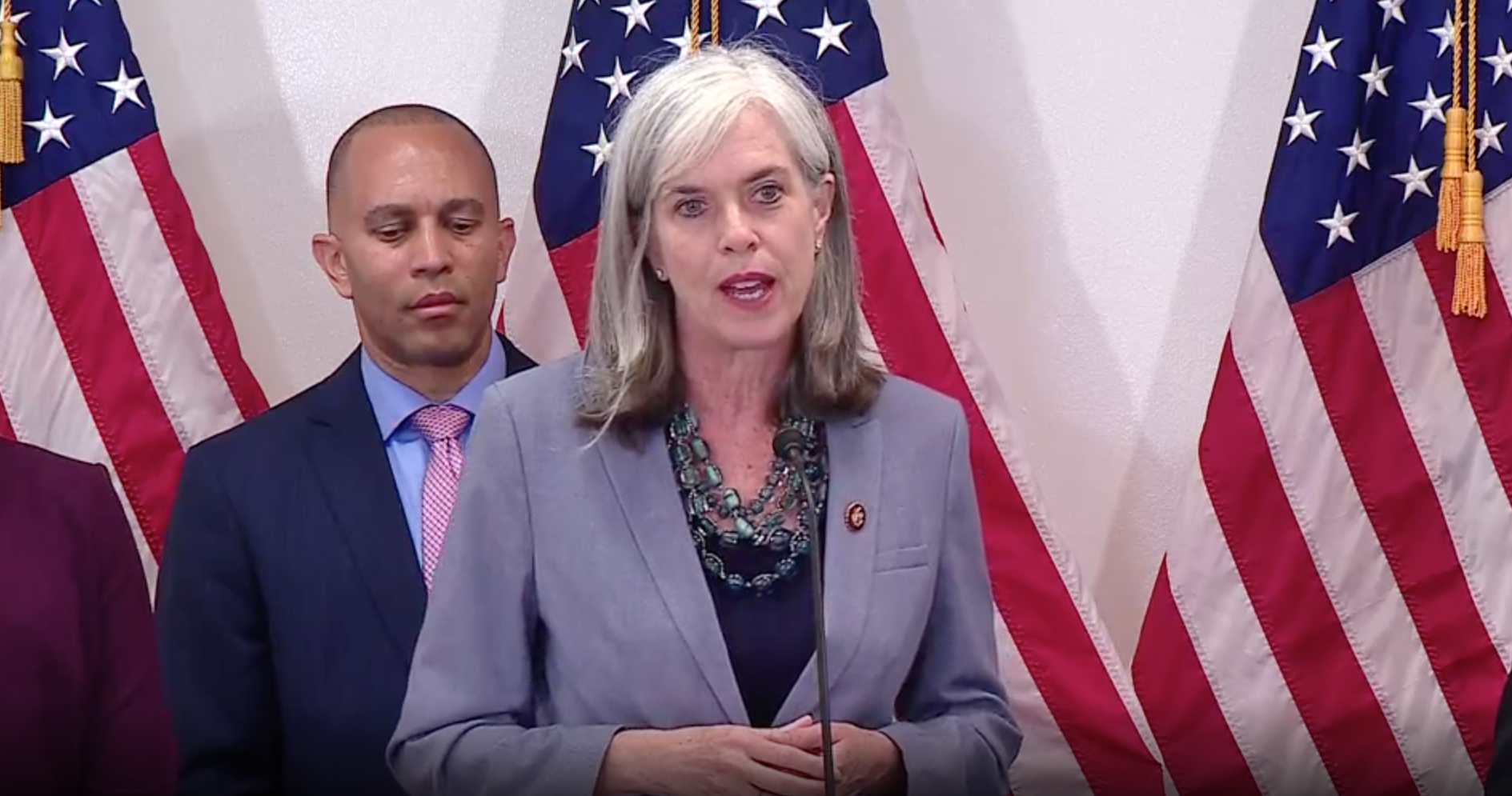 House Democrats said they are staying focused on their policy agenda and will call out President Trump's tactics to "deflect" and divide the country.
Rep. Katherine Clark said at a news conference Tuesday Democrats are going to continue to speak out against racist attacks.
"This president with his racist attacks is showing us that he is not concerned with anything but further enriching those who are already rich and powerful. And his plan is to distract us, to divide us, so they can pickpocket us while we're not looking," Clark said. "That's what we are speaking out against. This attack on American values, this attack on trying to be a country that is the United States of America, not the divided states."
She continued saying House Democrats want to ensure everyone has a place in the economy and will hold the administration accountable.
"Little Americans, your everyday working families, are on the losing end of these policies of this administration and the way he does that is by using hate, by using racism, by using bias to deflect and to divide," she said. "He will continue to do this and what we're doing as House Democrats is calling that out."