Backlash after Trump's racist tweets
3:38 p.m. ET, July 16, 2019
Republicans call out Pelosi after she describes Trump's comments as racist in her speech
Republicans called out House Speaker Nancy Pelosi moments ago when she specifically described President Trump's comments as racist in her floor speech.
She also said the "comments from the White House" are "disgraceful" and "disgusting" and that "these comments are racist." 
After Republican Rep. Doug Collins interjected and gave Pelosi a chance to withdraw her remarks from the record, Pelosi said she had cleared her remarks with the parliamentarian. Collins asked for her words to be taken down anyway, and now House officials are discussing what to do. 
Why this matters: Congressional members have to be careful with how they debate a condemnation resolution because they're not allowed to attack the personalities or character of members, senators, or the President on the House floor. 
That's problematic when they're debating a resolution that characterizes something the President said as racist. 
5:38 p.m. ET, July 16, 2019
Pelosi says Trump's comments about congressional members are "not only divisive but dangerous"
House Speaker Nancy Pelosi, speaking from the House floor today, called President Trump's continued defense of his remarks "shameful" and added that the "comments are racist."
While addressing the House of Representatives during the debate over a resolution calling for members to condemn Trump's racist tweets, she quoted former President Ronald Reagan: "If we ever close the door to new Americans, our leadership in the world would soon be lost." 
"Yet the President's comments about our colleagues this weekend show that he does not share those American values," Pelosi said. "These comments from the White House are disgraceful and disgusting and the comments are racist." 
She added that the Democratic House caucus "will continue to respond to the attacks on our members which reflect a fundamental disrespect for the beautiful diversity of America." 
Pelosi went on to call the President's remarks "not only divisive but dangerous" and said that his comments "have legitimized and increased fear and hatred of new Americans and people of color."
She said that to do "anything less" than condemn these remarks from Trump "would be a shocking rejection of our values and a shameful abdication of our oath of office to protect the American people."
"I urge a unanimous vote," she said.
2:56 p.m. ET, July 16, 2019
Mitch McConnell sidesteps question about his wife, who's an immigrant
Asked if he would consider it a racist attack if someone told his wife Elaine Chao — who is the US Secretary of Transportation and an immigrant and naturalized US citizen — to go back to her own country, Senate Majority Leader Mitch McConnell sidestepped the question and talked about his support for legal immigration.
"The Secretary of Transportation came here at the age of 8 not speaking a word of English, and has recognized the American dream. This is a process of renewal that's gone on in this country for a very long time, and it's good for America. We ought to continue it," he told reporters.
McConnell continued: "As I said, the legal immigration has been a fulfilling of the American dream. The new people who come here have a lot of ambition, a lot of energy, tend to do very well and invigorate our country. My wife is a good example of that."
He went on to say President Trump is "not a racist."
"I think the tone of all of this is not good for the country," the Kentucky senator said.
2:41 p.m. ET, July 16, 2019
The House begins debate on resolution to condemn Trump's "racist comments"
The House of Representatives has begun debating a resolution condemning President Trump's racist tweets and remarks ahead of the vote tonight.
What the resolution would do: It would denounce the President for "racist comments." The resolution states that "President Donald Trump's racist comments have legitimized fear and hatred of new Americans and people of color" and "strongly condemns" the President's remarks, including "that our fellow Americans who are immigrants, and those who may look to the President like immigrants, should 'go back' to other countries."
House GOP Leader Kevin McCarthy said he'll be voting against the Democratic-backed resolution and suggested he was encouraging other members to vote against it as well.
2:41 p.m. ET, July 16, 2019
Mitch McConnell calls out Trump, congressional members: "All of us have a responsibility to elevate the public discourse"
Senate Majority Leader Mitch McConnell, a Republican from Kentucky, spoke Tuesday afternoon about the feud between President Trump and the Democrats, saying that he believes "political rhetoric has really gotten way, way over heated all across the political spectrum." 
"We've heard facilities on the US Border called concentration camps. We've seen the far left throw accusations of racism at everyone. Anyone who disagrees with them on anything, including the Speaker of the House," McConnell said.
He added that over the past few days "the most vile accusations and insults against our nation have become incredibly routine."
In his remarks, McConnell referenced a saying that he attributed to former Supreme Court Justice Antonin Scalia, who he called "my all-time favorite."
"[Scalia] said 'I don't attack people, I attack ideas' and I think that's a good lesson for all of us. From the President to the Speaker, to freshmen members of the House, all of us have a responsibility to elevate the public discourse," McConnell said. 
1:29 p.m. ET, July 16, 2019
Trump continues attack on congresswomen: "They can leave, they can stay"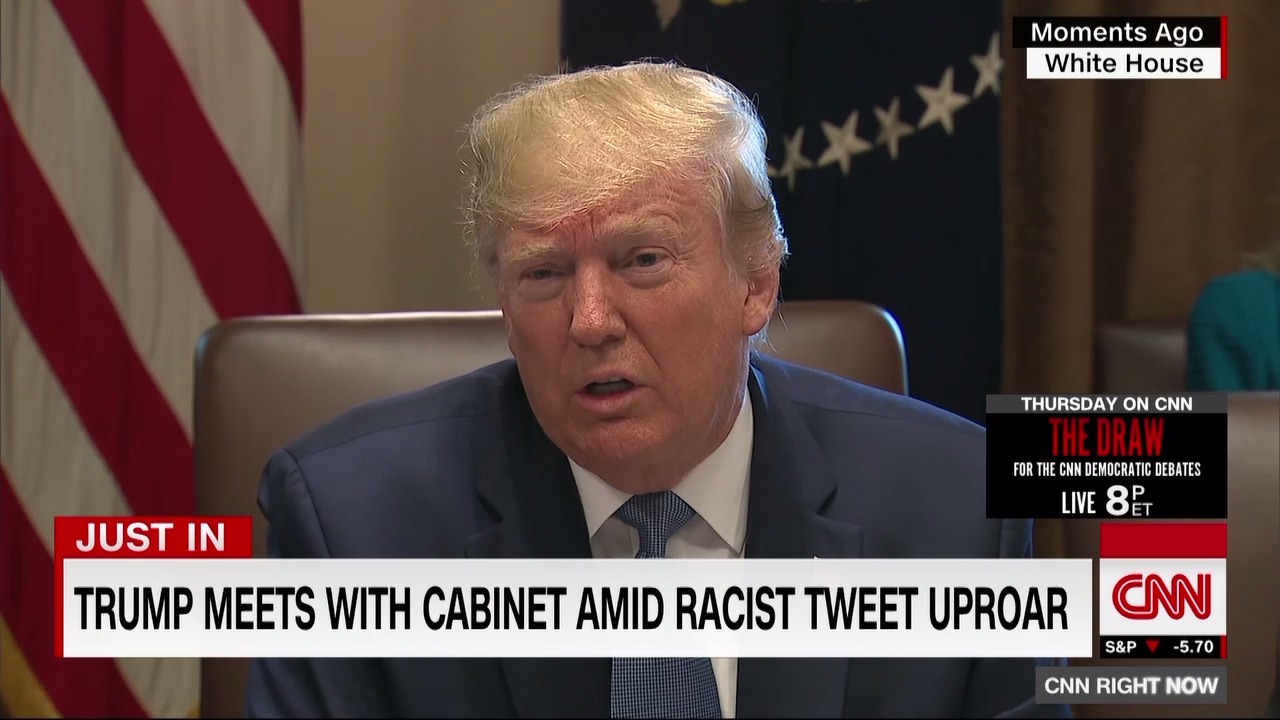 Asked today about the four progressive Democratic congresswomen at the center of his racist tweets, President Trump continued his attacks, saying, "They can do what they want. They can leave."
A reporter asked the President during a Cabinet meeting where the four congresswomen should go.
Here's how Trump responded:
"It's up to them. Go wherever they want or they can stay. But they should love our country. They shouldn't hate our country. You look at what they have said. I have clips right here. The most vile, horrible statements about our country, about Israel, about others. It's up to them. They can do what they want. They can leave, they can stay. But they should love our country and they should work for the good of our country."
Some background: The controversy erupted when Trump tweeted that the women, all of whom are US citizens, should "go back" to where they came from.
Later in the Cabinet meeting, Trump said the congresswomen "hate our country."
"What they did and the way they're treating Israel is a disgrace. But not only Israel, it's what they say about our country," Trump said. "It's my opinion they hate our country. And that's not good. It's not acceptable."
12:20 p.m. ET, July 16, 2019
As Trump doubles down on attacks against Democrats, the White House is rallying surrogates
As President Trump continues to double down on his attacks on progressive House members, the White House held a call with surrogates about ways to do messaging around the racist tweets, two sources familiar told CNN.
Allies of the White House have been armed with talking points to help defend the President against criticism of his comments. 
Talking points Trump brought to the South Lawn yesterday, but did not fully use, included pointing out that Democratic Rep. Ilhan Omar's ascension to Congress is an "only in America" story and arguing that members of the so-called "Squad" have advocated for socialism. 
12:19 p.m. ET, July 16, 2019
Lawmakers on Capitol Hill react to Trump's racist tweets
Democratic lawmakers on Capitol Hill are reacting to President Trump's tweets on Tuesday.
Some background: The President used racist language to attack four congresswomen this weekend, implying that they weren't born in America and suggesting, "they go back and help fix the totally broken and crime infested places from which they came." Today, he has been defending the tweets saying they are not racist and if the congresswomen are not happy in the US, they could leave.
Here's what lawmakers had to say:
Sen. Lamar Alexander, the chairman of the Senate HELP Committee and a retiring member, told CNN that when it comes to Trump's tweets, they aren't productive, but he won't say they are racist. 
 "Those are things I wouldn't say. I think it's better to talk about making our country better and what is wrong with the left-wing proposals of the people on the other side of the aisle."
But, are the comments racist?
Alexander did not respond.
Sen. Bob Menendez, a Democrat from New Jersey, told CNN off camera that the President should be the "uniter in chief."
 "He thinks it's good politics and it is a sad state of affairs that any President thinks it is good politics to divide the nation and use racist, bigoted remarks for political gain."
Menendez said he is surprised that his Republican colleagues have not been more outspoken.
 "There is a time in which you have to be a patriot, not a partisan and when the language by this or any other President is clearly racist, bigoted and xenophobic, is left un-responded to by all, then it only emboldens him –– that silence is not just acquiescence, it can be interpreted beyond acquiescence, can be interpreted as support," Menendez said.
Rep. Jim McGovern, a Democrat who leads House Rules Committee, said: "I don't care if you are a Democrat or Republican. If people utter racist remarks, they ought to be condemned."
12:12 p.m. ET, July 16, 2019
Nancy Pelosi: "The Squad" are "our sisters"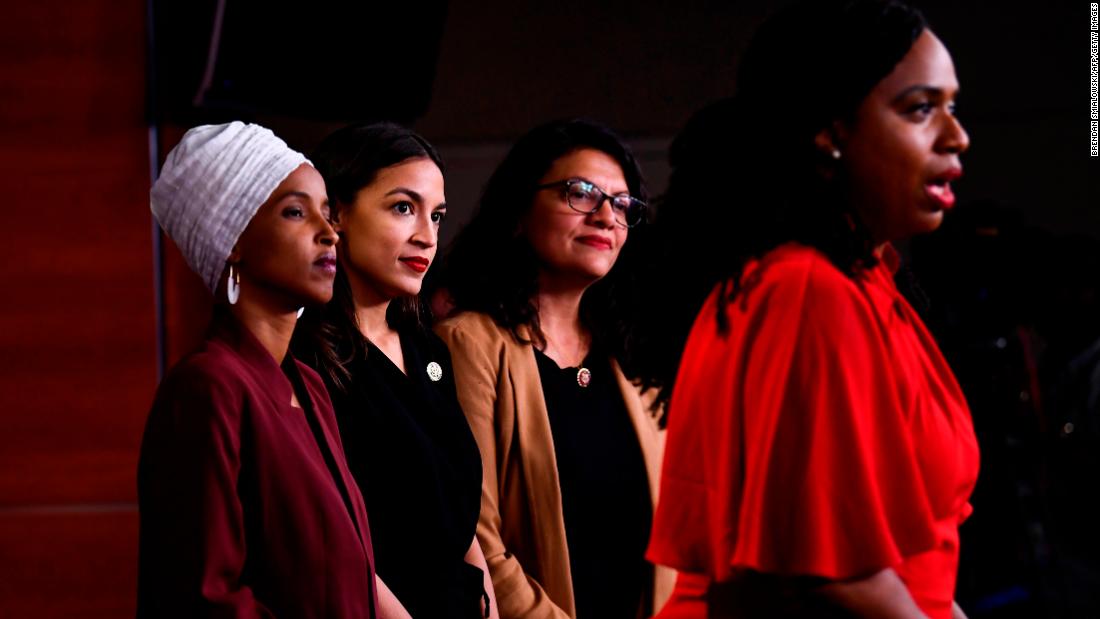 Speaking to members of Congress, Speaker of the House Nancy Pelosi called the four women President Trump tweeted racist attacks on "our sisters."
Here's how she put it, according to an aide in the room:
"These are our sisters. The fact is, as offended as we are, and we are offended by what he said about our sisters. He says that about people every day and they feel as hurt as we do about somebody in our family having this offense against them. 
Pelosi went on to say the resolution to condemn Trump's tweets is "based in who we are as a people, as well as a recognition of the unacceptability of what his goals were."
"This is, I hope, one where we will get Republican support. If they can't support condemning the words of the President, well that's a message in and of itself," she said.