Fallout after Trump-Putin meeting
11:29 a.m. ET, July 16, 2018
Trump: "Relationship has never been worse ... that changed as of about 4 hours ago"
President Trump said his meeting with Russian President Vladimir Putin had significantly improved the relationship between the two countries.
He that while the US-Russia relationship "has never been worse than it is now," he believes that has now "changed" after his summit with Putin.
"Our relationship has never been worse than it is now. However, that changed as of about four hours ago. I really believe that," Trump said.
Trump also said he believes that diplomacy with Russia, while perhaps not politically popular, is necessary.
"Nothing would be easier than to refuse to meet, to refuse to engage," Trump said. "But that would not accomplish anything."
11:32 a.m. ET, July 16, 2018
Putin: Russia has never interfered in US elections
Russian President Vladimir Putin, standing next to President Trump at a news conference, insisted that Russia "never interfered" with American affairs, including the 2016 presidential election.
Putin said Trump raised the issue, something the US President had promised to do.
"Once again, President Trump mentioned issue of the so-called interference of Russia with the American elections," Putin said. "I had to reiterate things I said several times, including during our personal contacts, that the Russian state has never interfered and is not going to interfere in internal American affairs, including election process."
11:32 a.m. ET, July 16, 2018
Putin: I expressed concern that US pulled out of Iran nuclear deal
Russian President Vladimir Putin said he expressed his concern over President Trump's decision to pull out of the Iran nuclear deal, also known as the Joint Comprehensive Plan of Action.
"We also mentioned our concern about the withdrawal of the United States from the JCPOA," Putin said. "Thanks to the Iranian nuclear deal, Iran began most controlled country in the world."
Watch more:
11:19 a.m. ET, July 16, 2018
Putin: No reason for US-Russian relations to be complicated
Russian President Vladimir Putin, speaking at a joint news conference, described his meeting with President Trump as frank and business-like. He said it was successful and they had a "fruitful round of negotiations."
But Putin acknowledged the US-Russia relationship has been complicated.
"It's clear to everyone that the bilateral relationship are going through a complicated stage," Putin said. "Yet those impediments, the current tension, the tense atmosphere essentially have no solid reason behind it."
11:12 a.m. ET, July 16, 2018
Man forcibly removed from news conference
Moments before President Trump and Russian President Vladimir Putin took the stage, a man was forcibly removed from the room. Watch how it unfolded below.
10:32 a.m. ET, July 16, 2018
Why Putin's frequently late to meetings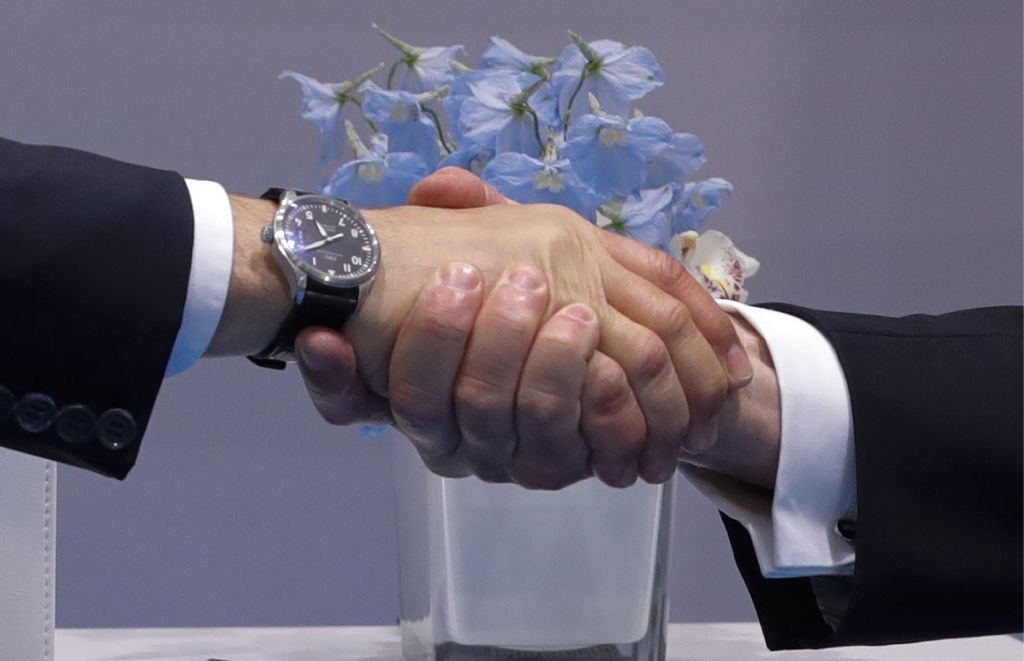 Russian President Vladimir Putin, it seems, knows how to play the waiting game.
The Kremlin leader arrived in Helsinki at around 1:00 pm local time, just around the time his summit with President Donald Trump was originally scheduled to start. Observers took note: Putin has a habit of keeping other dignitaries waiting.
In 2016, he arrived in Japan over two hours behind schedule for talks with Japanese Prime Minister Shinzo Abe. The year before, Pope Francis waited patiently for more than an hour at the Vatican for his Russian guest to arrive. And on more than one occasion, Belarusian President Alexander Lukashenko had to cool his heels while waiting for meeting with Putin to start.
But the record for waiting patiently for Putin may belong to German Chancellor Angela Merkel. In 2014, amid the crisis over the Crimea annexation, Putin kept Merkel waiting in Milan for a meeting four hours later than originally scheduled.
Negotiating tactic? In fairness, Putin's late start at the historic Helsinki summit may have one possible explanation: Sunday was the World Cup final in Moscow, marking the end of a month of celebrations around the tournament.
Putin had always been scheduled to arrive first in Helsinki, so Trump delayed his departure to the Presidential Palace to accommodate Putin's tardiness. All told, the summit got started only an hour behind schedule.
10:11 a.m. ET, July 16, 2018
Trump and Putin are now meeting with a larger group. Here's who's at the table.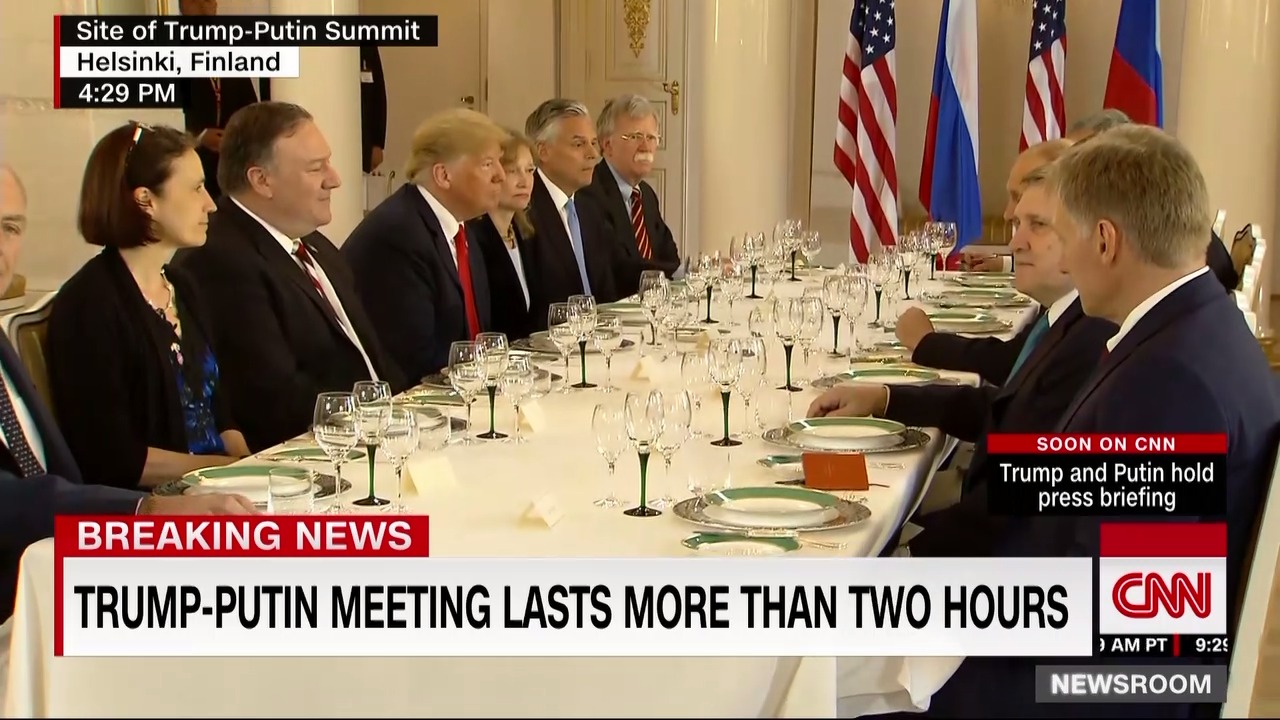 President Trump and President Putin are now participating in what's known as an expanded bilateral meeting and working lunch. 
The meeting will be in the Hall of Mirrors Room at the Finnish presidential palace, which is just off the Gothic Hall where the two men just met one-on-one.
The delegations are seated at a long table. In the screenshot above, the US is on the left; the Russians on the right.
With Trump are Fiona Hill, who is on the National Security Council; Secretary of State Mike Pompeo; translator Marina Gross, who has previously translated for the State Department and other government entities; US Ambassador to Russia Jon Huntsman; and national security adviser John Bolton. Chief of Staff John Kelly is seated at the front end of the table (he's partially out of frame in the photo above).
10:06 a.m. ET, July 16, 2018
Trump: Private Putin meeting was "a very good start"
President Trump just responded to a shouted question asking how was the meeting.
Trump said it was a "very good start."
9:32 a.m. ET, July 16, 2018
It's Helsinki's hottest day in years
President Trump and Russia's Vladimir Putin are meeting on one very hot Helsinki day.
The city is currently experiencing its worst heat in several years, and potentially the hottest day since 2010. It is currently 30 degrees Celsius (That's 86 degrees Fahrenheit).
How rare is that? Helsinki averages around one 30°C day every decade, according to the Finnish Meteorological Institute.
The average high in Helsinki for mid-July is about 20 degrees Celsius, or about 68 degrees Fahrenheit.