Trump battles with Democrats as impeachment pressure grows
5:07 p.m. ET, May 23, 2019
Our live coverage has concluded. Scroll through the posts below to read more or follow CNN Politics.
4:47 p.m. ET, May 23, 2019
Pelosi fires back: I'll work with Trump when the "extremely stable genius" acts more presidential
Speaker of the House Nancy Pelosi just responded to President Trump's name-calling. (Moments ago, he called her a "mess" and said some trade policy is "too complicated" for her to understand.)
Pelosi said she'd work with "the 'extremely stable genius'" when he starts acting "more presidential." Trump has repeatedly referred to himself as a "stable genius" — back in 2018 and today.
Here's Pelosi's tweet:
4:28 p.m. ET, May 23, 2019
Trump calls Pelosi "crazy" as White House staff assures press he was "very calm" and "definitely not angry" in meeting
President Trump called Democratic House Speaker Nancy Pelosi "crazy" and said she "lost it."
Trump addressed the dust-up between him and Pelosi directly, dismissing the "nasty-type statement" Pelosi made afterward. 
As he did on Twitter this morning, Trump disputed the characterization of himself at the infrastructure meeting as angry. He said he intentionally maintained his cool "because I know that they will always say that even if it didn't happen."
"You all saw me minutes later, I was at a news conference, I was extremely calm," Trump said.
After again taking a swipe at Pelosi – "She's lost it," he said – Trump quizzed his aides on precisely how calm he behaved in the infrastructure meeting yesterday.
"Kellyanne, what was my temperament yesterday?" he asked counselor Kellyanne Conway, who he said was present at the meeting.
"You were very calm," Conway said. 
 Trump soon turned to Mercedes Schlapp.
"What was my attitude when I walked in?" he asked Schlapp
The senior communications director said Trump was "very direct."
The President repeated this with economic adviser Larry Kudlow, asking his opinion of the President's demeanor.
Trump said Pelosi was "crazy" and waving her arms like an animated 2020 Democratic hopeful, Beto O'Rourke.
"She reminded me of Beto," Trump said of Pelosi.
Trump then turned to press secretary Sarah Sanders to solicit yet another opinion of his temperament.
 "What was my tone yesterday at the meeting?" he asked. 
 Sanders told the President he was "definitely not angry or ranting."
3:59 p.m. ET, May 23, 2019
President Trump says USMCA "too complicated" for Pelosi to understand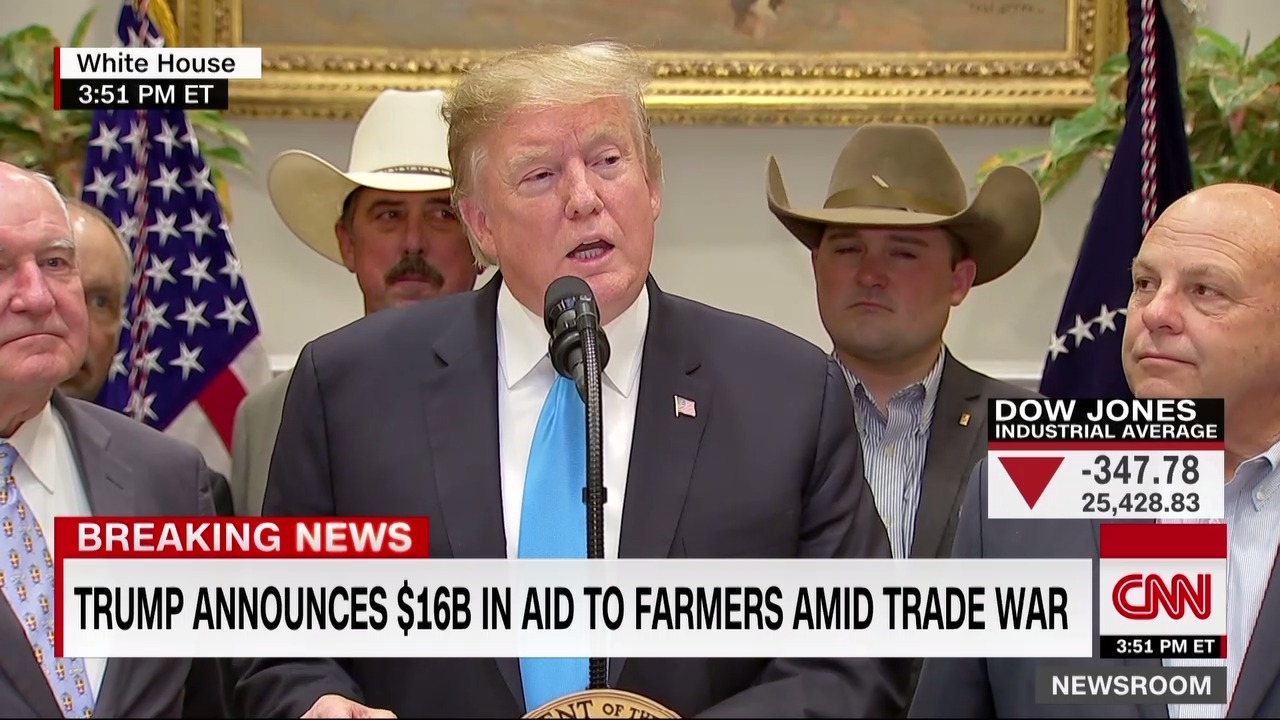 President Donald Trump claimed on Thursday that his re-negotiated trade deal with Canada and Mexico is so complex that Democratic House Speaker Nancy Pelosi can't understand it.
"I don't think Nancy Pelosi understands the deal, it's too complicated," Trump said during remarks at a farmers' event at the White House.
Trump claimed "many" Democrats have informed the White House they plan to support the US Mexico-Canada Agreement, USMCA, "regardless of leadership."
"NAFTA has been one of the worst deals ever made in trade," Trump said.
His swipe at Pelosi comes as the two leaders have feuded this week, with the President walking out on a meeting with her Wednesday after Pelosi accused him of engaging in a "cover-up."
11:49 a.m. ET, May 23, 2019
Pelosi: "I am" concerned about Trump's wellbeing and wish there would be "an intervention"
House Speaker Nancy Pelosi said she hoped President Trump's family or staff "would have an intervention" and said she was concerned about President Trump's wellbeing, and that of the country.
"I pray for the President of the United States," she said. "I wish that his family or his administration or his staff would have an intervention for the good of the country."
Asked by NBC News' Kelly O'Donnell if she was concerned about Trump's wellbeing, Pelosi responded, "I am. And the wellbeing about the United States of America." 
11:42 a.m. ET, May 23, 2019
Pelosi says she will continue to use "cover-up" even if Trump doesn't like it
House Speaker Nancy Pelosi said she would continue to use rhetoric like "cover-up" even if President Trump finds it inflammatory.
"I do not intend not to honor my oath of office," she said at her weekly press conference.
Pelosi also told reporters she still would take a meeting again with Trump on legislation despite the blowup at yesterday's meeting.
"We can walk and chew gum," she said.
11:31 a.m. ET, May 23, 2019
Pelosi: Democratic investigations could lead to Trump's impeachment down the road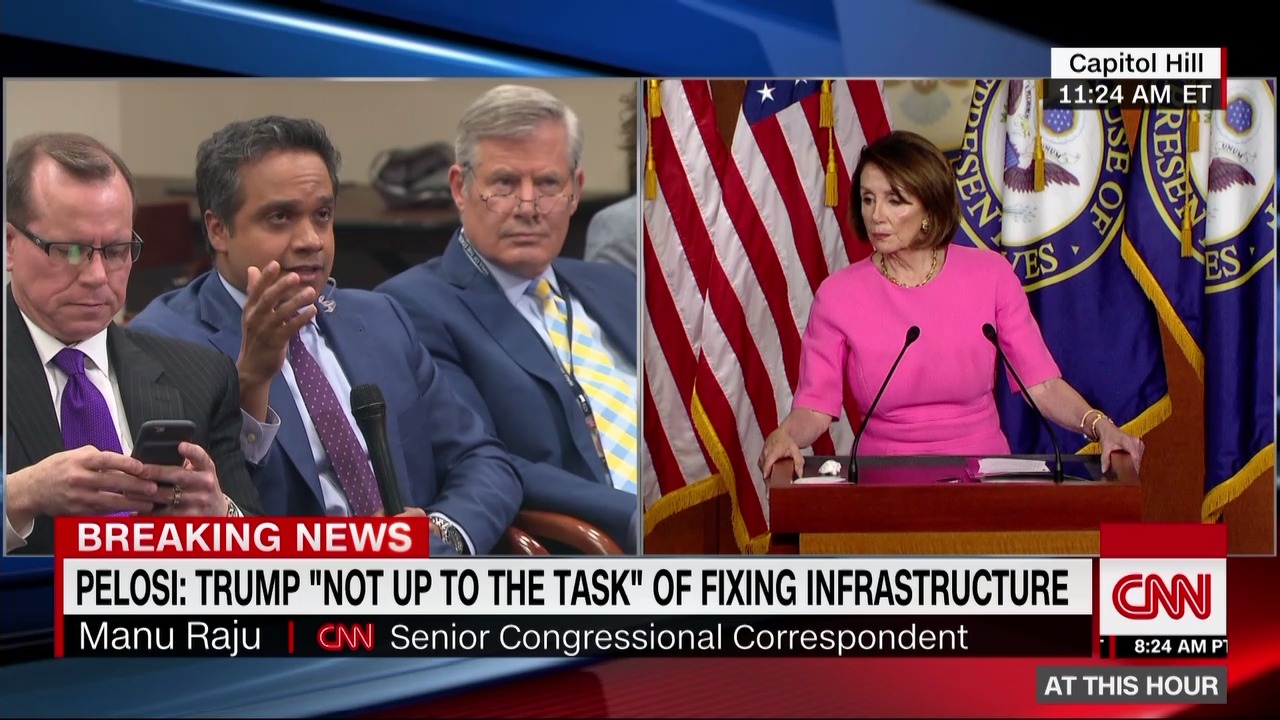 CNN's Manu Raju asked Speaker Pelosi if she could explain why she is opposed to launching an impeachment inquiry, as many of her House Democratic colleagues want to do. 
Pelosi responded:
"Let me be clear. The President's behavior, in terms of his obstruction of justice, the things he's doing, it's clear. It's in plain sight. It cannot be denied. Ignoring subpoenas, obstruction of justice. Yes, these could be impeachment offenses."
She added, however, that she wants to "follow the facts," which could lead to impeachment down the road.
"I do think that impeachment is a very divisive place to go in our country," she said, "and we can get the facts to the American people through our investigation. It may take us to a place that is unavoidable in terms of impeachment or not. But we're not at that place."