7:50 p.m. ET, August 24, 2018
Our live coverage has ended. Scroll through the posts below to see how President Trump's speech in Ohio played out.
7:24 p.m. ET, August 24, 2018
Trump did not mention Sen. John McCain in his speech tonight
From CNN's Betsy Klein
President Trump did not bring up Sen. John McCain during his speech tonight in Ohio.
Trump has frequently referenced McCain's healthcare vote on the campaign trail without naming the ailing Arizona senator.
Earlier today, McCain's family announced that he has decided to stop treatment for the brain cancer he has been battling for over a year.
McCain has not been in Washington since December, leaving a vacuum in the corridors of the Senate and the television news studios he roamed for decades. In recent weeks, he was not completely quiet, however.
McCain also frequently and directly criticized the commander in chief himself.
In July, he excoriated Trump for his cozy summit with Russian President Vladimir Putin, blasting the encounter as "one of the most disgraceful performances by an American president in memory." 
 Watch for more details:
6:49 p.m. ET, August 24, 2018
Trump attacks Democrat Richard Cordray, says he was "groomed by Pocahontas"
From CNN's Betsy Klein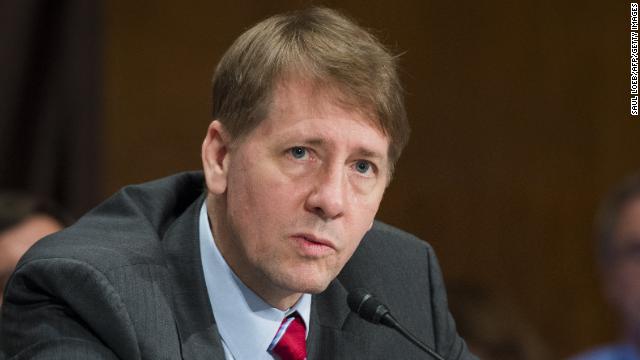 President Trump attacked Richard Cordray, a Democrat who is running for governor in Ohio, and re-upped his Pocahontas nickname for Sen. Elizabeth Warren.
"He was groomed by Pocahontas," Trump said.
The President continued, "He was groomed by Elizabeth Warren, his name is Cordray and he's trouble ... a guy that is real trouble."
Some background: Warren, a Democrat from Massachusetts, has been a biting critic of Trump for some time. Trump has responded by repeatedly trying to belittle her as "Pocahontas."
Warren says she is Native American and points to "family stories" passed down to her through generations as evidence. One genealogist, following Warren's account, traced her Native American heritage to the late 19th century, which, if true, would make her 1/32 Native American. (However, the legitimacy of those findings has been debated.)
6:54 p.m. ET, August 24, 2018
Trump puts slain Mollie Tibbetts into his midterm campaign trail speech
From CNN's Betsy Klein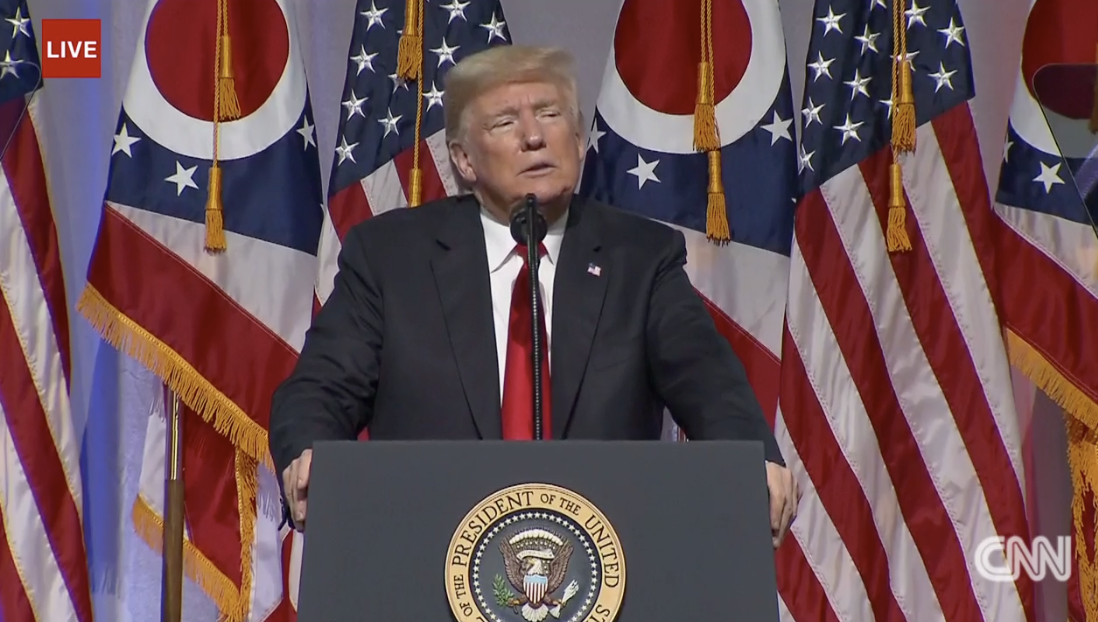 While discussing MS-13 and illegal immigration, President Trump invoked Iowan Mollie Tibbetts, a sign that her story will likely be a piece of his midterm campaign trail messaging.
"They charged an illegal alien in the murder of a college student Mollie Tibbetts — the amazing thing is that everybody was talking about Mollie, beautiful wonderful incredible person, everybody that met her loved her," he said.
He appeared to accuse media of slowing down coverage of the story once it was reported her murderer was in the US illegally.
"When they found out that it was this horrible illegal immigrant that viciously killed her — they didn't want to cover it the way that they should," he said, adding, "Our hearts go out, we mourn for Mollie's family."
What we know about the suspect:
Shawn Neudauer, a spokesman for Immigration and Customs Enforcement, said the agency on Tuesday sent a detainer request to local authorities for the suspect, Cristhian Bahena Rivera, who is from Mexico. That means ICE could take custody of Rivera if he was released from local custody.
He had worked four years at an Iowa dairy farm based on false identification, his employer said Wednesday.
Rivera was arraigned on a first-degree murder charge for the killing of Tibbetts. His bond was set at $5 million and his next court hearing is scheduled for August 31.
6:14 p.m. ET, August 24, 2018
Trump: "Don't ever wrestle" with Rep. Jim Jordan
From CNN's Betsy Klein
While acknowledging elected officials and candidates in the audience, President Donald Trump gave a shoutout to Ohio Rep. Jim Jordan.
"Don't ever wrestle him," Trump said. "People don't know this about Jim, he was one of the best wrestlers ever in college wrestling ... He lost one match in three years of college. Anyway, thank you."
Of the one match Jordan lost, Trump said, "You want to see what happened to the guy that beat him, he was not in good shape, that guy."
Some background: Jordan faced questions about his time as an assistant wrestling coach at Ohio State University and whether he knew about alleged sexual abuse by a former Ohio State medical doctor who treated athletes there.
Jordan has repeatedly denied any knowledge of inappropriate behavior during his time as assistant coach.
6:17 p.m. ET, August 24, 2018
Happening now: Trump recalls Ohio victory 
From CNN's Betsy Klein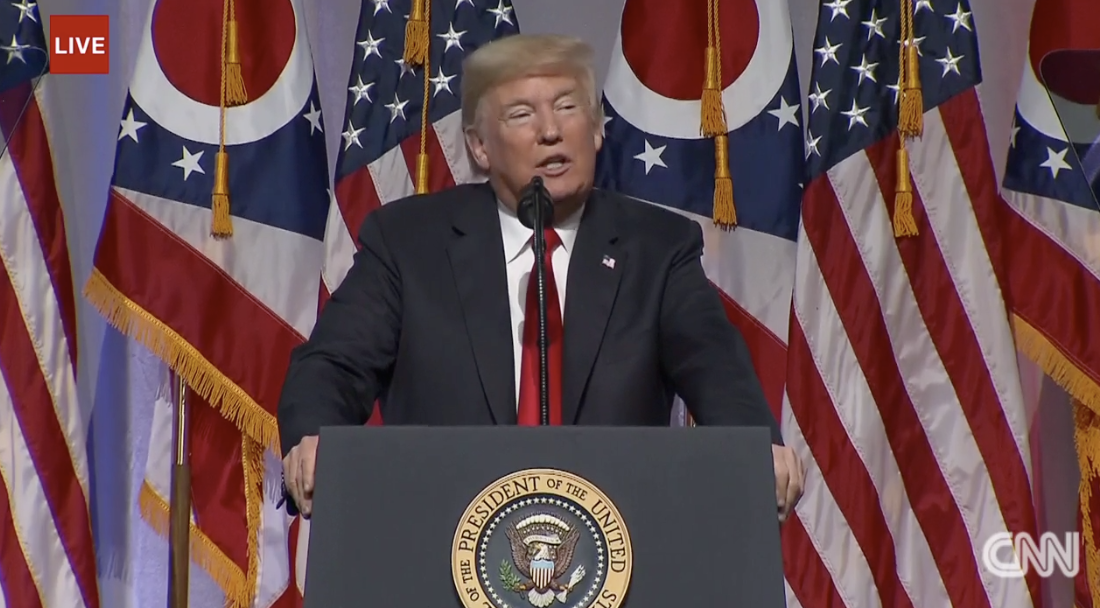 President Donald Trump kicked off his speech to the Ohio state GOP dinner recalling his 2016 victory.
"Remember, you cannot win unless you get the state of Ohio ... I heard that so many times. You need the state of Ohio, therefore Trump can't win," he said.
Trump continued: "And this November, we're going to win really big. It's going to be one big Ohio family as we've had."
He also dismissed the idea of a "blue wave," touting the administration's economic successes.
"I don't think there's going to be a blue wave, I hope there's a red wave," he said.
Trump acknowledged the difficulty of maintaining control of Congress in a Republican presidency, but said, "No president has ever had this economy."
6:02 p.m. ET, August 24, 2018
What you need to know about the drama this week involving Trump associates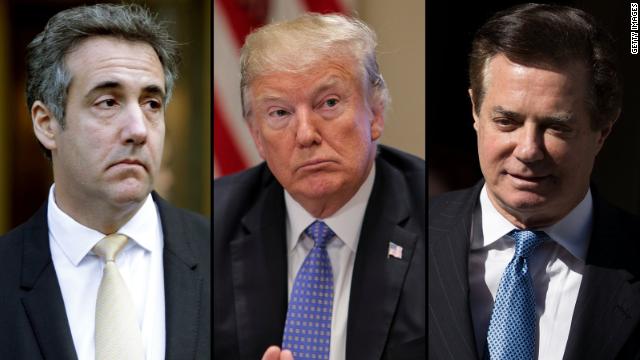 President Trump's speech in Ohio tonight comes as two of his close associates have been granted immunity by federal prosecutors in a case involving his former personal attorney.
And that's just the latest development in what has been a drama-filled week for the President. Here's everything you need to know:
5:47 p.m. ET, August 24, 2018
Trump is raising money tonight for Ohio Rep. Jim Renacci
From CNN's Sarah Westwood
Before he speaks at the Ohio Republican Party dinner here in Columbus, President Trump will be raising money for Rep. Jim Renacci, who is running for Senate against Democratic Sen. Sherrod Brown. The dinner itself is sold out.
Renacci is considered a long shot candidate to unseat Brown. But Vice President Pence was also up here raising money for him on Aug. 14, an aide confirmed, so the White House is still paying attention to this race.
One thing to note: Gov. John Kasich's absence from the gathering tonight is notable, if unsurprising; it would be hard to envision another state where a Republican governor would not attend a Republican state party gala headlined by a Republican president.
While Kasich's team has characterized his absence as voluntary, a senior White House official said the governor isn't here because he was not invited to the dinner. The official said the White House played no part in keeping Kasich away from this event. Kasich's spokesperson and the state party haven't responded to requests for comment.
Recall that shortly before his inauguration, Trump personally intervened to install a donor and supporter as chairman of the state party and to replace the Kasich loyalist, who had been in charge of Ohio's GOP. To this day, Trump still distrusts Republicans who supported Kasich and rails against his former 2016 primary opponent, who rails back.
Trump has been increasing his fundraising activities in recent weeks. In the Hamptons just one week ago, he raised $3 million for the Trump Victory Fund at a single event, according to the RNC.
5:31 p.m. ET, August 24, 2018
President Trump is giving a speech in Ohio tonight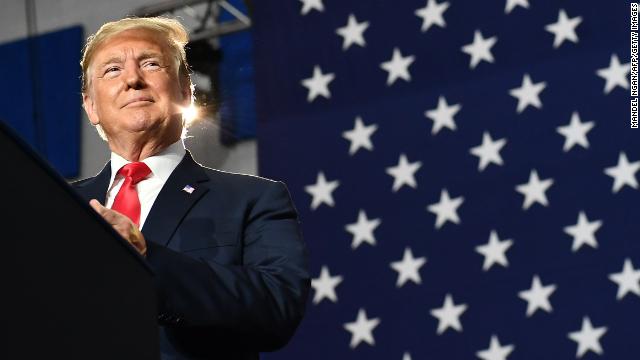 President Trump is delivering remarks at the Ohio Republican Party state dinner at 6 p.m. ET.
Tonight's speech marks the second time that Trump has returned to Columbus, Ohio, in less than three weeks.
Earlier today, the President and first lady Melania Trump visited a children's hospital in Columbus, where they sat down and spoke to kids.
After the hospital visit, Trump headed to the Greater Columbus Convention Center, where he was expected to speak with supporters during a roundtable. (The first lady stayed behind at the hospital.)
Here's a look at their hospital visit: