Trump attends NATO summit
6:51 a.m. ET, July 13, 2018
Secretary of defense says NATO summit was "highly successful" 
One day after President Trump left the NATO Summit where he dealt harsh criticisms towards former allies and called for other member nations to increase their defense spending, US Secretary of Defense James Mattis called the NATO Summit "highly successful." He also said the summit demonstrated the US faith in its international allies. 
While addressing a group of fellow defense ministers from Adriatic nations at the US Adriatic Charter Defense Ministerial Meeting in Croatia, Mattis said, "Coming out of our highly successful NATO Summit in Brussels, it is clear that the US will continue strengthen our alliances and partnerships in the region, and this is a priority enshrined in America's recently released US National Defense Strategy."
11:44 a.m. ET, July 12, 2018
John McCain says Trump at NATO was "disappointing, yet unsurprising"
GOP Senator John McCain just weighed in on President Trump's performance at the NATO summit in Brussels.
Here's what he tweeted:
9:55 a.m. ET, July 12, 2018
Canadian prime minister: We agreed to 2% defense spending
Canadian Prime Minister Justin Trudeau refused to directly answer when asked to confirm President Trump's claim that Canada and others will spend more on defense. 
Trudeau would only say that Canada remains committed to increasing military spending as it pledged at the NATO Summit in 2014. (That agreement says countries will increase their spending to 2% by 2024.)
Trudeau was then asked: "So what President Trump said today was wrong?"
"We committed in the declaration yesterday to the Wales agreement, and you can triple check the wording in that which moves us toward 2%," Trudeau responded.
In a follow-up answer, Trudeau added, "70% is clearly not doubling."
11:49 a.m. ET, July 12, 2018
NATO countries did not commit to Trump's call for 4% spending, source says
President Trump's suggestion that NATO countries increase their spending to 4% was not agreed to at the summit, said a senior diplomatic NATO source with knowledge of the discussions.
The source described "frank discussions on burden-sharing" among leaders of the member countries at the end of the summit. The leaders "recommitted to 2%" of GDP defense spending by 2024 — a goal that had already been set. 
"You saw the President set out his beliefs," the source said, suggesting his sentiments were not shared by the other leaders. 
9:53 a.m. ET, July 12, 2018
NATO head says alliance is "more united" — but won't give summit agreement details
NATO Secretary General Jens Stoltenberg gave vague answers Thursday to repeated questions about the details of what was achieved between NATO allies during the summit in Brussels.
He responded that it was a "good summit, meaning that we reached conclusions" and a sense of understanding that they are "stronger together and need fair burden sharing." 
Stoltenberg also said NATO is now "more united than before the summit" due to an "open and frank discussion."
9:52 a.m. ET, July 12, 2018
Trump suggested NATO countries could double spending goal. France says it's staying as is.
French President Emmanuel Macron questioned — then rejected — President Trump's claim that NATO members might boost defense spending to 4% of GDP, which is twice the agreed commitment. 
"I don't even know if it's a good measure," Macron said after Trump gave an impromptu news conference. 
Then, Macron went further, rejecting Trump's assertion that NATO allies "agreed to substantially up their commitment. "
"There was a communiqué released yesterday. It was very detailed, and I invite you to read it... It shows the measures approved by all the member states. This communiqué is clear: It reaffirms a commitment to 2% in 2024. That is all." 
Macron did back Trump's assertion that the leaders' meeting had been collegial. 
Asked if German leader Angela Merkel had been treated rudely at the summit, Macron said, "I heard comments, saw messages in 140 characters, but I also went to the debates. They were respectful and demanding."
8:03 a.m. ET, July 12, 2018
Angela Merkel: Trump demanded "a change in the burden-sharing"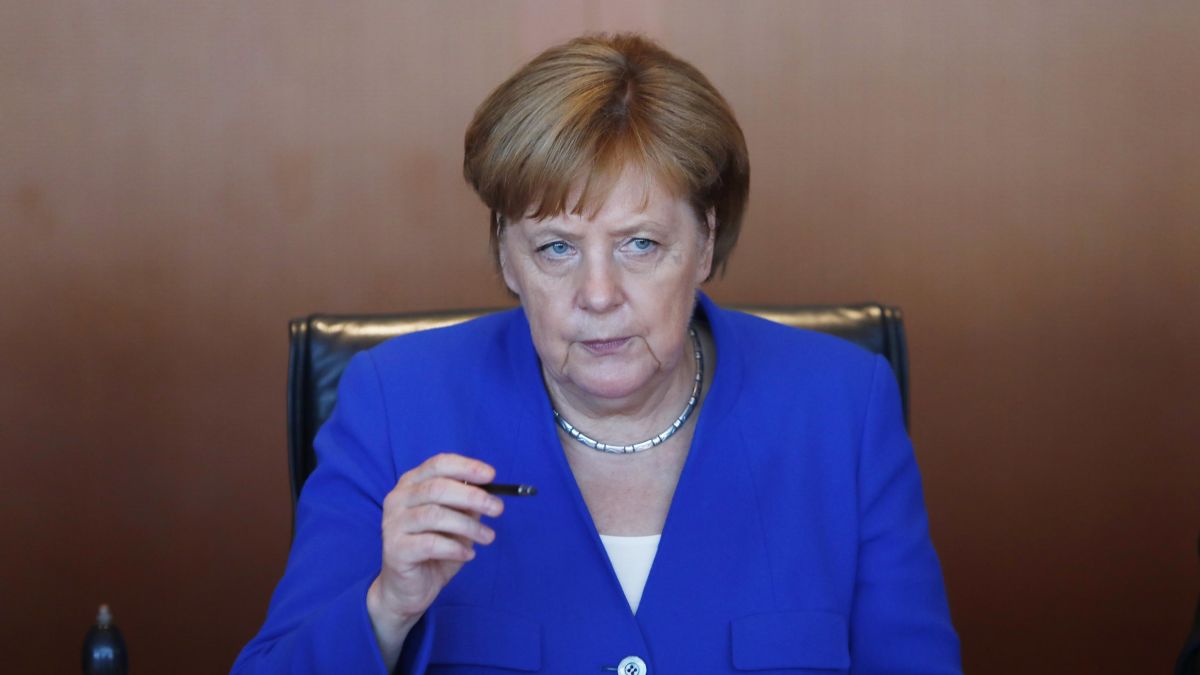 German Chancellor Angela Merkel says she experienced "all in all, a very intensive summit" with the representatives of the NATO member states who "once again" had a "very fundamental discussion."
"The American president demanded, what has been discussed for months, a change in the burden-sharing," she said, and added that she knows Germany "must do more." 
"All European allies have made clear once again that they recognize this new security situation and are reacting to it, with strengthening, with modernization of their own forces. Germany is doing that too." 
She was asked about the Monday meeting between President Trump and Russian President Vladimir Putin. Merkel said the two leaders meeting is "good for everyone."
"I think, and hope, that perhaps also questions of disarmament, of nuclear disarmament will be discussed. That would be a good signal for us all if talks on that could get off the ground again. All in all, I believe this meeting with President Putin is very important, since when the USA and Russia are talking, it's good for everyone and also good for security more broadly," Merkel said.