Trump attends NATO summit
6:37 a.m. ET, July 12, 2018
Trump: I could pull out of NATO, but that's "unnecessary"
President Trump was just asked directly he was threatening to pull out of NATO.
A reporter asked: "Are you still threatening to potentially pull the United States out of NATO for any reason, and do you believe you can do that without Congress's explicit support and approval? 
Here's what Trump said:
"I think I probably can, but that is unnecessary. They have stepped up today like they have never stepped up before."
6:28 a.m. ET, July 12, 2018
Trump: "I told people that I would be very unhappy" if allies didn't increase spending
President Trump, speaking at a press conference after the NATO summit, said he would have been "very unhappy" if other NATO member didn't increase their defense spending.
"I told people that I would be very unhappy if they didn't up their commitments very substantially. Because The United States has been paying a tremendous amount —probably 90% of the cost of NATO."
Trump then added that allies have agreed to increase their spending.
"Everyone has agreed to substantially up their commitment. They're going to up it at levels that they never thought of before," Trump said.
Many NATO members were already working to increase their financial commitments in recent years, so it's unclear what's new.
"Now we're very happy," Trump said
6:20 a.m. ET, July 12, 2018
Trump is not expected to pull out of NATO, US official says
A US official says President Trump isn't expected to pull out of NATO — but he will again scold countries for not paying their fair share and levy more threats.
But we will hear from him shortly. As always, Trump will make the final call not his advisers.
6:11 a.m. ET, July 12, 2018
SOON: President Trump speaks after contentious NATO summit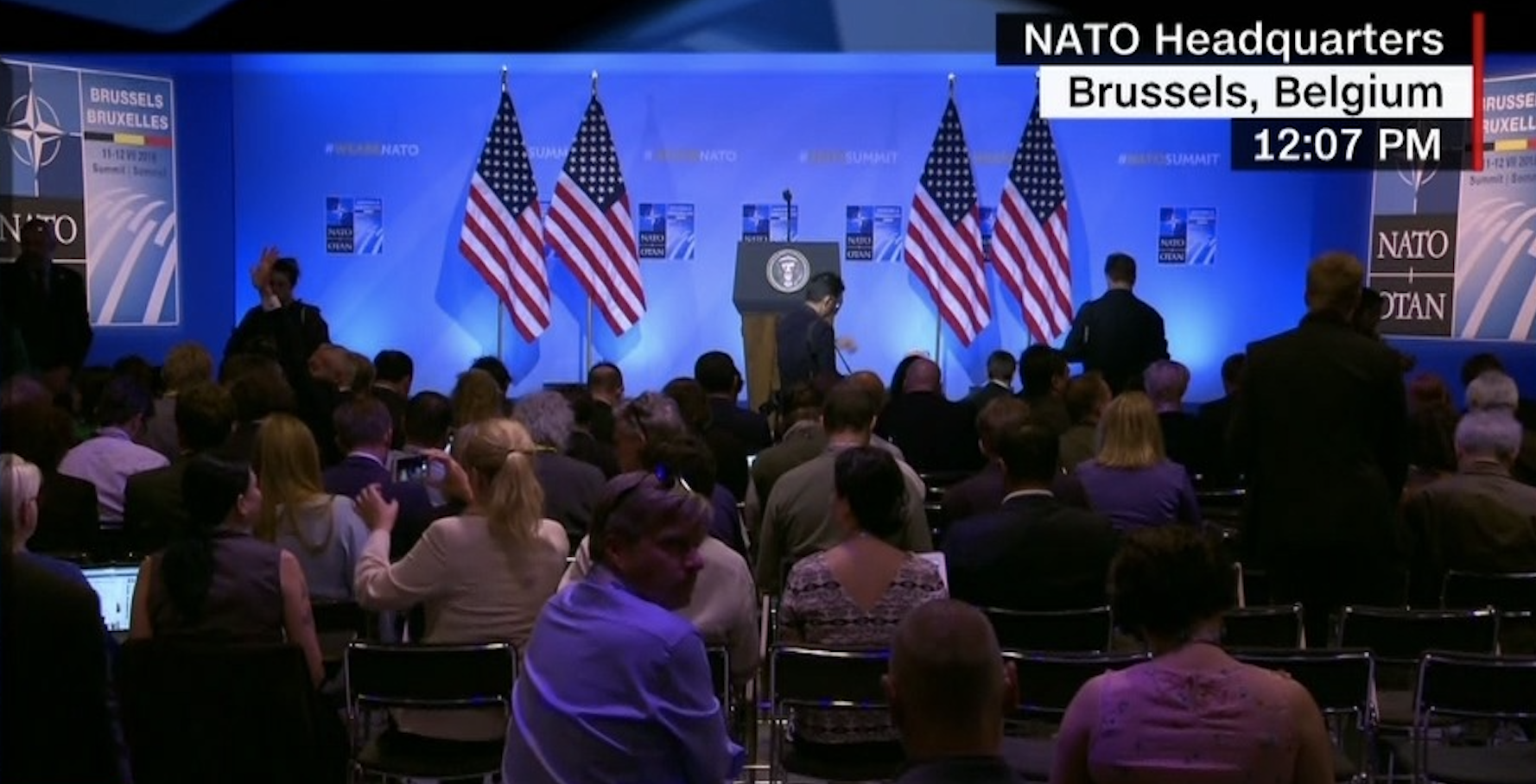 President Trump is expected to make a statement to the press at the NATO summit in Brussels, Belgium.
It follows a tense summit: Trump came out brawling in his first public comments, accusing NATO ally Germany of being "a captive of Russia," calling members of the alliance "delinquent" in their defense spending and insisting they increase it "immediately."
5:15 a.m. ET, July 12, 2018
Trump's awake and tweeting
US President Donald Trump has been tweeting this morning. He has returned to his theme of complaining about allies' spending on defense, and expressing dismay at Germany's energy deal with RUssia.
It could be another interesting day at NATO.
5:09 a.m. ET, July 12, 2018
Trump returns to NATO
7:48 p.m. ET, July 11, 2018
Trump tweets: "Pipeline dollars to Russia are not acceptable!"
President Trump is continuing his late night tweeting from Brussels, and his criticism of NATO countries.
It is 1:33 a.m. local time, and Trump just tweeted:
Some background: Trump accused Germany on Wednesday of being a "captive" of Russia because it buys energy from Moscow. He went on to complain that the United States is expected to "defend them against Russia," despite Germany making "billions of dollars" in energy payments to Moscow.
Trump's comments were a remarkable criticism for a US president to make about a close US ally and is likely to increase tensions between the US and its European allies. Indeed, while Trump singled out Germany, he also noted that "numerous" NATO countries have made pipeline deals with Russia.
German Defense Minister Ursula von der Leyen preemptively rebuffed concerns about any German "dependency" on Russia, telling CNN's Christiane Amanpour Germany has "a very diverse mix of energy supplies."
7:05 p.m. ET, July 11, 2018
What Trump's first day at the NATO summit looked like
President Trump just wrapped up his first day at the NATO summit, where he met with world leaders during a series of meetings.
At a pre-summit meeting with NATO Secretary General Jens Stoltenberg, Trump started off the day by accusing Germany of being a "captive of Russia" in a scathing attack over a gas deal.
Trump later sat down with German Chancellor Angela Merkel and said he had a "tremendous relationship" with Germany.
He also met with French President Emmanuel Macron and praised him for "a terrific job."
NATO members, including Trump, agreed to bolster the alliance's deterrence and defense capabilities to counter Russian threats. They also took a group photo.
Then, NATO members sat down for a formal dinner at the end of the day.
6:43 p.m. ET, July 11, 2018
Theresa May says the UK will remain a strong US ally 
British Prime Minister Theresa May is praising the relationship between the US and the UK Wednesday, following a tense NATO summit in Brussels and ahead of President Trump's visit to London. 
"There is no stronger alliance than that of our special relationship with the US and there will be no alliance more important in the years ahead," she said in a statement released by 10 Downing Street Wednesday. 
"As two nations – we are safer, more prosperous and more creative when we work together," May added. "I am looking forward to this week's important discussions."
Trump is expected to arrive in London at 8:00 a.m. ET Thursday.