Trump threatens tariffs on Mexico over immigration
6:25 p.m. ET, May 31, 2019
Our live coverage has concluded. Scroll through the post below to read more about President Trump's new tariff threat or follow CNN.com.
4:38 p.m. ET, May 31, 2019
Mexico's foreign minister says he'll meet with Pompeo on Wednesday
Mexican Foreign Minister Marcelo Ebrard tweeted Friday afternoon that a meeting to resolve the dispute between the United States and Mexico will take place Wednesday in Washington.
"There is a willingness for dialogue," Ebrard tweeted. "We will be firm and we will defend the dignity of Mexico."
Ebrard said that he will lead the Mexican side and that his U.S. counterpart, Mike Pompeo, will lead the US delegation. 
4:22 p.m. ET, May 31, 2019
Mexico tariffs knock the Dow below 25,000. It was the longest weekly losing streak since 2011.
The Dow fell 355 points, or 1.4%, on Friday as investors agonized over President Trump's threat to impose escalating tariffs on Mexico.
The S&P 500 lost 1.3%, while the Nasdaq fell 1.5%. The selloff capped the Dow's sixth-straight losing week, the longest slump since June 2011. The Dow finished below 25,000 for the first time in four months.
The Dow and S&P 500 declined nearly 7% apiece in May, their first losing months since December. The Nasdaq tumbled 8% on the month, its worst May since 2010.
Why this matters: Trump's vow to impose tariffs on Mexico surprised investors, driving shares of auto companies, beer makers and apparel companies sharply lower. General Motors declined 4%, Corona maker Constellation Brands dropped 6% and Levi Straus lost 7%.
US oil prices plunged 5.5% to a three-month low of $53.50 a barrel, reflecting fear about the economic impact of the tariffs on China and Mexico. Crude tumbled 16% in May, snapping a four-month winning streak.
Investors fled to the safety of US government debt, driving the 10-year Treasury yield to 2.13%, the lowest level in nearly two years.
The Mexican peso declined 2.4% against the US dollar, while ETF that track Mexican stocks plunged 4%.
4:03 p.m. ET, May 31, 2019
Pelosi: Trump is "sowing chaos" with new tariff threat
House Speaker Nancy Pelosi said President Trump is "sowing chaos" with his new threat of tariffs on Mexico.
"Yet again, the President is sowing chaos over the border instead of delivering solutions for American workers and for American consumers," Pelosi wrote in a statement a day after the announcement of the new possible tariffs.
Read Pelosi's full statement:
"Yesterday, the President demonstrated his lack of knowledge of policy and process in our trade relations by taking premature action to advance the USMCA. Later in the day, he demonstrated a further lack of understanding of the recklessness of his actions by threatening tariffs on Mexico. The President's threat is not rooted in wise trade policy but has more to do with bad immigration policy on his part. 
We hope that the President will join us in bipartisan comprehensive immigration reform, be strategic about our trade relationships and recognize the importance of the US-Mexico relationship. 
Yet again, the President is sowing chaos over the border instead of delivering solutions for American workers and for American consumers."
3:58 p.m. ET, May 31, 2019
"The negotiating process is beginning": Mexico's foreign minister speaks with Kushner and Pompeo
Mexican Foreign Minister Marcelo Ebrard tweeted Friday that he just spoke with White House senior adviser Jared Kushner and Secretary of State Mike Pompeo.
Ebrard said the call happened before he boarded a flight to Washington.
"I just had a call with Jared Kushner and with Mike Pompeo," he tweeted. "The negotiating process is beginning. I heard interest and respect [from them] regarding the letter from President Lopez Obrador. We are going forward."
2:52 p.m. ET, May 31, 2019
US footwear trade association says it's "deeply concerned" about Trump's tariff threat
The US footwear industry's largest trade association said it is "deeply concerned" about President Trump's continued use of tariffs as a "political weapon."    
In a statement, Matt Priest, president and CEO of Footwear Distributors and Retailers of America, said that it "does not make sense to impose massive tax increases on hardworking American individuals and families as a bargaining chip for negotiating with Mexico or China."
Priest went on to say that Trump's most recent announcement threatens to "further harm US footwear consumers and companies."
2:10 p.m. ET, May 31, 2019
Oxfam America: Trump's tariff threat is "shortsighted, harmful and counter-productive"
Abby Maxman, president of Oxfam America, issued a statement in response to President Trump's announcement of new tariffs on Mexico.
Trump threatened to raise tariffs on all goods by 5% starting June 10, if Mexico did not curb the immigration problem plaguing both nations.
Here's what Maxman said:
"President Trump's intention to impose new tariffs on Mexico is shortsighted, harmful, and counter-productive. Escalating tariffs will not deter migration and would have detrimental effects on our economy, Mexico's economy, and the poorest in both countries. If anything, this policy will actually increase migration pressures throughout the region.
While President Trump is fomenting an emergency at the border in order to take these actions, the real emergency is that every year, thousands of innocent people – families and children – in Central America have no other choice than to leave their homes to escape violence, criminal gangs, instability, poverty, and economic hardship.
Rather than starting trade wars and demonizing those escaping violence and instability, we should protect the rights of asylum seekers while addressing the root causes of forced migration. It is time for Congress to put its foot down on the dangerous acts of this President that threaten constitutional checks and balances of power and the functioning of our democracy."
1:34 p.m. ET, May 31, 2019
Retail trade group: "Forcing Americans to pay more" won't solve immigration issues
The National Retail Federation issued a strong rebuke of President Trump's plan to impose tariffs on Mexican imports.
"Forcing Americans to pay more for produce, electronics, auto parts and clothes isn't the answer to the nation's immigration challenges," said NRF, which calls itself the world's largest retail trade association.
NRF said US retailers imported $128 billion in goods from Mexico in 2017 and added that proposed tariffs "won't help move USMCA forward."
12:41 p.m. ET, May 31, 2019
Meanwhile, China's retaliatory tariffs on US exports take effect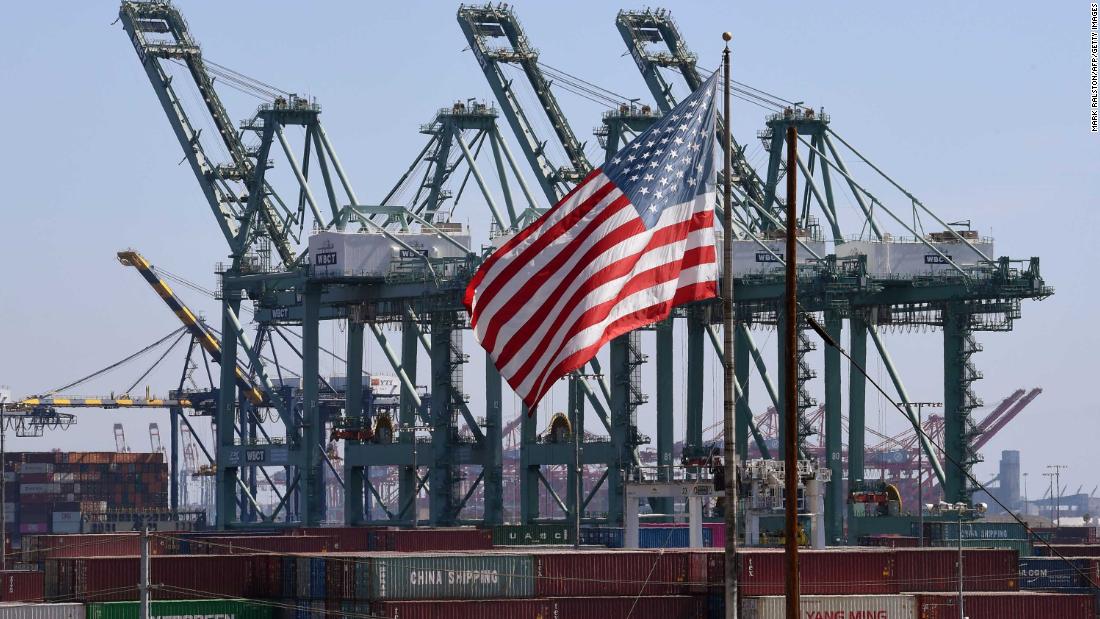 China's retaliatory tariffs on some $60 billion worth of US exports has just officially gone into effect as of 12 p.m. ET.
Beijing said earlier this month that it would increase tariffs on roughly $60 billion worth of US goods on June 1, including American cotton, machinery, grains and aircraft parts.
More than 4,000 items are affected, most of which will carry tariffs of 25% — up from 10% when they were first levied last September. 
Some background: The move follows increase in US tariffs on $200 billion worth of Chinese exports from 10% to 25%, which went into effect May 10. The Trump administration, which has accused China of backtracking on previous trade commitments, sought to turn up the pressure on Beijing after months of talks failed to produce a breakthrough. But so far, the tit-for-tat penalties have not pushed Beijing toward a deal.