President Trump meets with Kim Jong Un
5:04 a.m. ET, February 27, 2019
Hanoi goes nuts for limited edition summit coins
People were lined up outside the Vietnam Stamps Company from 6 a.m. this morning, three and a half hours before the shop opened, to get their hands on 500 limited-edition coins commemorating the second summit between President Trump and North Korean leader Kim.
Each of the coins cost 500,000 Vietnamese dong each (about $22) and sold out in three hours. On the front, it features the flags of the US and North Korea, embossed in silver, along with a dove and the slogan "World peace."
Do Huu Tuyen told CNN he got there at 9 a.m. and waited about three hours to get his coin, one of the last sold. Do, an agriculture student, said he was fascinated by the Hanoi summit and he wanted a keepsake to mark the occasion.
A commemorative coin issued by the White House Communications Agency ahead of Trump's last meeting with Kim in Singapore was a big success, attracting over a thousand orders in the first day.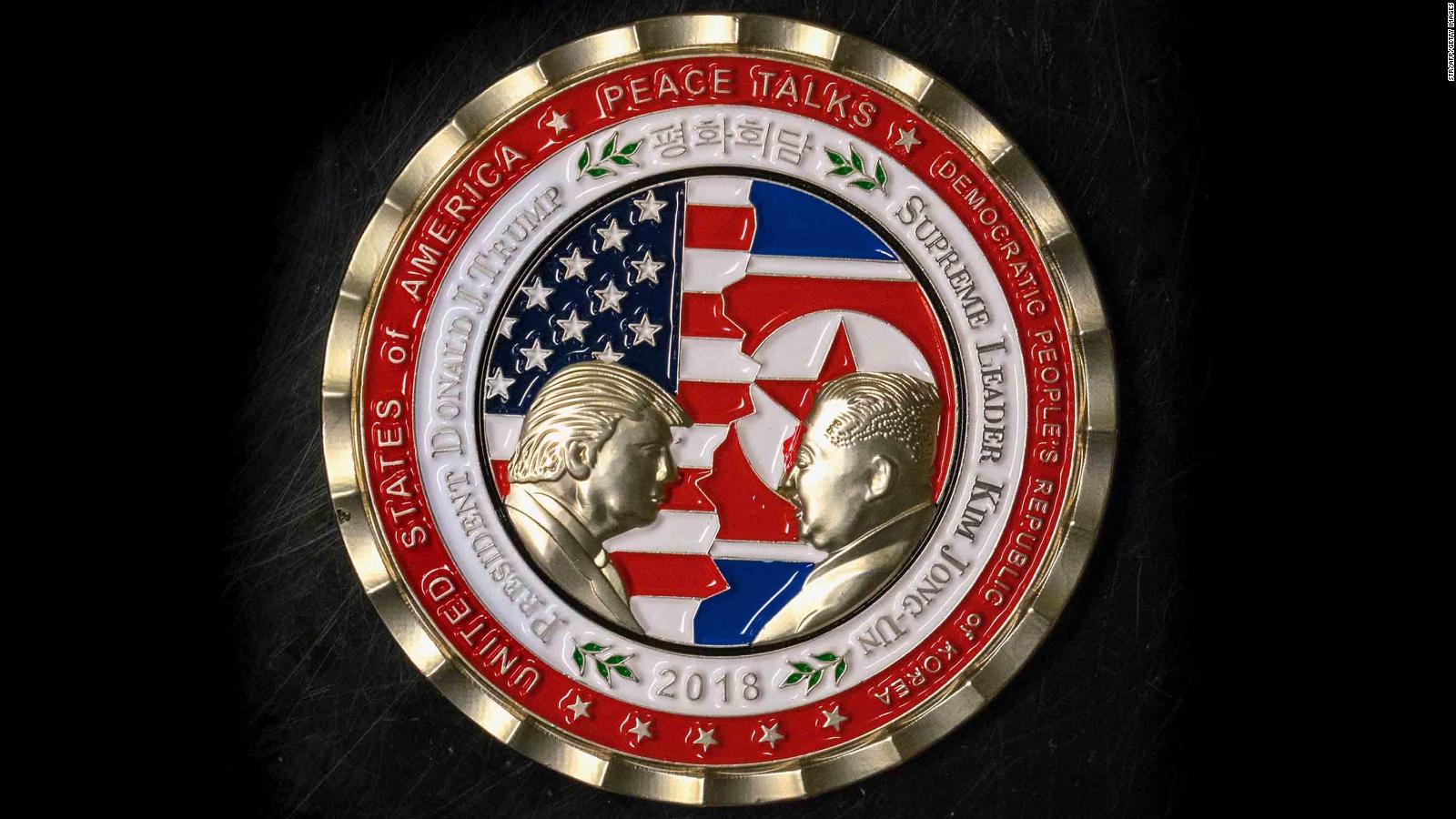 That coin, in silver, white, red and blue, sparked some controversy for referring to Kim as North Korea's "Supreme Leader," a title not usually used by the US.
8:25 a.m. ET, February 27, 2019
Trump-Kim summit does wonders for t-shirt sales
Truong Thanh Duc normally sells about 30 shirts a day out of his shop in Hanoi's old quarter, where he's worked the last 20 years.
This week he's selling 500 a day, almost all of which are emblazoned with President Trump and North Korean leader Kim's faces. The shop has sold a total of about 3,000 so far. 
According to Truong, the only time he's ever sold more shirts was when the under-23 Vietnamese football team made the semifinals last year.
Truong says he supports Hanoi hosting the summit irrespective of his business. 
"This is an event to promote peace," he said. He hopes Kim Jong Un will choose a path of peace and reform like Vietnam did.
3:24 a.m. ET, February 27, 2019
Here's the guest list for Trump and Kim's dinner
According to White House spokeswoman Sarah Sanders, President Trump's dinner with North Korean leader Kim will be a relatively small affair, especially compared to the packed tables seen today during Trump's working lunch with Vietnamese leaders.
According to Sanders, the participants at the dinner, which will take place at the Metropole Hotel in Hanoi, are as follows:
United States
Donald J. Trump, President of the United States of America
Mike Pompeo, Secretary of State
Mick Mulvaney, Assistant to the President and acting Chief of Staff
Lee Yun-hyang, interpreter
North Korea
Kim Jong Un, Chairman of the State Affairs Commission of the Democratic People's Republic of Korea
Kim Yong Chol, Vice Chairman of the Central Committee of the Workers' Party of Korea
Ri Yong Ho, Minister of Foreign Affairs
Sin Hye Yong, interpreter
3:05 a.m. ET, February 27, 2019
Trump tweets insults from Vietnam
President Trump used his first tweet since meeting with Vietnamese leaders Wednesday to take a shot at Democratic Senator Richard Blumenthal, who he called a "fraud."
Two things Trump didn't mention: a quickly escalating crisis in Kashmir, and new allegations against him made by his former lawyer Michael Cohen.
2:56 a.m. ET, February 27, 2019
Summit dinner chefs struggle with menu
A source close to the planning of Wednesday's dinner between President Trump and North Korean leader Kim said that as of a few hours ago, chefs were still struggling to get a menu approved by both the US and North Korea.
The source said officials from both sides -- but especially the White House -- kept adjusting the menu to make it "super simple," with the source adding it seemed like the US side wanted to avoid any opulence.
The source told CNN that almost all the meeting, dining and lounge spaces have been booked out at the Metropole hotel with the exception of two. The courtyard which houses the pool and bar area is also off limits.
2:31 a.m. ET, February 27, 2019
Trump returns to hotel ahead of meeting with Kim
After a working lunch meeting with Vietnamese leaders, President Trump has returned to his Hanoi hotel, where -- according to his schedule -- he will remain for several hours ahead of his meeting with North Korean leader Kim Wednesday evening local time.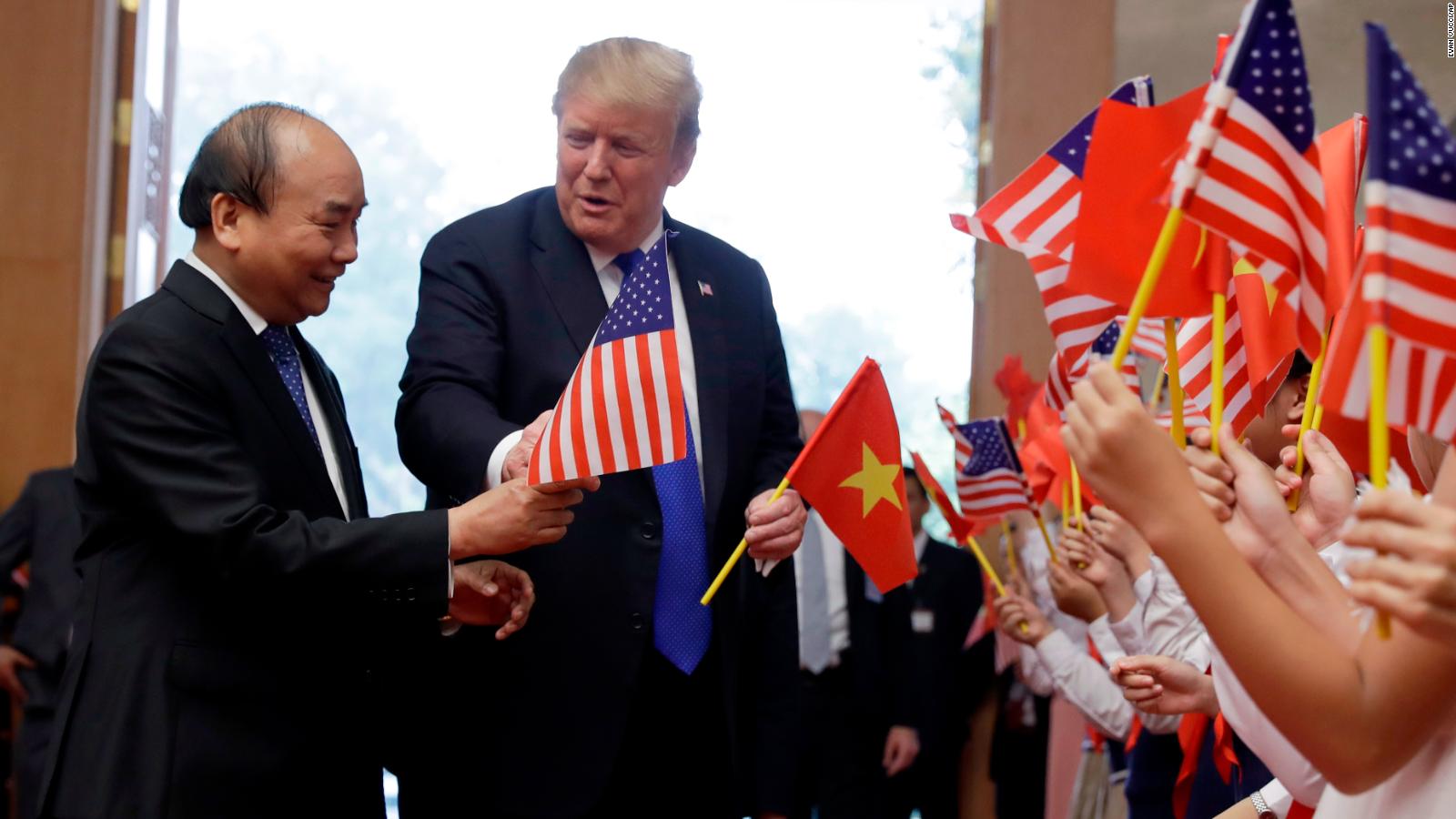 5:05 a.m. ET, February 27, 2019
Hanoi's street vendors hidden away
The Vietnamese capital is famous for its sidewalks packed with plastic stools and motorbikes, part of a bustling street commerce carried out at all times of the day.
But it seems this is a side of Hanoi the authorities don't particularly want the world to see this week. One local street vendor told CNN the police went around to local shops and told them to keep the sidewalks clear during the summit between US President Trump and North Korean leader Kim.
1:38 a.m. ET, February 27, 2019
Vietnam promotes close US partnership
President Trump's presence in Vietnam has been seized upon by Hanoi as a means to boost its relationship with Washington.
Trump and Vietnamese leaders have lavished praise upon each other, while key businesses from both countries have also signed memorandums of understanding worth in theory billions of dollars.
In a tweet Wednesday, Vietnam's Ministry of Foreign Affairs boasted of the country's "comprehensive partnership" with the US.
5:05 a.m. ET, February 27, 2019
Here's what Trump is eating for lunch in Hanoi
President Trump and Vietnamese Prime Minister Nguyen are currently sharing a working lunch in the country's Presidential Palace in Hanoi.
Here's what they're eating:
First course: Fresh shredded green mango salad with scallops, mint leaves and cashew nuts served in a sweet vinaigrette dressing.
Second course: Deep fried Hanoi-style spring rolls with shrimp, pork, vermicelli and vegetables served with a side of sweet and sour fish sauce and red chillies.
Third course: King crab meat and spinach in a light seafood-based broth.
Fourth course: Grilled cod fish "cha ca"; roasted Wagyu beef medallions with foie gras and a semi-sweet fermented black rice sauce; sautéed "su su" vegetables with garlic (crispy green chayote stems and leaves); steamed sticky glutinous rice with shrimp wrapped in a lotus leaf.
Dessert: A traditional Vietnamese dessert consisting of lotus seeds, longans, and white wood-ear mushrooms served warm and in a light sugary syrup.