President Trump meets Kim Jong Un
1:07 p.m. ET, June 11, 2018
Dennis Rodman: I hope the summit is a success
Dennis Rodman said he hopes the Trump-Kim Jong Un summit is a "success" and is "happy to be part of it" because he "deserves" it. 
While responding to a CNN question shortly after his arrival at Singapore airport, Rodman said:
"I'm just happy to be a part of it because I think I deserve it, I think I brought awareness on a lot of things around the world, and I think North Korea has given a lot of people the opportunity to do this conference now. And I hope it's a success."
He added the meeting between the two leaders "should go fairly well" but that "people expect too much for the first time" although the "door was opening."
Rodman would not comment on whether he would be meeting with either President Trump or Kim Jong Un.
12:43 p.m. ET, June 11, 2018
Dennis Rodman just landed in Singapore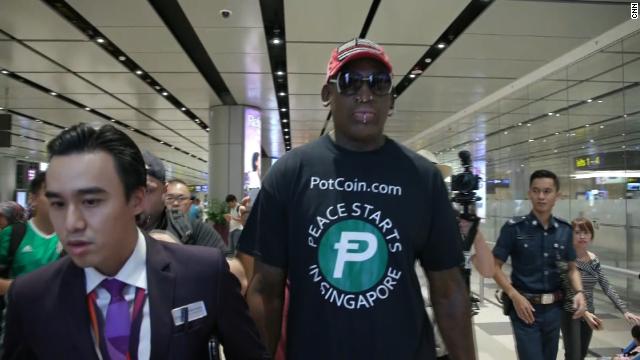 Former NBA star Dennis Rodman just arrived in Singapore for the upcoming summit between President Trump and North Korean leader Kim Jong Un.
"He is willing to offer his support for his friends, President Trump and Marshall Kim Jong Un," Rodman's agent, Darren Prince, said.
Rodman has traveled to North Korea in the past and seems to have struck up an unlikely friendship with the North Korean leader. The basketball great also was a contestant on Trump's NBC show, "Celebrity Apprentice," in 2013.
11:41 a.m. ET, June 11, 2018
The historic meeting is just hours away. Here's how it will go down.
President Trump and North Korea's Kim Jong Un will meet in just a few hours. Here's what to watch for and when, according to the White House schedule.
8 p.m. ET (June 11) / 8 a.m. Singapore (June 12): President Trump departs Shangri-La Hotel en route to Capella Singapore, where the two leaders will meet.
8:20 p.m. ET (June 11) / 8:20 a.m. Singapore (June 12): Trump arrives at Capella Singapore.
9 p.m. ET (June 11) / 9 a.m. Singapore (June 12): President Trump and Kim Jong Un greet each other. This is the big moment. Cameras will be there to capture their expected handshake.
9:15 p.m. ET (June 11) / 9:15 a.m. Singapore (June 12): President Trump and Kim Jong Un participate in a one-on-one bilateral meeting.
10 p.m. ET (June 11) / 10 a.m. Singapore (June 12): President Trump and Kim Jong Un participate in an expanded bilateral meeting.
11:30 p.m. ET (June 11) / 11:30 a.m. Singapore (June 12): President Trump and Kim Jong Un have a working lunch.
4 a.m. ET (June 12) / 4 p.m. Singapore: President Trump is expected to speak with reporters.
6:30 a.m. ET / 6:30 p.m. Singapore: President Trump departs Capella Singapore for Paya Lebar Air Base Singapore.
7 a.m. ET / 7 p.m. Singapore: Trump departs Paya Lebar Air Base, Singapore, en route to Andersen Air Force Base, Guam. From there, he will travel on to the United States.
11:19 a.m. ET, June 11, 2018
The chaos that unfolded before Trump arrived in Singapore
Before he left for his summit with North Korea's Kim Jong Un in Singapore, President Trump attended another high-profile meeting: The G7 in Canada.
This summit, which is a gathering of leaders from seven allied countries, is usually a meeting among friends. But not what quite happened.
As CNN's Chris Cillizza put it: "Whatever happens in Singapore over the next day or two, it's uniquely possible — and maybe even likely — that what Trump did in Quebec on Friday and Saturday will matter more in the country's long-term geopolitical future, and not in a good way."
Here's what happened — all before landing in Singapore:
Friday morning: Before Trump even left for the meeting, he floated the possibility of Russia rejoining the G7.
Saturday morning: Trump arrived late for a gathering of G7 leaders focused on gender diversity. They started the meeting without him.
Later that day: Trump held a news conference before he left Quebec. He described the meeting as a "10" out of 10 and insisted he had very close personal relationships with, among others, Canadian Prime Minister Justin Trudeau, French President Emmanuel Macron and German Chancellor Angela Merkel.
While on Air Force One: Trump, who had apparently watched this Trudeau press conference, tweeted an attack on the Canadian Prime Minister.
10:32 a.m. ET, June 11, 2018
Kim Jong Un makes a surprise appearance, walking around downtown Singapore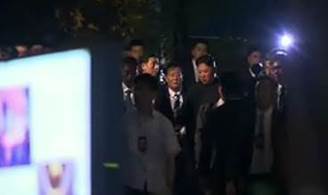 North Korea's leader, who is staying at the St. Regis, is on the move in Singapore.
Kim went to Marina Bay Sands, a popular hotel in the city. CNN's Kaitlan Collins reported that there were cheers when he walked into the hotel.
He meets with President Trump in less than 12 hours.
10:11 a.m. ET, June 11, 2018
Singapore's foreign minister tweets photo of Kim Jong Un's city tour
Singapore's Foreign Minister Vivian Balakrishnan tweeted a photo with Kim Jong Un on an apparent tour of the city.
The tweet shows Balakrishnan and Kim Jong Un smiling at the camera and reads: "#jalanjalan #guesswhere?"
 "Jalan-jalan" means "taking a walk" in Malay.
Just a few hours ago, the foreign minister also tweeted a photo showing Trump, Secretary of State Mike Pompeo and Chief of Staff John Kelly celebrating Trump's birthday, which is on June 14.
10:06 a.m. ET, June 11, 2018
Trump and Japan's Abe talked on the phone ahead of summit
President Trump called Japan's Prime Minister Shinzo Abe on Monday for both leaders to be "on the same page" ahead of the North Korea-US summit on Tuesday.
"I think Japan and the US, along with South Korea are in 'complete agreement' over the basic policy" on North Korea, Abe told reporters on Monday.
Abe added that he hoped Tuesday's summit will be a "historic meeting and it will be the first step toward peace and stability in Northeast Asia."
He also said Trump had renewed his pledge to bring up the issue of the abduction of Japanese citizens to North Korea.