President Trump meets Kim Jong Un
3:24 a.m. ET, June 12, 2018
Analysis: The Trump-Kim agreement is "weaker" on nukes than previous commitments
Adam Mount, senior fellow at the Federation of American Scientists, told CNN the language on denuclearization in the agreement signed by President Trump and Kim Jong Un Tuesday is surprisingly weak.
"It is no stronger and in fact considerably weaker than previous NK commitments on the nuclear issue ... I quite frankly expected something tougher than this," Mount said.
He added there was no mention of verifiable or irreversible denuclearization in the Singapore summit agreement.
But it's not a failure: Mount added that this doesn't mean the Trump-Kim meeting was a failure by any means. "If the summit genuinely results in continued interactions, that result in a reduction of tension on the Peninsula, it will be seen as a success," he told CNN.
"Over time if we can reduce the conventional threat to South Korea, if we can raise human rights issue, that process could eventually in result in nuclear limits."
3:06 a.m. ET, June 12, 2018
What we know about North Korea's nuclear capabilities
President Trump and North Korean leader Kim Jong Un signed a document committing to work towards the complete denuclearization of the Korean peninsula.
But just how advanced are the North's capabilities?
The rapid advancement of North Korea's missile research in 2017 shocked the world -- after months of testing, it successfully launched its first intercontinental ballistic missile, or ICBM, in July, which is claimed was capable of reaching the continental United States.
Then in September, North Korea tested its strongest nuclear weapon yet -- an 160-kiloton bomb which Pyongyang said was a hydrogen weapon.
The North Korean government claims it has successfully miniaturized its nuclear devices, leaving them potentially capable of launching a nuclear missile at the United States mainland.
While there's been no independent confirmation one way or the other, US intelligence analysts have told CNN they are probably telling the truth.
3:08 a.m. ET, June 12, 2018
Kim's denuclearization pledge is similar to the one he made with South Korea in April
The agreement by Kim Jong Un to "work toward complete denuclearization of the Korean Peninsula" echoes his language after the summit with South Korean President Moon Jae-in in April.
In the Panmunjom Declaration, signed by Moon and Kim on April 27, both leaders "confirmed the common goal of realizing, through complete denuclearization, a nuclear-free Korean Peninsula."
When asked at his signing with Kim if North Korea had agreed to denuclearize, President Trump said, "We're starting that process very quickly, very, very quickly. Absolutely."
3:08 a.m. ET, June 12, 2018
Read the historic document for yourself
Photographers were able to snap photographs of the document President Trump and Kim Jong Un signed at the conclusion of the summit, which showed that they had agreed to work towards the complete denuclearization of the Korean Peninsula.
Here it is (click here to open in a new, larger view):
2:40 a.m. ET, June 12, 2018
US and North Korea commit to "work to complete denuclearization of the Korean Peninsula" in signed document
Photographs of the document signed by President Trump indicate the leaders agreed to "work toward complete denuclearization of the Korean Peninsula."
The document indicates the leaders will work toward establishment of "new US-DPRK relations."
The document reads:
President Trump and Chairman Kim Jong Un conducted a comprehensive, in-depth, and sincere exchange of opinions on the issues related to the establishment of new US-DPRK relations and the building of a lasting and robust peace regime on the Korean Peninsula. President Trump committed to provide security guarantees to the DPRK, and Chairman Kim Jong Un reaffirmed his firm and unwavering commitment to complete denuclearization of the Korean Peninsula.
2:27 a.m. ET, June 12, 2018
China hails US North Korea summit as historic
Chinese Foreign Minister Wang Yi has praised Tuesday's meeting between Kim Jong Un and US President Trump, according to a statement from the Foreign Ministry.
Wang said he hoped the summit would help "clear interferences, establish mutual trust and overcome difficulties so that they will reach a basic consensus on, and take concrete steps toward, the denuclearization of the Korean Peninsula."
"We hope all relevant sides will make an effort toward this and China will continue to play a constructive role," Wang added.
The Chinese government is a long-time ally of North Korea and has pushed for talks between Pyongyang and Washington for more than a year.
2:25 a.m. ET, June 12, 2018
Trump and Kim just said goodbye. Here's what happens next.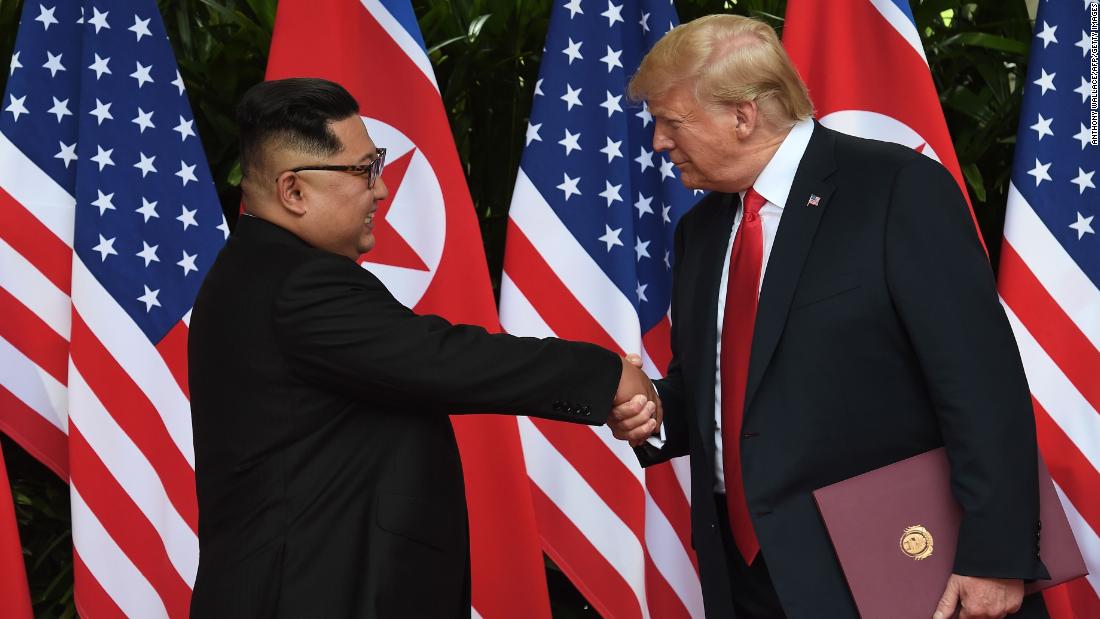 A document was signed, compliments were made and photos were taken after a historic day of talks between President Trump and Kim Jong Un.
But there are still big questions over what the two leaders actually agreed to over almost five hours of talks and negotiations.
Trump will get a chance to clarify some of them.
The President is due to speak to the media soon, at 2:30 p.m. local time (2:30 a.m. ET). The US leader told reporters he would elaborate on the agreement then.
Air Force One is scheduled to fly out of Singapore in the evening, at about 7 p.m. local time.
2:07 a.m. ET, June 12, 2018
Kim Jong Un just left the summit
Kim Jong Un's motorcade is departing Sentosa Island in Singapore after a historic summit with President Trump.
The two leaders just signed a joint agreement, although the exact details are still unknown.
Trump and Kim spent the day in talks and meetings with top advisers.
2:00 a.m. ET, June 12, 2018
Trump: "Absolutely I will" invite Kim Jong Un to the White House
Speaking moments after the two leaders signed the unspecified document, President Trump said that he had developed a "very special bond" with Kim Jong Un. "It's been an honor to be with you."
When asked if he would invite Kim to the White House, Trump responded that he would: "Absolutely, I will."
Standing again in front of the US and North Korean flags, where they began the historic day, Trump and Kim shook hands one final time.
"(He's) a worthy negotiator," Trump said to the gathered reporters. "He's negotiating on behalf of his people."
Trump was asked what he had learned about the North Korean leader. "I learned he's a very talented man. I also learned he loves his country very much."
Trump said they would meet again.