President Trump meets Kim Jong Un
12:17 a.m. ET, June 12, 2018
Trump jokingly asks photographers to take pictures that show them "handsome and thin"
Note: The US press pool wasn't invited into this spray, so the following video was provided by Singapore's government photographers.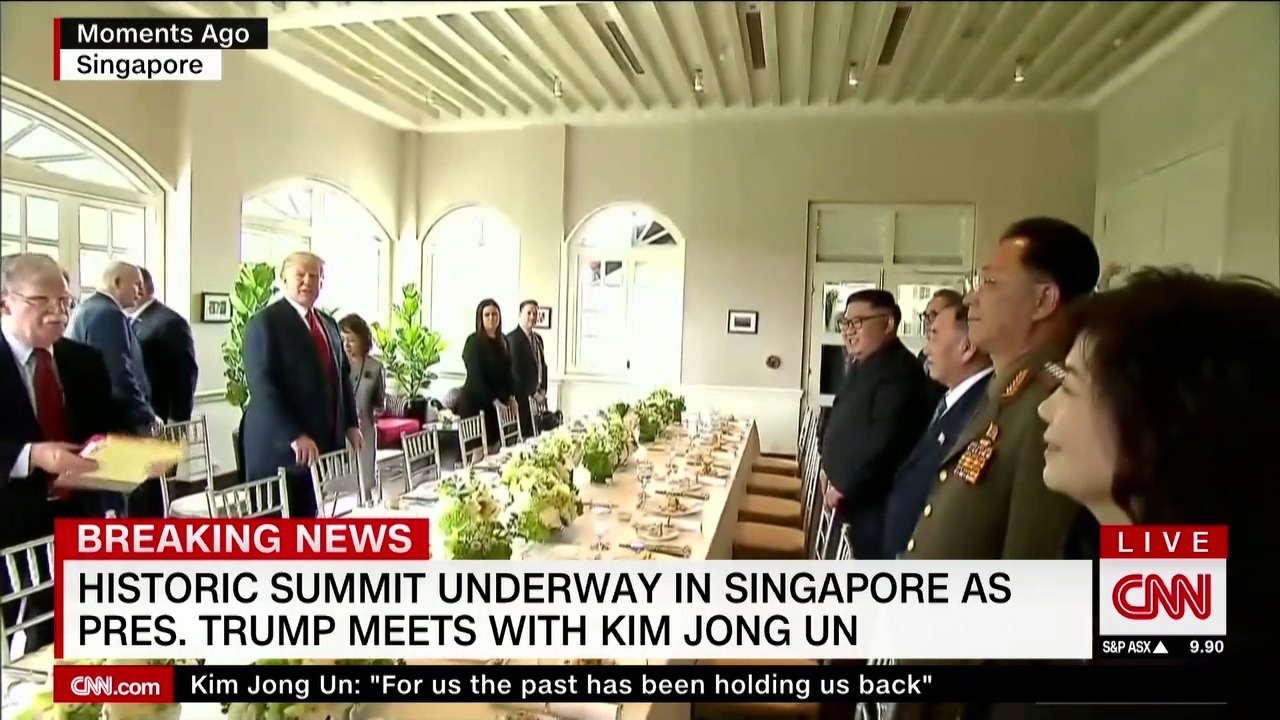 President Trump and Kim Jong Un are sitting down with top officials from both countries for a working lunch, a bit later than originally planned.
The extended bilateral negotiations were scheduled to end at about 11:30 a.m. local time (11:30 p.m. ET), according to the White House.
But instead the two were pictured taking their seats at a long table, with their primary advisers, about 20 minutes late.
Trump invited Kim to sit down, before jokingly asking photographers to take photos which would make them look "nice and handsome and thin."
There are no official events scheduled for the rest of the day until Trump meets with reporters at 4 p.m. in the afternoon (4 a.m ET).
Watch the moment:
11:52 p.m. ET, June 11, 2018
North Korea was "very conscious" about presenting US & North Korea as equals
During negotiations for the Singapore summit, the North Koreans were "very conscious" to ensure the United States was presented as their equal throughout.
"They wanted to make sure both in ceremony and in security and every other way that we're presenting to the world an image that presents them as equals," the official said. "The North Koreans were very conscious of that."
The US largely agreed to North Korea's demands for parity in all aspects of the summit, from the number of officials during the bilateral meetings to the number of US and North Korean flags side by side during the arrival ceremony.
The images of the six US and six North Korean flags in the background of the Trump-Kim handshake will undoubtedly be used by North Korean propaganda to suggest the US and North Korea are on level footing.
The official said the requests for parity were made even in situations where it might not be logistically necessary.
Still, the official said the official summit logo had been designed by the US side. The North Koreans approved of it.
11:34 p.m. ET, June 11, 2018
What Trump and Kim will eat at their first lunch together
When President Trump and Kim Jong Un sit down for their working lunch, at about 11:30 a.m. local time (11:30 p.m. ET), there'll be an assortment of Western and Korean dishes on offer.
For their starters, they can choose between a prawn cocktail with avocado salad, green mango kerabu or "oiseon," a Korean stuffed cucumber.
Next, there will be beef short rib confit, sweet and sour crispy pork with Yangzhou Fried Rice or "daegu jorim," a Korean soy braised cod fish.
Finally to finish, there will be dark chocolate tartlet ganache, vanilla ice cream or "tropezienne," a pastry dessert.
Joining Kim and Trump at lunch will be all the delegates from the morning's extended bilateral, as well as a few extra advisers.
Among them will be Sarah Sanders, the White House Press Secretary, and Kim Yo Jong, Kim Jong Un's sister and the first deputy director of the Central Committee of the Workers' Party of Korea.
11:18 p.m. ET, June 11, 2018
President Trump and Kim Jong Un met for the first time ever. Here's how it's gone so far.
President Trump and North Korean leader Kim Jong Un became the first sitting leaders of their respective countries to meet in person on Tuesday.
The world watched as the two leaders shook hands and exchanged words during the historic meeting, which happened just after 9 a.m. local time (9 p.m. ET).
Here's what happened:
Trump and Kim met with a handshake:
Both leaders had guarded smiles
The leaders touched each other's arms and appeared relaxed.
Trump and Kim gave brief side-by-side comments:
What Trump said: "I think it will be tremendously successful, and it's my honor and we will have a terrific relationship. I have no doubt."
What Kim said: "It has not been easy to come to this point. For us the past has been holding us back, and old practices and prejudices have been covering our eyes and ears, but we have been able to overcome everything to arrive here today
They sat down for an expanded bilateral meeting:
Secretary of State Mike Pompeo, White House chief of staff John Kelly, national security adviser John Bolton, and an interpreter joined Trump.
Trump told Kim that he was looking forward to working with him. "We will be successful."
11:01 p.m. ET, June 11, 2018
Many people will think this is "from a science fiction movie," Kim tells Trump
Walking on the colonnade of the Capella Hotel, Kim Jong Un told President Trump many people around the world wouldn't believe what was taking place in Singapore.
"Many people in the world will think of this as a (inaudible) form of fantasy ... from a science fiction movie," Kim told Trump, through a translator.
Kim is currently meeting with President Trump and his top advisers. At the start of the talks, North Korean leader Kim Jong Un acknowledged it wouldn't be a smooth road ahead.
"Of course there are challenges ahead, but I am ("ready" or "willing", unclear) to do this," Kim told the top US leadership.
The two men are due to hold talks until 11:30 a.m. local time (11:30 p.m. ET) when they will hold a working lunch.
10:41 p.m. ET, June 11, 2018
Analysis: The moment the US treated North Korea "as an equal"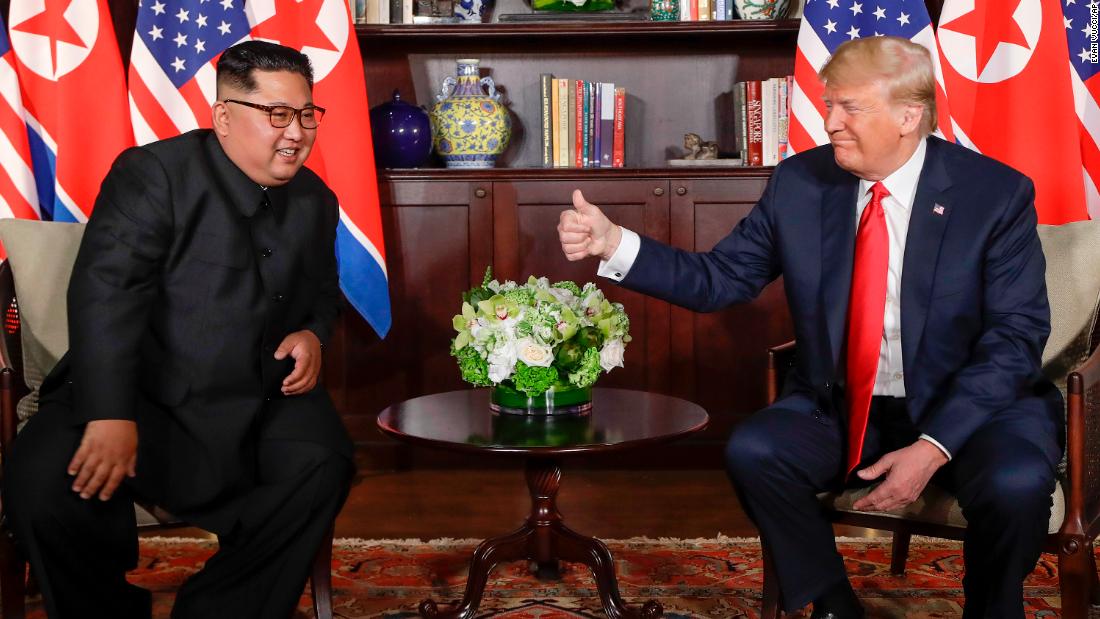 No matter what comes next in the talks between Kim Jong Un and President Trump, their handshake will remain historic, Jean H. Lee, a North Korea expert at the US-based Wilson Center, told CNN.
"I'm really thinking about how this is going to play in Pyongyang because this is such a powerful moment for the North Korean people," she said.
"It will be celebrated in North Korea as the moment the United States acknowledged and treated North Korea as an equal."
Lee said for the US president to fly half way around the world to meet the leader of a "very poor and very small country" lent him a huge amount of legitimacy.
"This is what (Kim) had in mind when he ramped up and accelerated the testing of his devices – to force the President to come to the negotiating table," Lee said. "It's stunning to watch and chilling for me to see because we are giving him exactly what he wanted."
10:25 p.m. ET, June 11, 2018
South Korean president says last night was a sleepless one
South Korean President Moon Jae-in said it was "a sleepless night" for him ahead of meeting between President Trump and Kim Jong Un on Tuesday.
Speaking ahead of a cabinet meeting, Moon said he hoped the summit would be a success so a "new chapter" could open.
"The NK-US summit has just begun and I believed all Koreans have their eyes fixed on Singapore," he said.
Moon is seen by many as the architect of the breakthrough in diplomacy with North Korea. Elected in 2016, he has long been an advocate of peaceful relations with Pyongyang.
10:12 p.m. ET, June 11, 2018
Here's who's with Kim Jong Un in his Trump meeting
Some of North Korean leader Kim Jong Un's top advisers have joined him at the table with President Trump and the US leadership.
Sitting in on the Trump summit is Vice-Chairman of the Party Central Committee Kim Yong Chol, one of Pyongyang's top go-to diplomats.
It was Kim Yong Chol who met with President Trump in early June to deliver a personal letter from Kim Jong Un, when it looked like the summit would fall through.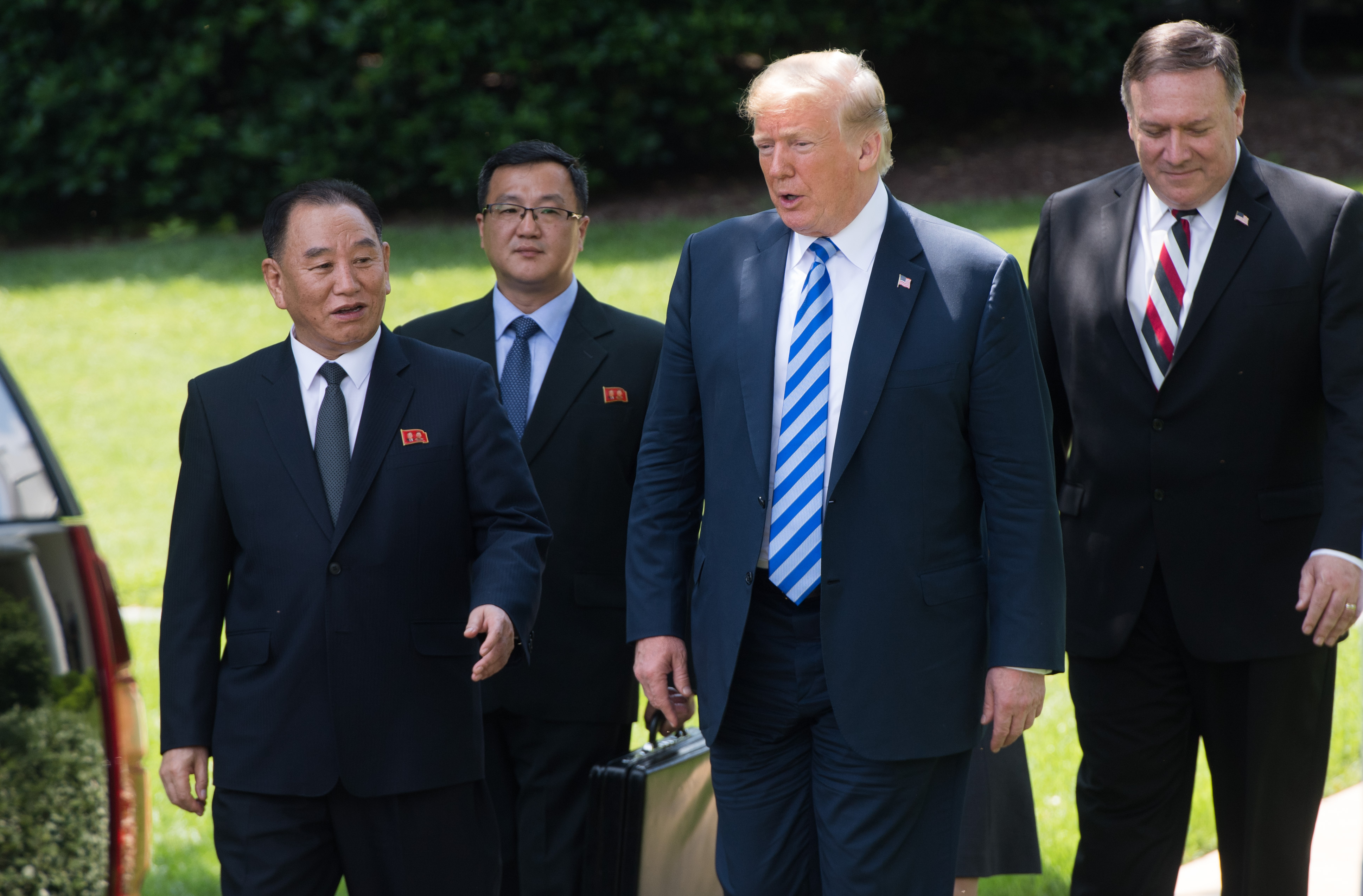 Also joining the Pyongyang delegation is Ri Yong Ho, North Korea's Foreign Minister, and Ri Su Yong, the Vice-Chairman of the Central Committee of the Worker's Party of Korea.
Nowhere to be seen is the North Korean leader's sister, Kim Yo Jong, who previously joined her brother for talks with the South Korean leadership in April.
10:10 p.m. ET, June 11, 2018
Kim Jong Un did not answer when asked whether he would give up his nukes
North Korean leader Kim Jong Un did not answer when asked whether he would give up his nuclear weapons.
However, President Trump predicted he would work with Kim to resolve differences over North Korea's nuclear program.
"Working together we'll get it taken care of," Trump said at the start of an expanded meeting. He said the two leaders "will solve a big problem, a big dilemma."
Kim and President Trump have begun their second rounds of talks, which will end with a working lunch.