Trump withdraws US from Iran nuclear deal
1:40 p.m. ET, May 8, 2018
VP Pence telling congressional leaders that Trump will announce withdrawal, source says
Vice President Pence is notifying Hill leaders that President Trump will announce withdrawal, according to a senior congressional source.
President Trump's final decision to withdraw from the Iran nuclear deal was made over the weekend, according to a person familiar with the discussions, though it was long considered a foregone conclusion inside the White House.
National security adviser John Bolton — an Iran hawk who nonetheless told people he was committed to providing all options to Trump — offered a variety of paths, including reimposing all sanctions, applying new sanctions or allowing for more time to negotiate with the Europeans.
Trump determined that more time would not bridge disagreements, most pointedly his demand that Iran's nuclear program be curbed past the current deal's sunset.
In his talks with Macron and Merkel, Trump left little doubt that he was planning to withdraw, according to Western diplomats. But he insisted he hadn't made a final decision and kept his plans very close to the vest in the lead-up to today's announcement.
1:24 p.m. ET, May 8, 2018
Most Americans want the US to stay in the Iran deal, poll says
Almost two-thirds of Americans (63%) believe that the US should not withdraw from the agreement made with Iran to prevent the country from developing nuclear weapons.
Only 29% believe the US should withdraw, according to a new CNN poll conducted by SSRS.
Some more takeaways:
The strongest proponents of withdrawing from the treaty are Republicans (51% say the US should withdraw), conservatives (47%) and those who approve of the job Trump is doing as President (46%).
Support for remaining in the agreement comes even as a strong majority of 62% say they believe Iran has violated the terms of the agreement.
And 19 percent said Iran has not violated the terms, with the same share saying they have no opinion.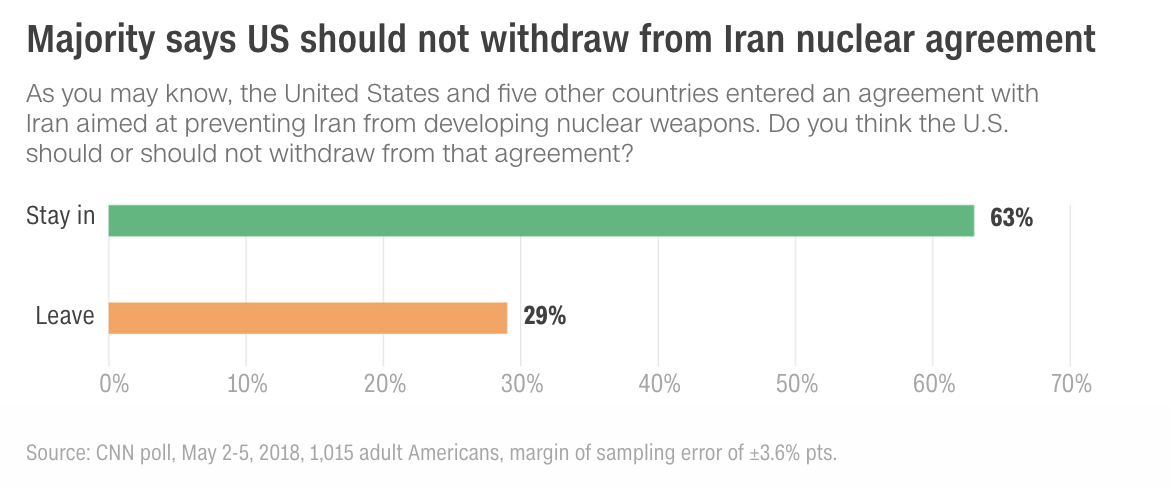 1:12 p.m. ET, May 8, 2018
Iranian military leader: "Iran does not fear US sanctions"
A top Iranian military commander said the country "does not fear US sanctions or military strikes," state-run news agency FARS news reported Tuesday.
Brigadier General Sardar Hossein Salami, deputy commander of the Iranian Revolutionary Guard Corps, said Iran is prepared for any potential threats.
"The enemies of Iran, including the United States, the Zionist regime and their puppet regimes in the region, know that the Iranian nation has prepared itself for the most dangerous threat scenarios."
"Iran turned out to be a balancing power of policies in the world," he added.
1:09 p.m. ET, May 8, 2018
UK official: "We are deeply pessimistic ahead of President Trump's announcement"
A senior UK diplomat gave CNN a readout from this morning after the UK Foreign Secretary Boris Johnson's trip to DC. The official was there to try and convince the US to stay in the deal.
In the readout, the foreign secretary said the UK is "deeply pessimistic" ahead of Trump's announcement at 2 p.m. ET.
Here's the full readout:
The Foreign Secretary went to Washington this week to make the pitch for the US to remain in the Iran deal, while noting our frank views on its shortcomings in regards to broader Iranian activity in the Middle East. Following the visit, unfortunately we are deeply pessimistic ahead of President Trump's announcement later today. However, we will have to wait and see what exactly President Trump says. Our objective will remain to uphold and maintain the JCPOA. We will need to wait to understand what the US plan is to deliver on our shared goal of preventing Iran from obtaining a nuclear weapon and addressing their regional behaviour.
1:04 p.m. ET, May 8, 2018
Vice President Pence giving congressional leaders the news on Iran decision
Vice President Mike Pence is the administration official making calls to congressional leaders in advance of the Iran deal announcement early this afternoon, according to GOP sources and a White House source.
Pence is also heading to Capitol Hill to brief members on Iran deal, discuss North Korea and Gina Haspel nomination, a White House official tells CNN.
12:40 p.m. ET, May 8, 2018
Most behind-the-scenes work on Iran deal was on withdrawing from agreement, official says
A senior administration official said most of the work done behind the scenes in recent days leading up to this decision was for withdrawing from the agreement.
That same official cautions that it's not final until Trump announces it at 2 p.m. ET.
12:23 p.m. ET, May 8, 2018
French source calls Trump-Macron call "very, very disappointing"
President Trump and French President Emmanuel Macron spoke on the phone today.
A French source familiar with the call described it as "very, very disappointing." 
When Macron was in the US a few weeks ago, he urged Trump to remain in the Iran deal.
"My commitment, my action is not to try to convince President Trump to walk away from his campaign's commitments or to change his mind," Macron said in April. "I'm not a masochist. I believe that what we should be doing is to try to find an efficient way to build this genuine multilateralism."
12:04 p.m. ET, May 8, 2018
Trump expected to allow Iran sanctions, paving way to pull US out of deal
President Trump is expected to announce today that he will allow sanctions to go forward on Iran, a first step toward withdrawing from the Iran nuclear deal, according to a US official and a person familiar with the plan.
However, the sanctions could take months to go into effect as the US government develops guidance for companies and banks.  
The officials cautioned that nothing is final until Trump makes his announcement from the Diplomatic Room of the White House at 2 p.m. ET. 
12:01 p.m. ET, May 8, 2018
White House not commenting on Trump's decision before the 2 p.m. announcement
The White House is not commenting on the call between President Trump and French President Emmanuel Macron or the Trump's decision on the Iran deal ahead of his announcement.
"We are not getting ahead of the President's remarks at 2," says Sarah Sanders.