Impeachment trial of President Trump
11:06 p.m. ET, January 29, 2020
The impeachment trial has concluded for the day. Here's what happened.
The first day of questions has ended after senators spent hours asking President Trump's legal counsel and House managers specific questions stemming from the articles of impeachment.
The question-and-answer session will resume tomorrow at 1 p.m. ET.
In case you missed it, here's what happened today:
Question denied: A question that GOP Sen. Rand Paul asked today wasn't allowed because it would have named the alleged whistleblower, a source told CNN. Chief Justice John Roberts essentially said no to reading it, the source said. Senate Minority Leader Chuck Schumer called that potential scenario "despicable." Roberts was able to review questions from senators who submitted them prior to the start of today's proceedings, according to two sources. It was during that period it was communicated to GOP leaders that he would not read the name of the whistleblower if it was included in a submitted question.
Key GOP senator met with Mitch McConnell: Republican Sen. Lisa Murkowski met with the Senate majority leader this morning to discuss witnesses, a GOP aide tells CNN. Murkowski would not say what her current thinking is on witnesses.
Trump's team says trial could "drag on for months": GOP Sen. John Thune asked the President's counsel to respond to the arguments and assertions House managers just made for calling witnesses. White House deputy counsel Pat Philbin said it's important to consider what precedent calling witnesses would set for future impeachments. These sentiments were also shared by Trump's lawyer Jay Sekulow.
Question on the quid pro quo: Republican Sen. Ted Cruz asked Trump's lawyers, "As a matter of law, does it matter if there was a quid pro quo?" Alan Dershowitz said so-called quid pro quos are frequently used in foreign policy, arguing that presidents can authorize money with conditions. "If you don't do it, you don't get the money. If you do it, you get the money. There's no one in this chamber that would regard that as in any way unlawful," he said.
Protesters arrested: At least 41 people were arrested after they tried to climb the Rotunda steps leading to the Capitol building Wednesday afternoon, according to US Capitol Police. Thirty-nine people were charged with crowding, obstructing and incommoding, one person was charged with that along with resisting arrest. A final person was charged with crossing a police line and failure to obey. 
Whistleblower conspiracy theories: Lead impeachment manager Adam Schiff did not pull punches this afternoon when discussing the whistleblower and why protecting his or her identity was so paramount. Schiff, a Democrat from California, also explained why the conspiracy theories surrounding the whistleblower, who came forward with accusations concerning Trump and his interactions with Ukraine, are "complete and total fiction."
White House issues formal threat to Bolton: The White House issued a formal threat to former national security adviser John Bolton to keep him from publishing his book, "The Room Where It Happened: A White House Memoir," sources familiar with the matter told CNN yesterday. The letter came as Trump attacked Bolton on Twitter and as Bolton's lawyer accuses the White House of corrupting the vetting process for Bolton's book by sharing the contents of the book with those outside the National Security Council's Records Management Division.
Watch today's biggest moments:
10:59 p.m. ET, January 29, 2020
Key GOP senator appears unhappy with House manager's answer on question of bribery
Sen. Susan Collins, a Republican from Maine, watched intently as House manager Hakeem Jeffries responded to her question on the Judiciary Committee report accusing President Trump of bribery.
Jeffries didn't answer the question directly, and Collins did not appear happy with the answer, saying something while shaking her head to Republican Sen. Lisa Murkowksi, and then turning back to GOP Sen. James Risch to say something to him.
More on Collins' importance: In a sign of the importance of their role, Senate Republicans gave the opening question today to Collins, Murkowski and Utah Sen. Mitt Romney, three Republicans who have hinted they could vote to hear from witnesses.
The Senate needs 51 votes to approve a motion to have witnesses. If all 47 senators who caucus with the Democrats vote for witnesses, at least four Republicans would need to join them to pass a motion.
10:59 p.m. ET, January 29, 2020
Democrats call defense argument on foreign interference "shocking"
During a break in the trial, Democratic Sens. Martin Heinrich and Debbie Stabenow reacted with disbelief to President Trump's defense team's recent line of argument on foreign interference where Patrick Philbin said at one point "it's not campaign interference for credible information about wrongdoing to be brought to light."  
"That is counter to everything I have ever learned on the Intelligence Committee," Heinrich said. "They don't tell you avoid foreign powers if they offer you cash, but if they offer you information, feel free to weaponize it."
He continued: "I have a hard time even believing they were making that argument. It should be basic common sense that we should not be weaponizing information from foreign governments and encouraging their manipulation of our elections … that's absolutely bonkers, and immoral and wrong and we shouldn't even be discussing it."
Stabenow also weighed in on the defense teams' argument.
"His White House deputy counsel is affirming that that it is the position of the President of the United States that it is all right to take foreign information to help you in your election as long as it is credible," she said.
"Oh, we've all been talking about this because it's so shocking," Stabenow added.
"This is setting precedent that is unheard of in our country and it's dangerous, dangerous, dangerous," she said.
10:34 p.m. ET, January 29, 2020
McConnell expected to move quickly to acquit Trump if witness vote fails Friday
Senate Majority Leader Mitch McConnell is expected to move quickly to acquit President Trump if a closely-watched vote planned Friday to compel witnesses and documents for Trump's impeachment trial is defeated, according to Sen. John Thune, who is the number two GOP Senate Republican.  
"In the end it's going to be up to the leader, but my view would be at that point you would want to start bringing this thing to a conclusion," Thune said tonight. "I'm not sure there would be any value or any point in keeping it going."
Thune noted that after the question of witnesses is resolved, the organizing resolution for the trial allows for an open-ended number of procedural motions to be made by senators, something that might slow a quick end to the trial especially if Democrats demand a large series of debates and votes on motions. 
Each motion is debatable for two hours as are any amendments to them, according to Alan Frumin, a former Senate parliamentarian. 
A top Democratic aide declined to speculate how many motions Democratic senators might offer. 
Thune said McConnell, as majority leader, has the right of first recognition, giving him the chance to move to go to closing arguments, possible closed-door deliberations, and then votes on the two articles of impeachment.
"If that vote were defeated on Friday, you'd be through the part where the organizing resolution governs what happens and then it's pretty much open motions. The leader would have the right of first recognition and if he wanted to move to closing arguments I suspect we'd do that," Thune said.
GOP leaders have not said how much time is expected for each side to make closing arguments nor if they expect the Senate to go into closed-door deliberations before casting final votes on the impeachment articles.  
A final vote on the articles could happen as early as Friday or could slide to Saturday or later depending on how events play out. 
10:33 p.m. ET, January 29, 2020
Democratic congresswoman calls Trump an "ongoing threat"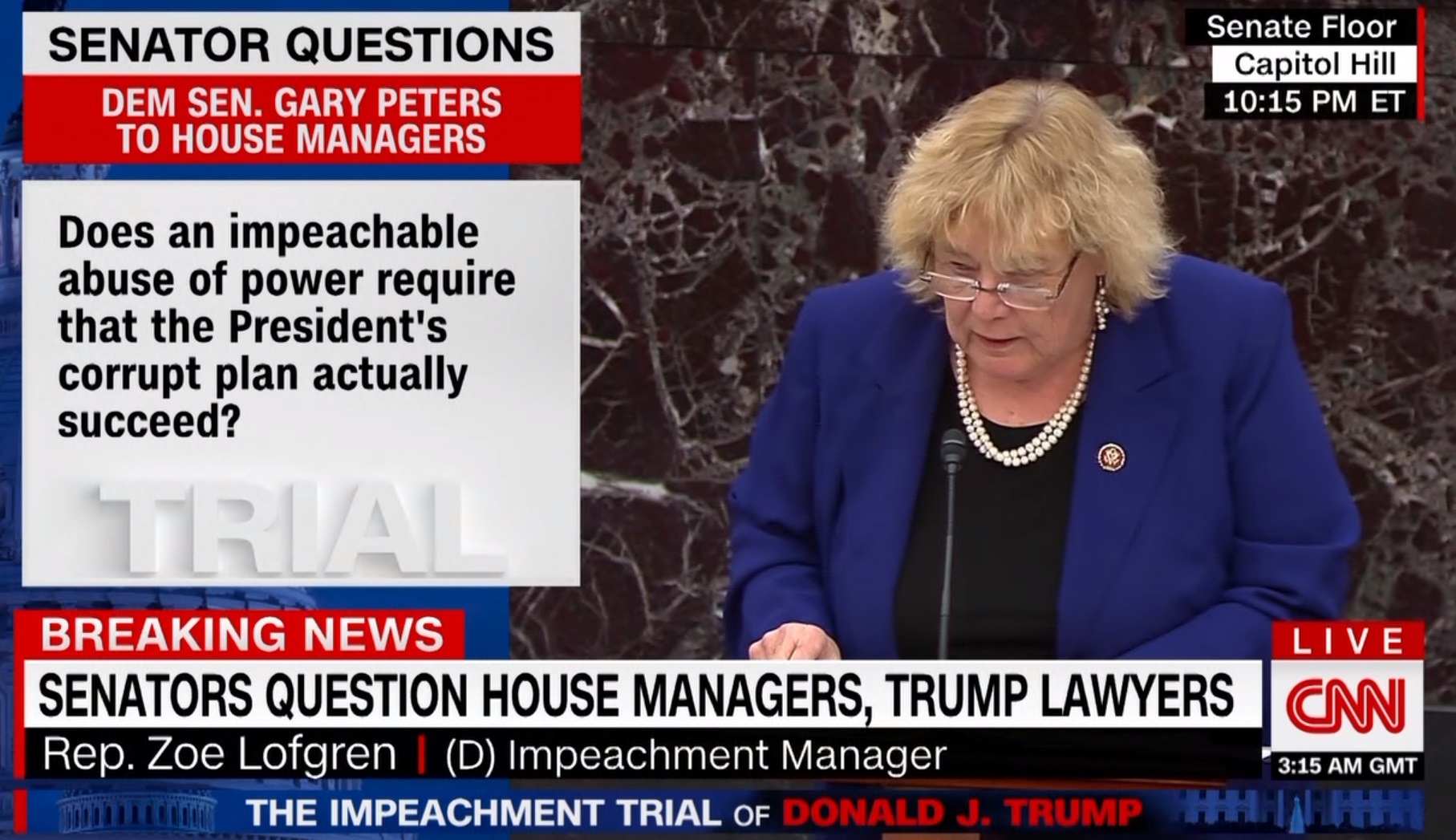 House manager Rep. Zoe Lofgren claimed President Trump "attempted to upend the constitutional order for his own personal benefit" when asked today on the Senate floor whether the President's plan to have Ukraine investigate his political rival needed to succeed in order for him to be impeached.
"The answer is no. Just as, although this is not a criminal offense, if you attempted murder, but didn't succeed, you would not be innocent. The President has attempted to upend the constitutional order for his own personal benefit. He has used the powers of his office to solicit foreign interference and we know this by the President's own statements, the acting chief of staff confession, substantial documentary witnesses testimony. And this has grave consequences for our national security, has threatened election security, as well as undermining US credibility and our values abroad. Because the President continues to act in this manner, we believe that this is an ongoing threat," Lofgren told lawmakers tonight.
What lies at the heart of impeachment: The President demanded that the newly-elected Ukrainian president, Volodymyr Zelensky, publicly announce investigations into a political rival that he apparently feared the most, former Vice President Joe Biden, and into a discredited theory that it was Ukraine, not Russia, that interfered in the 2016 presidential election.
10:39 p.m. ET, January 29, 2020
Romney was brought up in a hypothetical at the trial today
Asked about being invoked in hypothetical questions today, Republican Sen. Mitt Romney joked, "That's not where you hope to be mentioned — is in an impeachment trial."
Romney added, "I did tell my son, quickly divest yourself of that million dollars that I heard about. I'm not quite sure what that was about."
Hours earlier, Rep. Adam Schiff, the lead House impeachment manager, asked senators how they'd react if President Barack Obama had asked Russian Prime Minister Dmitry Medvedev for an investigation into Romney, his 2012 political opponent, while withholding military aid to Ukraine as leverage.
"Do any of us have any question that Barack Obama would be impeached for that kind of misconduct?" Schiff asked
Later, Republican senators asked Schiff if Obama would have had the authority to ask for an investigation if he had evidence that Romney's son was being paid a million dollars per year by a corrupt Russian company, while Romney acted to benefit that company.
10:20 p.m. ET, January 29, 2020
Trump's legal team was asked if he thinks foreign election interference is illegal. Here's what they said.
President Trump's legal team did not answer question on whether the President believes that foreign interference in American elections is illegal. Instead, Trump's counsel pivoted to whether information from a foreign country would violate campaign finance laws.
Chief Justice John Roberts read the question from Democratic Sen. Chris Coons on the Senate floor.
"In June, 2019, President Trump said that if Russia or China offered information on his opponent, 'There's nothing wrong with listening,' and he might not alert the FBI because, 'give me a break, life doesn't work that way,'" Roberts read aloud. "Does President Trump agree with your statement that foreigners' involvement in American elections is illegal?"
Here's how Trump's team responded:
"I think Congress has specified specific ways in which foreigners cannot be involved in elections," attorney Patrick Philbin. "The Department of Justice concluded that there was no such violation here," he argued, "So that is not something that is involved in this case."
10:09 p.m. ET, January 29, 2020
The question-and-answer session has resumed
The Senate impeachment trial is back in session.
Senators are continuing to ask questions of both the House managers and President Trump's defense team.
9:47 p.m. ET, January 29, 2020
The Senate takes a short break
Senators are taking a break until 10 p.m. ET.
Senate Majority Leader Mitch McConnell indicated that the question-and-answer session would continue after the break.