Impeachment trial of President Trump
10:14 p.m. ET, January 27, 2020
The impeachment trial has ended for the day. Here's what happened.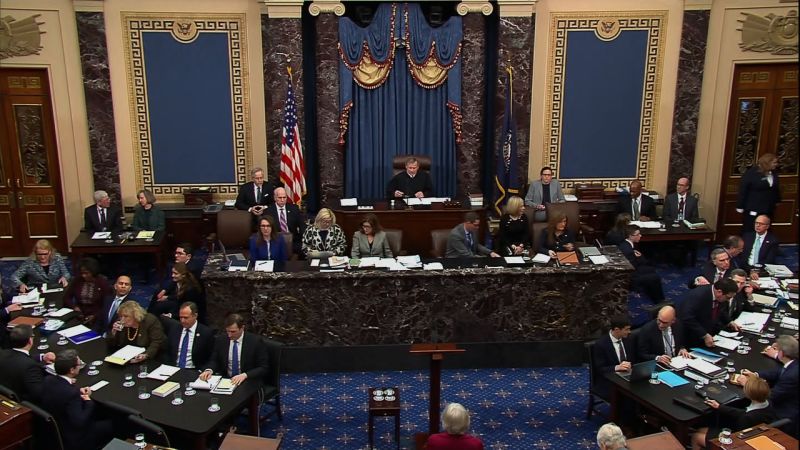 President Trump's defense team continued their opening arguments today in the impeachment trial as senators tackled questions about the need for witnesses.
In case you missed it, here are some of the highlights from today's proceedings:
The John Bolton manuscript: Much of the attention on Capitol Hill focused on the Republican senators and how they are reacting to Sunday night's New York Times bombshell that John Bolton's draft manuscript says Trump told him US security assistance to Ukraine was conditioned on investigations into Democrats, including former Vice President Joe Biden.
Trump's defense team reacts to the Bolton news: President Trump lawyer and Harvard Law professor Alan Dershowitz argued that Bolton's accusations do not amount to an impeachable offense. "Let me repeat: Nothing in the Bolton revelations — even if true — would rise to the level of an abuse of power or an impeachable offense," Dershowitz said.
GOP senators downplayed the Bolton manuscript: Republican Sen. John Cornyn downplayed the significance of Bolton's revelation. Cornyn said the timing around this was suspicious and accused Democrats of having a "credibility problem."
While others said they wouldn't mind learning more from Bolton: GOP Sen. Mitt Romney of Utah reiterated demands to call for John Bolton to testify, saying he's had discussions with some of his colleagues on the matter. GOP Sen. Lindsey Graham said today that he wants to see Bolton's manuscript. "What we have to do here is evaluate the manuscript and see if it's a reason to add to the record," he said.
White House officials were blindsided: Bolton's upcoming book blindsided senior White House officials and GOP senators who now want to know more about Bolton's side of the story as laid out in his manuscript, multiple sources close to the process told CNN. Senate Majority Leader Mitch McConnell was not notified in advance about the unpublished manuscript, his spokesperson said.
It was Chief Justice John Roberts' birthday: Chief Justice John Roberts celebrated his 65th birthday today and has been presiding over the Senate impeachment trial. Roberts also appeared briefly on the Supreme Court bench to swear in a roomful of military lawyers to the Supreme Court bar. Roberts was joined by five other members of the court. 
There was lots of note-taking: During the defense's argument today, Republican senators and some Democrats took copious notes. Everyone appeared present and attentive. There were no absences. 
Trump defense team compares presidential impeachment to "domestic war": Trump's lawyer Kenneth Starr said in his remarks today, "Like war, impeachment is hell. Or, at least, presidential impeachment is hell." 
9:03 p.m. ET, January 27, 2020
The Senate has adjourned for the night
The Senate impeachment trial will resume at 1 p.m. ET tomorrow.
8:56 p.m. ET, January 27, 2020
Trump attorney says nothing in Bolton manuscript "would rise to the level of an abuse of power"
After virtually ignoring the Bolton manuscript bombshell news through nearly eight hours of their presentation today, President Trump lawyer and Harvard Law professor Alan Dershowitz argued that John Bolton's accusations do not amount to an impeachable offense.  
"If a president, any president, were to have done what the Times reported about the content of the Bolton manuscript, that would not constitute an impeachable offense. Let me repeat: Nothing in the Bolton revelations — even if true — would rise to the level of an abuse of power or an impeachable offense," Dershowitz said.
Earlier today, Jay Sekulow, the President's private counsel, alluded to bombshell allegations over the weekend from former national security adviser John Bolton directly tying Ukraine aid to an investigation of the Bidens. But he suggested it would not be discussed by the team today.
"What we've done on Saturday is the pattern that we're going to continue today as far as how we're going to deal with the case. We deal with transcript evidence, we deal with publicly available information. We do not deal with speculation, allegations that are not based on evidentiary standards at all," he said.
What's this about: The New York Times reported Trump ordered Bolton to keep military aid to Ukraine frozen in a bid to coerce political favors. Since the news broke, some GOP senators are considering the need to have witnesses at the trial.
8:41 p.m. ET, January 27, 2020
Dershowitz explains how he changed his mind about what's impeachable
During his remarks tonight, President Trump's attorney Alan Dershowitz talked about how he saw the impeachments of Trump and Clinton as different — and how the charges against Trump led him to change his mind about what constitutes an impeachable offense by a president.
On former president Bill Clinton, Dershowitz said, "Clinton was accused of a crime, perjury, and so the issue in his case was not whether the Constitution requires a crime for impeachment, instead, the engine was whether Clinton's alleged crime could be classified as a high crime in light of its personal nature." 
He continued: "During the Clinton impeachment, I stated in an interview that I did not think that the technical crime was required but that I did think that abusing trust could be considered." 
Dershowitz said that at the time of Clinton's impeachment, he had not done "extensive research on that issue" of whether criminal behavior was required to impeach a president. "I simply accepted the academic consensus on an issue that was not on the front burner at the time," he said.
With Trump, Dershowitz said his impeachment "directly raises the issue of whether criminal behavior is required."
"I've gone back and read all the relevant historical material, as nonpartisan academic should always do, and have now concluded that the framers did intend to limit the criteria for impeachment the criminal type backs akin to treason, bribery, and they certainly did not intend do extended to vague an open-ended non criminal accusations such as abuse of power and obstruction of Congress."
8:30 p.m. ET, January 27, 2020
White House press secretary calls Bolton book "sad"
Moments after Trump attorney Alan Dershowitz began remarks on the Senate floor, White House press secretary Stephanie Grisham appeared briefly on Fox Business.
President Trump, she said, has been "very, very happy" with his legal team, touting a "strong team with decades of legal experience."
On Bolton, Grisham called it "unfortunate" and "disappointing" that the former White House national security adviser is "clearly trying to sell a book," noting that the preorder link was live moments after the New York Times story published.
She also questioned whether Bolton was telling the truth.
"We don't even know if what's in the book is going to be true," she said, adding, "The President has made clear that none of the things in the book are true."
Grisham repeatedly called it "sad."
8:03 p.m. ET, January 27, 2020
Republican senator says witness reciprocity deal is not something GOP is actively pursuing
The proposal for witness reciprocity is not something most GOP senators are actively pursuing and it is essentially a backup plan in case enough Republicans vote to hear witnesses, Republican Sen. Mike Braun said.
"First of all, Ted (Cruz) and I have been talking about reciprocity on witnesses and anybody that has talked (has said) if we get to witnesses. That was never going to occur in a vacuum ... it wasn't even discussed really, it was discussed if we get there, that's the how it would be. I don't think Pat originated it, he just, I guess, would be comfortable with it," the Indiana lawmaker said.
Earlier today: Sen. Pat Toomey, a Republican from Pennsylvania, raised the "one for one" witness deal that would allow for one witness each to be called by both the Republican and Democratic sides in the Senate impeachment trial at the GOP conference lunch today, a source familiar told CNN. 
Braun also said the discussion in the lunch today on witnesses was tangential to the main discussion in the lunch which was about the upcoming question and answer process.
7:55 p.m. ET, January 27, 2020
Trump attorney says President told him: "Do what you think is right" at trial
President Trump's impeachment attorney Robert Ray concluded his opening remarks with what the President told him.
"The President's only instruction to me for this trial was a simple one: 'Do what you think is right,'" Ray said.
Ray added that he does not believe that Trump's impeachment is in "the best interests of this country."
7:16 p.m. ET, January 27, 2020
Schiff: Trump and allies want to suppress Bolton testimony because they are "deathly afraid"
Asked about GOP Rep. Mark Meadows's suggestion that the New York Times story on John Bolton was a coordinated leak from Democrats and if he was in any way involved in the leak, House impeachment manager Rep. Adam Schiff said he was not.
"Of course not," Schiff said, "It came as quite a surprise to all the House managers when the New York Times story came out, but I guess that's the best Representative Meadows has right now. Look I can understand the reasons why — and I think we knew these already — why the President and his allies have wanted to suppress John Bolton's testimony. They evidentially had this manuscript, they understood what John Bolton had to say and they were deathly afraid the American people would find out."
Schiff continued: "There seems to be a real shift in where the Republican senators are and I think it's very hard for them to maintain that they wanted a fair trial, wanted to know all the facts when there's a witness who said I'm ready, I've got something to say, we have an outline of what he has to say, it's really hard to say we're not going to hear that."
7:09 p.m. ET, January 27, 2020
Top House Democrat says they would consider bringing in Bolton if Senate doesn't
Asked if the House would reconsider bringing in former White House national security adviser John Bolton if the Senate decides not call trial witnesses, House Majority Leader Steny Hoyer said they would consider it, but he wouldn't speculate beyond that. 
"We'd certainly consider what action we would take. I don't know, I don't want to speak of what action we would take," he said.