Impeachment trial of President Trump
12:33 p.m. ET, January 27, 2020
GOP leaders expected to make case against Bolton subpoena
A source working with the President's legal team said Republican leaders are expected to argue against subpoenaing former national security adviser John Bolton.
According to the source, the argument, which will be made at the Senate Republicans' closed conference lunch, will go like this: Whether John Bolton has relevant information has never been the primary focus. The focus has been on whether the Senate will "agree to pick up the Democrats' abdicated responsibility" by digging for evidence that did not support the articles of impeachment when they were drafted.
The source acknowledged that the votes for witnesses may now be there, but said the process argument, which has gained traction among Senate Republicans, remains unchanged by Bolton's revelation.
12:34 p.m. ET, January 27, 2020
White House legal team worked late into the night after Bolton bombshell
President Trump's impeachment team thought Sunday was going to be their last day to fine tune their final arguments for the Senate floor.
They were confident, multiple people said, assured they could get Senate Republicans to a safe place to vote against witnesses and wrap up their client's trial by the end of the week.
Then came John Bolton. 
The bombshell report in the New York Times sent the White House legal team working late into the night, as they realized it had the potential to change the trajectory of the trial.
First and foremost, aides wanted Trump to address the book himself, and helped craft last night's late-night tweet to provide his allies with talking points for the day. 
Their next decision was whether to address the manuscript directly on the Senate floor today, according to a person briefed on the discussions. It became a major source of debate, with some advising it should be ignored while others said there's no way they couldn't talk about it. 
As of this morning, still no final decision had been made on that front. Initially, today was supposed to be the White House's last day of arguments. That's now up in the air, too. 
Alan Dershowitz and Ken Starr were at the White House this weekend ahead of today's arguments on the Senate floor. This is notable because as of Friday, the two had still not been part of the formal legal prep for the president's defense.
Both are expected to speak today. Pat Cipollone, Jay Sekulow, Ken Starr and Alan Dershowitz take the Senate floor today at 1 p.m. ET.
12:11 p.m. ET, January 27, 2020
Republican senator says he wants to see Bolton's manuscript
Sen. Lindsey Graham said today that he wants to see former national security adviser John Bolton's manuscript.
"What we have to do here is evaluate the manuscript and see if it's a reason to add to the record," he said.
Asked if he would support a subpoena to get the manuscript, the South Carolina Republican said, "I want to know what's in the manuscript, yeah, I think that's important."
He said the manuscript could change his thinking on calling witnesses. 
"It could. I don't know yet. The White House said there was no direct evidence of communications, maybe this suggests that one person said there might be," he said.
Graham emphasized that if Republicans do anything to call new documents or Bolton, they will also call the Bidens. 
"What I've said all along is if you're going to add to the record, we're going to do it in a balanced way. So let's see what's in the manuscript, let's see if it's relevant, and if it is, then I'll make a decision about Bolton," said Graham. "But I promise you this— if we add to the record, then we're going to call Hunter Biden, Joe Biden, all these other people."
"I have no idea how this happened," he added. "I don't know who leaked this. They say they didn't do it. I'm not going to make a commitment about something I don't know."
Remember: There's no evidence of wrongdoing by the Bidens.
11:59 a.m. ET, January 27, 2020
Meanwhile, here are today's top stories beyond impeachment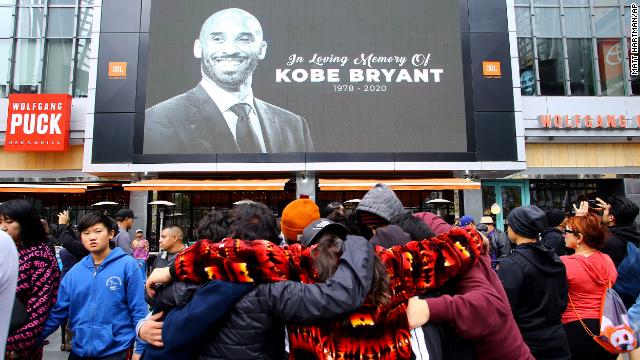 President Trump's impeachment trial continues in Washington, but The Brief's Bianca Nobilo has been keeping track of the day's headlines outside Capitol Hill.
 Here's what you need to know:
Coronavirus: The Wuhan coronavirus is continuing to spread across China and the world. Beijing has placed nearly a dozen cities on full or partial lockdown in an attempt to stem the infection's spread. Nearly 60 million people have been affected by the restrictions. There are more than 50 confirmed cases of the infection outside mainland China, in 13 different locations.
Kobe Bryant: The world of sports is reeling after the NBA legend died yesterday in a helicopter crash. Bryant, his 13-year-old daughter Gianna and 7 others were killed in the accident. Bryant won 5 NBA titles during a 20-year career with the Los Angeles Lakers.
Benjamin Netanyahu arrives in Washington: President Trump will meet with Israel's leader at the White House today. He will speak to Netanyahu and Israel's opposition leader Benny Gantz as the US prepares to unveil a Middle East peace plan.
Auschwitz anniversary: Today is the 75th anniversary of the liberation of the Nazi concentration camp complex at Auschwitz. Survivors gathered at the site today to mark the event. Historians estimate that more than one million people, mostly Jews, were murdered at the camp.
Watch more:
11:56 a.m. ET, January 27, 2020
This GOP senator says he still doesn't need to hear Bolton's testimony
Thom Tillis, a Republican senator up for re-election, said "not at this point" when asked if the John Bolton report changes his views on witnesses.
Asked why he doesn't want to hear from Bolton, Tillis said:
"Spend a little time on what you heard on Saturday and check back with me," a likely reference to the defense team's case.
About Bolton's book: President Trump in August told Bolton that he wanted to continue holding military aid to Ukraine until the country helped with investigations into Democrats — including former Vice President Joe Biden — the New York Times reported Sunday, citing multiple people's descriptions of an unpublished draft manuscript by Bolton.
A source with direct knowledge of the manuscript told CNN the New York Times' telling of Bolton's account of the Ukraine aid hold discussion with Trump is accurate.
11:35 a.m. ET, January 27, 2020
Trump says he hasn't seen Bolton book manuscript
President Trump says he hasn't seen a copy of his former national security adviser's forthcoming book.
Speaking to reporters at the White House, Trump said he had not seen a manuscript of "The Room Where it Happened."
He was speaking ahead of a meeting with Israeli Prime Minister Benjamin Netanyahu. The meeting is ongoing.
12:27 p.m. ET, January 27, 2020
Romney wants Bolton to testify and says it's "increasingly likely" more GOP senators will join him
GOP Sen. Mitt Romney of Utah reiterated demands to call for John Bolton to testify, saying he's had discussions with some of his colleagues on the matter.
He predicted that it's "increasingly likely" that there would be others who would join him.
"I think it's increasingly likely that other Republicans will join those of us who think we should hear from John Bolton, Romney said."
The numbers: If all 47 senators who caucus with the Democrats vote for witnesses, at least four GOP senators would need to join them in order to pass a motion.
Watch here:
CORRECTION: An earlier version of this story misquoted Romney. He said it is "increasingly likely that other Republicans will join those of us who think we should hear from John Bolton."
11:19 a.m. ET, January 27, 2020
Key GOP senator: Bolton news "strengthens the case for witnesses"
Sen. Susan Collins, a Republican from Maine, said "the reporting on John Bolton strengthens the case for witnesses and has prompted a number of conversations among my colleagues."
"I think fairness requires us to allow both sides to present their cases before we move to the issue of witnesses, and I've worked very hard to get language in the governing resolution that would ensure a vote on whether or not to call witnesses and subpoena other documents," she told a small group of reporters in the Capitol.
"I've also said from the beginning that it was very likely that I would vote for witness. And that has not changed," she added.
Collins is one of three GOP senators who have signaled they could vote to allow witnesses at trial. If all 47 senators who caucus with the Democrats vote for witnesses, at least four GOP senators would need to join them in order to pass a motion.
Collins' comments came shortly after she put out a short, similar statement on Twitter:
11:19 a.m. ET, January 27, 2020
Schumer: Bolton "essentially confirms" Trump committed impeachable offenses
Senate Minority Leader Chuck Schumer said former national security adviser John Bolton's manuscript is "stunning." He called on Senate Republicans to vote to hear from witnesses, such as Bolton, at the trial.
"Ambassador Bolton essentially confirms the President committed the offenses charged in the first article of impeachment. It boils down to one thing: We have a witness with firsthand evidence of the President's actions for which he is on trial. He is ready and willing to testify," he said.
Schumer asked: "How can Senate Republicans not vote to call that witness and request his documents?"
Schumer said GOP senators who claim "the House case lacks eyewitnesses" and then vote against hearing from witnesses are "talking out of both sides of their mouth."
Watch here: