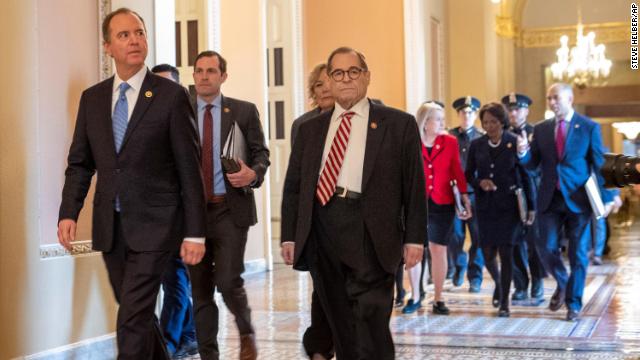 Democratic House managers took the Senate floor today for day two of their opening statements in the impeachment trial of President Trump.
In case you missed it, here are some of highlights from today's proceedings:
House managers lay out their abuse of power case: Democrats laid out their case for removing Trump from office for abuse of power. Rep. Adam Schiff repeatedly said Trump was guilty of abuse of power and obstruction of the House. "If the truth doesn't matter, we're lost. The framers couldn't protect us from ourselves if right and truth don't matter," Schiff said. "But here, right is supposed to matter. It's what's made us the greatest nation on earth. No Constitution can protect us, right doesn't matter any more. And you know, you can't trust this President to do what's right for this country."
Republicans defended Trump: Republican Sens. James Lankford and Thom Tillis both defended Trump after House managers laid out in meticulous detail his conduct that led to his impeachment. Lankford said House managers were detailing "policy issues" like firing former US Ambassador to Ukraine Marie Yovanovitch. He said that Trump was merely "frustrated" about facing the Russia investigation and was acting appropriately.
The schedule might change: Senators and aides in each party say there is an effort in the works to hold a short, morning-only impeachment trial session on Saturday to hear the beginning of the opening arguments from President Trump's defense counsel and then allowing senators to leave town for the weekend. The plan is not finalized but seems to be gaining steam as word of it circulates through the Republican and Democratic caucuses.
Trump's legal team prepares for trial: The President's legal team has been meeting at the White House every day around 11 a.m. ET since the trial started to go over what Democrats said the day before and to prep for their own opening statements, according to multiple people.
Democratic leader urges senators: Senate Minority Leader Chuck Schumer said the case House managers are laying out bolsters the need to hear from witnesses at trial. "I don't see how any senator, Democrat or Republican, could sit on the floor, listen to Adam Schiff and the House impeachment managers and not demand witnesses and documents," Schumer said.
GOP senator attacks impeachment witness: Republican Sen. Marsha Blackburn spent hours attacking Lt. Col. Alexander Vindman, a key National Security Council aide who testified before Congress on the Ukraine scandal, on Twitter Thursday, including questioning the Purple Heart recipient's patriotism. Vindman's attorney slammed Blackburn's tweets in a statement, saying, "That a member of the Senate — at a moment when the Senate is undertaking its most solemn responsibility —would choose to take to Twitter to spread slander about a member of the military is a testament to cowardice."