Impeachment trial of President Trump
6:26 p.m. ET, January 22, 2020
Protester briefly interrupts impeachment trial
The Senate trial paused momentarily due to an unspecified interruption.
A protester was heard yelling. It's not clear what he or she was saying.
Chief Justice John Roberts gaveled as a way to restore order, and House manager Hakeem Jeffries continued speaking.
There's a seating gallery above the Senate floor, but we're not sure where the protester was yelling from.
6:22 p.m. ET, January 22, 2020
House manager calls Giuliani a "cold-blooded political operative" for Trump
House impeachment manager Rep. Hakeem Jeffries took shots at President Trump's personal lawyer, Rudy Giuliani, this afternoon during his remarks, calling him a "cold-blooded political operative."
"Giuliani is not the secretary of state. He's not an ambassador. He's not a member of the diplomatic corps. Rudolph Giuliani is a cold-blooded political operative for President Trump's re-election campaign. That is why he was referenced multiple times on that July 25 phone call. And it is evidence of corrupt intent by President Trump," Jeffries said.
What happened on the July 25 call: That's the day Trump spoke on the phone with Ukrainian President Volodymyr Zelensky and pressed him to investigate Democrats, including former Vice President Joe Biden, a leading 2020 rival. During the pre-planned call, Zelensky says Ukraine wants additional US military assistance, but Trump says, "I would like you to do us a favor though."
Trump then asks him to investigate the Bidens and the 2016 election conspiracies and says Giuliani will reach out with more information. They also discuss a potential White House visit, and Trump asks Zelensky to suggest a date for the trip.
Watch the moment:
8:36 p.m. ET, January 22, 2020
Why senators are drinking milk on the Senate floor
Sen. Tom Cotton was spotted earlier today drinking two glasses of milk with some chocolate he was sneaking from under his desk.
Surprisingly, milk and water are the only beverages allowed on the Senate floor during the impeachment trial.
So why milk, and not coffee? The reason is simple: It was designed to help senators with ulcers.
According to Alan Frumin, the former Senate Parliamentarian and CNN contributor, a precedent from Jan. 24, 1966, stated, "Senate rules do not prohibit a Senator from sipping milk during his speech."
Frumin said this is a "precedent" and not a formal "rule" of the Senate.
GOP Sen. Bill Cassidy of Louisiana, who is a physician, said the practice was started to aid senators suffering from peptic ulcer disease because "way back when, in the '50's" there was no treatment for the condition other than drinking milk.
"There was no medicine for peptic ulcer disease so people would drink milk and so the senators were allowed to drink milk because they had ulcers," he said. 
Cassidy said all senators know they can't bring outside drinks on the floor. But once there, sparkling water is also served in addition to water and milk. 
He said snacks and coffee are available in the cloakroom but the coffee is "as a rule awful." 
"It's miserable coffee. You would wish it on a Democrat but no one else," he said. "Just joking."
5:43 p.m. ET, January 22, 2020
Who's who on the Senate floor today
House Impeachment managers have been presenting their opening arguments today.
Here's a breakdown of where the House Democrats, Trump's legal team and other key impeachment trial players are sitting: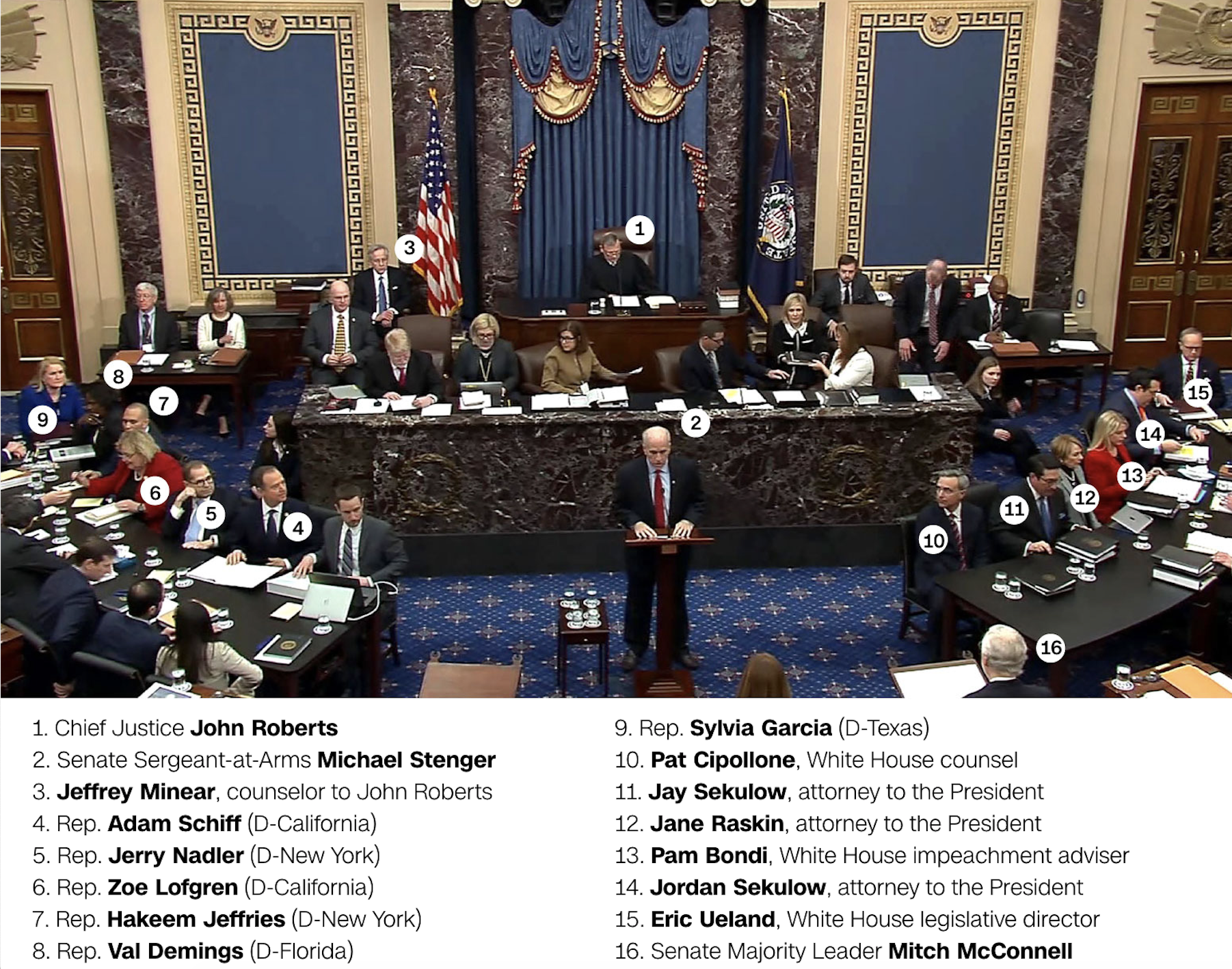 5:45 p.m. ET, January 22, 2020
GOP senators continue to resist calls for witnesses and documents
There are more signs that GOP senators are not budging on allowing subpoenas for witnesses and documents.
After listening to House managers now, Sen. David Perdue, a close ally of President Trump, made clear he won't get behind witnesses sought by the House. He said there's a "bright line" between former President Bill Clinton's impeachment case and the Trump case since the three witnesses who were deposed in the 1999 Senate trial had previously spoken to investigators. 
"There had been three witnesses in the Clinton trial had already been deposed … It was not new material. That was a bright line in my view," Perdue said.
He added that the Senate is "supposed to rule on their case, not build their case for them."
Sen. Mike Braun, a freshman and Indiana Republican, said he would only get behind a deal for witnesses that is "reciprocal."
"Bolton would be their No. 1 request, you could imagine who our No. 1 request would be," he said.
Asked about issuing subpoena for documents, Braun said, "Those would be a whole lot less important than witnesses because we are getting flooded with information on documents. I think the only thing that would make a difference beyond mostly what we heard anyway would be just live witnesses." 
5:25 p.m. ET, January 22, 2020
Amy Klobuchar on GOP senators: "They better start acting like a juror"
Sen. Amy Klobuchar said he has she felt a "shift in tone" today, after last night.
"I thought that we really started getting down to the facts and the bread and butter of the case. And that's a good thing to do because we're going to keep trying to get the evidence," she told reporters.
Asked about President Trump's comments that he would like to be in the chamber himself, Klobuchar said, "Why doesn't he let his people come and testify? Why doesn't he testified? None of this has happened, and not getting any testimony, because they're not letting witnesses come." 
She was asked about the amendments on allowing witnesses — all of which were tabled yesterday.
"At some point they have to allow witnesses. At some point they have to acknowledge that they do not serve at the pleasure of the President. My Republican colleagues, they are here to respect the power of the people that sent them to Washington," she said.
 "That's why they are a juror, and they better start acting like a juror, and a juror should want witnesses and evidence in order to make a good decision," she added.
5:16 p.m. ET, January 22, 2020
McConnell schedules a 30-minute dinner break
Senate Majority Leader Mitch McConnell has called for a 30-minute dinner break to be taken at 6:30 p.m. ET.
What's happening right now: Rep. Jason Crow is presenting the Democrats' opening argument in the impeachment trial of President Trump. Crow is one of seven House impeachment managers selected to present their case.
5:08 p.m. ET, January 22, 2020
Here's what senators are doing during the impeachment trial
As Rep. Adam Schiff presented the Democrats' case today, senators on either end of the political spectrum were seen taking notes, snacking and, on one occasion, filling out a crossword puzzle.
Republican Sen. Mike Lee, of Utah, was fiercely taking notes filling up three full pages in his notebook over the hour.
When Schiff presented video evidence, Lee physically turned his head back at the presentation at least five times seemingly to copy down accurate notes. Lee was seen later chugging a glass of water and massaging the palm of his writing hand. 
In contrast, Lee's neighbor, Sen. Rand Paul, of Kentucky, focused intensely on a crossword puzzle, not so sneakily hidden between his papers.
Sen. Kirsten Gillibrand, a Democrat from New York, silently took out a red and grey patterned scarf and wrapped it around her neck. Sen. Joni Ernst, a Republican from Iowa, looked comfortable with a blue sweater of sorts draped over her legs like a cover.
Noises of what sounded like a plastic bag were heard all the way in the press seats above the Senate floor from Republican Sen. Ben Sasse's general direction. He was spotted shoving unidentified pieces of food into his mouth. When Sasse, of Nebraska, realized reporters were staring at him — he and Republican Sen. Rick Scott, of Florida, stared back, giggling. Sasse then pulled out a clementine from under his desk and offered it to Scott, who jokingly motioned to reporters with a big shrug and crossing arm movement that no, he did not want the clementine or other snacks. 
Sen. Tom Cotton, a Republican from Arkansas, slowly pulled open his desk drawer to file away some notes — and about 10 pieces of candy were seen scattered around, including four mini Hershey bars, some Skittles and other snacks.
Democratic Sen. Tom Kaine, of Virginia, and Sen. Angus King, of Maine, were seen chatting back and forth.
4:50 p.m. ET, January 22, 2020
Some senators have started leaving their seats as arguments continue
House Democrats' began giving their opening arguments around 1 p.m. ET today. Several hours in, and some senators have started to wander from their seats.
Around of 3 p.m. ET, the seats were mostly filled in the chamber with very few empty seats or anyone out of the chamber. But 20 minutes later — not long before the trial went into a recess — CNN counted 17 empty seats across the entire chamber, on both sides. Most of the empty seats were on the Republican side, but there were also empty seats on the Democratic side.
Some senators at this time were out of their seats but still visibly in the chamber, standing at the back of the room, which is something a number of senators did yesterday as well, especially as it got later into the night.
Some of those standing during this time were Republican Sens. Roy Blunt and John Barrasso and Democratic Sens. Cory Booker, Chris Murphy and Richard Blumenthal. This was while House manager Adam Schiff was speaking.