Impeachment trial of President Trump
5:01 p.m. ET, January 21, 2020
GOP senator says she'll likely support a motion for witnesses
Sen. Susan Collins, a Republican from Maine, just issued a statement on the impeachment trial and hinted some support for a motion on witnesses.
A key line from the statement indicates it is "likely" that she will support a motion to subpoena witnesses later in the trial after both sides present their cases.
"As I said last week, while I need to hear the case argued and the questions answered, I anticipate that I would conclude that having additional information would be helpful.  It is likely that I would support a motion to subpoena witnesses at that point in the trial just as I did in 1999," Collins said in the statement.
Here's the rest of her statement:
"The organizing resolution presented to the Senate today provides for a vote on whether to subpoena witnesses and documents at the conclusion of questions by Senators. This is the same point at which the Senate voted on witnesses and documents during the 1999 Clinton impeachment trial. In keeping with the model used in President Clinton's trial, prior to hearing the case and the answers to Senators' questions, I will vote to table any attempts by either side to subpoena documents or witnesses before that stage in the trial.
After hearing the case and asking questions, Senators will be able to make an informed judgement about what is in dispute, what is important, and what remains relevant to the underlying issues. That is one of the reasons why all 100 Senators agreed to this sequence during the Clinton trial."
4:49 p.m. ET, January 21, 2020
The Senate trial is taking a 10-minute break
Senate Majority Leader Mitch McConnell just asked for a 10-minute break before debating Minority Leader Chuck Schumer's second amendment.
Chief Justice John Roberts, who is presiding over the trial, granted the request.
4:52 p.m. ET, January 21, 2020
Here's the second amendment Schumer is introducing
The Senate just voted on a motion to table Democratic Leader Chuck Schumer's first amendment to the proposed trial rules. That amendment requests a subpoena for certain White House documents.
The amendment was tabled on a party line vote.
Schumer's office has released his second amendment — this one is on subpoenaing the State Department. 
"The second amendment Senate Democratic Leader Chuck Schumer will force a vote on during today's impeachment trial proceedings will be for the Senate to subpoena certain Department of State documents and records," his office said.
4:46 p.m. ET, January 21, 2020
Motion to table first Schumer amendment passes
The motion to table House Minority Leader Chuck Schumer's first amendment calling for White House documents to be subpoenaed has passed.
The vote in favor was along party lines — 53 Republicans voted in favor, 47 Democrats voted against tabling the motion.
Democrats are now introducing a second amendment calling for the subpoena of documents and records from the State Department.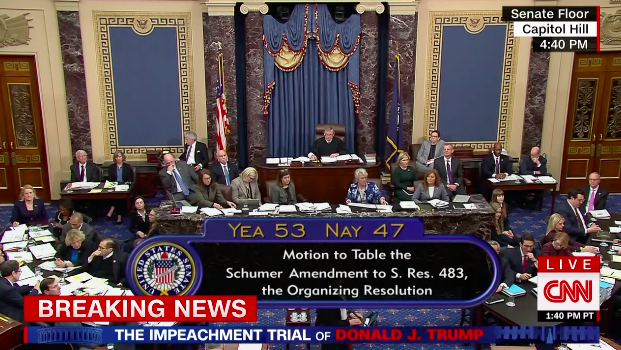 4:39 p.m. ET, January 21, 2020
Here's what senators are doing during today's debate on trial rules
During the brief recess prior to debate on the Schumer amendment, Senate Majority Leader Mitch McConnell was engaged in conversation with a group of GOP senators, including Lamar Alexander, Todd Young, Mike Rounds, Roger Wicker and John Cornyn.
At one point, White House counsel Pat Cipollone approached the group — which at that point consisted of McConnell, Cornyn, Alexander and Tom Cotton — and began talking with them. Cipollone later wandered around the chamber, shaking hands with and saying hello to various members as he went. 
After the proceedings reconvened, senators took their seats. While McConnell sat straight back in his chair, Senate Minority Leader Chuck Schumer slouched in his, at some points leaning his head into his hand. As House managers Adam Schiff and then Zoe Lofgren spoke, it was mostly quiet in the chamber apart from the rustling of papers as senators flipped through binders or took notes. Sen. Ted Cruz held what appeared to be a yellow highlighter in his mouth as he flipped through documents on his desk, then used the highlighter to make annotations. 
At one point, Sen. Tim Scott popped a piece of gum into his mouth, and Cornyn leaned over to Sen. John Barrasso to whisper a comment.
Senate pages have been coming in and out of the floor as the proceedings go on to refill glasses of water on senators' desks and occasionally to bring in a note or a file folder.
During the proceedings, members of the President's defense team as well as the House managers team could be seen whispering back and forth at the tables they are seated at. The House managers team could also be seen passing notes at their table. 
4:43 p.m. ET, January 21, 2020
The Senate is voting on a motion to table Schumer's amendment
Senate Majority Leader Mitch McConnell just asked for a vote to table Senate Minority Leader Chuck Schumer's amendment.
The senators are voting now.
4:39 p.m. ET, January 21, 2020
Trump lawyer claims Democrats are "afraid to make a presentation based on the record" they compiled
Patrick Philbin, deputy counsel to the President, took the Senate floor to reiterate much of what White House counsel Pat Cipollone said during his remarks earlier this afternoon, going after Democrats' House impeachment process and arguing against witnesses in the Senate trial.
These were Philbin's first public comments on behalf of President Trump. 
"First thing they have done is to say, 'Well, actually, we need more evidence. We're not ready to present our case… We don't have the evidence we need to support our case.' This is stunning. It's a stunning admission of the inadequate and broken process that the House Democrats ran… It's stunning that they don't have the evidence they need to present their case and that they don't really have a case," Philbin said.
Calling the process "broken," Philbin claimed that Democrats are "afraid to make a presentation based on the record that they compiled."
He explained that the subpoena to the White House was invalid because it was "issued without authorization." Philbin said it is "technically true witnesses didn't assert executive privilege," moving on to quote from former US Attorney General Janet Reno explaining that senior advisers are immune from congressional compulsion, which, he said, is based on the same principles of executive privilege.
Philbin argued that the outcome in the House was predetermined.
"The process in the House was one-sided," he said, recounting "secret hearings in the basement" and a second round of hearings in public "where, again, they locked the President out."
"They had a predetermined outcome there, 'cause it was all one-sided. And for him to lecture this body now on what a fair process would be takes some gall," Philbin said.
4:28 p.m. ET, January 21, 2020
Senators are still finding ways to communicate despite trial rules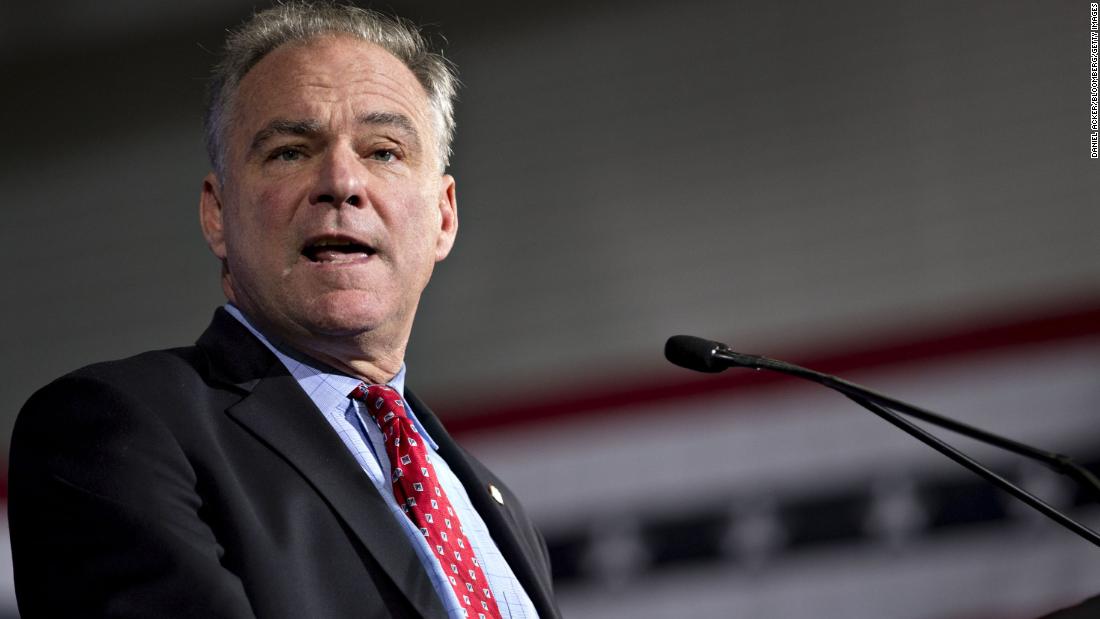 Senators are still finding ways to communicate, despite decorum guidelines clearly stating they are not permitted to speak.
Sen. Mark Warner was spotted actually whispering to his neighbor. Sen. Tim Kaine attempted to be more discreet and passed a note via a chamber staffer.
Kaine, sitting with his glasses resting in the middle of his forehead, waved his pointer finger in the air, which brought a staffer in the chamber over to his desk. He handed her a folded piece of paper, she then zig-zagged around the chamber and passed it to Senate Minority Leader Chuck Schumer. Schumer put on his glasses and appeared to read through the paper; he then handed it to his aide who filed it away in a folder.
On the first 15-minute break in the impeachment trial, some senators appeared to be relaxed, and even playful. Sens. Susan Collins, Lisa Murkowski, James Risch, Roy Blunt, Lamar Alexander and Lindsey Graham chatted for a good amount of time on the Senate floor, laughing and in good spirits.
At one point, Murkowski playfully pretended to punch Graham in the chest and said, "WHACK." Risch cracked up.
Other GOP senators immediately rushed over to shake hands with some of Trump's defense team, including Sen. Richard Shelby and Tom Cotton who went up to attorney Jay Sekulow. Additional members chatted with Senate Majority Leader Mitch McConnell and White House counsel Pat Cipollone.
Even though it's day one, some senators appear to already be getting restless. Sens. Tim Scott, Ben Sasse, Cotton and Graham were looking all around the room, at some points staring directly into the press gallery. Others remained very focused, like Sens. John Cornyn and John Thune, who kept their eyes directly ahead locked with each presenter.
A dozen or so senators also kept their head down taking notes, like Susan Collins, Cory Gardner, Joni Ernst, Marco Rubio, Chuck Grassley and Chris Coons among others.
4:29 p.m. ET, January 21, 2020
Catch up: What happened in the Senate impeachment trial so far today
The Senate impeachment trial of President Trump — only the third impeachment trial in US history — kicked off in earnest today. While there were procedural moves in the trial last week, today marked the first serious day of trial.
If you're just reading in, here's what you need to know:
McConnell's contentious plan: The Senate began debating the rules of the trial after Senate Majority Leader Mitch McConnell unveiled his resolution last night. The draft from yesterday gave each side 24 hours — over the course of two days — to make opening arguments and said the House's evidence would not be admitted without a vote. Democrats slammed the rules, saying they were meant to "cover up" Trump's behavior, and there were even some concerns from Republicans.
A last-minute rules change: McConnell quietly changed the resolution before it was read aloud in the Senate. The new resolution gives each side three days to make their 24 hours of arguments and says evidence will be admitted automatically unless there is a motion from the President's team to throw out evidence.
Amendments to the resolution: The House managers and White House defense team each had time to argue their side of the resolution. After that, Senate Minority Leader Chuck Schumer offered an amendment to it: One that requests to "subpoena certain documents and records from the White House." The two sides are now debating the amendment.
What happens next: The Senate will vote on the amendment after debate. But this is only the first amendment — and Schumer has said he has a "series" of them to offer. The amendment process will repeat until Schumer is done offering amendments, at which point the chamber would move to a vote on McConnell's underlying resolution.
So how long will today go? The length of today will be dictated by how many amendments Schumer chooses to propose.