Impeachment trial of President Trump
4:43 p.m. ET, January 21, 2020
The Senate is voting on a motion to table Schumer's amendment
Senate Majority Leader Mitch McConnell just asked for a vote to table Senate Minority Leader Chuck Schumer's amendment.
The senators are voting now.
4:39 p.m. ET, January 21, 2020
Trump lawyer claims Democrats are "afraid to make a presentation based on the record" they compiled
Patrick Philbin, deputy counsel to the President, took the Senate floor to reiterate much of what White House counsel Pat Cipollone said during his remarks earlier this afternoon, going after Democrats' House impeachment process and arguing against witnesses in the Senate trial.
These were Philbin's first public comments on behalf of President Trump. 
"First thing they have done is to say, 'Well, actually, we need more evidence. We're not ready to present our case… We don't have the evidence we need to support our case.' This is stunning. It's a stunning admission of the inadequate and broken process that the House Democrats ran… It's stunning that they don't have the evidence they need to present their case and that they don't really have a case," Philbin said.
Calling the process "broken," Philbin claimed that Democrats are "afraid to make a presentation based on the record that they compiled."
He explained that the subpoena to the White House was invalid because it was "issued without authorization." Philbin said it is "technically true witnesses didn't assert executive privilege," moving on to quote from former US Attorney General Janet Reno explaining that senior advisers are immune from congressional compulsion, which, he said, is based on the same principles of executive privilege.
Philbin argued that the outcome in the House was predetermined.
"The process in the House was one-sided," he said, recounting "secret hearings in the basement" and a second round of hearings in public "where, again, they locked the President out."
"They had a predetermined outcome there, 'cause it was all one-sided. And for him to lecture this body now on what a fair process would be takes some gall," Philbin said.
4:28 p.m. ET, January 21, 2020
Senators are still finding ways to communicate despite trial rules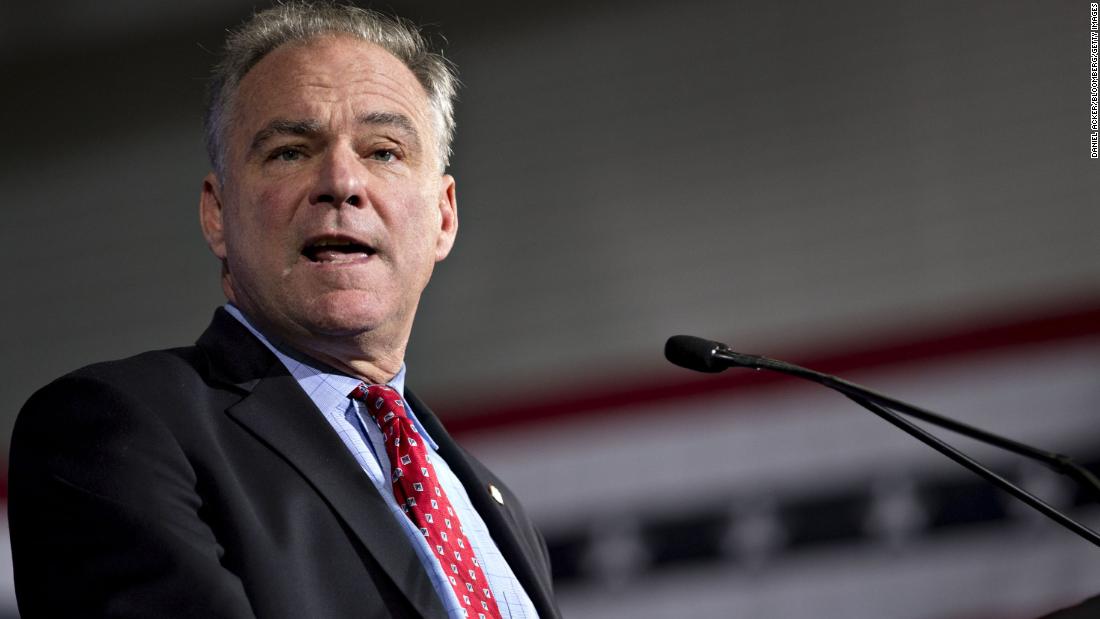 Senators are still finding ways to communicate, despite decorum guidelines clearly stating they are not permitted to speak.
Sen. Mark Warner was spotted actually whispering to his neighbor. Sen. Tim Kaine attempted to be more discreet and passed a note via a chamber staffer.
Kaine, sitting with his glasses resting in the middle of his forehead, waved his pointer finger in the air, which brought a staffer in the chamber over to his desk. He handed her a folded piece of paper, she then zig-zagged around the chamber and passed it to Senate Minority Leader Chuck Schumer. Schumer put on his glasses and appeared to read through the paper; he then handed it to his aide who filed it away in a folder.
On the first 15-minute break in the impeachment trial, some senators appeared to be relaxed, and even playful. Sens. Susan Collins, Lisa Murkowski, James Risch, Roy Blunt, Lamar Alexander and Lindsey Graham chatted for a good amount of time on the Senate floor, laughing and in good spirits.
At one point, Murkowski playfully pretended to punch Graham in the chest and said, "WHACK." Risch cracked up.
Other GOP senators immediately rushed over to shake hands with some of Trump's defense team, including Sen. Richard Shelby and Tom Cotton who went up to attorney Jay Sekulow. Additional members chatted with Senate Majority Leader Mitch McConnell and White House counsel Pat Cipollone.
Even though it's day one, some senators appear to already be getting restless. Sens. Tim Scott, Ben Sasse, Cotton and Graham were looking all around the room, at some points staring directly into the press gallery. Others remained very focused, like Sens. John Cornyn and John Thune, who kept their eyes directly ahead locked with each presenter.
A dozen or so senators also kept their head down taking notes, like Susan Collins, Cory Gardner, Joni Ernst, Marco Rubio, Chuck Grassley and Chris Coons among others.
4:29 p.m. ET, January 21, 2020
Catch up: What happened in the Senate impeachment trial so far today
The Senate impeachment trial of President Trump — only the third impeachment trial in US history — kicked off in earnest today. While there were procedural moves in the trial last week, today marked the first serious day of trial.
If you're just reading in, here's what you need to know:
McConnell's contentious plan: The Senate began debating the rules of the trial after Senate Majority Leader Mitch McConnell unveiled his resolution last night. The draft from yesterday gave each side 24 hours — over the course of two days — to make opening arguments and said the House's evidence would not be admitted without a vote. Democrats slammed the rules, saying they were meant to "cover up" Trump's behavior, and there were even some concerns from Republicans.
A last-minute rules change: McConnell quietly changed the resolution before it was read aloud in the Senate. The new resolution gives each side three days to make their 24 hours of arguments and says evidence will be admitted automatically unless there is a motion from the President's team to throw out evidence.
Amendments to the resolution: The House managers and White House defense team each had time to argue their side of the resolution. After that, Senate Minority Leader Chuck Schumer offered an amendment to it: One that requests to "subpoena certain documents and records from the White House." The two sides are now debating the amendment.
What happens next: The Senate will vote on the amendment after debate. But this is only the first amendment — and Schumer has said he has a "series" of them to offer. The amendment process will repeat until Schumer is done offering amendments, at which point the chamber would move to a vote on McConnell's underlying resolution.
So how long will today go? The length of today will be dictated by how many amendments Schumer chooses to propose.
4:14 p.m. ET, January 21, 2020
Former Sen. Jeff Flake stopped by the Senate to watch the trial
Former Sen. Jeff Flake was in the gallery of the Senate chamber today watching a bit of the trial.
The former Arizona lawmaker was in town and said he thought he would come by and see history.
4:30 p.m. ET, January 21, 2020
Lofgren lays out argument for releasing White House documents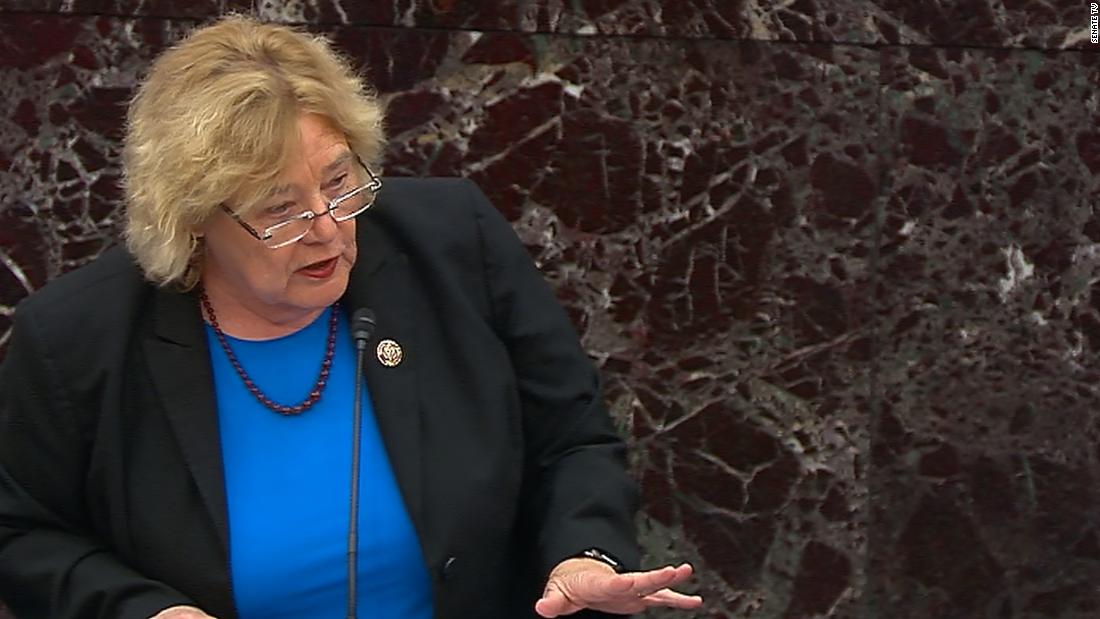 House manager Zoe Lofgren, a Democrat from California, laid out the need for documents from the White House during her argument on the Senate floor today.
She argued that some of the documents would shed light on the freeze on US military aid to Ukraine.
"Witness testimony and public reporting make clear that the White House has a significant body of documents that relate to these key aspects of the President's scheme. Some of the documents outline the planning of the President's freeze," Lofgren said.
3:52 p.m. ET, January 21, 2020
Senators in chamber appear restless during trial rules debate
As the proceedings in the Senate impeachment trial continue on, senators appear a bit more restless than they were last week during the ceremonially swearing in.
Many of the members have turned to writing notes as a way to keep busy during the trial. Sen. Mike Lee, a Republican from Utah who has worked closely with Leader Mitch McConnell and the President on preparations for the trial, wrote at a furious pace. A Constitutional lawyer, Lee seemed enthralled with the scene, scribbling notes and straining to ensure he could see all of the exhibits Rep. Adam Schiff referenced. There were a few video clips that played where most of the chamber almost seemed confused at first about where the videos coming from. 
Sen. Cory Gardner, up for re-election in 2020, also scribbled down notes. Next to him, Sen. Chuck Grassley, the former chairman of the Judiciary Committee, glanced over repeatedly almost as if he was not quite sure what Gardner was jotting down so quickly. 
McConnell, meanwhile, was stone faced. He looked forward at Schiff, listening intently with his hands folded in his lap.
3:48 p.m. ET, January 21, 2020
The documents Democrats wanted – but didn't get
The Democratic House managers have argued all day that President Trump obstructed Congress and is still engaged in a cover-up by preventing his senior aides from testifying in the House and blocking key documents.
During the House impeachment inquiry, the Trump administration ignored subpoenas that were sent to:  
The White House, asking for documents about Trump's conversations with Ukrainian President Volodymyr Zelensky, and records about concerns raised by National Security Council officials
The Pentagon, for documents and memos about the unexpected freeze, ordered by Trump last summer, of US military aid for Ukraine, portions of which were overseen by the Pentagon
The Office of Management and Budget, which is part of the White House, for documents and emails about the internal scramble to implement and justify that freeze of US military aid for Ukraine
The State Department, for text messages and emails exchanged by Trump appointees, including Secretary of State Mike Pompeo, about any efforts to pressure the Ukrainian government
The Energy Department, for documents about then-Energy Secretary Rick Perry's contacts with Ukrainian officials, and his communications with other Trump appointees about Ukraine
Check out CNN's Impeachment Tracker for a full breakdown of the witnesses who did – and didn't – testify in the House impeachment inquiry, and a list of all the subpoenas that were fulfilled and ignored.
3:38 p.m. ET, January 21, 2020
Fact check: White House counsel falsely claims Republicans weren't allowed into closed hearings
Calling the House's impeachment inquiry unfair to the President, White House counsel Pat Cipollone made a false claim about the closed-door House committee hearings at which witnesses were initially questioned.
The hearings were held in a secure room known as a Sensitive Compartmented Information Facility, or "SCIF."
"Not even Mr. Schiff's Republican colleagues were allowed into the SCIF," Cipollone said, referring to House Intelligence Committee chairman Rep. Adam Schiff, who is also the Democrats' lead impeachment manager.
Facts First: As Schiff noted in his response to Cipollone, the 48 Republican members of the three committees holding the closed-door hearings — Intelligence, Foreign Affairs and Oversight — were indeed allowed into the SCIF, and they were given equal time to question witnesses.
Schiff said he would not suggest "Mr. Cipollone would deliberately make a false statement," but he said, "I will tell you this: He's mistaken. He's mistaken." He added that Republicans were not only allowed in but "more than that: they got the same time we did."
Cipollone might have been referring to an October stunt in which Republicans who were not members of any of the three committees, along with some Republicans who were members, stormed the room to make a political point; the non-members were not allowed to be there, and they eventually left after causing a delay. But the members were allowed to be full participants in the proceedings.