Impeachment trial of President Trump
3:38 p.m. ET, January 21, 2020
Fact check: White House counsel falsely claims Republicans weren't allowed into closed hearings
Calling the House's impeachment inquiry unfair to the President, White House counsel Pat Cipollone made a false claim about the closed-door House committee hearings at which witnesses were initially questioned.
The hearings were held in a secure room known as a Sensitive Compartmented Information Facility, or "SCIF."
"Not even Mr. Schiff's Republican colleagues were allowed into the SCIF," Cipollone said, referring to House Intelligence Committee chairman Rep. Adam Schiff, who is also the Democrats' lead impeachment manager.
Facts First: As Schiff noted in his response to Cipollone, the 48 Republican members of the three committees holding the closed-door hearings — Intelligence, Foreign Affairs and Oversight — were indeed allowed into the SCIF, and they were given equal time to question witnesses.
Schiff said he would not suggest "Mr. Cipollone would deliberately make a false statement," but he said, "I will tell you this: He's mistaken. He's mistaken." He added that Republicans were not only allowed in but "more than that: they got the same time we did."
Cipollone might have been referring to an October stunt in which Republicans who were not members of any of the three committees, along with some Republicans who were members, stormed the room to make a political point; the non-members were not allowed to be there, and they eventually left after causing a delay. But the members were allowed to be full participants in the proceedings.
3:32 p.m. ET, January 21, 2020
Lofgren: We support Schumer's amendment
Democrats were given an hour to argue for an amendment introduced by Senate Minority Leader Chuck Schumer.
House manager Zoe Lofgren of California said they backed the amendment.
"The House managers strongly support Senator Schumer's amendment, which would ensure a fair legitimate trial based on a full evidentiary record," she said.
What we know: The amendment requests the Senate subpoena the White House for "certain documents and records."
3:28 p.m. ET, January 21, 2020
Democratic senator says McConnell's resolution changes are not enough
Sen. Patrick Leahy told CNN that he did not view the changes Majority Leader Mitch McConnell made to the impeachment rules resolution as significant, saying there were still key breaks with President Clinton's trial.
"I think the fact is that Mitch keeps telling you folks in the press that we're doing it just like Clinton. Of course, he's not," Leahy said. "And I hope somebody will call him on it."
3:25 p.m. ET, January 21, 2020
Schumer says "real test" for Republicans is whether to allow witnesses and documents
After Mitch McConnell made two changes to his organizing resolution, Minority Leader Chuck Schumer said in a statement the "real test" will be if other Republicans pressure McConnell to allow witnesses and documents.
Here's Schumer's statement:
"The public is understanding how unfair Senator McConnell's trial rules are and Republican Senators are beginning to tell him to change them. The real test will be if they pressure Senator McConnell to allow witnesses and documents. 
"For all of the name-calling and fingerprinting from the president's counsel, we did not hear a single argument on the merits about why there should not be the documents and witnesses we requested in this trial."
3:19 p.m. ET, January 21, 2020
The Senate trial is back in session
3:15 p.m. ET, January 21, 2020
Cipollone calls House impeachment proceedings "ridiculous"
After remarks from Adam Schiff and Jay Sekulow, White House counsel Pat Cipollone again spoke on the Senate floor, where he railed against Schiff and the House impeachment proceedings and argued against witnesses in a Senate trial.
An impassioned Cipollone lamented that President Donald Trump was given a "minimum of due process" during House impeachment proceedings. 
"Information was selectively leaked out. Witnesses were threatened. Good public servants were told that they would be held in contempt. They were told that they were obstructing," Cipollone said.
House Democrats, he said, held the articles of impeachment for 33 days, arguing that their case is not prepared if they need to hear from additional witnesses in the Senate.
"We hear all this talk about an overwhelming case. They're not even prepared," he said of Democrats.
House Democrats, he said, "concocted a process" that locked the President out, calling out Schiff, who has not provided documents regarding his staff's work with the whistleblower.
Cipollone went on to call the idea that Democrats want to call witnesses in the Senate trial "ridiculous."
"The idea that they would come here and lecture the Senate – by the way, I was surprised to hear that, did you realize, you're on trial? … Everybody's on trial except for them. It's ridiculous, it's ridiculous. They have overwhelming evidence and they're afraid to make their case. Think about it, it's common sense. Overwhelming evidence… and then they come here and they say, 'You know what, we need some more evidence,'" he said.
Cipollone continued: "If I showed up in any court in this country and I said, 'Judge, my case is overwhelming, but I'm not ready to go yet. I need more evidence' … I would get thrown out in two seconds and that's exactly what should happen here."
2:51 p.m. ET, January 21, 2020
The Senate is on a 15-minute break
Senate Majority Leader Mitch McConnell just requested a 15-minute break before debate over Senate Minority Leader Chuck Schumer's amendment.
Supreme Court Justice John Roberts, who is presiding over the trial, agreed.
2:50 p.m. ET, January 21, 2020
White House counsel goes after Schiff over whistleblower documents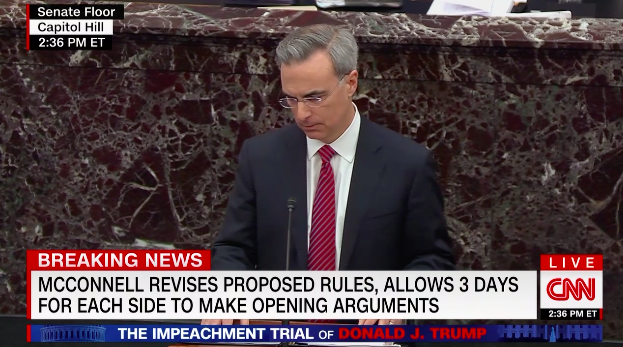 White House counsel Pat Cipollone said that the Trump team requested documents from House Intel Chair Adam Schiff related to the whistleblower.
Cipollone said: "Will Mr. Schiff give documents? We asked him for documents. We asked them for documents when, contrary to his prior statements, it turned out that his staff was working with the whistle-blower. We said let us see the documents. Release them to the public. We're still waiting."
What's this all about: During the House impeachment inquiry, Schiff was forced to clarify comments he made that his committee had not spoken directly with a whistleblower after his office acknowledged in October it had been in contact with the whistleblower before the complaint over President Donald Trump's conversation with the leader of Ukraine was filed.
3:00 p.m. ET, January 21, 2020
Sekulow criticizes Schiff and the House impeachment process
President Trump's lawyer, Jay Sekulow, spoke on the Senate floor during the impeachment trial, criticizing House impeachment manager Adam Schiff and voicing support for Senate Majority Leader Mitch McConnell's impeachment resolution.
Sekulow took issue in particular for what he saw as Schiff indicating that "courts have no role, privileges don't apply, what happened in the past we should just ignore."
Sekulow also criticized how Schiff described the defense of the Trump legal team, saying it's "not the first time Mr. Schiff has put words into transcripts that did not exist."
"Believe me, what is taking place in these proceedings is not to be confused with due process. Because due process demands, and our constitution requires, that fundamental fairness and due process … is designed to protect the person accused," Sekulow said.
Sekulow said that Democrats sought to target Trump over his interactions with Ukraine after the Russia investigation didn't work in their favor.
"When the Russia investigation failed, it devolved into the Ukraine," he said.
Sekulow also defended Trump's use of executive privilege and criticized the way the Democrats have been conducting impeachment proceedings.
"We're acting as if the courts are an improper venue to determine constitutional issues of this magnitude? That is why we have courts. That is why we have a federal judiciary," he said."
"As we proceed in the days ahead, we will lay out our case. We're going to put forward to the American people, but more importantly, for the constitution's sake, what's taking place here. But this idea we should ignore what has taken place over the last three years is outrageous," Sekulow remarked.
He continued: "We believe what Senator McConnell's put forward provides due process, allows the proceedings to move forward in an orderly fashion."
Sekulow took aim at Democrats for delaying the delivery of the impeachment articles to the Senate, suggesting House Democrats were attempting to dictate what rules the Senate would adopt for the trial.
"Thirty-three days — 33 days they held onto those impeachment articles. Thirty-three days. It was such a rush of national security to impeach this president before Christmas that they then held them for 33 days," he said.
"We're prepared to proceed. In our view, these proceedings should begin," Sekulow concluded.