Impeachment trial of President Trump
7:40 p.m. ET, January 21, 2020
Who's who at the Senate impeachment trial
We're almost five hours into the first earnest day of the Senate impeachment trial. House impeachment managers, who are prosecuting the case against Trump's case, and the President's defense team have been debating the proposed rules for the trial.
If you need to catch up on all the faces on the Senate floor, here's your annotated run down: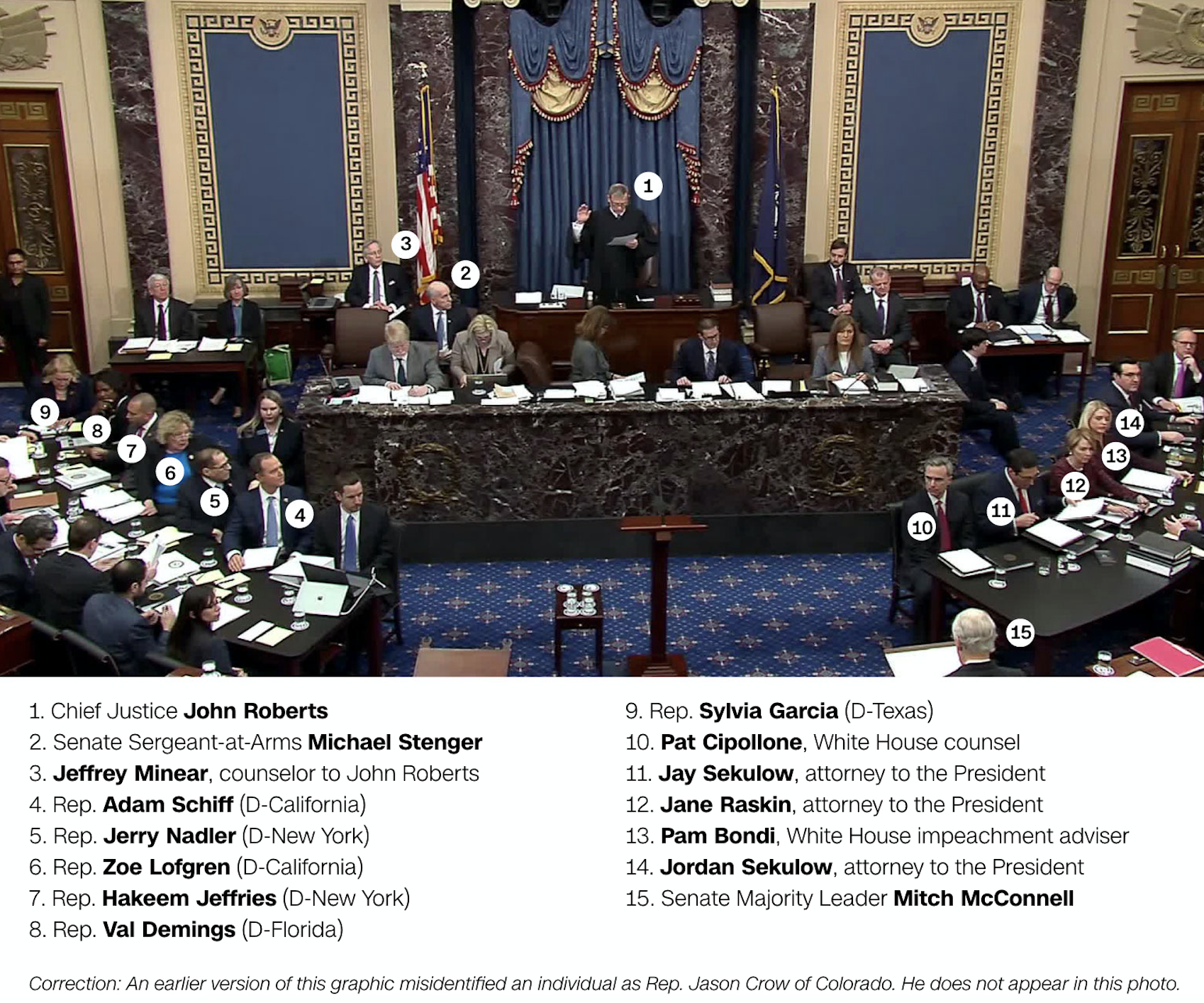 8:31 p.m. ET, January 21, 2020
What senators are doing right now in the chamber
Many senators are taking notes at their desks while Democratic House manager Val Demings is speaking.
It's unclear if they're taking trial notes or writing on an unrelated topic.
While the sergeant at arms announces at the start of each day that senators face the "pain of imprisonment" for talking during the trial, senators are managing to sneak quick comments in with a hand over their mouths as they lean in to their neighbors.  
6:02 p.m. ET, January 21, 2020
House managers tout new Lev Parnas revelations
Florida Rep. Val Demings, one of the Democratic House managers, is now highlighting new information that came to light last week from Lev Parnas, the Soviet-born businessman who worked with Rudy Giuliani on the Ukraine pressure campaign. 
Arguing that the Senate should subpoena the State Department, Demings pointed to a February 2019 text message where Giuliani told Republican lawyer Victoria Toensing that he was going to talk to Secretary of State Mike Pompeo about removing the US ambassador to Ukraine. (Trump later removed the diplomat, Marie Yovanovitch, from her post, amid a flurry of public allegations from Giuliani and his allies in conservative media, who falsely accused Yovanovitch of being an anti-Trump partisan.) 
House investigators only got those text messages last week, after Parnas complied with a months-old subpoena. Parnas was indicted in October on campaign finance charges, and recently secured approval from a judge to share the documents.
Demings also aired a clip of Parnas' interview with MSNBC where he talked about the pressure campaign. Parnas also sat down for a wide-ranging interview with CNN, and said he tried to intimidate Ukrainian officials at the direction of Giuliani and Trump.
6:15 p.m. ET, January 21, 2020
House managers say damning documents prove more subpoenas are needed
Rep. Val Demings, one of the Democratic managers, wasted no time while arguing in favor of subpoenaing the State Department, by highlighting some of the most damning text messages that were uncovered during the House impeachment inquiry.
The Trump administration defied the subpoenas but some of the witnesses who cooperated brought their own documents. One of those witnesses was former US envoy for Ukraine Kurt Volker, who provided his text messages to Congress early in the inquiry.
One of the most shocking texts, between Volker and the top US diplomat in Ukraine Bill Taylor, seemed to confirm that the Trump administration was withholding nearly $400 million in US military aid from Ukraine, exchange for political favors for Trump.
"As I said on the phone, I think it's crazy to withhold security assistance for help with a political campaign," Taylor texted Volker on Sept. 9, in a group chat that also included US Ambassador to the European Union Gordon Sondland, another key player.
When Taylor testified publicly in November, he said, "The Ukrainians did not owe President Trump anything and holding up security assistance for domestic political gain was crazy, as I had said in my text message to Ambassadors Sondland and Volker."
Why this matters: Demings and the other Democratic House managers argued today that the emails that were obtained during the impeachment inquiry make it clear that there is more relevant information out there, but the Trump administration is blocking it.
The Senate already voted along party lines to kill a Democratic amendment to subpoena the White House, and will likely kill the proposed State Department subpoena as well. Republicans have stayed united to oppose any subpoenas for new witnesses or documents at this point, though some of the more moderate Republicans say they're open to subpoenas later in the process.
5:54 p.m. ET, January 21, 2020
Demings: Documents would "complete our understanding of how the President's scheme unfolded"
Democratic House manager Val Demings argued today for the release of documents from the State Department.
Moments ago, Senate Minority Leader Chuck Schumer introduced an amendment to subpoena the documents.
Demings said Democratic House managers strongly support the amendment.
"They would help complete our understanding of how the President's scheme unfolded in realtime. They would support the conclusion that senior Ukrainian officials understood the corrupt nature of President Trump's demand and they would further expose the extent to which Secretary Pompeo and Mick Mulvaney and other senior Trump officials were aware of the President's plot and helped carry it out. We are not talking about a burdensome number of documents," she said.
Demings continued: "We are talking about a specific, discrete set of materials held by the State Department. Documents that the state department has already collected in response to our subpoena, but has never produced. We know that these materials exist. We know that they are relevant, and we know the President is desperately trying to conceal them."
5:20 p.m. ET, January 21, 2020
Senators are sharing candy and passing notes while they listen to the debate
There are signs senators are getting restless — or that the Senate is remarkably like seventh grade.
Sens. Tim Scott and Ben Sasse are digging into Sasse's stash of candy – jawbreakers – whispering to each other and trading notes back and forth. At one point, Sen. Bill Cassidy stopped his note-taking to pass a note to Sasse, who added something to it and passed it on to Scott. 
When House Manager Adam Schiff said on the floor, "Let's get this trial started, shall we?" he looked directly at White House counsel Pat Cipollone, who briefly met his gaze, then looked away.
Senators are also acutely aware of the alphabetical order when voting, standing up before their name is called.
There was also visitors from the House side: Reps. Mark Meadows, Lee Zeldin and Louie Gohmert all entered the chamber and watched from the back.
There are rumors that some senators have gone onto the floor wearing Apple watches. It's possible that Senator Tim Scott is wearing one, though not completely clear from our vantage point.
5:20 p.m. ET, January 21, 2020
The Senate trial is back
The Senate trial has returned from its break. They're debating Senate Minority Leader Chuck Schumer's second amendment, which is about subpoenaing the State Department. 
It's not clear how many amendments Schumer could offer to the proposed trial rules.
5:16 p.m. ET, January 21, 2020
McConnell hopes to finish the trial in about a week and a half
Two sources in communication with Senate Majority Leader Mitch McConnell say he wants this trial done in about 10 days. The way this schedule is laid out, it makes clear that goal is possible.
In his floor speech earlier today, McConnell warned about subpoenas for witnesses and documents, saying that "pursuing those witnesses" sought by Democrats "could indefinitely delay the Senate trial."
If each side uses all 24 hours for opening arguments side, here's how the schedule could play out:
Tomorrow: Democratic arguments
Thursday: Democratic arguments
Friday: Democratic arguments
Saturday: Trump team arguments
Monday: Trump team arguments
Jan. 28: Trump team arguments
Jan. 29: Senator questions
Jan 30: Senator questions
Jan 31: Four hours of debate on whether to subpoena witnesses and subpoenas, a vote on witnesses and documents, and a vote on other motions; If all votes fail, the Senate could move to the acquittal vote
5:01 p.m. ET, January 21, 2020
GOP senator says she'll likely support a motion for witnesses
Sen. Susan Collins, a Republican from Maine, just issued a statement on the impeachment trial and hinted some support for a motion on witnesses.
A key line from the statement indicates it is "likely" that she will support a motion to subpoena witnesses later in the trial after both sides present their cases.
"As I said last week, while I need to hear the case argued and the questions answered, I anticipate that I would conclude that having additional information would be helpful.  It is likely that I would support a motion to subpoena witnesses at that point in the trial just as I did in 1999," Collins said in the statement.
Here's the rest of her statement:
"The organizing resolution presented to the Senate today provides for a vote on whether to subpoena witnesses and documents at the conclusion of questions by Senators. This is the same point at which the Senate voted on witnesses and documents during the 1999 Clinton impeachment trial. In keeping with the model used in President Clinton's trial, prior to hearing the case and the answers to Senators' questions, I will vote to table any attempts by either side to subpoena documents or witnesses before that stage in the trial.
After hearing the case and asking questions, Senators will be able to make an informed judgement about what is in dispute, what is important, and what remains relevant to the underlying issues. That is one of the reasons why all 100 Senators agreed to this sequence during the Clinton trial."