Impeachment trial of President Trump
3:58 p.m. ET, January 17, 2020
House Republicans no longer expected to take a formal role in impeachment trial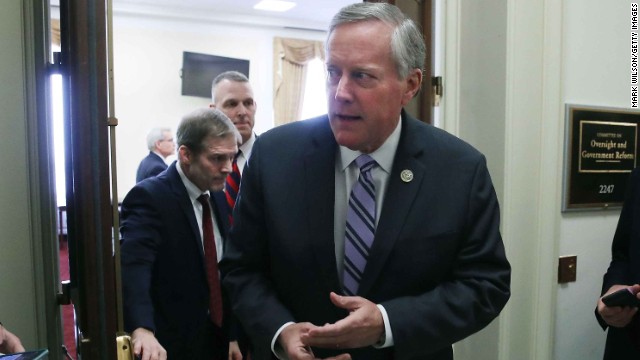 Several House Republicans who were once being considered as additions to President Trump's impeachment defense team are no longer expected to take a formal role, multiple people told CNN, now that he has added three seasoned attorneys with television experience to the mix. 
The situation has been extremely fluid, with decisions changing from day to day, so the lawmakers have continued to prepare behind the scenes in case they were added at the last minute, one person familiar told CNN. 
While they are not expected to take on formal positions on the team, they are expected to help with the defense behind the scenes. The House Republicans under consideration included some of Trump's most ardent defenders, like Reps. Mark Meadows, Jim Jordan and John Ratcliffe.
CNN has previously reported that Senate Majority Leader Mitch McConnell opposed the idea and advised the White House against bringing any conservative House members to the Senate floor. 
3:46 p.m. ET, January 17, 2020
Impeachment attorney says it would be "overstating it" to call him part of Trump's legal team
Alan Dershowitz tells Mediaite that it would be "overstating it" to call himself a member of President Trump's legal team, though he is still expected to participate in the Senate trial on Trump's behalf.
"I think it overstates it to say I'm a member of the Trump team. I was asked to present the constitutional argument that I would have presented had Hillary Clinton been elected and had she been impeached," Dershowitz told the website, adding: "I was asked to present my constitutional argument against impeachment. I will be there for one hour, basically, presenting my argument. But I'm not a full-fledged member of the defense team in any realistic sense of that term."
What's this about: Dershowitz's comments are largely about semantics; he is still expected to present on Trump's behalf during the trial.
Earlier, the legal team said in a statement that "Professor Dershowitz will present oral arguments at the Senate trial to address the constitutional  arguments against impeachment and removal. While Professor Dershowitz is non partisan when it comes to the constitution—he opposed the impeachment of President Bill Clinton and voted for Hillary Clinton—he believes the issues at stake go to the heart of our enduring Constitution.  He is participating in this impeachment trial to defend the integrity of the Constitution and to prevent the creation of a dangerous constitutional precedent."
2:14 p.m. ET, January 17, 2020
Senators prepare for contentious session next week
Senate leaders are preparing for a contentious Tuesday session that could stretch several hours and could send the chamber into a closed session as Democrats try to force the GOP into accepting witness testimony and documents to be produced during the trial, according to multiple senators and other sources familiar with the planning.
Democrats will try to amend the organizing resolution that will be offered by Senate Majority Leader Mitch McConnell. Under McConnell's plan, there is expected to be no guarantee that there will be witness testimony or documents produced, decisions Republicans want to punt until after opening arguments are completed on both sides and senators have a chance to ask questions.
But Democrats will attempt to change that. Senate Minority Leader Chuck Schumer is expected to offer at least one amendment to stipulate that witnesses must testify and that documents blocked so far by the White House be turned over to senators. But Democratic senators told CNN that it's possible Schumer could try to offer multiple amendments, and that could stretch debate on for several more hours.
That's because, at the moment, it's expected that there will be two hours of debate — equally divided between the two parties — for each amendment.
It's still uncertain how many amendments there would be, or precisely how Tuesday's debate would shake out because McConnell has yet to unveil his resolution publicly that will detail the procedures of the trial.
Opening arguments from the House Democratic managers would not occur until after debate over the amendments concludes and the Senate resolution is adopted. GOP senators are expected to unify and reject the Democratic amendments.
Here's where things could also get interesting: Senators are not allowed to debate in open session while the trial is ongoing. If they want to debate, they would have to go into closed session, and a vote of at least 51 senators is required to make the proceedings private.
Otherwise, the amendments would be debated in public between the House impeachment managers and President Trump's defense team.
Schumer on Thursday suggested he would seek to limit the number of closed sessions that would occur.
A Senate leadership aide said that closed-sessions might be needed since senators are required to keep quiet during an impeachment trial.
CNN's Phil Mattingly and Ted Barrett contributed to report.
12:45 p.m. ET, January 17, 2020
House impeachment managers expected to meet Sunday
The seven House impeachment managers are expected to meet this Sunday as staff work through the weekend to get their brief together for tomorrow evening, a source familiar tells CNN. 
The House of Representatives must file a trial brief with the Secretary of the Senate by 5 p.m. ET tomorrow.
12:31 p.m. ET, January 17, 2020
Trump brings up impeachment during meeting with college football national champs
President Trump held a ceremony today at the White House for the Louisiana State University football team for their recent national championship game win.
"It is really my great privilege to welcome to the White House the college football national champions, the Louisiana State University Tigers," Trump said during an East Room ceremony filled with players, team staff, administration officials, members of Congress and fans. He later added, "This team showed the world what it means to look out for one another."
Trump went nearly the entire ceremony without bringing up impeachment — until he invited members of the team to take pictures in the Oval Office.
"It's been there a long time — a lot of presidents, some good, some not so good. You've got a good one now, even though they're trying to impeach the son of a bitch," he said to laughter in the room.
12:09 p.m. ET, January 17, 2020
State official: Investigation into possible surveillance of Yovanovitch was opened this week
The investigation into the potential surveillance of former US ambassador to Ukraine Marie Yovanovitch was officially launched by State Department's diplomatic security on Tuesday night, according to a senior State Department official.
The chairman of the House Foreign Affairs Committee made reference to this in a letter to the State Department on Wednesday. 
"I appreciate the personal commitment that Assistant Secretary of State for Diplomatic Security Michael Evanoff provided to my staff on the night this information came to light that the Bureau of Diplomatic Security would open an investigation into this mater immediately and would share relevant investigative information with partners at the Department of Justice and the Federal Bureau of Investigation," Engel wrote.
Secretary of State Mike Pompeo said earlier today that the State Department will evaluate whether Yovanovitch was under surveillance while in Kiev.
"We will do everything we need to do to evaluate whether there was something that took place there. I suspect that much of what's been reported will ultimately prove wrong, but our obligation, my obligation as Secretary of State, is to make sure that we evaluate, investigate. Any time there is someone who posits that there may have been a risk to one of our officers, we'll obviously do that," Pompeo told the Tony Katz Show.
Pompeo's confirmation is the first response to repeated requests for comment on the matter since Tuesday night when the information was released by the House.
11:27 a.m. ET, January 17, 2020
Trump's new defense team members will all speak on the Senate floor during trial
The five new legal members on the President's defense team will all have speaking roles on the Senate floor. They will supplement the lead attorneys Pat Cipollone and Jay Sekulow.
In case you missed it, the five members are: 
Robert Ray
Alan Dershowitz
Ken Starr
Jane Raskin
Pam Bondi 
11:13 a.m. ET, January 17, 2020
Here's what happens next in the impeachment trial
The Senate trial has adjourned until next week. But a few things are scheduled to happen between now and Tuesday at 1 p.m. ET, when arguments are expected begin.
Here's what's on the schedule:
Tomorrow: House trial brief due at 5 p.m. ET
Monday: Trump's trial brief due at 12 p.m. ET
Tuesday: House rebuttal brief due at 12 p.m. ET
Also Tuesday: Senate reconvenes for opening arguments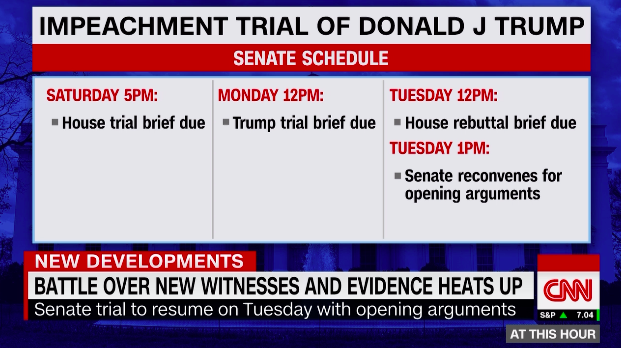 10:24 a.m. ET, January 17, 2020
Trump still hasn't decided whether to add House allies to his defense team
A decision on allowing House GOP allies to participate in the defense is still fluid, people with the matter said. 
President Trump plans to add three seasoned lawyers to his legal defense team, people familiar with the matter said, including Kenneth Starr, the hard-charging prosecutor whose work led to the country's last impeachment trial.
The list also includes Alan Dershowitz, the constitutional lawyer, and Robert Ray, Starr's successor at the Office of Independent Counsel during the Clinton administration.
The three are expected to join a legal team headed by White House counsel Pat Cipollone and outside attorney Jay Sekulow, who are still expected to deliver statements on the President's behalf on the Senate floor.
What's this about: Trump has been considering adding House Republicans he considers allies to his defense team for the impeachment trial. The list of possible members includes Trump defenders like Jim Jordan and Mark Meadows.