Impeachment trial of President Trump
8:03 a.m. ET, January 17, 2020
What the next few days of the impeachment trial will look like
Majority Leader Mitch McConnell discussed the schedule for the impeachment trial of President Trump yesterday afternoon.
McConnell provided the deadlines for briefs that can be filed on behalf of the President and House.
Tomorrow, by 5 p.m. ET: The House of Representatives can file a trial brief with the secretary of the Senate before this date and time.
Monday, by noon: Deadline for when the President can file a trial brief.
Tuesday, by noon: Deadline for the House to file a rebuttal brief.
"I ask unanimous consent that in recognition of the unique requirements raised by the impeachment trial of Donald John Trump, President of the United States, the sergeant of arms shall install appropriate equipment and furniture in the Senate chamber during all times that the senate is sitting for trial with the chief justice of the United States presiding," McConnell said.
The Senate has adjourned until 1 p.m. ET Tuesday, when the formal trial will begin.
7:51 a.m. ET, January 17, 2020
Keep an eye on these 8 senators during the impeachment trial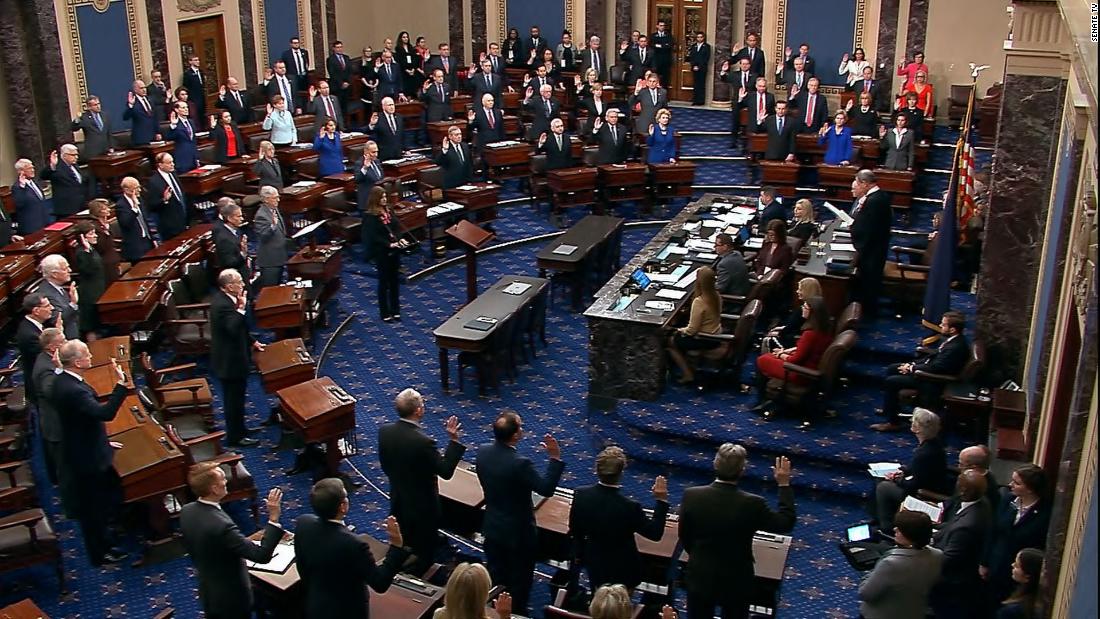 While the ultimate outcome of the impeachment trial seems predetermined — it's very hard to see 67 senators voting for President Trump's removal — that doesn't mean the way we get from here to there doesn't matter and won't be potentially politically consequential.
While 67 votes are necessary to remove Trump, the rules governing the proceedings — including on the question of whether witnesses should be called — are determined by a simple majority. Which means that any coalition of 51 senators can overrule the wishes of Senate Majority Leader Mitch McConnell and, by extension, Trump.
With that in mind, here's a look at eight senators to keep an eye on as the trial wears on:
Lamar Alexander, a Republican from Tennessee
Susan Collins, a Republican from Maine
Joni Ernst, a Republican from Iowa 
Cory Gardner, a Republican from Colorado
Doug Jones, a Democrat from Alabama
Martha McSally, a Republican from Arizona
Lisa Murkowski, a Republican from Alaska
Mitt Romney, a Republican from Utah