The latest on President Trump's impeachment
2:38 p.m. ET, January 15, 2020
GOP senator praises "old fashion" phone ban at trial
Republican Sen. Lisa Murkowski saluted the just announced Senate rules for the impeachment trial that are designed to ensure senators are not distracted and can pay close attention to the proceedings. 
The rules include a ban on smart phones, a requirement senators sit at their desks and not talk to their neighbors, and not read any materials not directly associated with the ongoing testimony.  
"Paying attention is significant and important and I'm glad that we can put these devises down, I'm glad we will be sitting in our chairs, I'm glad that we are going to be focused on what's in front of us at that time. I think it's important, it's beautifully old fashion, and I think we should stick to it," she said.
2:17 p.m. ET, January 15, 2020
How Trump's 2020 campaign is responding to today's impeachment news
Brad Parscale, Trump's 2020 campaign manager, said Speaker of the House Nancy Pelosi's decision to wait to transmit the articles of impeachment to the Senate "proves that there was never any urgency."
Earlier today, the House voted to send the articles to the Senate, weeks after representatives voted to approve the articles of impeachment last month.
"This was a sham impeachment from the beginning and never anything more than Democrats trying to interfere in an election that is now less than ten months away," he said in a statement.
 Here's his full statement: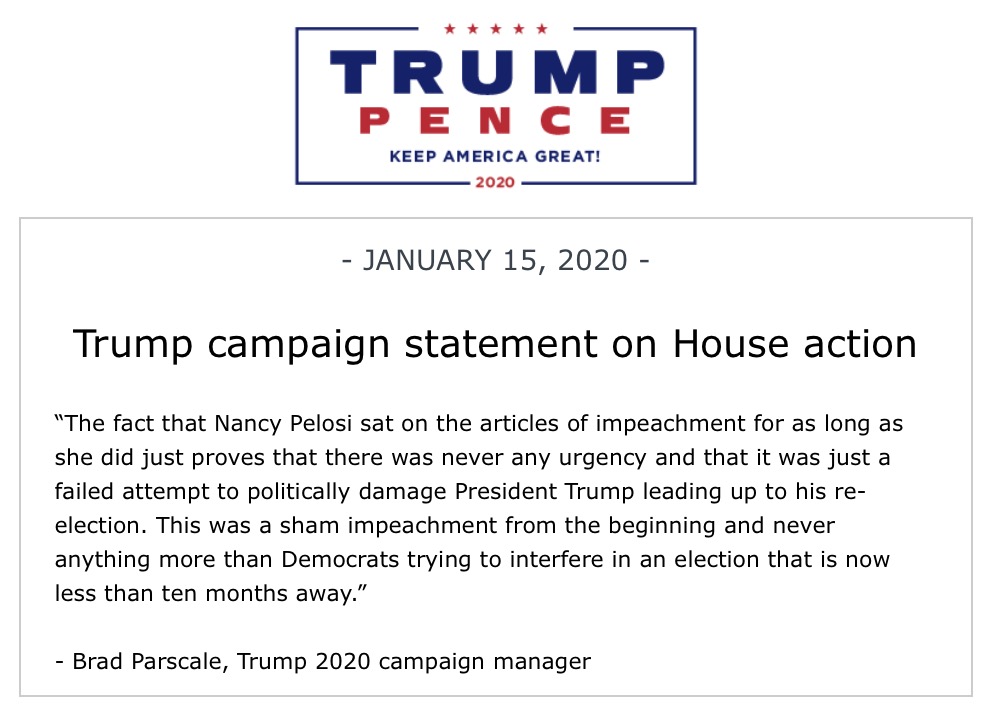 2:17 p.m. ET, January 15, 2020
House Intel chair says more materials from indicted Giuliani associate could be released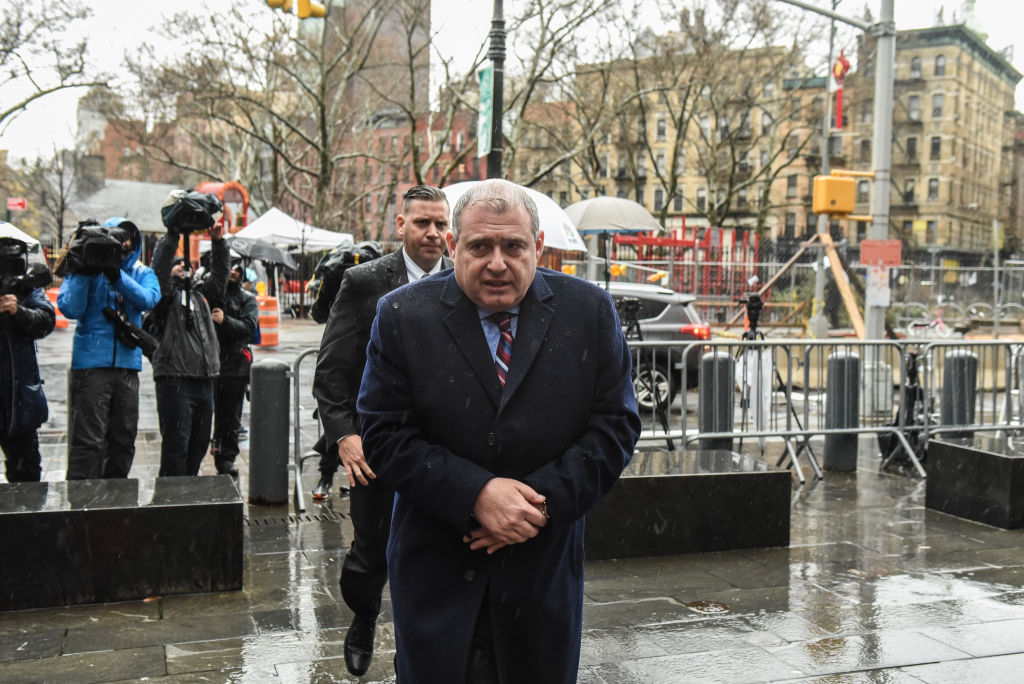 House Intelligence Chair Adam Schiff said his committee is still going through the materials provided by Lev Parnas and additional documents could be released.
"We are still going through, because the volume is so large, the materials we received," Schiff said. "We are translating materials, so it's entirely possible there will be new and important evidence that comes out of the information that we've been receiving."
Schiff also said the text messages that appeared to show surveillance of Ambassador Marie Yovanovitch were was "deeply disturbing." 
He said he didn't know if it shed new light on President Trump's comments with Zelensky about Yovanovitch or the message from the State to Yovanovitch that she had to return to Washington because of concerns about her security.
"Any way you slice it, it's deeply disturbing because it also implies that somebody within the embassy was supplying information to the President's team in a way that potentially jeopardized her security," Schiff said.
He declined to discuss the impeachment managers named today.
2:08 p.m. ET, January 15, 2020
The Senate impeachment trial starts soon. Here's what else is happening in DC — and beyond.
The House just voted to formally transmit the articles of impeachment to the Senate, and Senate Majority Leader Mitch McConnell has said the impeachment trial will likely begin on Tuesday, after the Monday Martin Luther King Jr. holiday.
It's not clear exactly how long the trial could last — there's no time limit or minimum, and procedures are largely up to the Senate. But it's beginning at a busy time in Washington, DC, and on the campaign trail.
Here's a look at some of the events the trial could overlap with:
Feb. 3: Iowa caucuses
Feb. 4: Trump gives the State of the Union address
Feb. 7: Democratic debate
Feb. 11: New Hampshire primaries
Remember: Four of the 12 Democrats running for President are sitting senators, meaning they'll serve as jurors in the trial. They are Michael Bennett, Amy Klobuchar, Bernie Sanders and Elizabeth Warren.
2:19 p.m. ET, January 15, 2020
Here's what House Democrats are saying about the team that will prosecute President Trump
Rep. Pramila Jayapal, a member of the House Judiciary Committee, said she thinks the impeachment managers who were just approved through a House vote are "a great team."
"I think it's a great team... I think what's most important now is that we have a very clear message about not only what we are already learned in the House that clearly shows that the President abused his power and obstructed Congress but also that the evidence that's coming out now is showing very clearly that this was a personal mission for the President to collect dirt on an opponent," Jayapal said.
Rep. Mike Quigley, a member of the House Intelligence Committee, also said he thinks Pelosi has a "good team."
"She has a good team and she would have had a good team no matter who she picked," he said.
Quigley said he thinks the team will be led by House Intelligence Chairman Adam Schiff.
Rep. Anthony Brown said "sure there's probably some disappointed," when asked if there were any hurt feelings after the impeachment manager team announcement.
"It's an honor to be a House manager, to serve on behalf of the American people, something that's only happened now three times in American history," Brown said.
"We've got a great seven-person team," he said.
1:58 p.m. ET, January 15, 2020
Pelosi says they didn't consider naming former Republican congressman as manager
CNN asked House Speaker Nancy Pelosi if she had considered naming former GOP Rep. Justin Amash as an impeachment manager, as some Democrats had hoped. Amash is now an independent.
"No," she said. 
Pelosi added: "The members are very, very excited about the managers "
But, Rep. Dean Phillips, a Democrat from Minnesota, told CNN that he is "disappointed" Amash was not chosen as an impeachment manager. 
"I think Speaker Pelosi named a very principled and effective management team but I'm disappointed," Phillips said. "I think Representative Amash would have been a very worthy member of that team and most importantly made this a bipartisan prosecution and I think it was a missed opportunity."
1:43 p.m. ET, January 15, 2020
White House official says "it's about time" the House moved forward with impeachment
A senior White House official told reporters during a call today, "it's about time" when asked about the House's vote today appointing impeachment managers.
The official called the articles of impeachment against Trump the "weakest" in history.
"We think that these articles fail on their face," the official added, noting that the administration is "happy to have a chance to vindicate the President and get this behind us."
CNN asked about the White House's impeachment managers, but the official declined to say: "We don't have an announcement right now."
The official would only say, "It will be soon, but I can't give you the definitive time."
1:42 p.m. ET, January 15, 2020
JUST IN: House votes to transmit impeachment articles to the Senate and name managers
The House has voted to approve a resolution naming seven Democrats as House impeachment managers. These lawmakers will prosecute the case against Trump at the Senate impeachment trial.
At 5 p.m. ET, the impeachment managers will walk to the Senate in order to hand-deliver the articles of impeachment to the chamber.
We're expecting the Senate trial to begin next week.
1:11 p.m. ET, January 15, 2020
NOW: The House is voting on impeachment managers
The House of Representatives is voting on a resolution to formally name the impeachment managers, who will prosecute the case against President Trump in the upcoming Senate trial.
The House initially had a group vote, but Rep. Doug Collins requested a roll call vote. They're doing that now.
Speaker of the House Nancy Pelosi — who got the final say on which members would be named managers — announced them this morning.
The seven managers are:
House Intelligence Chair Adam Schiff
House Judiciary Chair Jerry Nadler
Rep. Hakeem Jeffries
Rep. Jason Crow
Rep. Val Demings 
Rep. Zoe Lofgren
Rep. Sylvia Garcia