The latest on the Trump impeachment inquiry
11:01 a.m. ET, October 3, 2019
Trump: McConnell said the July call was "the most innocent phone call"
President Trump said Senate Majority Leader Mitch McConnell called a transcript of his call with Ukraine's leader "the most innocent phone call."
"He read my phone call with the president of Ukraine. Mitch McConnell, he said, 'That was the most innocent phone call that I've read.' I mean, give me a break. Anybody that reads it says the same thing," Trump said.
Last week, the White House released a rough transcript of the July call. McConnell urged the White House to release the summary, sources said.
Trump also said that the "only people" who don't understand the transcript are those who listen to House Intelligence Chair Adam Schiff.
"And the only people that don't understand it, is when they look at the false, fabricated, fraudulent statement made by shifty Schiff," Trump said.
What this is all about: Trump has repeatedly claimed Schiff lied while reading the rough White House transcript to Congress.
We can't endorse Trump's claim that Schiff "lied," since Schiff introduced his comments at Thursday's committee hearing by saying he would be outlining "the essence of what the president communicates," not providing "the exact transcribed version of the call."
But at some points, Schiff's words strayed quite far from what the rough transcript showed Trump saying. You can read CNN's full fact check of Schiff's comments here.
10:57 a.m. ET, October 3, 2019
Trump says he heard "very bad things" about recalled US ambassador to Ukraine
President Trump said today that he had heard "very bad things" about US Ambassador to Ukraine Marie Yovanovitch, who was unexpectedly recalled from her post last May.
Asked why she was recalled, Trump said, "I heard very bad things about her."
"I don't know if I recalled her or somebody recalled her, but I heard very, very bad things about her for a very long period of time — not good," he continued.
Trump told Ukrainian president Volodymyr Zelensky in the July 25 call, according to a White House transcript: "The former ambassador from the United States, the woman, was bad news and the people she was dealing with in the Ukraine were bad news so I just want to let you know that."
More on this: Yovanovitch was previously scheduled to appear this week before the House Intelligence Committee in the impeachment inquiry, but is now scheduled to appear next week on Oct. 11.
10:56 a.m. ET, October 3, 2019
Trump is on his way to Florida for Medicare event
President Trump is attending an event in Florida today, as ex-diplomat to Ukraine Kurt Volker testifies before Congress.
Trump is expected to sign an executive order emphasizing the benefits of preserving the status quo for Medicare, in particular Medicare Advantage plans offered by private insurers.
The event is part of a concentrated plan by the White House to roll out health care policies to help Trump compete with 2020 Democrats.
The Trump administration has been heavily promoting Medicare Advantage plans since 2017.
The President will visit the Villages, a sprawling retirement community in Sumter County, Florida.
As he left the White House, the president told reporters he wanted both Ukraine and China to investigate Joe Biden and his son, Hunter. There is no evidence of wrongdoing by either of the Bidens.
10:38 a.m. ET, October 3, 2019
Trump says he'll think about asking China's president to investigate Bidens
Speaking to reporters at the White House, President Trump says he hasn't yet asked his Chinese counterpart to investigate Joe Biden and his son.
But he said it was something he'd consider, alleging without evidence that the Bidens engaged in wrongdoing.
"I haven't but clearly it's something we should start thinking about," he said when asked whether he'd raised the matter with Xi Jinping.
Where is this coming from: On several occasions, Trump has intimated that the Bidens have received millions of dollars from China, implying they capitalized on the then vice-president's political power and connections.
Trump's allegations are misleading. There is no evidence that former Vice President Joe Biden received money from China. Though when it comes to Biden's son Hunter, Trump's allegations are not thoroughly unfounded. A company whose board Hunter sat on, received a large investment of Chinese capital shortly after Hunter visited the country with his father.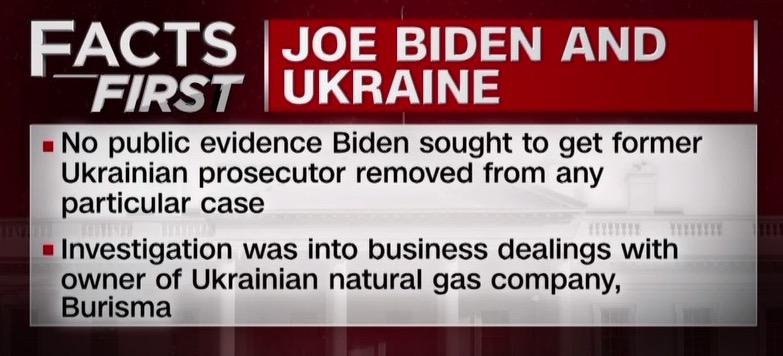 11:10 a.m. ET, October 3, 2019
Trump says Ukraine and China should investigate Bidens
President Trump says he wants both Ukraine and China to investigate Joe Biden and his son.
Speaking to reporters at the White House, Trump was again asked what he wanted Ukrainian President Zelensky to do with regard to the Bidens. Trump raised both Ukraine and China in his answer, saying he thinks both countries should investigate the former vice president and his son Hunter.
Trump repeated his criticism of a whistleblower complaint, saying it was "total fiction" and again said his conversation with Ukraine's president was "absolutely perfect."
While Trump has repeatedly accused Biden and his son of corruption, there is no evidence of wrongdoing by either Joe or Hunter Biden.
10:05 a.m. ET, October 3, 2019
You don't need a statutory crime to impeach a president
Your impeachment questions, answered
Last week, Speaker of the House Nancy Pelosi officially launched an impeachment investigation into President Trump regarding a phone call between Trump and the President of Ukraine.
Must impeachment be based on a statutory crime?
No. Congress certainly can — and perhaps must — impeach if the President has committed a crime. But even if Trump's conduct dodges the statutory raindrops and doesn't quite meet the definition of a federal crime, impeachment at its core is a remedy for abuse of constitutional power.
The Constitution prescribes impeachment for "treason, bribery or high crimes and misdemeanors."
But the term "high crimes and misdemeanors" is not defined anywhere in the Constitution or statute law, and appears to be drawn from English parliamentary practice, which provided for impeachment for crimes or for conduct beyond the reach of established criminal law.
Our own precedent supports the notion that a crime is not necessary for impeachment. President Andrew Johnson was impeached by the House (and then acquitted by the Senate) for firing a Secretary of War — certainly not a criminal act.
Drafted articles of impeachment against President Richard Nixon included abuse of power and misuse of public office, while one of the proposed articles of impeachment against President Bill Clinton (voted down by the full House) related to abuse of power for non-criminal conduct.
9:59 a.m. ET, October 3, 2019
Democratic official says Schiff "could have been more clear" when he said committee hadn't talked to whistleblower
A Democratic committee official conceded that House intelligence committee Chairman Adam Schiff "could have been more clear" when he told MSNBC on September 17:
"We have not spoken directly with the whistleblower. We would like to, but I'm sure the whistleblower has concerns….just as to how he is to communicate with Congress."
The official explained that Schiff was referring to he and the Committee officially interviewing the whistleblower, not the whistleblower's prior contact with the committee.
What this is all about: Yesterday, a spokesman for the Schiff acknowledged that the whistleblower had contacted the committee staff for guidance before sending the complaint to the Trump administration, but said the committee did not receive the complaint in advance.
President Trump later claimed, without evidence, that Schiff helped write the whistleblower complain.
5:37 p.m. ET, October 3, 2019
Here's what you need to know about the former diplomat testifying today
Today, former US Special Envoy for Ukraine Kurt Volker will appear before three congressional committees, making him the first official to testify in the Trump-Ukraine whistleblower scandal.
Here's what you need to know about him:
His background: A longtime diplomat and Republican foreign policy specialist, Volker is the executive director of the McCain Institute. He was appointed to the position of special envoy by Rex Tillerson, former secretary of state — though he stayed on at the McCain Institute. He got his start in foreign affairs as a CIA analyst.
As special envoy: Volker pushed to keep US military and economic aid flowing to Ukraine. He was also the US point-man in trying to get dialogue started between Russia and Ukraine over the separatist revolt in eastern Ukraine, now in its sixth year.
He is mentioned in the whistleblower report: The whistleblower complaint mentioned Volker's name when discussing interactions between him and Trump's personal attorney, Rudy Giuliani, concerning pushing Ukraine to look into the Bidens. There is no evidence of wrongdoing by Joe or Hunter Biden.
His resignation: He resigned just one day after the release of a whistleblower report alleging a White House coverup of a call between President Trump and Volodymyr Zelensky, President of Ukraine.
"Never fully on the Trump train": Volker is not close with the White House and never had a one-on-one meeting with the President. Volker is "a well-respected straight shooter who is likely to testify in ways that will damage other Trump allies", wrote one political analyst.
9:29 a.m. ET, October 3, 2019
House Intelligence Committee staff will be the ones to interview Volker 
While three committees — Intelligence, Foreign Affairs, and Oversight — are involved in today's deposition, the Intelligence Committee staff is doing the questioning. 
Here's how a House Intelligence Committee aide put it:
"Consistent with the Speaker's designation of the HPSCI (House Permanent Select Committee on Intelligence) as the lead committee conducting the House's impeachment inquiry, Thursday's interview will be conducted by HPSCI staff.  In preparation for this interview, HPSCI investigators have been working with the Committee on Foreign Affairs and the Committee on Oversight and Reform, both of which will have equal Majority and Minority representation."
How Republicans are reacting: Yesterday, Rep. Michael McCaul, the top Republican on the Foreign Affairs Committee, said he protesting the move by Democrats to let the House Intel Committee take the lead in questioning Kurt Volker today.
McCaul wrote: "I was alarmed to learn – less than 24 hours before the first interview is scheduled to start – that it will be led by the Intelligence Committee and that questioning will be done solely by their staff. Also we were told that only a single Republican professional staffer from the Foreign Affairs Committee will be allowed to attend while the majority will have two. These constraints on committee and Republican participation are unacceptable and at odds with House Rules and general fairness. …We demand equal representation and participation in this inquiry, there is too much at stake for America and Congress."