House launches Trump impeachment inquiry
3:02 p.m. ET, September 25, 2019
The whistleblower complaint will be delivered to the Senate this afternoon, senator says
The whistleblower's complaint will be delivered this afternoon to the Senate so members of the Intelligence Committee can review it today, according to Republican Sen. John Cornyn.
He added that "perhaps by tomorrow morning" it will be available for other senators to review.
Cornyn, who is a member of the committee, did not know the mechanics of how it would be provided to the Senate or who exactly would deliver it — be it the director of National Intelligence, Inspector General of the Intelligence Community or someone else. It will be delivered to the Senate Sensitive Compartmented Information Facility, or SCIF.
Republican Sen. Lindsey Graham also said the complaint is supposed to be available for intel committee members to look at today. He didn't know how it was getting here. 
2:58 p.m. ET, September 25, 2019
Republican senator on transcript: "I don't like seeing that"
Republican Sen. John Thune said the President broached a topic he wouldn't have in his call with the Ukrainian president.
"I don't like seeing that," the South Dakota lawmaker told CNN, after reading the transcript between Trump and Ukraine's President.
Still, Thune argued that the call is far from enough to justify Democrats moving forward with a formal impeachment inquiry.
Thune said that the Senate will hear from the whistleblower tomorrow. He said he hoped that would add some context to the situation.
"I am not sure that the fact pattern here is something that is going to rise to the level or the threshold that they think it does. But, the American people will make that determination and we will see where it goes. But, I think our members are just kind of taking it in and reading the transcript and waiting for the other information to come out," he said.  
2:56 p.m. ET, September 25, 2019
Joe Biden: Trump's behavior is an "affront to every single American"
Democratic presidential candidate Joe Biden released a new statement on the rough transcript of the call between President Trump and Ukrainian President Volodymyr Zelensky. 
The rough transcript features Trump asking Ukraine to investigate Biden and his son, although there is no evidence of wrongdoing by either.  
"The 2,000-word summation of a 30-minute phone call released by the White House makes clear that days after the President ordered the delay of Congressionally-appropriated military assistance to Ukraine, he implored the President of Ukraine to work with his personal attorney to manufacture a smear against a domestic political opponent, using a malicious conspiracy theory that has been universally debunked by every independent outlet that has looked at it," Biden said in the statement.
Biden called Trump's behavior a "tragedy" and an "affront to every single American and the founding values of our country."
"This is not a Republican issue or a Democratic issue. It is a national security issue. It is a test of our democratic values. Congress must pursue the facts and quickly take prompt action to hold Donald Trump accountable," Biden said.
2:48 p.m. ET, September 25, 2019
Nancy Pelosi wants narrow probe as caucus debates scope of impeachment resolution
House Speaker Nancy Pelosi told Democrats in a private meeting today that she wants to focus the impeachment inquiry on Ukraine — as Democrats debate how broad to draft articles of impeachment against President Trump, according to several sources involved in the discussions
Despite months of focus on the Mueller findings and allegations of obstruction of justice, Pelosi and top Democrats believe their strongest case for impeachment to the American public is over the President's ask that the Ukrainians investigate his political rival, former Vice President Joe Biden.
What this means: If Democrats draft articles of impeachment, it is likely to be focused on the Ukraine controversy — not on allegations that Trump tried to thwart the Mueller probe since a broader resolution could make it more complicated to get the votes on the floor, according to multiple Democratic sources. But discussions about the scope of the articles of impeachment are continuing in the Democratic Caucus.
Sources also told CNN that there is a growing push to keep the probe focused narrowly so the House could take up articles of impeachment as early as this fall.
2:43 p.m. ET, September 25, 2019
Trump: Nancy Pelosi "has lost her way"
President Trump slammed House Speaker Nancy Pelosi, saying she "has lost her way."
Asked about his conversation with Pelosi yesterday and whether he asked her for a way out of impeachment, Trump said this:
"No way. She's lost her way. She's been taken over by the radical left. She may be radical left herself, but she really has lost her way," he said.
Trump then went on to describe his call with Pelosi, saying he spoke to her about guns. 
2:43 p.m. ET, September 25, 2019
Trump says Rudy Giuliani "knows exactly what he's doing, and it's very important"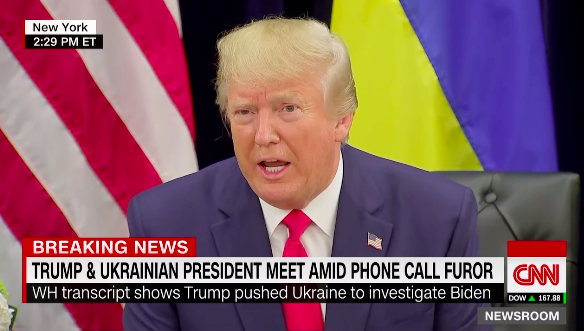 During a bilateral meeting with Ukrainian President Volodymyr Zelensky moments ago, President Trump was asked if it was appropriate for his personal attorney to get involved in government business.
He responded by defending his personal attorney, Rudy Giuliani.
"Rudy Giuliani is a great lawyer, he was a great mayor, he's highly respected. I've watched the passion he'd had on television over the last few days. Incredible what he's done. What he has done, he wants to find out where did this Russian witch-hunt...where did it start? How come it started?"
Trump added that Giuliani "knows exactly what he's doing, and it's very important."
More context: Trump mentioned having Giuliani speak to Zelensky during the July 25 call, according to the rough transcript that the White House released today.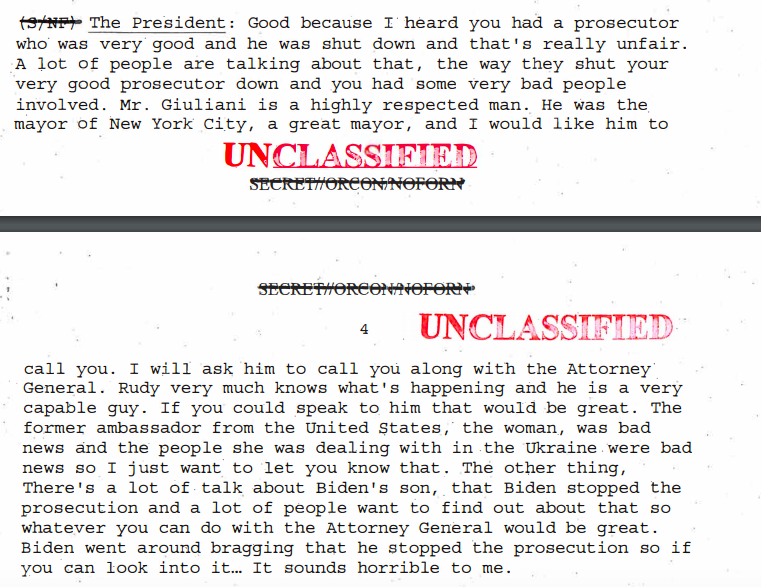 3:24 p.m. ET, September 25, 2019
Zelensky puts Trump on the spot about a Ukraine visit
Ukrainian President Volodymyr Zelensky put President Trump on the spot about a visit to Ukraine during their bilateral meeting moments ago.
Zelensky told Trump his predecessor, President Barack Obama, "didn't find time" to visit Ukraine. 
"Can you give me word" you will visit? He asked Trump.
Trump remained noncommittal: "Well I'm going to try," he said, noting that he once owned the Miss Universe pageants and, "We had a winner from Ukraine."
Trump called Ukraine a country with "tremendous potential," to which Zelensky replied, "I know it, because I am from that country."
Zelensky reminded Trump that he invited him to Washington, but said he "forgot to tell me the date." 
Trump laughs off Zelensky's comment:
2:33 p.m. ET, September 25, 2019
Ukrainian president on call transcript: "Nobody pushed me"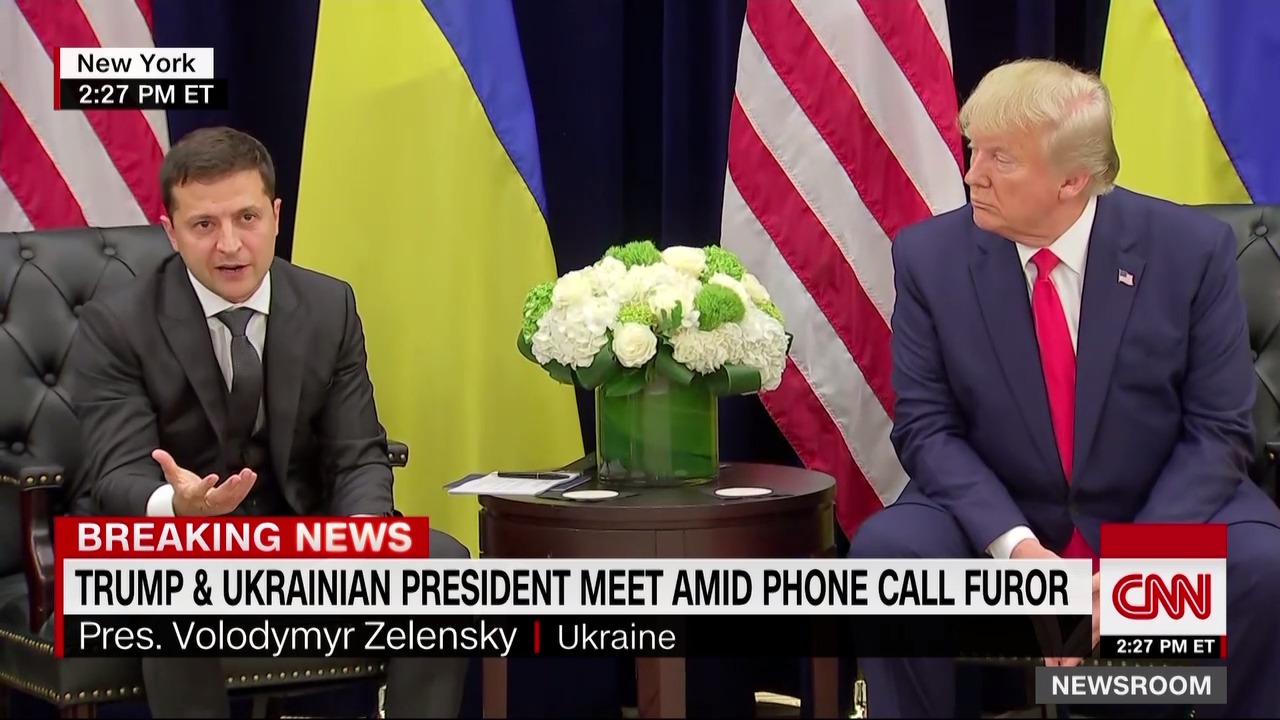 Ukrainian leader Volodymyr Zelensky, speaking beside President Trump during a bilateral meeting, said he wasn't pushed during his July call with Trump.
He described the call as normal.
"I think you read everything. I think you read text. I'm sorry, but I don't want to be involved to democratic open ... elections. Elections of USA. No. Sure, we had ... I think good phone call. It was normal. We spoke about many things, and I ... so I think and you read it that nobody pushed me," Zelensky said.
Trump went on to say that there was "no pressure."
3:09 p.m. ET, September 25, 2019
Trump opens meeting with Zelensky making light of Ukraine controversy
President Trump began a highly anticipated meeting with his Ukrainian counterpart making light of the controversy surrounding their previous conversation.
Trump said Volodymyr Zelensky was "more famous" than he. And he praised him for "very strongly looking into all sorts of corruption."
Trump said Zelensky's reputation was "absolutely sterling" and noted they'd "spoken a couple of times."
Pointing to the press, Trump said, "They'd like to hear every single word."
But he noted the aides that were present, saying there would be witnesses to his first sit-down with Zelensky.
See the moment here: