House launches Trump impeachment inquiry
2:49 p.m. ET, September 25, 2019
Lindsey Graham wants someone to investigate Biden allegations — but not Robert Mueller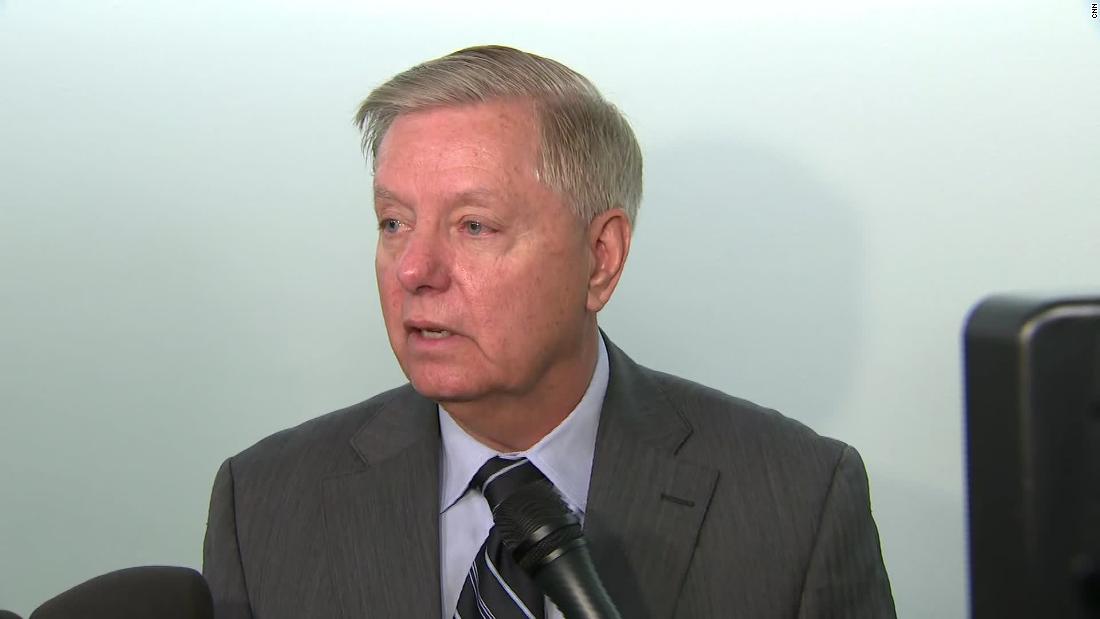 Sen. Lindsey Graham said today that the Ukraine-related charges against Joe Biden and his son Hunter Biden need to be investigated. However, he said he won't use the Judiciary Committee he chairs to do it because he is close to the former vice president and his late son, Beau.  
Graham said there should "not be a political circus around this" and "there should be somebody outside of politics looking at this."
Remember: There is no evidence of wrongdoing by Biden or his son.
When he was told PolitiFact and other journalistic outlets had examined the charges against the Bidens and no wrongdoing was found, Graham rejected them as unfair arbiters.  
 "I think that's a bunch of garbage. Nobody in the Republican Party trusts outside journalists to be fair. You're from CNN. I like your network. But no one believes this has been scrutinized," Graham said. 
"Somebody should look at this like Mueller looked at Trump," Graham suggested.  
A reporter asked if he wanted a special counsel named: "Somebody that everybody can trust who can be fair about it. Somebody like Mueller," Graham said.  
After a half-beat delay, Graham called out "not him," with a nervous laugh, making clear he doesn't think Robert Mueller should be called to reprise his special counsel duties. 
Hear Graham defend Trump:
2:15 p.m. ET, September 25, 2019
Former FBI Director James Comey suggests lawmakers may now need to act on impeachment
Former FBI director James Comey tweeted on impeachment, suggesting lawmakers may now need to act:
What Comey said last week: In a radio interview, Comey said he hoped Trump was not impeached "because I think the American people would be let off the hook," USA Today reported.
1:52 p.m. ET, September 25, 2019
Attorney General William Barr was not recused from Ukraine call referral
Attorney General William Barr was not recused from a Department of Justice referral regarding President Trump's call with Ukraine's president. Despite the fact that Barr's name comes up in the call, there was no consideration of a recusal.
Senior officials from the Justice Department's public corruption unit were involved in the determination that the call didn't add up to a campaign finance violation. Part of the analysis centered on how to establish what is a "thing of value" in campaign finance law. 
The Justice Department's examination centered on the July call. The prosecutors interviewed White House officials involved in producing the transcript to establish it was a reliable record of the call. No other interviews were done. The FBI received a separate referral from the Inspector General of the Intelligence Community but deferred to the Justice Department's criminal division, which was doing its analysis.
In the ICIG's assessment of the whistleblower complaint, they noted that "some indicia of an arguable political bias on the part of the complainant in favor of a rival political candidate." The ICIG still determined that the complaint was credible. 
1:52 p.m. ET, September 25, 2019
2 US presidents have been successfully impeached, but neither was removed from office
The House has launched a formal impeachment inquiry into President Trump. While many US presidents have been threatened with impeachment, Congress has only conducted two presidential impeachment trials.
Here's what you need to know:
How impeachment works: A sitting US president can be impeached for treason, bribery or "other high crimes and misdemeanors." The House of Representatives votes for impeachment, and if a majority of members vote in favor, the Senate conducts a trial. A two-thirds majority in the Senate is required to convict and remove a president from office — which has never successfully happened.
Richard Nixon wasn't actually impeached: He faced possible impeachment for obstruction of justice, abuse of power, and contempt of Congress during the Watergate scandal. He resigned before the House could vote. 
But Andrew Johnson and Bill Clinton were: Congress has only conducted two presidential impeachment trials: Johnson in 1868 for firing a cabinet secretary without the consent of Congress, and Clinton in 1998 for perjury and obstruction of justice. Both presidents were acquitted and stayed in office. 
The impeachment threat comes up a lot: Every president since Ronald Reagan has been threatened with impeachment by members of the House — including Trump, who faced three separate resolutions for impeachment in 2017. 
1:50 p.m. ET, September 25, 2019
Sen. Chuck Schumer says Ukraine call transcript was "even worse" than Mueller
Senate Minority Leader Chuck Schumer, a Democrat from New York, said the transcript of a phone call between President Trump and Ukraine's President Volodymyr Zelensky was "even worse" than the allegations from the Mueller report. 
"The President is directly involved here. It's pretty clear what has happened as bad as the other stuff was this was even worse," he said.
Asked what the Senate's role will be in the next few months, Schumer said the Senate intel committee should pursue the facts. 
Schumer also said that the transcript "validates the wisdom" of House Speaker Nancy Pelosi to announce an official impeachment inquiry yesterday.
1:29 p.m. ET, September 25, 2019
Senator says Republicans who reviewed the White House transcript before release did not raise concerns about the call
Sen. David Perdue tells CNN that he was among a small group of House and Senate Republicans who reviewed the rough transcript at the White House before it was released 
Perdue said White House Counsel Pat Cippolone was in the room, and that the President called in and said everything was fine about his conduct. 
When asked if any Republicans raise concerns, Perdue said "no."
2:47 p.m. ET, September 25, 2019
Graham challenges Pelosi to bring an impeachment vote to the House floor
Sen. Lindsey Graham says House Speaker Nancy Pelosi should bring an impeachment vote to the House floor if she's confident the President committed impeachable offenses.
"I'm challenging Nancy Pelosi to have a vote on this. Moderate Democrats are hiding behind her. So if you really believe that this is an impeachable offense or other things are impeachable subject to an inquiry, vote on it," he said.
"If you think the President has soiled the office, do something about it. If you think this is an impeachable offense, vote. Go on the record. The one thing that makes me crazy is to talk in the abstract. Have the courage of your convictions, read the phone call for yourself. Do you think this was out of bounds? That this was a quid pro quo? Whatever you think, go public with it. Let's vote."
When asked how he thinks this will turn out for the Democrats, he said he didn't know, but did offer a little if-past-is-prologue.
"I just know this. I know how it turned out for us in 1998. We got our ass kicked," he said. "All I can tell my Democratic friends: You're going down a dangerous road here for the future of the presidency as well as your own future, but that's up to y'all."
1:12 p.m. ET, September 25, 2019
Trump: Democrats "came up with a manufactured crisis"
President Trump accused Democrats of making a "manufactured crisis" with the Ukraine drama and claimed they won't have time to work on legislation as they consider impeachment.
"They came up with a manufactured crisis. I don't know whether or not they're going to have time to do any deals. We were working on guns, gun safety," Trump said. "All they're talking about is nonsense."
1:00 p.m. ET, September 25, 2019
Lawmakers will vote on the House whistleblower resolution this evening
The vote for passage of the House whistleblower resolution will be in the 5 p.m. ET hour.
As with all House votes, things may change, but it could happen sometime around 5:15 p.m. ET and 5:45 p.m. ET.
What we know about the resolution: The House will vote to disapprove of the Trump administration's blocking the whistleblower complaint from coming to Congress, House Speaker Nancy Pelosi's office said today.