House launches Trump impeachment inquiry
7:06 p.m. ET, September 25, 2019
Republican congresswoman: "I do not support impeachment"
Rep. Elise Stefanik, a Republican from New York, said she has read the whistleblower complaint and does "not support impeachment of President Trump."
"I have just read the whistleblower complaint made available to House Intelligence Committee Members. I believe strongly in transparency and it should be immediately declassified and made public for the American people to read," she tweeted this evening.
7:01 p.m. ET, September 25, 2019
The declassification process for the whistleblower complaint is ongoing, White House official says
A White House official said the declassification of the whistleblower complaint is still underway. 
The official did not offer a timetable for when that process will be completed.
6:58 p.m. ET, September 25, 2019
What we know about the whistleblower complaint so far
Here's what we have learned so far about the whistleblower complaint from congressional sources:
Members have not been told the identity of the whistleblower or where the complainant works in the government.
The complaint focuses in part on the phone call with the Ukrainian president. But sources so far have not shared what more may be contained in the still classified report.
Rep. Eric Swalwell disclosed that the whistleblower points to witnesses and other documents in the report. Swalwell described them as new leads that need to be investigated by lawmakers.
Rep. Chris Stewart, a Republican from Utah, said he has "no concerns" about what he read in the complaint.
6:51 p.m. ET, September 25, 2019
Dem House member: "Too early to tell" if whistleblower complaint changes calculus on impeachment
Rep. Eric Swalwell, a Democrat on both the Judiciary and Intel committees, said that "it's too early to tell" if the whistleblower complaint changes the calculus on impeachment. 
Swalwell cautioned that there is "an urgency here," adding that if the President is working with the Ukrainians, then those are "potentially impeachable offenses."
"He continues to run a lawless administration," Swalwell said. 
He also thanked the whistleblower for coming forward through the proper channels, but said that this doesn't mean he or she should step forward publicly. 
"This person did the right thing and it's the Department of Justice that's blocking this person from coming to Congress," Swalwell said. "I don't think you meet lawlessness with lawlessness."
6:42 p.m. ET, September 25, 2019
House approves whistleblower resolution as lawmakers begin reviewing complaint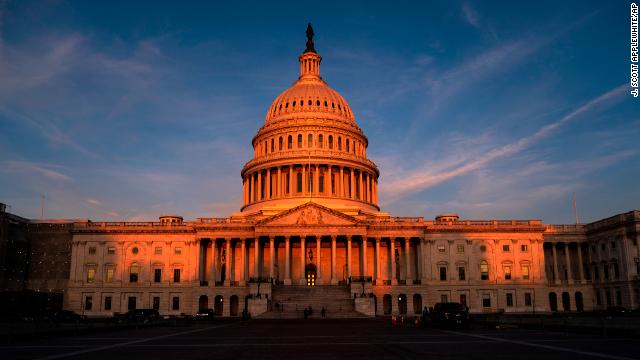 The House of Representatives voted tonight to approve a resolution calling on the Trump administration to release a whistleblower complaint to Congress that has ignited a backlash against the President, even though lawmakers have now been given access to the complaint in a secure location on Capitol Hill.
The vote was 421 to 0 with two lawmakers voting present.
House Democrats announced plans to vote on the resolution yesterday — the same day that House Speaker Nancy Pelosi announced a formal impeachment inquiry — in the wake of outrage over reports that the President pressured a foreign leader in an effort to target a political rival. It was not clear until late today when the complaint would be transmitted to the Hill, if at all.
The whistleblower complaint about Trump's communications with Ukraine was hand delivered this afternoon to Capitol Hill for lawmakers to review.
The Senate adopted by unanimous consent its own resolution yesterday authored by Senate Democratic Leader Chuck Schumer urging the administration to provide the full complaint to Congress.
Earlier today, ahead of the final vote on the resolution, the House adopted an amendment to its resolution offered by Democratic Rep. Mary Gay Scanlon of Pennsylvania to make it identical to the resolution passed the day before by the Senate.
6:37 p.m. ET, September 25, 2019
Republican senator on whistleblower complaint: "There's obviously some very troubling things here"
Sen. Ben Sasse, a Republican from Nebraska, stopped to talk to reporters after leaving the Sensitive Compartmented Information Facility, or SCIF, saying "there's obviously some very troubling things here."
He also roundly criticized the "partisan tribalism" coming from both parties and President Trump as opposed to a slow, deliberative approach.
Sasse said Democrats prematurely used the term "impeach" and said Republicans "ought not just circle the wagons."
Read his full remarks:
"We need to slow down. This place is terrible at deliberation. Democrats ought not to be using the word 'impeach' before they had the whistleblower complaint or read any of the transcript. Republicans ought not to be rushing to circle the wagons and say there's no there there when there's obviously a lot that's very troubling there. The administration ought not be attacking the whistleblower as some talking points suggest they plan to do. The media, humbly, should not pretend this story is, you know, about something that's going to be resolved in the next two hours. Done right with lots of deliberation this going to take a long time but there's obviously some very troubling things here. But I think the partisan tribalism that's always insta-certain is a terrible idea. There are real troubling things here Republicans ought not just circle the wagons and Democrats ought not be using words like 'impeach' before they knew anything about the actual substance. The Senate intelligence committee actually does its work in a deliberative, slow and cautious way, and that's what the Senate is supposed to do."
6:22 p.m. ET, September 25, 2019
Chuck Schumer says he's "even more worried about what happened" after reading whistleblower complaint
Senate Minority Leader Chuck Schumer said he was "more worried about what happened" after reading the whistleblower complaint this afternoon.
Schumer made these comments after emerging from the Senate Sensitive Compartmented Information Facility, or SCIF.
"Having read the documents in there, I'm even more worried about what happened than I was when I read the memorandum of the conversation," the New York Democrat said.
Democrats reading the document say it backs up their commitment to their investigation. The move comes just hours after the White House released a rough transcript of a July 25 phone call that shows President Trump repeatedly pressed the leader of Ukraine to investigate former Vice President Joe Biden and his son.
The conversation between Trump and Ukrainian President Volodymyr Zelensky is included in the whistleblower complaint, a source familiar with the situation said last week.
Trump has downplayed the significance of the complaint, claiming the whistleblower is partisan and his conversations with foreign leaders are "appropriate."
During a news conference in New York, the President claimed the individual — who has not been identified — "didn't have any first class or first rate or second tier information from what I understand."
6:01 p.m. ET, September 25, 2019
Ukraine's president says he thought US would "only publish their part" of the call transcript
Ukrainian President Volodymyr Zelensky said he thought the Trump administration would only publish the US side of the call. 
"You and I read that they want to publish. I just thought that they would publish their part," Zelensky told reporters today in New York.
Zelensky said he did not speak with President Trump before the release of the transcript from the July 25 call.
"I didn't discuss it beforehand with Trump, we just shook hands yesterday," Zelensky said. "I'm not against it… If a legal permission is required, I just don't know the format." 
7:23 p.m. ET, September 25, 2019
This Democratic senator just read the whistleblower complaint. He called it "deeply disturbing."
Democratic Sen. Mike Quigley said he has reviewed the whistleblower complaint released this afternoon, calling it "deeply disturbing."
Quigley, speaking to CNN's Wolf Blitzer this evening, said the complaint is "extraordinarily detailed" and "very, very well done." 
The Illinois senator went on to say that he thinks the complaint "reinforces the concerns that what we previously learned and I think it is a blueprint for what we still need to know."
"It lays out exactly what Congress needs to investigate," Quigley said.
Watch here: