House launches Trump impeachment inquiry
2:33 p.m. ET, September 25, 2019
Ukrainian president on call transcript: "Nobody pushed me"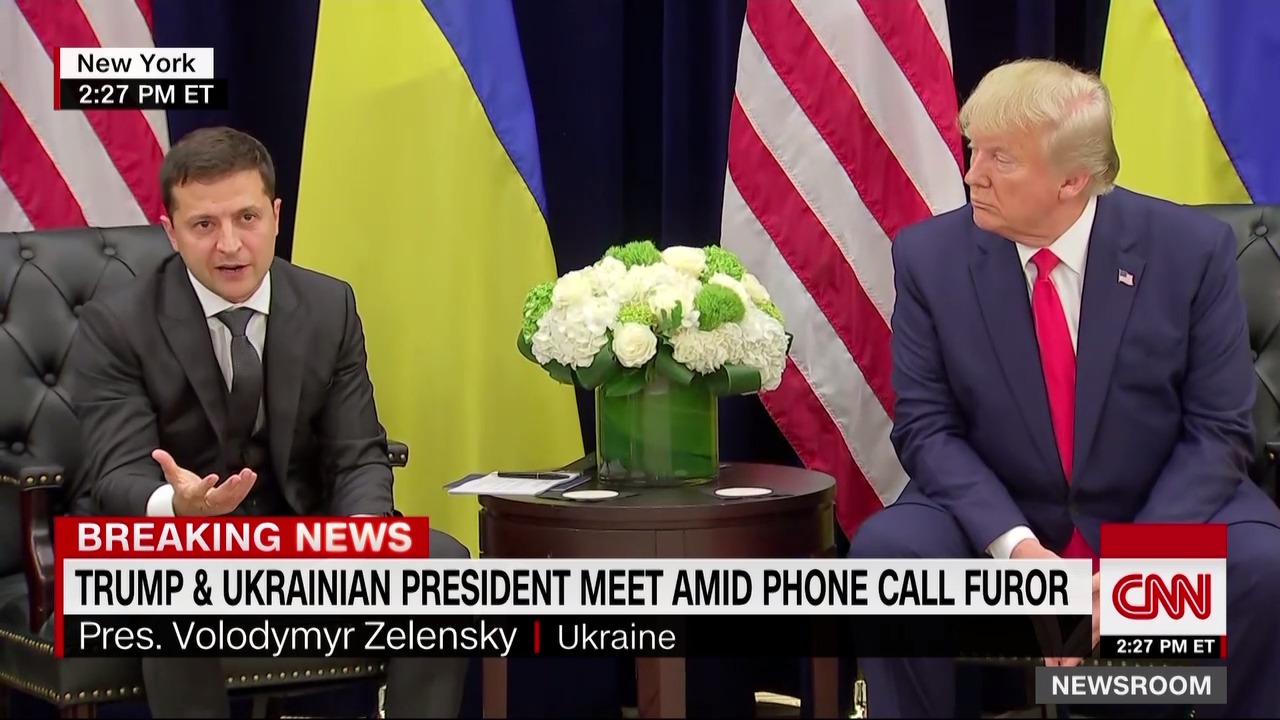 Ukrainian leader Volodymyr Zelensky, speaking beside President Trump during a bilateral meeting, said he wasn't pushed during his July call with Trump.
He described the call as normal.
"I think you read everything. I think you read text. I'm sorry, but I don't want to be involved to democratic open ... elections. Elections of USA. No. Sure, we had ... I think good phone call. It was normal. We spoke about many things, and I ... so I think and you read it that nobody pushed me," Zelensky said.
Trump went on to say that there was "no pressure."
3:09 p.m. ET, September 25, 2019
Trump opens meeting with Zelensky making light of Ukraine controversy
President Trump began a highly anticipated meeting with his Ukrainian counterpart making light of the controversy surrounding their previous conversation.
Trump said Volodymyr Zelensky was "more famous" than he. And he praised him for "very strongly looking into all sorts of corruption."
Trump said Zelensky's reputation was "absolutely sterling" and noted they'd "spoken a couple of times."
Pointing to the press, Trump said, "They'd like to hear every single word."
But he noted the aides that were present, saying there would be witnesses to his first sit-down with Zelensky.
See the moment here:
2:26 p.m. ET, September 25, 2019
Ukraine president in meeting with Trump: "It's better to be on TV than by phone"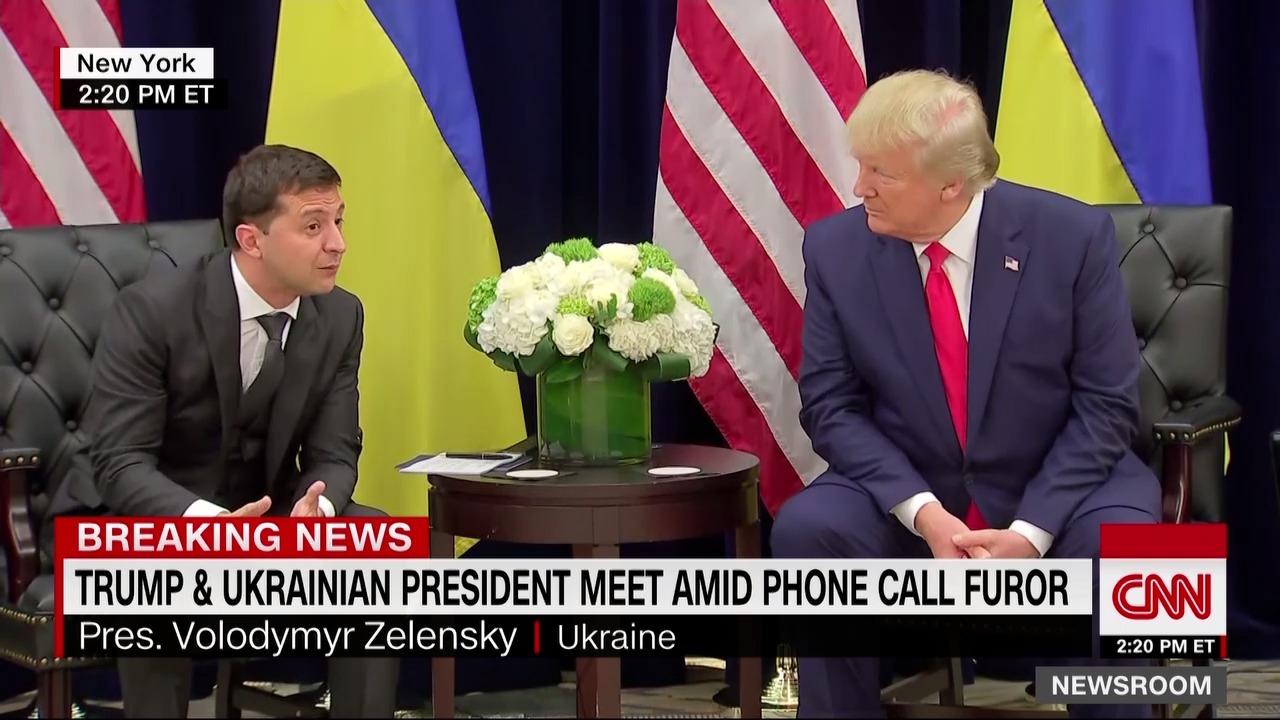 Ukrainian President Volodymyr Zelensky, meeting with President Trump at the United Nations, joked that it's better to meet in person in front of television cameras than talk on the phone
"It's better to be on TV than by phone," he said.
President Trump's July phone call with Zelensky has been at the center of a scandal that has led the House to open an impeachment inquiry into the President. The White House released a rough transcript of that call this morning.
Before he ran for president, Zelensky was best known for playing a schoolteacher who becomes President of Ukraine in "Servant of the People," a comedy series available on Netflix. 
2:20 p.m. ET, September 25, 2019
Sen. Chris Coons rebuts Lindsey Graham's claim that Trump's call was a "nothing burger"
Democratic Sen. Chris Coons disputed Republican Sen. Lindsey Graham's assertion that President Trump's phone call with the Ukrainian president is a "nothing burger" in a tweet today and pushed back that Democrats could be overblowing the call.
"I don't think I'm overblowing anything. The memorandum of this call in black and white, there is a summary of a conversation where President Trump is asking the president of Ukraine to investigate Hunter Biden, and implicitly former Vice President Biden and then is asking if the current attorney general of the United States and President Trump's personal attorney Rudy Giuliani, can go and engage in meetings in Ukraine, notionally to pursue this investigation, among other issues. That's pretty striking. I find it hard to believe anyone could conclude that that's a nothing burger," Coons said.
The Delaware senator continued: "The President of Ukraine clearly says we're in a position where we want to buy more javelins defensive missiles from the United States — an anti tank defensive system — and our president's next sentence is, 'Do me a favor.'"
2:17 p.m. ET, September 25, 2019
Scaramucci: Trump is having "a nervous breakdown" over impeachment inquiry
Former White House Communications Director Anthony Scaramucci says President Trump is having "like a nervous breakdown" over the impeachment inquiry.  
Speaking to CNN's Alison Kosik, Scaramucci also explained why the stock market isn't reacting to the latest news out of Washington.  
The markets, Scaramucci said, rallied early on from deregulation and the tax cuts but now is looking "at this situation with some level of relief."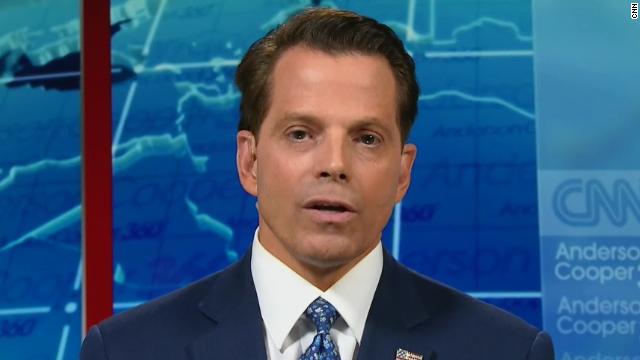 2:49 p.m. ET, September 25, 2019
Lindsey Graham wants someone to investigate Biden allegations — but not Robert Mueller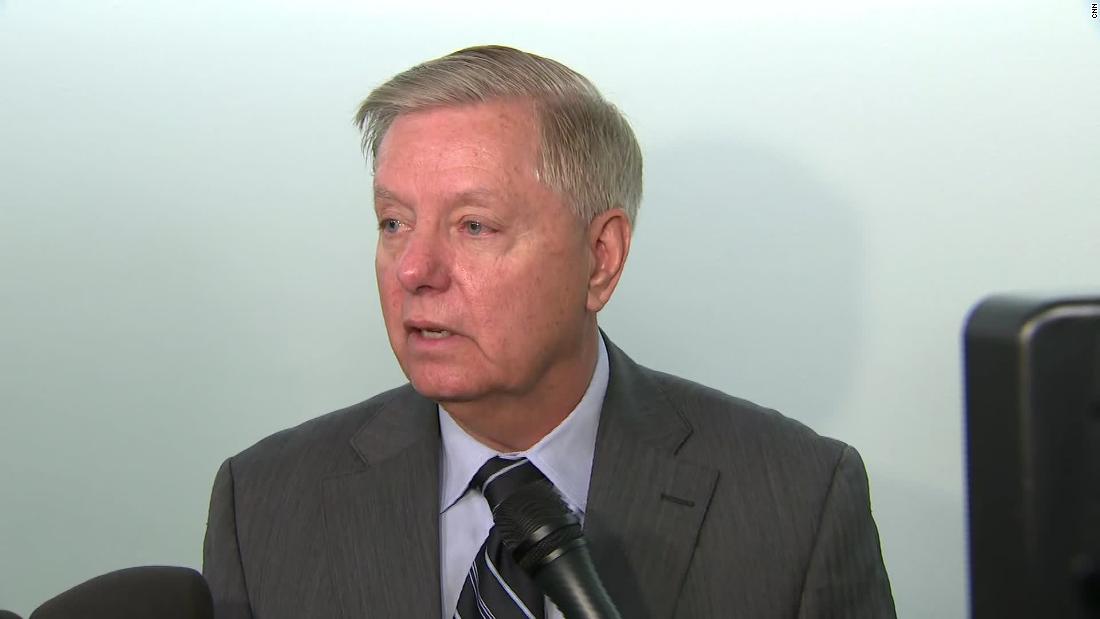 Sen. Lindsey Graham said today that the Ukraine-related charges against Joe Biden and his son Hunter Biden need to be investigated. However, he said he won't use the Judiciary Committee he chairs to do it because he is close to the former vice president and his late son, Beau.  
Graham said there should "not be a political circus around this" and "there should be somebody outside of politics looking at this."
Remember: There is no evidence of wrongdoing by Biden or his son.
When he was told PolitiFact and other journalistic outlets had examined the charges against the Bidens and no wrongdoing was found, Graham rejected them as unfair arbiters.  
 "I think that's a bunch of garbage. Nobody in the Republican Party trusts outside journalists to be fair. You're from CNN. I like your network. But no one believes this has been scrutinized," Graham said. 
"Somebody should look at this like Mueller looked at Trump," Graham suggested.  
A reporter asked if he wanted a special counsel named: "Somebody that everybody can trust who can be fair about it. Somebody like Mueller," Graham said.  
After a half-beat delay, Graham called out "not him," with a nervous laugh, making clear he doesn't think Robert Mueller should be called to reprise his special counsel duties. 
Hear Graham defend Trump:
2:15 p.m. ET, September 25, 2019
Former FBI Director James Comey suggests lawmakers may now need to act on impeachment
Former FBI director James Comey tweeted on impeachment, suggesting lawmakers may now need to act:
What Comey said last week: In a radio interview, Comey said he hoped Trump was not impeached "because I think the American people would be let off the hook," USA Today reported.
1:52 p.m. ET, September 25, 2019
Attorney General William Barr was not recused from Ukraine call referral
Attorney General William Barr was not recused from a Department of Justice referral regarding President Trump's call with Ukraine's president. Despite the fact that Barr's name comes up in the call, there was no consideration of a recusal.
Senior officials from the Justice Department's public corruption unit were involved in the determination that the call didn't add up to a campaign finance violation. Part of the analysis centered on how to establish what is a "thing of value" in campaign finance law. 
The Justice Department's examination centered on the July call. The prosecutors interviewed White House officials involved in producing the transcript to establish it was a reliable record of the call. No other interviews were done. The FBI received a separate referral from the Inspector General of the Intelligence Community but deferred to the Justice Department's criminal division, which was doing its analysis.
In the ICIG's assessment of the whistleblower complaint, they noted that "some indicia of an arguable political bias on the part of the complainant in favor of a rival political candidate." The ICIG still determined that the complaint was credible. 
1:52 p.m. ET, September 25, 2019
2 US presidents have been successfully impeached, but neither was removed from office
The House has launched a formal impeachment inquiry into President Trump. While many US presidents have been threatened with impeachment, Congress has only conducted two presidential impeachment trials.
Here's what you need to know:
How impeachment works: A sitting US president can be impeached for treason, bribery or "other high crimes and misdemeanors." The House of Representatives votes for impeachment, and if a majority of members vote in favor, the Senate conducts a trial. A two-thirds majority in the Senate is required to convict and remove a president from office — which has never successfully happened.
Richard Nixon wasn't actually impeached: He faced possible impeachment for obstruction of justice, abuse of power, and contempt of Congress during the Watergate scandal. He resigned before the House could vote. 
But Andrew Johnson and Bill Clinton were: Congress has only conducted two presidential impeachment trials: Johnson in 1868 for firing a cabinet secretary without the consent of Congress, and Clinton in 1998 for perjury and obstruction of justice. Both presidents were acquitted and stayed in office. 
The impeachment threat comes up a lot: Every president since Ronald Reagan has been threatened with impeachment by members of the House — including Trump, who faced three separate resolutions for impeachment in 2017.