House launches Trump impeachment inquiry
10:18 a.m. ET, September 25, 2019
The White House-released transcript says it is "not a verbatim transcript of a discussion"
A senior White House official says the transcript of the call comes from Voice Recognition Software. There is a disclaimer at the bottom of the document that it is "not a verbatim transcript of a discussion."
Additionally, per the senior official, the White House weighed institutional interests against transparency in making the decision to release the call. Note that Ukraine's President Zelensky gave his permission for the transcript to be released, as well. 
This is the disclaimer:
10:14 a.m. ET, September 25, 2019
Trump told Ukraine that US has been "very, very good" to country before asking for "favor," transcript shows
 While the transcript does not reflect a clear quid pro quo, Trump told Ukrainian President Volodymyr Zelensky that the US has been "very, very good" to Ukraine.
 "A lot of European countries are the same way, so I think it's something you want to look at but the United States has been very very good to Ukraine. I wouldn't say that it's reciprocal necessarily because things are happening that are not good but the United States has been very, very good to Ukraine," he said. 
Zelensky agreed and told Trump the US is a "much bigger partner" to Ukraine than other European countries regarding sanctions on Russia, adding that he plans to purchase more Javelins from the United States.
Trump then said, "I would like you to do us a favor though because our country has been through a lot and Ukraine knows a lot about it."
Here's the transcript: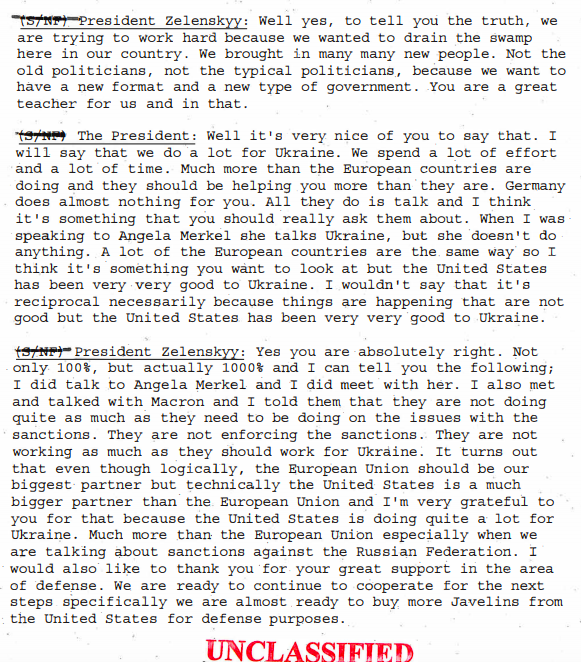 10:10 a.m. ET, September 25, 2019
Trump hasn't talked to attorney general about having Ukraine investigate Biden, DOJ says
The Department of Justice said President Trump has not asked Attorney General William Barr to contact Ukraine.
Here's the full statement from Justice spokesperson Kerri Kupec:
The Attorney General was first notified of the President's conversation with Ukrainian President Zelensky several weeks after the call took place, when the Department of Justice learned of a potential referral. The President has not spoken with the Attorney General about having Ukraine investigate anything relating to former Vice President Biden or his son. The President has not asked the Attorney General to contact Ukraine -- on this or any other matter. The Attorney General has not communicated with Ukraine -- on this or any other subject. Nor has the Attorney General discussed this matter, or anything relating to Ukraine, with Rudy Giuliani
A Department of Justice team led by U.S. Attorney John Durham is separately exploring the extent to which a number of countries, including Ukraine, played a role in the counterintelligence investigation directed at the Trump campaign during the 2016 election. While the Attorney General has yet to contact Ukraine in connection with this investigation, certain Ukrainians who are not members of the government have volunteered information to Mr. Durham, which he is evaluating.
1:16 p.m. ET, September 25, 2019
Trump pushed Ukraine to investigate Biden, White House transcript shows
President Trump repeatedly pushed for the Ukrainian president Volodymyr Zelensky to reopen an investigation of his potential 2020 rival, former Vice President Joe Biden and his son, and asked the Ukrainian leader to work with Rudy Giuliani and Attorney General William Barr on the issue, according to a transcript of the July call.
10:04 a.m. ET, September 25, 2019
Intel inspector general asked Justice Department to investigate if President's push was campaign finance violation
The Intelligence Community Inspector General in late August referred a criminal complaint to the Justice Department to investigate whether the President's pushing for Ukraine to investigate Joe Biden, a potential 2020 rival, was a violation of campaign finance law, the Justice Department said.
The Justice Department's criminal division last week determined to not open a formal investigation of the president for possible campaign finance violations. 
9:59 a.m. ET, September 25, 2019
White House aides see Trump's meeting with Ukraine president as a way to counter accusations of wrongdoing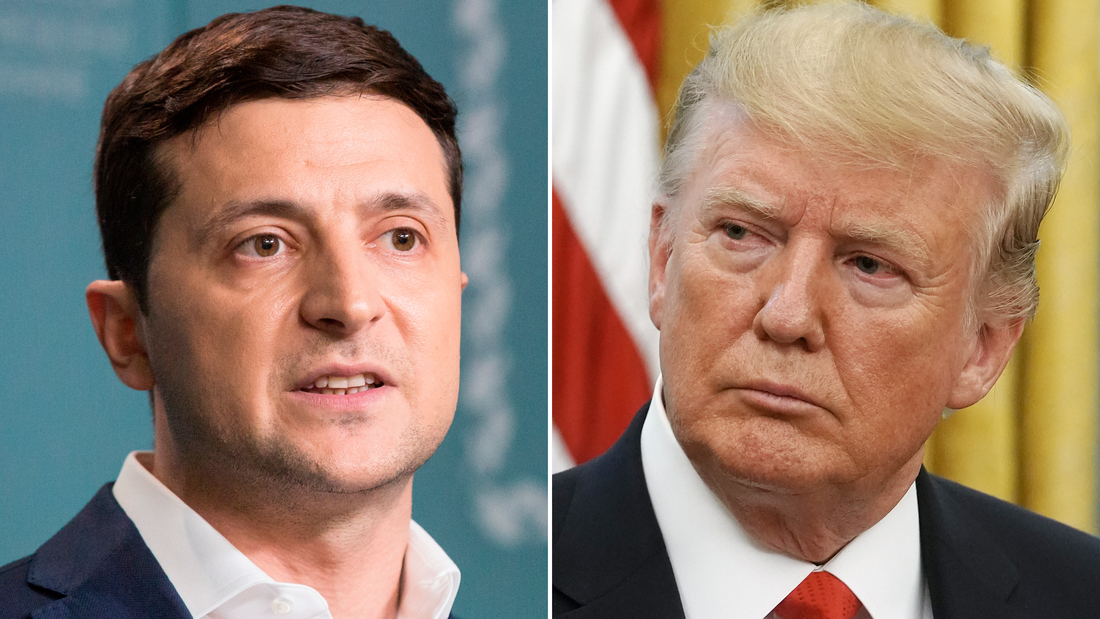 The meeting today between President Trump and Ukrainian leader Volodymyr Zelensky at the UN General Assembly was arranged well before the whistleblower controversy exploded into public view, according to people familiar with the plans.
Aides initially did not view the meeting as a major highlight of Trump's UN agenda, which they expected would focus heavily on Iran and not on the questions of abuse of power that are now swirling. 
Now, officials say they view the meeting as an important venue for Trump to counter Democratic accusations of wrongdoing, particularly because they believe the "transcript" that will be released ahead of the meeting won't be the smoking gun that some are expecting. 
One official said there have not been extensive conversations between US and Ukrainian officials about what each leader will say during the open-press part of the meeting, though could not rule out more informal discussions.
Trump signaled Monday he believes Zelensky will back him up: "They don't know either what the big deal is," he said, referring to the Ukrainians, in a tweet.
9:56 a.m. ET, September 25, 2019
Here's what Freshman House Democrats are saying about the impeachment news
Rep. Abigail Spanberger, a former CIA officer and moderate, said that she hopes the Democrats take this process seriously, saying they "have a responsibility to be as thoughtful as possible in this process." 
Spanberger, who supports impeachment with the condition that the allegations related to Ukraine are true, said when asked about concerns that Speaker Pelosi announced her support for an impeachment inquiry before the transcript was out, she said "it's one element of evidence not end all not just one piece of evidence necessary responsibility to be as thoughtful as possible." 
Liberal member Rep. Rashida Tlaib, who famously told a crowd earlier this year that she wanted to impeach that (expletive), said she's pleased Pelosi is finally there. 
"Really excited I think for my residents there has always been a need to hold this president accountable."
Asked what this really changes, she said "[President Trump] can't abuse the power he has this is the only option we have left."
When asked about what the tipping point was for moderate colleagues, she responded that "many of them though they see a national security risk.. I think that's what pulled them all on board."
9:52 a.m. ET, September 25, 2019
Pelosi won't give details about her phone call with Trump
House Speaker Nancy Pelosi this morning declined to offer details of her phone call yesterday with Trump regarding impeachment.
She spoke to reporters as she arrived to this morning's meeting with her caucus. 
"I would never say anything that the President says in a call. I might tell you what I said, but I won't tell you what he said," she said. "At some point I'll talk about what that is and relationship to the new level of lawlessness to which the President has resorted in his asking a foreign government to manufacture wrongdoing to benefit his campaign. That's really kind of the essence of all of this."
Asked what Democrats need to see beyond the whistleblower complaint in their investigation, Pelosi responded: "There's nothing beyond. The President admits that he made the statement." 
9:46 a.m. ET, September 25, 2019
The White House is doing damage control this morning
Senior Trump Administration officials are doing damage control on a call with outside allies, according to a source who was invited and shared the invitation with CNN.  
They are billing it as a call "to discuss news of the day."